1-year-olds
Potty Training? 17 products you NEED to own
By |
Are you thinking about potty training, or are you already in the middle of it? Whether you're potty training a girl or a boy, an 18 month old, a two year old or a preschooler, these must-buy potty training items will have your child potty trained in no time! From practical to unique to downright fun, these potty training items will have even the most stubborn child excited to use the potty.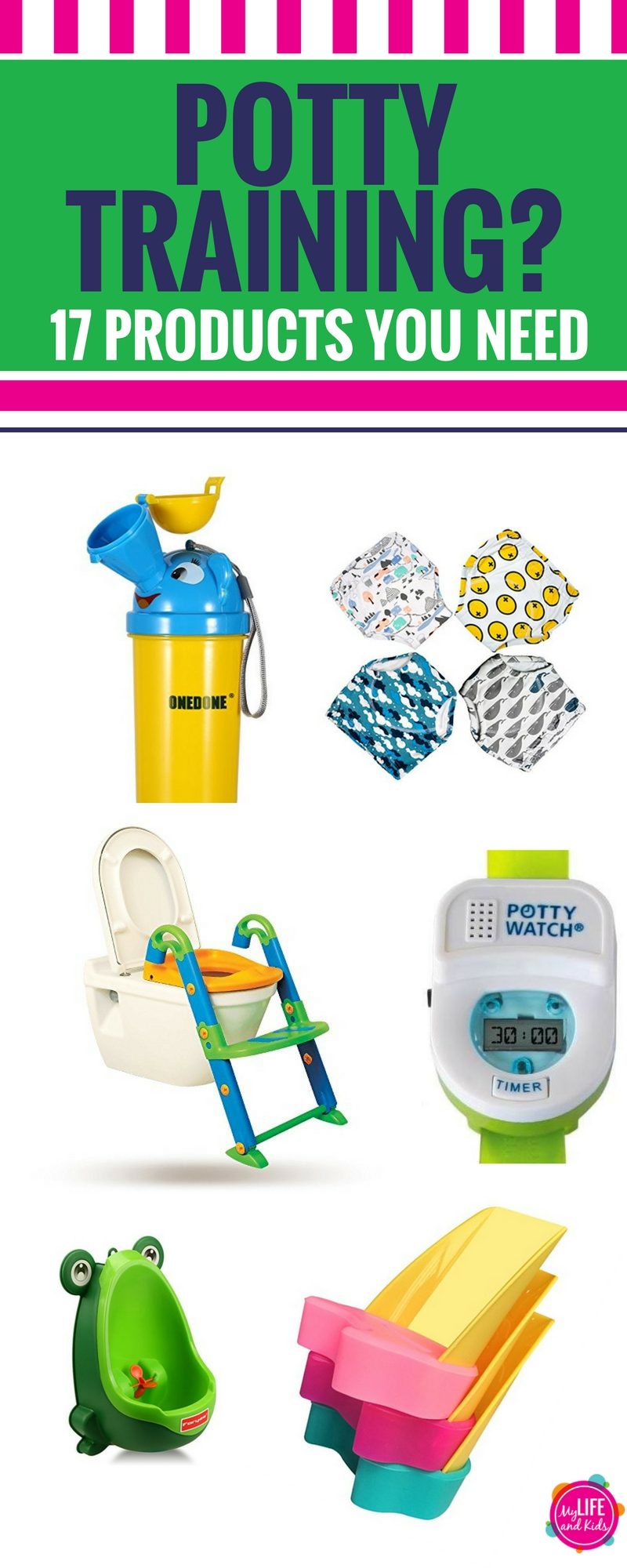 While my kids have been potty trained for years, there were also years where I thought they would NEVER be able to walk out of my house without diapers.
Ever.
Somehow they figured it out, but not without a few headaches on my end and a whole lot of bribes.
Of course, it was a few years AFTER I had potty trained my last child that I was hired to write a gazillion potty training articles for Kandoo Flushable Wipes.
This basically means that I am a freaking expert when it comes to getting your child to use the potty on a regular basis.
Here's a hint for you. The real secret to getting your kid potty trained fast?
WAIT UNTIL HE OR SHE IS READY!
I'm not even kidding.
If you wait long enough, it can be a total breeze. For both of you.
It's a lot like riding a bike. If you wait until your kid seems too old to be using training wheels (like 5 or 6 or 7 or even 8), your child is going to get on a 2-wheel bike for the first time and just start riding. Put them on that 2-wheeler too early, and they'll figure it out eventually – but there will be scrapes and tears and maybe some blood along the way.
So – that's my whole rant on potty training. (And bike riding, apparently.)
But if you are potty training, read every single article I wrote about it first.
And then buy these products because they seriously do help. And some of them are just downright fun!
Potty Training Supplies that Every Parent Needs.
And by needs, I mean these are super fun to have! 🙂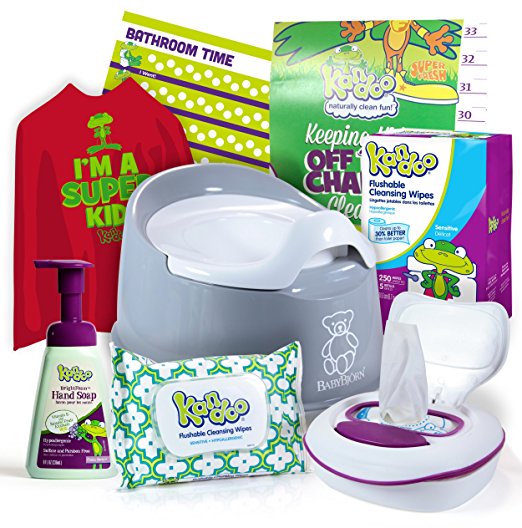 The first item gets its very own feature because it really is a "need." (And I'm not just saying that because I wrote all those potty training articles for them.) This potty training kit features everything you need to get started including Kandoo Flushable Wipes, Kandoo Hand Soap, the (BEST!) training potty ever (from Baby Bjorn), a potty training chart, a growth chart and even a cape for your child to wear when they succeed.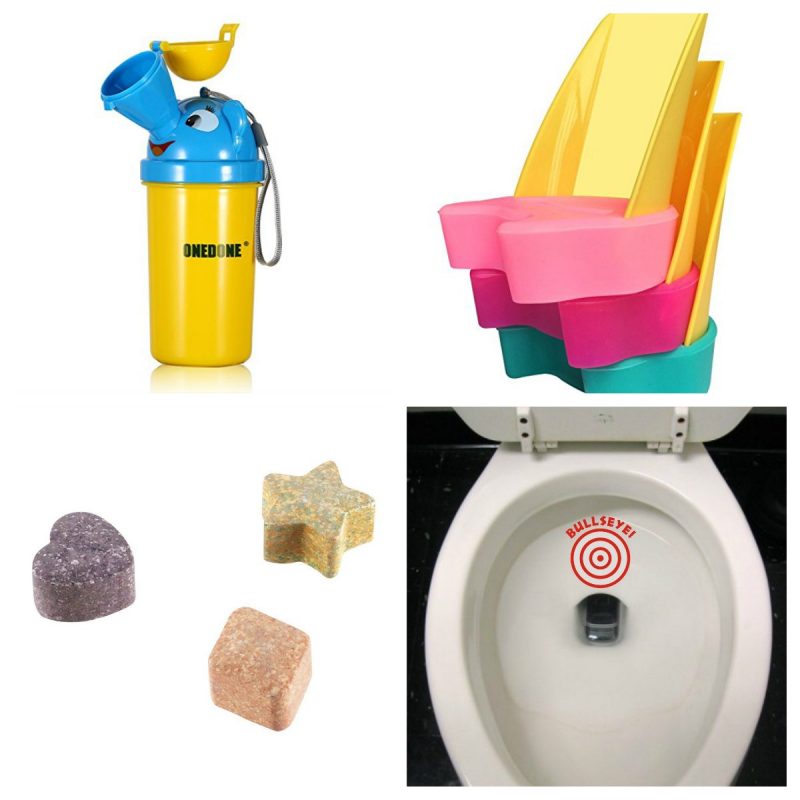 Portable Urinal Yes, that is a urinal. Isn't it awesome?!?
Faucet Extender These come as a set of three, and they're super handy even if you're not potty training. Attach them to your bathroom faucet so that your little ones can reach the water to wash their hands.
Color My Whiz Tablets How fun are these? I might even get some for myself. Drop one on, and watch your pee change the water into fun colors.
Bullseye Decal I'm thinking this is just going to be my go-to stocking stuffer for anyone with men in the house. What do you think?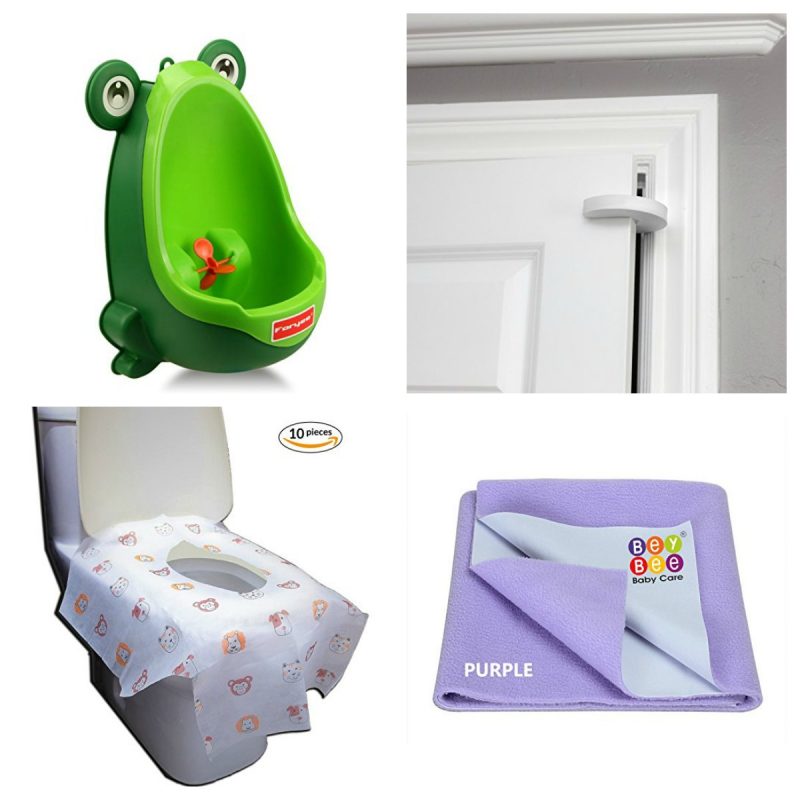 Frog Urinal Yes, you can get a urinal for your house. Just know that you will have to empty it. And maybe make a rule that your husband isn't allowed to use it. Also? You're never going to believe this price!
Door Guards These are super handy to have on your bathroom door during potty training. I can't tell you how many times my toddler would lock himself in the bathroom, and I would finally be allowed in and have a huge mess to clean up.
Disposable Toilet Seat Covers If you've ever been in a public restroom with a toddler, then you know these are a must-have item! Why do they have to touch ALL. THE. THINGS?!?
Waterproof Blanket This waterproof blanket dries quickly and might just save your furniture. Or your floor. Or your sanity. You're welcome.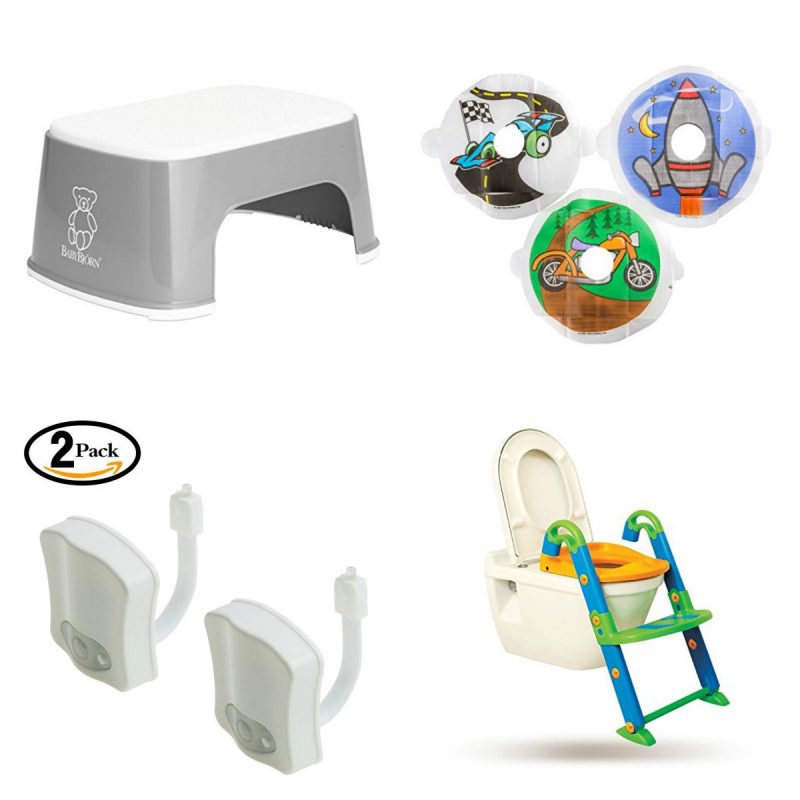 Step Stool It's simple and vital to make sure your toddler can reach the faucet and the soap.
Tinkle Targets Is there anything more exciting than target practice in the toilet? I'm told there is not…
Toilet Seat Night Light You're going to be pretty excited that these come as part of a 2-pack. These motion-activated night lights turn on when you lift the toilet seat. So no missing the mark when your child has to pee in the middle of the night. Be sure to check out the cool colors too!
Toilet Ladder If you're getting your child started off young (or if your toilet seats are high), this toilet ladder might just come in handy. The things you never thought you would need as a parent…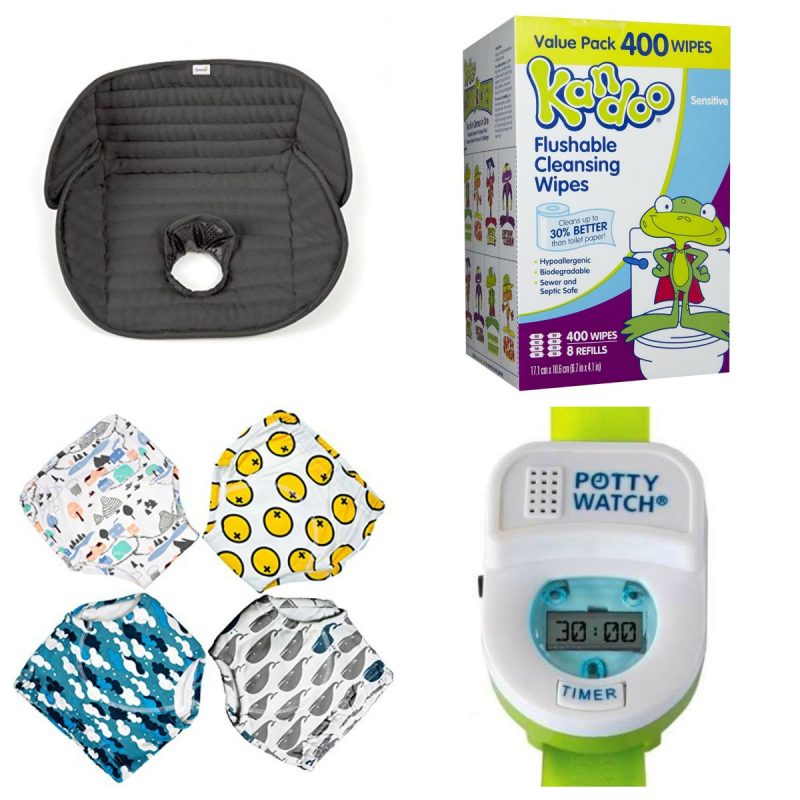 Piddle Pad There is nothing scarier than heading out on a road trip with a toddler that is potty training. This piddle pad fits around the carseat buckles so you don't have to wash the entire seat when you get home.
Kandoo Flushable Wipes  These flushable wipes really do clean better than toilet paper, and my kids absolutely love them. Even my 8-year-old is still using them.
Toddler Underwear Don't forget the underwear!
Potty Watch This potty watch will remind your child when it's time to go potty. This is a fun way to teach your child potty independence!
This post contains affiliate links.