Laughs
Our Return Visit to the Coffee Shop
By |
I was in Michigan visiting my family last week, and my sister-in-law (the trashy one) and I decided it was time to get mom back to that coffee shop.
You know the one…
The same coffee shop where I had that little "incident" – caused by my trashy sister-in-law – that has resulted in my mom having to use the coffee shop drive through for the past 8 years or so.
If you have no idea what I'm talking about, please read this story. It is wonderful and funny and my mom hates it.
And if you don't go back and read it, the rest of this will make no sense to you, and that will make me sad. So – just read it.
Several things have changed since that morning so many years ago.
First of all, I am no longer a runner. And I actually think it's quite shocking that I ever ran a marathon in the first place. (Not as shocking as the stripper and the breastmilk, but still pretty shocking.)
Second of all, I have children – and so does my sister-in-law.
Third of all, the coffee shop is no longer called Beaner's – it is now called Biggby Coffee – but the husband and wife owners that I went to high school with remain the same. (Hi Matt and Denise! Sorry again for throwing up in your coffee shop – and outside your Roly Poly! and sorry that we couldn't hang out while I was in town!)
My mom wasn't thrilled with going back – and she really didn't trust Holli (my sister-in-law) and me to behave ourselves.
At first, she was only willing to go through the drive through.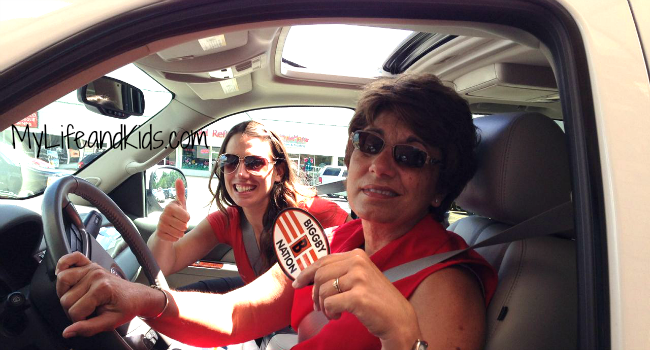 But Holli and I said it was time for her to face her fears. So we (literally) forced her through the doors.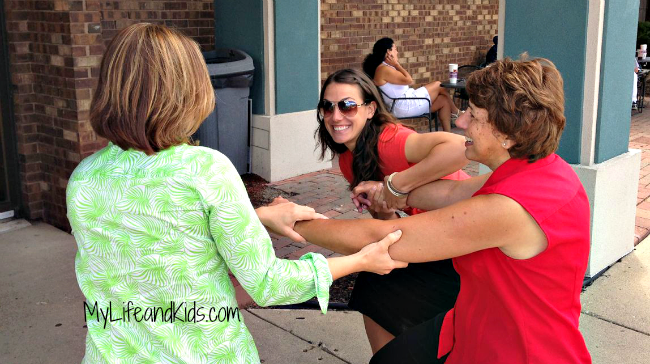 She went straight to the bathroom.
So Holli and I ordered our drinks.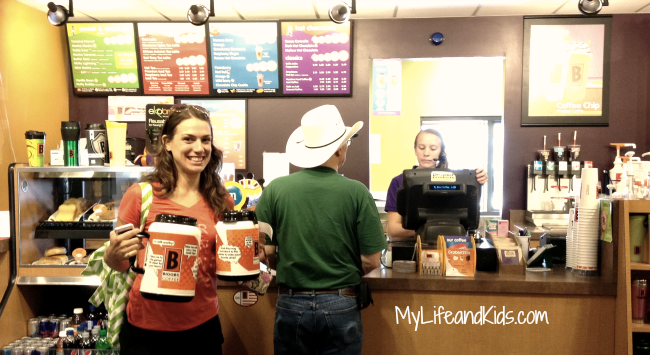 And we waited.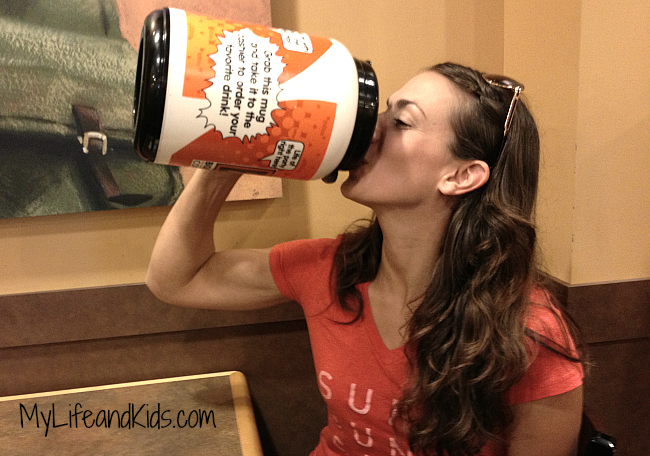 And we waited.
She finally emerged after about 10 minutes.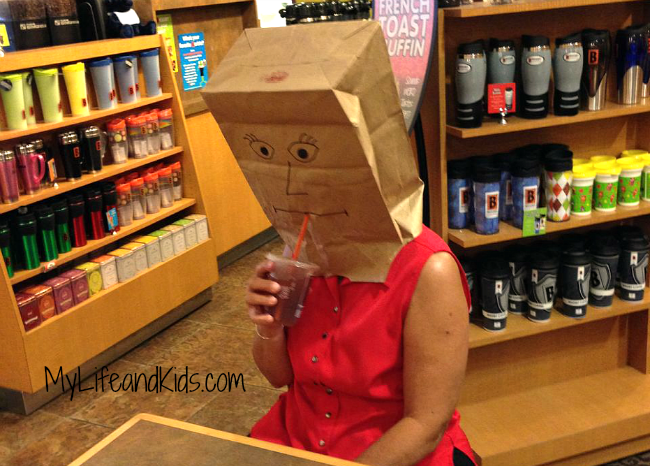 So of course I helped her drink.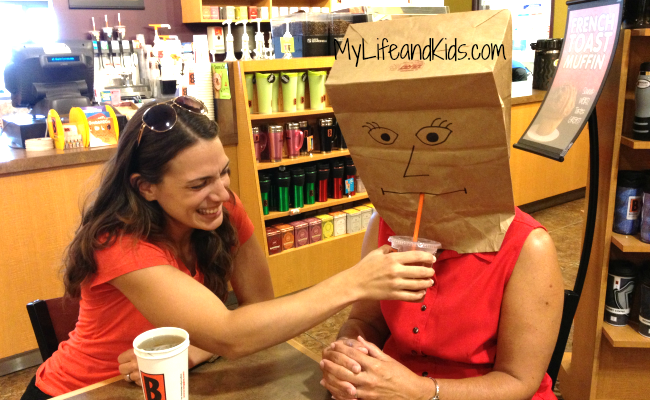 Eventually, Holli and I were able to convince her to take the paper bag off of her head. I gave a toast in honor of her bravery.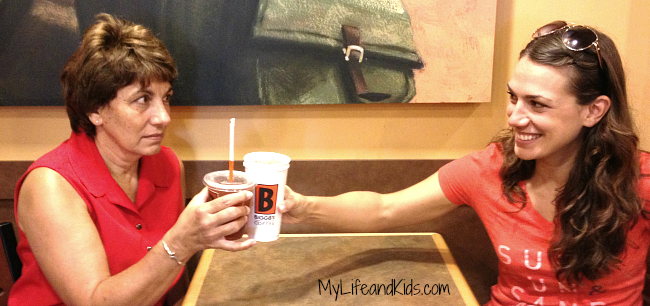 And then Holli and I just couldn't resist, so we re-enacted the entire puking scene.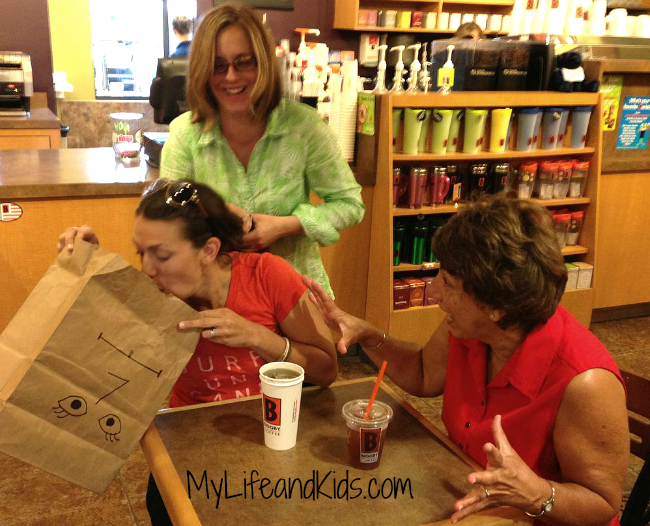 Only this time I had an actual bag – and Holli was able to hold my hair back for me – which I thought was nice.
That made my mom leave.
And my daughter was pretty embarrassed too.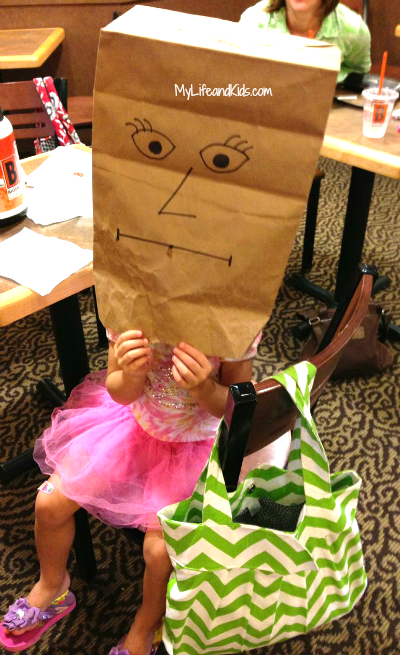 But Holli and I were having so much fun, we couldn't just leave it at that.
So we recreated the Roly Poly incident too.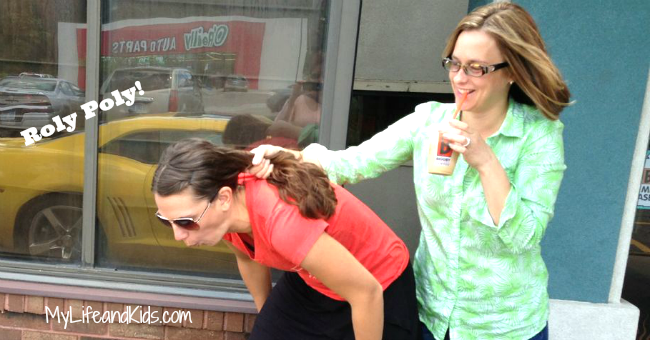 And – yes – that was one of the 10 best days of my life, in case you were wondering.
There's just something so magical about getting my mom all riled up.
And now she says after our behavior AGAIN – she's back to the drive through for the rest of her life.