Mom Life
Our Favorite Books for Kids in Elementary School + A Summer Reading Program Your Kids Will Love
By |
One of the biggest things I struggle with during the summer is making sure that my kids' brains still work when it's time for them to head back to school in the fall.
We always start out in a great routine. They do math flashcards every morning, they do a page in their summer workbooks, and I do my best to incorporate little lessons during our everyday events (like having them figure out the sales tax when we go grocery shopping).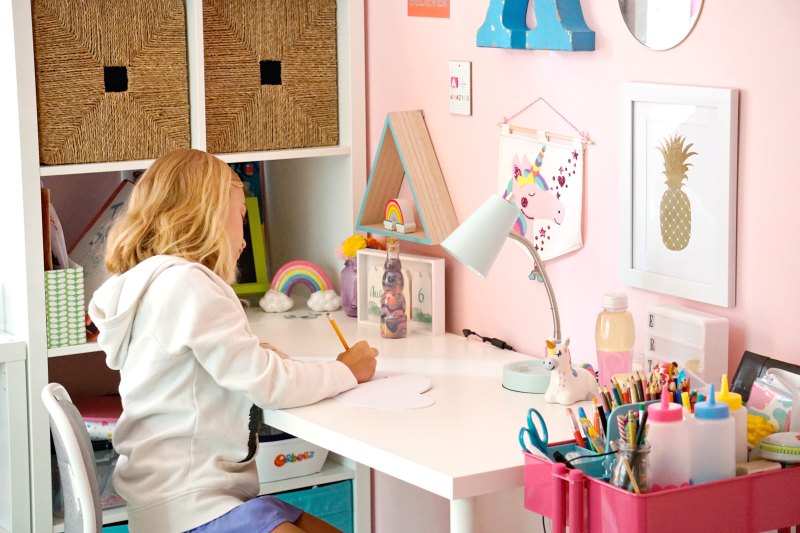 But like all routines, this tends to fizzle out as the summer goes on. We start to focus more on who can make the biggest splash in the pool and who can eat the most s'mores and catch the most lightning bugs. That's what makes summer so magical, but inevitably my kids are going back to school in the fall with me wondering if they even remember how to hold a pencil.
I wish I was kidding.
And, as it turns out, I'm not alone. Studies have found that the average child loses 1.5 months of learning over the summer while they are out of school, putting them behind when they start a new grade in the fall.
So I'm teaming up with Half Price Books to help spread the word about their Feed Your Brain Summer Reading Program for kids and teens.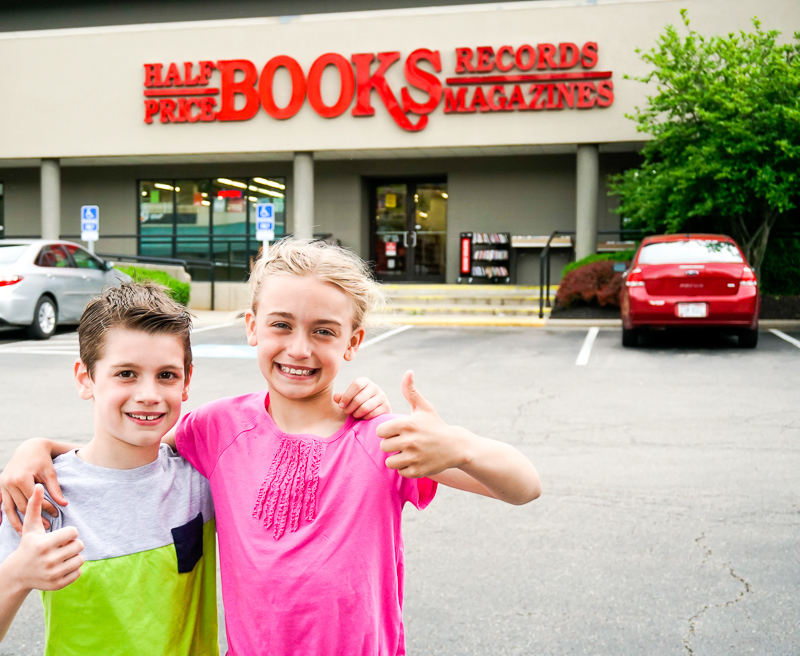 Half Price Books is America's largest family-owned new and used bookstore chain with 125 stores in 17 states, and we're lucky enough to have one within a mile of our house.
My kids love the amazing selection of books that seem to be perfect for their age and reading level (no matter how old they are and what "level" of book they're looking for). I love the affordable prices and the friendly atmosphere. It's so nice that I can leave my kids to read in their section while I take a spin through my favorite sections (like romance and cookbooks).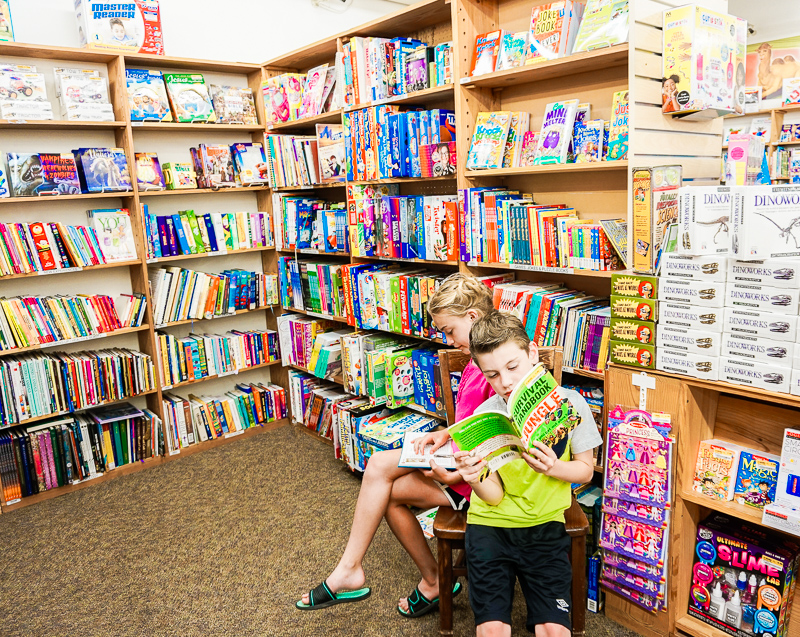 Feed Your Brain Summer Reading Program
This summer, my kids have joined the Feed Your Brain Summer Reading Program. Designed as a way to preserve reading and comprehension skills learned in the classroom during the school year, kids and teens are rewarded for reading at least 15 minutes a day from June 1 to July 31.
Once they've read for 300 minutes, they can turn in their completed reading log at a Half Price Books location and earn a $5 Bookworm Buck to redeem for books of their choice.
Also as part of the Feed Your Brain Summer Reading Program, Half Price Books is inviting you to their Biggest Storytime of the Summer, which takes place on Sunday, June 2nd at 2pm local time at every Half Price Books location.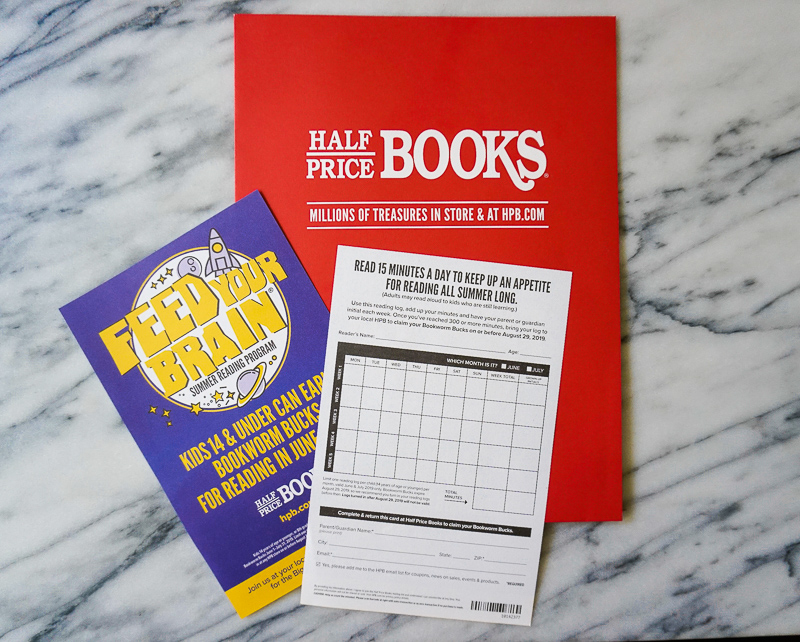 Helping My Kids Stay Excited About Reading
My kids can easily read for 15 minutes or more a day as long as they have a great book to spark their interest. We regularly stop by Half Price Books to load up on new selections. Some are winners – with all of us reading a series together. Some are not their favorites, and we sell them back to pick something new.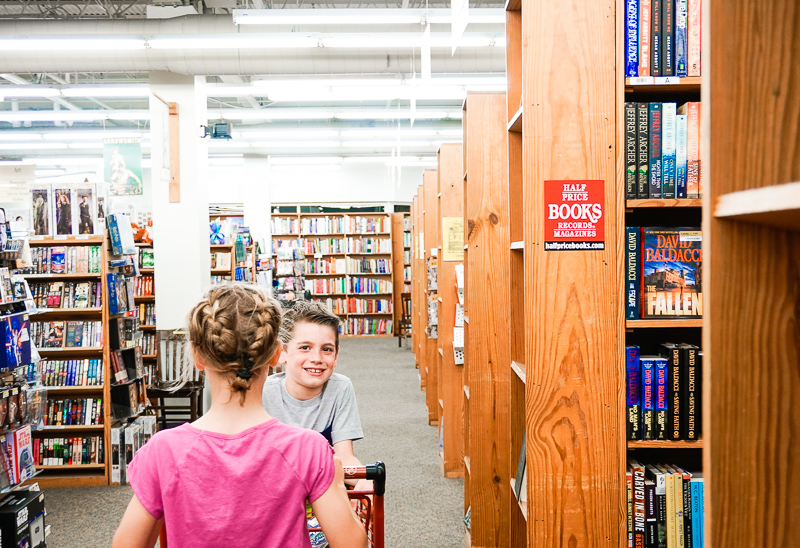 On our most recent trip to Half Price Books, Simon found a Jungle Survival book that got him pretty excited to start reading.
As soon as we got home, he packed his fanny pack full of snacks, filled up a water bottle and headed into the backyard to see how long he could "survive." He created a shelter for himself and spent about an hour reading, snacking and surviving.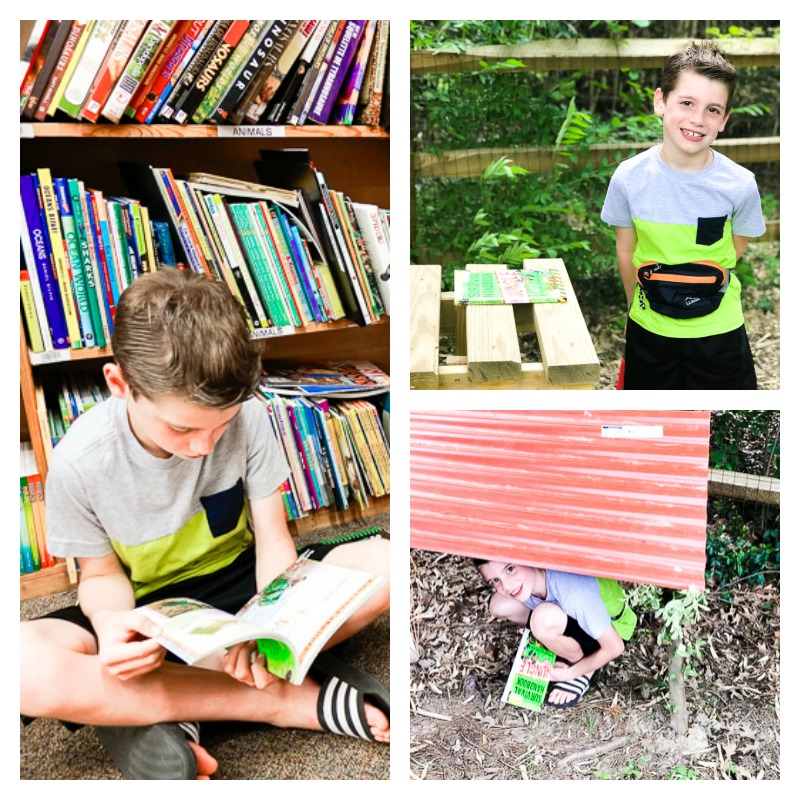 To help you set your kids up for success, I asked my kids to write down some of their favorite books.
You can also click here to see recommendations based on your child's age directly from Half Price Books.
Simon's Picks
Simon is going to be in 3rd grade in the fall. He loves graphic novels and reading stories about survival. He read all of the Diary of a Wimpy Kid books over the past year and can't resist a book from the "I Survived" series.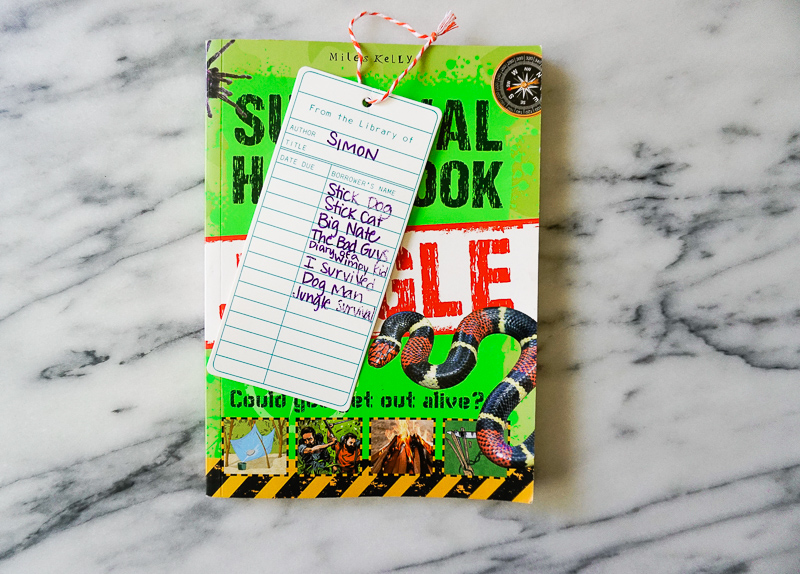 Alice's Picks
Alice is going to be in 5th grade in the fall. She discovered Percy Jackson this year and might read the entire series again this summer (as soon as she finishes up the Harry Potter series). She also read a book this year called Zorgamazoo. It's full of rhymes and she says it's really fun to read out loud.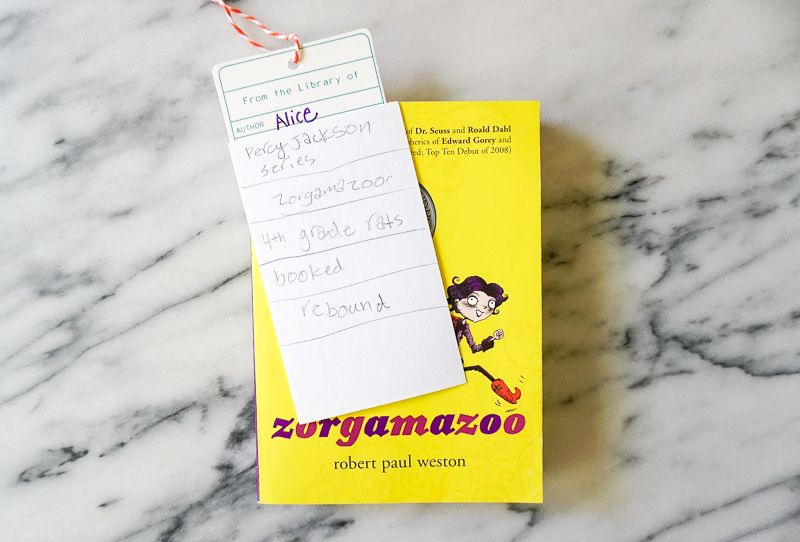 Miles's Picks
Miles is going to be in 6th grade in the fall. He also read Percy Jackson this past year and is working his way through Harry Potter. He loves books that star dogs as the main character and books about sports or mystery. (Basically, he likes ALL books).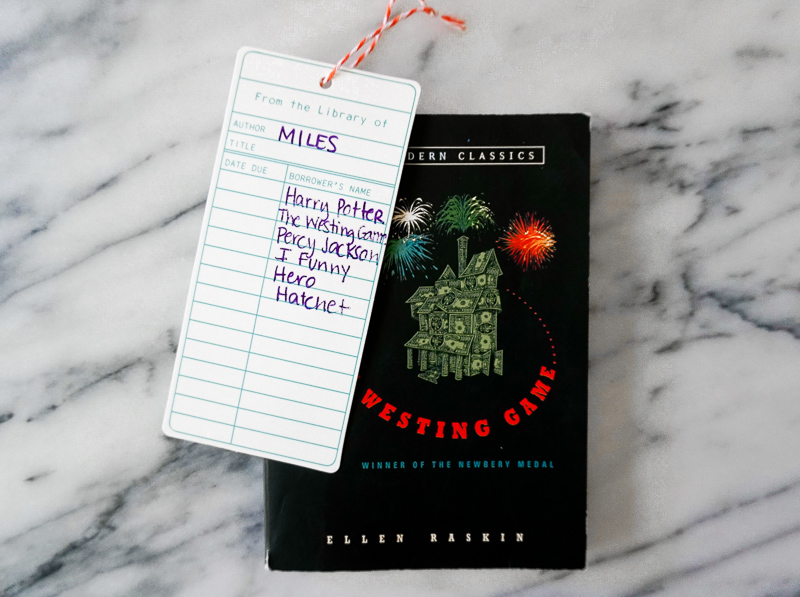 More Great Book Ideas for Your Kids
If you're looking for more book recommendations, I scoured our bookshelves for some of our favorites, and I asked my readers to share some of their kids' favorites. The result? More than 20 books that should help your kids get excited about reading this summer. As an added bonus, 12 of them are part of a series.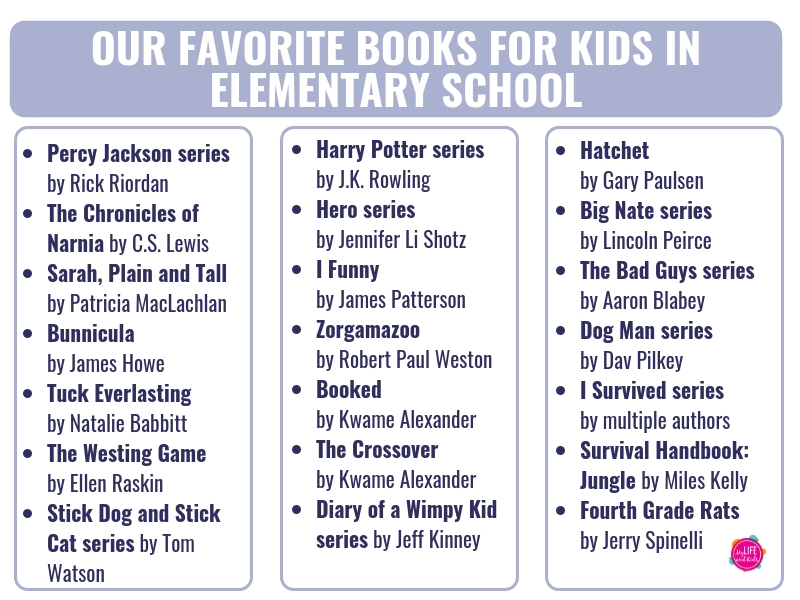 Click here to download and print the list to take with you to Half Price Books as you make your summer reading selections.
Sign Up now for the Feed Your Brain Summer Reading Program
If you haven't already, click here to learn more about the Feed Your Brain Summer Reading Program from Half Price Books.
Not only will it help your kids develop a habit of daily reading throughout the summer, they can also earn Bookworm Books to purchase more books from Half Price Books.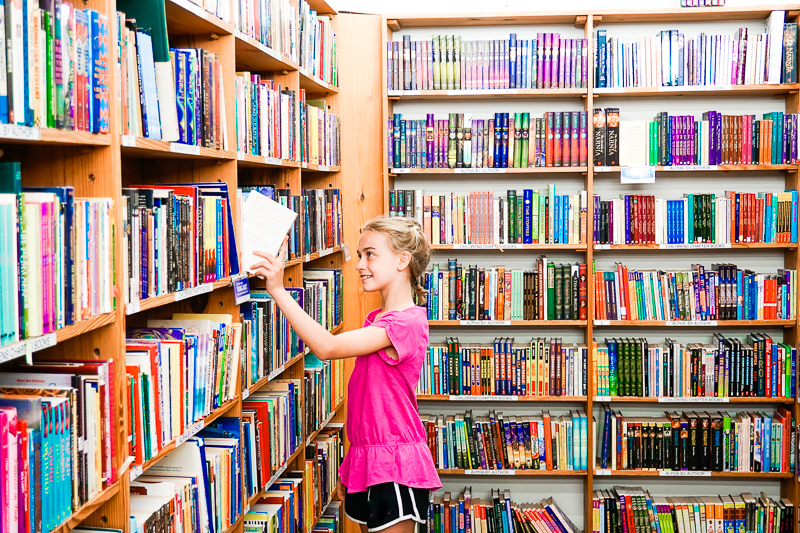 This is a sponsored conversation written by me on behalf of Half Price Books. The opinions and text are all mine.