Mom Life
The (Not So) Natural Birth Story
By |
Welcome to the Share Your Story event: Childbirth – Your Stories
This post was written as part of the Share Your Story event hosted by Kids in the House. Our contributors have shared their stories, struggles, and wisdom about the unforgettable yet unpredictable event that is childbirth.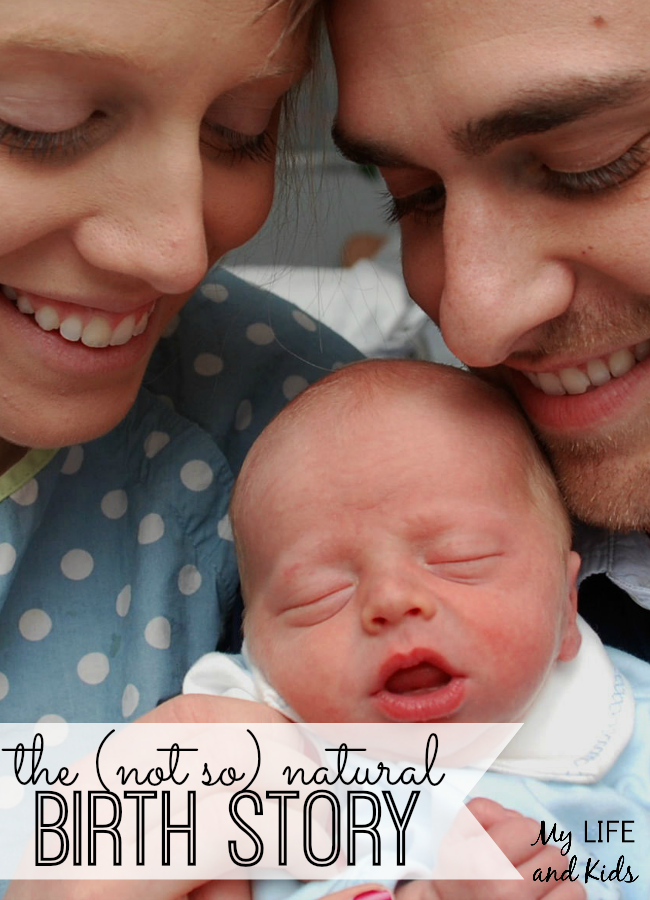 The first time I heard of HELLP Syndrome was the day my beautiful son, G, was born.
I just remember everything happening too quickly.
One second I'm telling my co-workers I will be back in an hour and am walking into my 36-week appointment for my routine check up.
The next minute I'm on the high risk pregnancy floor.
I remember the doctor on call coming in and saying, "HELLP syndrome" and "emergency C-section".
Before I knew it I was being wheeled into the pre-op area, I overheard discussion about possibly putting me under, something about bleeding out.
Wait what?
Then there was the operating room,
The epideral was administered.
Shortly after that I heard my husband announce, 'It's a boy!' (yes, we were one of the crazy few who waited to find out!)
I could hear myself sobbing through the fogginess of the epideral.
I always wanted a boy.
My birth story, to say the least, was not what I expected.
HELLP syndrome is a life-threatening pregnancy complication, which is considered to be a variant of preeclampsia. Your body starts breaking down your red blood cells, your liver enzymes are elevated and you have a low platelet count. Essentially, your body starts rejecting the baby and the only known cure at this time to prevent further destruction to the body and death is immediate removal of the baby.
It can be difficult to diagnose because it's symptoms are sometimes mistaken for other ailments such as the flu, gastritis, or gall bladder disease.
I tackled pregnancy like I did everything else in my life…I wanted to be as prepared as possible.
I read several books and took all the classes.
I ate the right foods and continued to exercise.
Towards the end of my pregnancy, I just remember feeling really, really lousy – but who doesn't feel lousy at the end?
My feet were so swollen I had to wear sandals during the winter, my blood pressure continued to climb with each weekly appointment and I remember sporadic headaches and upper back pain.
It wasn't until my 36-week appointment that protein started spilling into my urine, and I was immediately sent to the high risk floor at the hospital where I was supposed to deliver my baby in a month.
Following the c-seciton, I received platelets and had to be on a drug called Magnesium to prevent seizures.
I just remember feeling like I was on fire.
Then a nurse woke me up one morning for an early feeding, hovering over me, she told me that they needed to start supplementing because G was losing too much weight and my milk hadn't come in yet.
I broke down and sobbed.
As much as I thought I had 'prepared' for G's arrival, I was totally unprepared.
I felt like such a failure.
The reality is no book or class could have ever prepared me for my birth story and how much motherhood would change and mold me to become a better version of myself.
I've learned there is no such thing as a perfect story, but that's parenthood.
I've learned that I'm a fighter and I am so much stronger than I realized.
I've learned that the relationships we have in this world are truly the most invaluable things.
I've learned to let things go and become totally selfless.
I continue to learn every day from my precious son, G, who came into this world in a way I didn't think possible, but a way that's made me a better mom.
A stronger mom.
A grateful mom.
A loving mom.
Whatever your story is, embrace it, and know that it's making you into the mom you are supposed to be for your kids.
Please be sure to read the submissions by the other Share Your Story contributors, and visit Kids in the House to find out how you can participate in our next Share Your Story Blogger Event!