Laughs
Naked and Afraid
By |
I would like to tell you that in my spare time, I watch really important television shows – like Dateline or something… newsy.
You know – so that when Even Steven tries to have a conversation with me that doesn't revolve around what I found in Simon's diaper (a toothbrush!) or what time I saw the neighbors leave for work (five minutes late!) – I'll have something to actually say.
Something like, "Wow – I couldn't believe what happened in China today – could you?"
But – instead – I spend my free time watching an inspiring new show called: NAKED AND AFRAID
Have you seen this thing?
It's like Survivor meets nudist camp meets trashy television. I can't stop watching it.
A man and a woman are dropped off in remote jungles without food, water or CLOTHES! And they have to survive for 21 days.
Naked.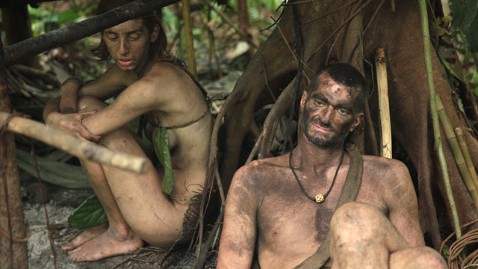 Just watching this thing makes me so itchy.
But it's also inspiring.
In fact, after watching every single episode that has aired so far, I've been inspired to create several new shows – that I think will become instant hits.
I don't want to jinx anything, but I'm pretty sure that I'm going to be famous on television soon.
Here are just a FEW of my ideas for new television shows…
Naked and Afraid: At The Playground
A mother and her three kids are dropped off at the playground with no food, no snacks, no minivan – and no clothes!
The mom must help her tired, hungry, thirsty children navigate the hot slides (ouch!) and the searing swings (yikes!) all while keeping her (LONG) boobs from dragging in the mulch.
This one will be rated CYE for Cover Your Eyes.
Naked and Afraid: DIY Edition
A woman and her husband must complete a DIY project from start to finish – with no food, no water and NO CLOTHES!
It will be rated PIYM for Puke in Your Mouth.
It will also be rated CWYPTC for Careful Where You Put the Caulk.
And – it will be rated D for Divorce!
Naked and Afraid: Post Childbirth
Cameras will follow women for six weeks after giving birth. They'll capture that first bowel movement (ouch!), the first six weeks of sleep deprivation (yikes!) and the moment that the doctor gives the green light to resume "relations" (AHHHHHHHHHHHHHHHHHHH!).
For the series finale, all of the women will come back and compete to see who can be the first to sneeze out a tampon.
(Sorry Mom – I just couldn't resist. I know you're disappointed in me, but it was totally worth it!)
It will be rated H for Horror!
Like I said – the possibilities are endless.
What would your Naked and Afraid reality show be called?