Laughs
My Mom (Still) Loves My Brother More Than Me
By |
When we bought our house three years ago, Miles was 2, Alice was 1, and I immediately became pregnant with Simon.
The house that we bought had been vacant for two years. Prior to that, a woman had smoked in it for 20 years.
There was wallpaper everywhere. In the kitchen, in the dining room, in the bedrooms, in the bathrooms – and even on a few ceilings.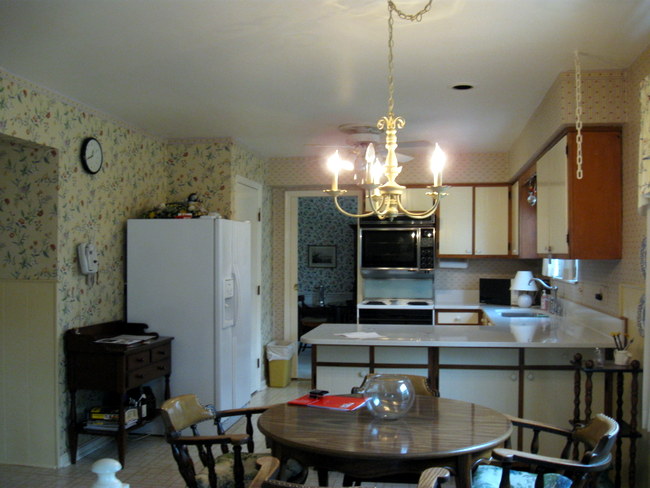 We saw this total wreck of a house, and decided that it just had to be ours.
Shortly after moving in, I quite my job to become a stay-at-home mom. So there I was with a 1-year-old, a 2-year-old and wildly pregnant – spending all of my naptimes peeling wallpaper and painting rooms – trying to get our house in order before the baby was born.
Was my mom there to help?
Did she move in with me for a month or two to help with the kids or with the house?
No.
No, she did not.
I tell you this because as I write this post, my mom is in Florida living with my brother and his family.
And if you read her comment on yesterday's post – then you know that she's in Florida to help them paint.

My brother and his wife just purchased a house that needs to be painted from top to bottom. The floors need to be replaced. It needs a good scrubbing – not unlike the state of our house when we bought it.
While we had to move into our house immediately – and paint/peel wallpaper/replace carpeting around our furniture and our children – my brother has the luxury of waiting an entire month before they need to move in.
So what did my mom do for her favorite child?
Well – she's been there for more than three weeks now. She's learning to paint. She's preparing meals. She's running pick up and drop off for the kids. She's picking up supplies. She's doing their laundry. So that my brother and his wife can spend every minute they're not at work at the new house getting it ready for move-in day.
Am I complaining? No.
Am I whining? A little.
Do I need to remind my mother that I was pregnant with two toddlers running around and trying to do all of this? YES.
Does my mom clearly love my brother more than me? Yes.
Am I jealous? You betcha! My mom can scrub a toilet like no other – I could really use her help up here.
Does my mom owe me? I think so…