Laughs
My Mom is Disappointed – and a Surprise for Her
By |
My mother is very disappointed in me these days.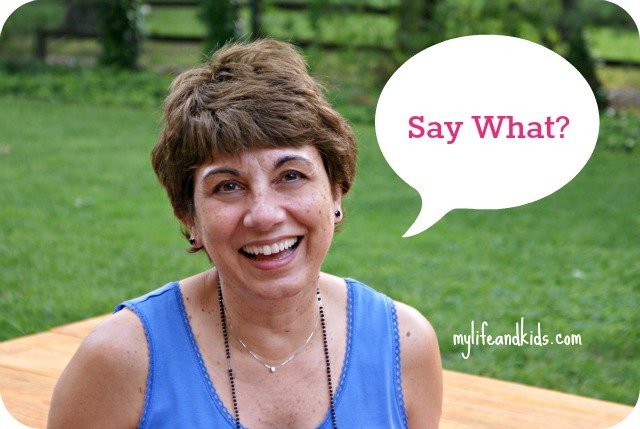 I hate it when she's disappointed.
Every time I hear the disappointment in her voice, it takes me right back to the time that she took me to my first football game as a freshman in high school, and we said goodbye in the parking lot, and by the time she picked me up, I'd found an upper-classman to kiss goodbye.
Or the time that my friend Melissa and I were playing with the Barbie pool in my room, and my mom said it was time to clean up, so I dumped the pool out on the floor in my closet and covered it with my clothes. And when Melissa gasped, I told her that we always cleaned up the pool that way.
It's kind of like that.
Only different – because there's no risk of my closet floor leaking through to the living room – or of teen pregnancy or of becoming a total parking lot whore. (Which happened for about a month in 9th grade. Maybe I'll tell you about it sometime.)
Those days are long gone.
These days, her disappointment stems from my blogging irregularity.
It's not quite enough for her that there are 3 – 5 posts going live every single day at My Life and Kids. No – she wants FUNNY posts that she can read from the comfort of her bed each morning while waiting for my dad to deliver her a cup of coffee.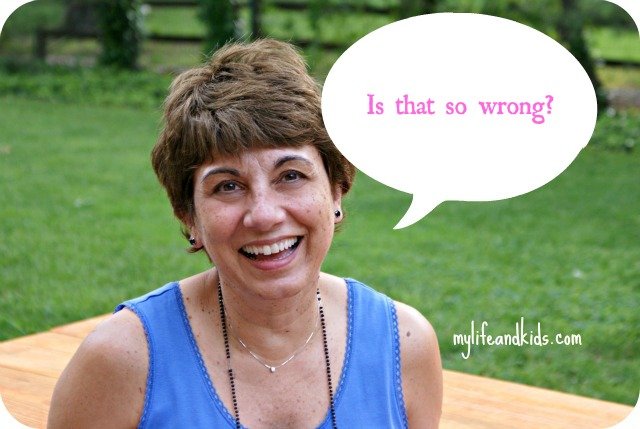 She wants to be able to call me and read me comments – and then leave her own comment. And then call me to tell me she wrote a comment – and then wait on the phone snort-laughing while I read her comment and tell her that she's funny.
And then she wants to share those posts with her friends so that they think I'm funny too – and then read her comment and think that she's even funnier.
I wrote a post yesterday that she halfheartedly shared on her Facebook wall, and one of her friends said, "I love your daughter's blog. So funny."
Or something like that.
And my mom's response was, "Oh – thanks so much. I hope you got a chance to read some of her older stuff. It's way funnier."
Ahem.
On one hand, she's my biggest cheerleader.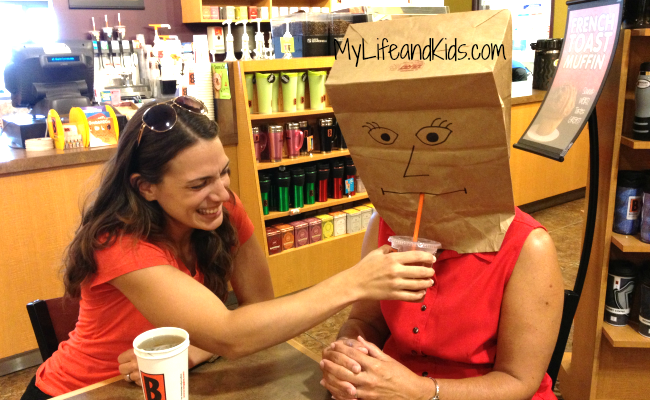 On the other hand, she's a bit of a slave driver.
As in, "I see that you have three kids and are doing about 20 hours per week of consulting work, but that's still no excuse, because I need SOMETHING FUNNY EVERY DAY. FUNNY. EVERY DAY. LIKE TODAY."
No acknowledgment that I had to coordinate Valentine's Day, my daughter's fifth birthday playdate (not a party – just a playdate with cake), her actual birthday, her school party, then my son's school party, his actual birthday and then a family party for all of them. Not only did I coordinate all of that, clean my house for all of that, buy the gifts for all of that and cook for all of that – I also had to make sure that our oldest son didn't contemplate suicide while we spent nearly 10 days celebrating his siblings non-stop.
No acknowledgment that it is February which is the worst month on EARTH for anyone living north of Tennessee, and it's all I can do not to load up the minivan and move the entire family to Mexico. (Which I would totally do if I could remember a single word from my 8 years of Spanish classes.)
No acknowledgment that I didn't even get around to buying the 3-year-old snow boots or mittens this year so everyone has been taking turns with the mittens and boots we do own – despite it being the coldest, snowiest winter we've had in about 20 years.
No – those things don't concern her a bit. She's NOT WORRIED.
But if I can't muster up something funny to say – or maybe do more with it than just write it in a notebook for someday when I have time to write again… It's just totally unacceptable.
In fact, yesterday our conversation went something like this:
Mom: So – no new post again today?
Me: I have one nearly ready to go, but I was too tired to finish it up last night. I'll post it in a little bit.
Mom: Is it funny?
Me: Sort of. Not really.
Mom: Oh, I see…
Me:
Mom: I see that you haven't been posting much on your Facebook page lately. What's going on there?
No acknowledgement that my sitter – the one that came and watched my kids two afternoons a week so I could do things like write funny blog posts and post funny pictures on Facebook – had a schedule change in nursing school and can no longer watch my kids.
Nope – that doesn't seem to concern her a little bit.
Something similar happened to my brother about a year ago, and she moved in with him for three months to help take care of the children, clean the house and hold down the fort while my brother and sister-in-law went to work and then spent their weekends hopping from hotel to hotel because they could.
Okay – it wasn't exactly like that – but a little like that.
I've been without a sitter for over a week now, and she hasn't uttered one word about maybe moving in and helping me out. Or buying my baby snow boots. Or mittens.
No – all I hear is that I'm not being FUNNY! And that I'm slacking on Facebook.
So today, I have a huge surprise for my mother.
I'm being funny.
Totally kidding – I'm not being funny.
But I AM going to give my mom total control over the blog next week. And my facebook page!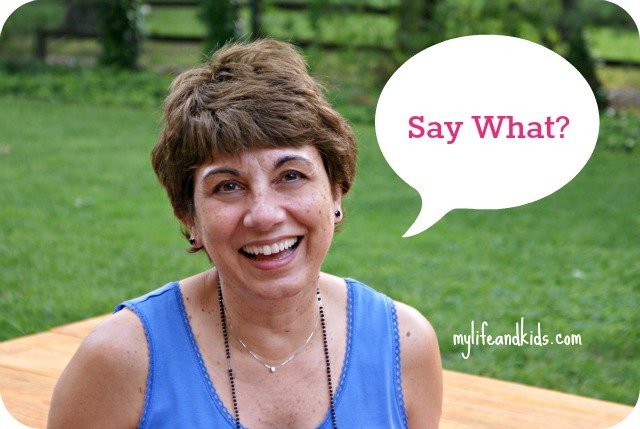 Which means that she's going to write at least three funny posts for you.
And I'm going to make her admin of my Facebook page for a week and let her write whatever she wants (which brace yourself – she loves to provide spoiler alerts about all of her favorite shows and upload pictures of the snowbanks in her front yard.)
Do you hear that mom? You're responsible for at least three funny posts next week (which is less than the five I used to write before I got jobs and kids that stopped napping every day and a sitter that quit.)
You might have to take a little break from watching all of the morning shows while dad brings your coffee. And you might have to skip your 2 pm shower every afternoon. And you may or may not be able to meet up with your friends for Bunco.
But I have no doubt that you'll be able to entertain us.
NOW BRING ON THE FUNNY! And don't forget about that Facebook page!
(If you're not already following me on Facebook, now's probably a good time to start. Even I can't wait to see what on earth my mom comes up with for next week.)