This post is in partnership with Sylvan Learning. All opinions are my own.
Wow! It's hard to believe that our kids were still in school two weeks ago. When we first got the news that schools were shutting down, I decided that I would give my kids a nice long break to rest their minds, explore their creativity and take a time out from timelines and homework and structure.
That lasted for about three hours.
What we all quickly learned is that our house thrives on a routine and structure. So, the kids and I had a brainstorming meeting and created a schedule that is working for us.
I'm teaming up with Sylvan Learning to share our schedule with you as well as the free online resource that is making my life so much easier.
Before we jump in, I want to say that I don't think every house needs a schedule. If going with the flow works for you and your family, then PLEASE go with the flow (you are still going to want these free resources from Sylvan Learning, though). If our schedule seems extreme (it's aggressive, I'm not going to lie), then take what we have and modify it to something that works for you!
The At-Home Schedule That's Working for Us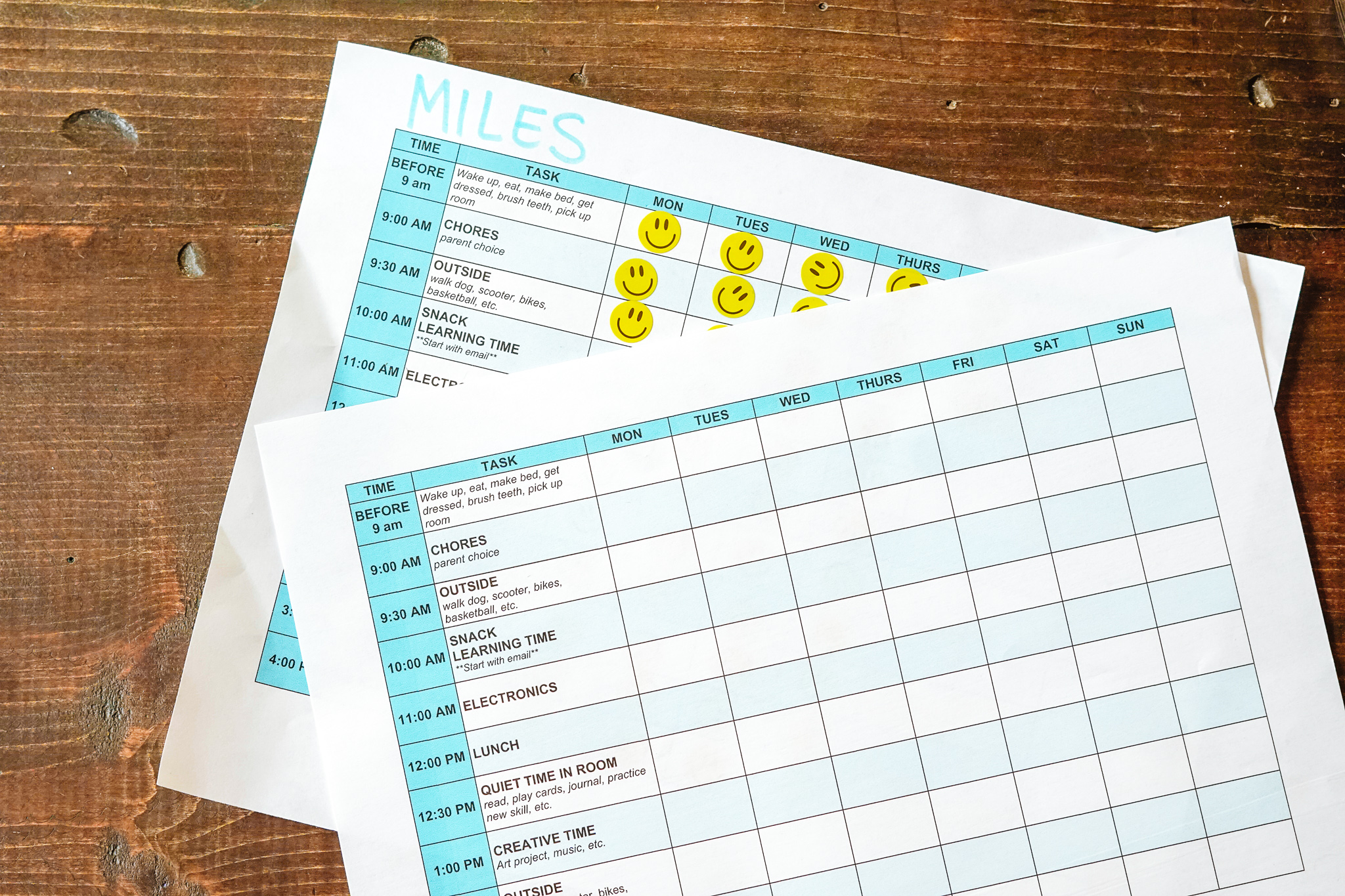 By 9 am every morning the kids have to be dressed, have their teeth brushed, their rooms picked up, and they need to have eaten breakfast. They can watch television while they eat breakfast, but they can't have computers or devices.
At 9 am, we have 30 minutes of chores. This is really just tossing in loads of laundry, picking up the main floor and cleaning up the kitchen after breakfast. And, of course, wiping down all of the high-touch surfaces with disinfectant wipes.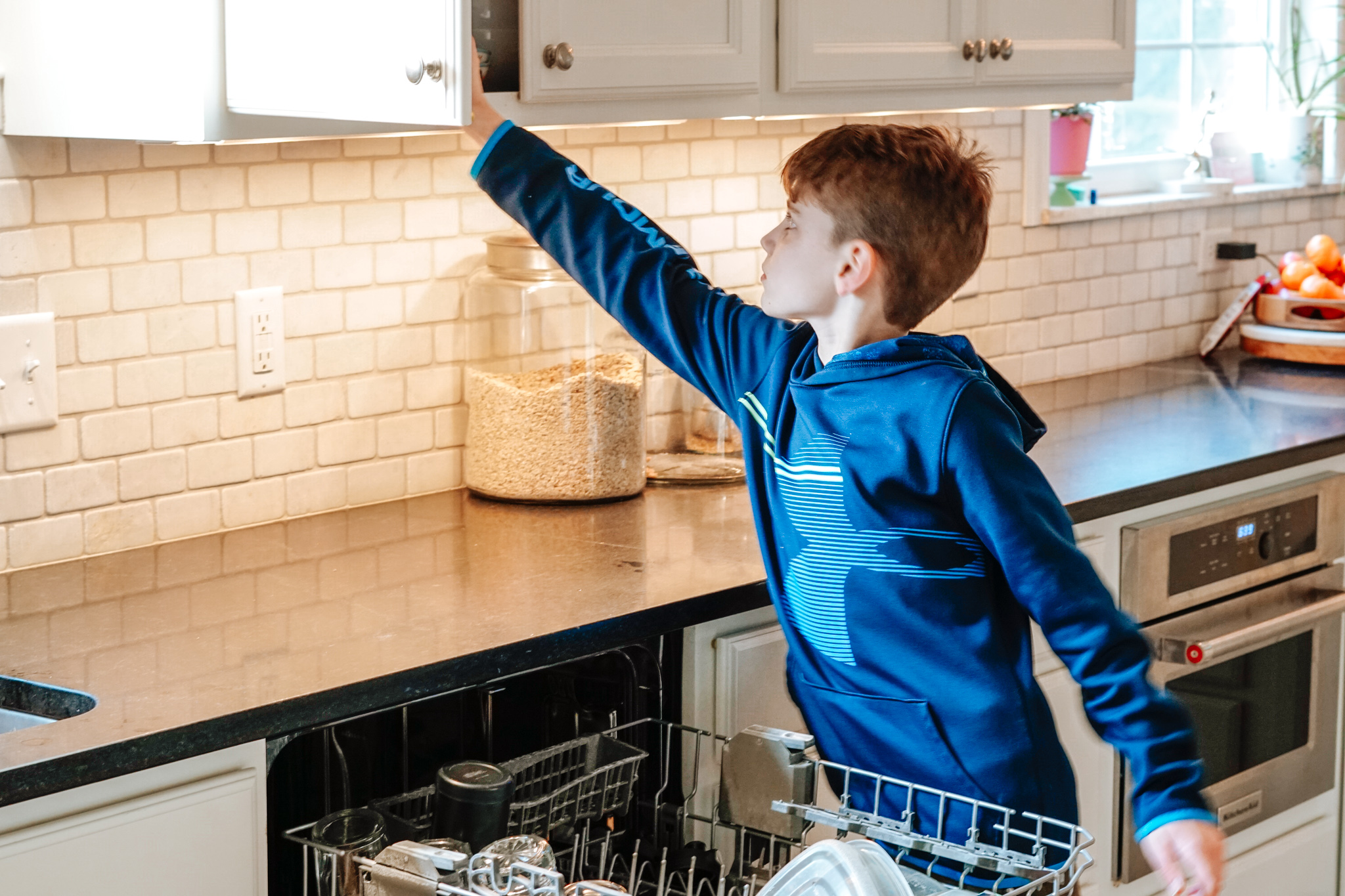 From 9:30 - 10 am, it's outside time. Even if it's cold. Or raining. They can ride their bikes, go for a jog, walk the dog or run around the yard. It's up to them. I take these 30 minutes to do anything I need to do to prepare for the day. This usually inlcudes reading the news, checking in with friends or making a list of all of the work I need to accomplish.
At 10 am, it's snack time and an hour of educational time. I usually have them each start by writing an email to an adult in their life. They need to ask questions about how they're doing, talk a little about what's happening at our house (they all complain about my schedule), and they need to use proper spelling and punctuation. They're supposed to let me see what they write before they hit send, but if you've gotten an email from my youngest, then I'm sorry in advance. He's not the best listener.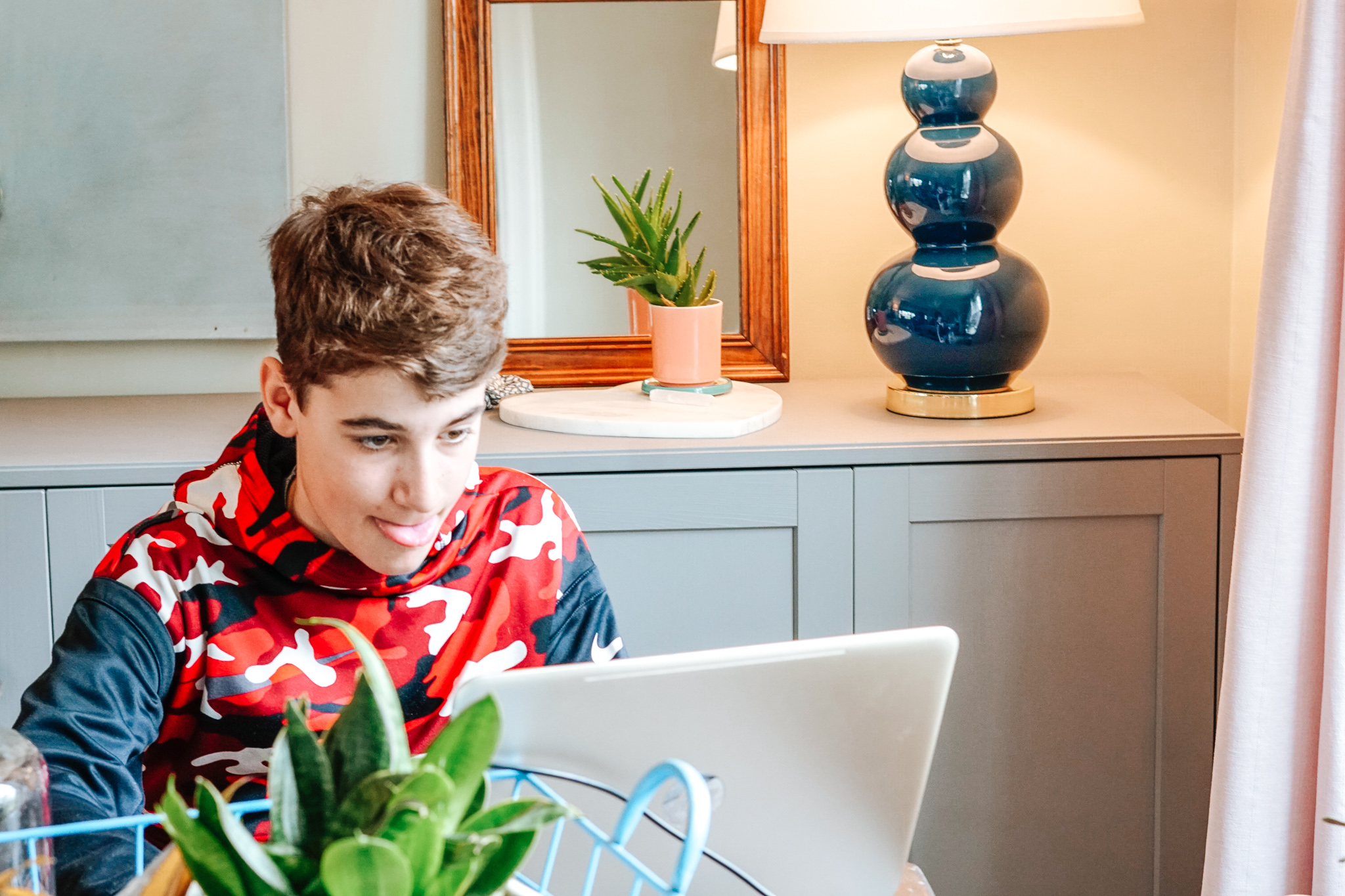 The rest of the hour is spent doing educational activities that I download from Sylvan Nation.
Sylvan Nation is a Great Free Resource for Parents and Teachers
Sylvan Nation is an amazing, FREE resource that I've been using for over a year. When the kids were in school, I used it to get great educational tips and tools to help my kids navigate all of their subjects. Now that the kids are out of school, I hop on every day to download activities, worksheets, learning packets and writing prompts.
There are so many educational websites being shared online that I was spending way too much time trying to sift through the good, the bad and the ugly to find a resource that would fit the needs of all three of my kids. Thankfully, Sylvan Nation was all I needed.
You can click here to join Sylvan Nation for FREE.
You don't have to be enrolled in a Sylvan Learning program in order to join and get the resources. Sylvan Nation is open to EVERYONE.
At 11 am, it's their favorite time - they get to play video games or computer games for an entire hour! This is when I have time to work or drag my husband away from his computer for a quick walk around the block.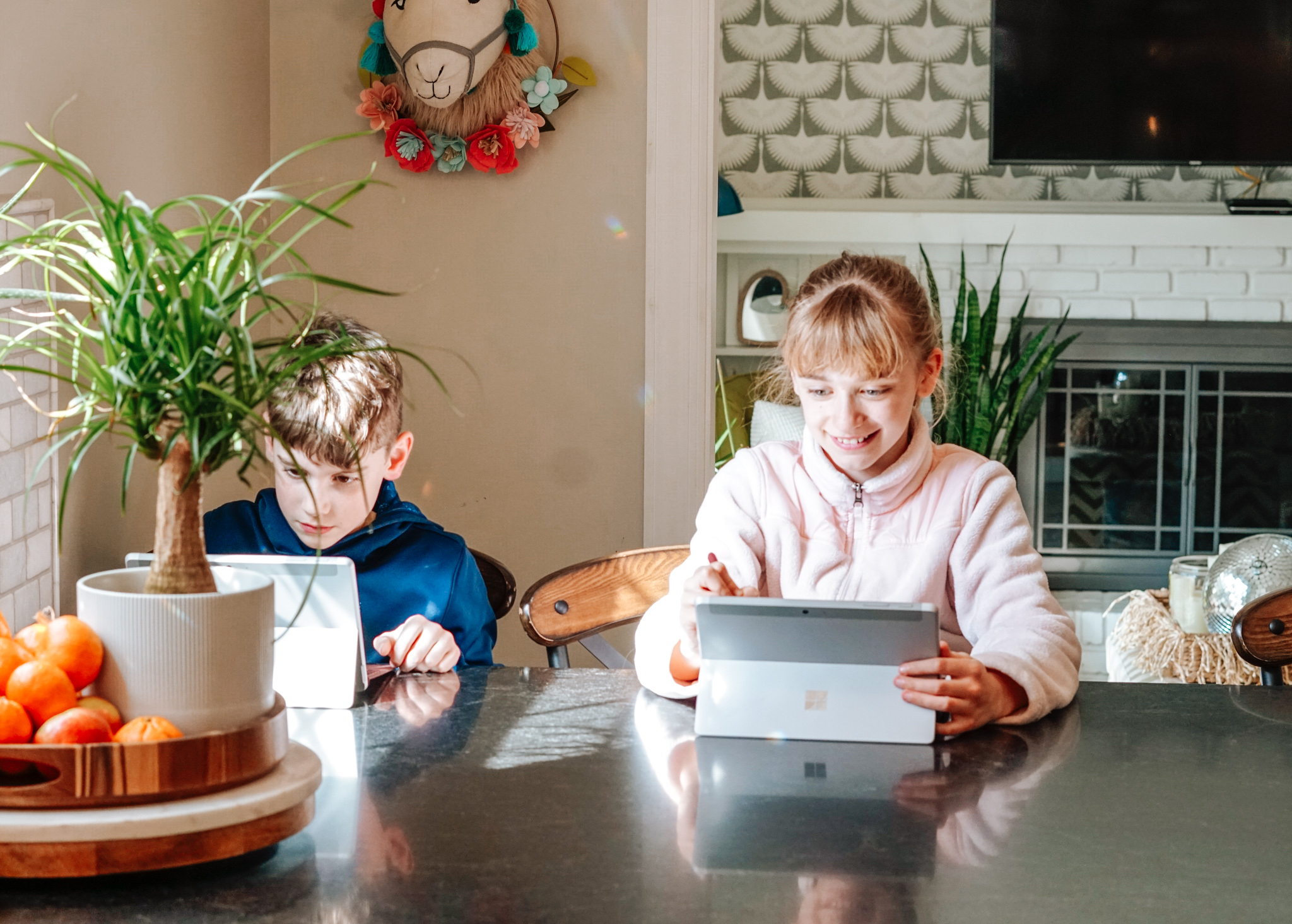 Computers close at Noon, and we eat lunch. Then from 12:30 - 1 pm, they have to spend 30 minutes in their rooms alone. They can journal, do art projects, read, sleep, play. Really whatever they want - but they have to be in separate rooms, and they have to do it quietly. (And no devices).
I thought they would really resist this and complain, but they all seem to love it. Miles has finally started reading for pleasure without me forcing him to, and Simon has become a master at paper airplanes. Alice is keeping a journal of our quarantine time to share with her future family one day.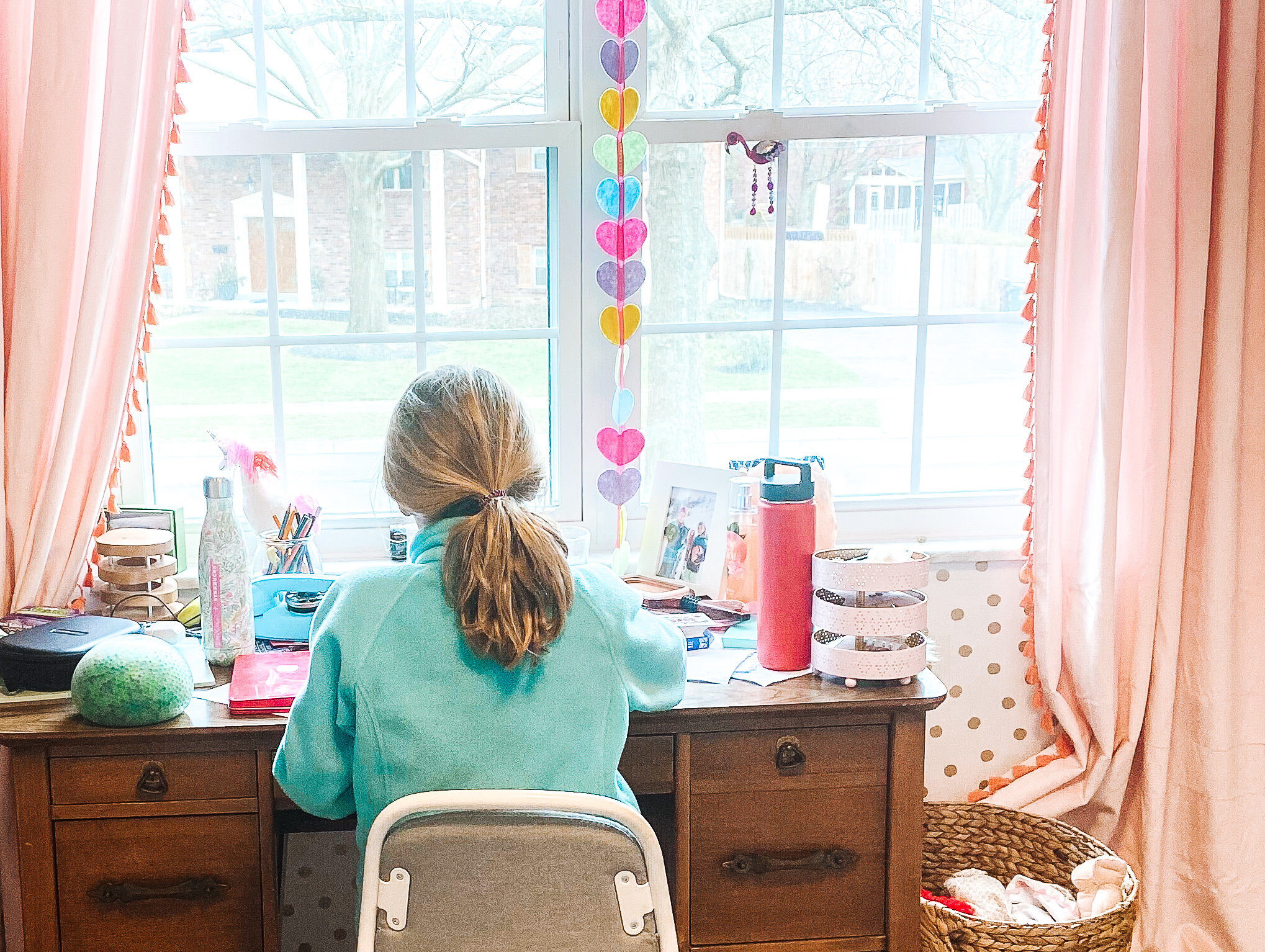 From 1 - 2 pm, it's craft time. It's been so funny to see my 12-year-old son resist this so hard at first, and now he's the first to ask how much longer until craft time.
I've been loving how easy it is to grab a quick craft activity from Sylvan Nation. The supplies are typically things we have around the house, and the instructions are easy to follow. Later this week, we're going to use craft time to bake a "Wacky Cake" together from Sylvan Nation. It looks like so much fun, and there's a full STEM experience "baked" right in.
From 2 - 3 pm it's outside time again. I almost always join them, and we take a longer walk or bike ride together.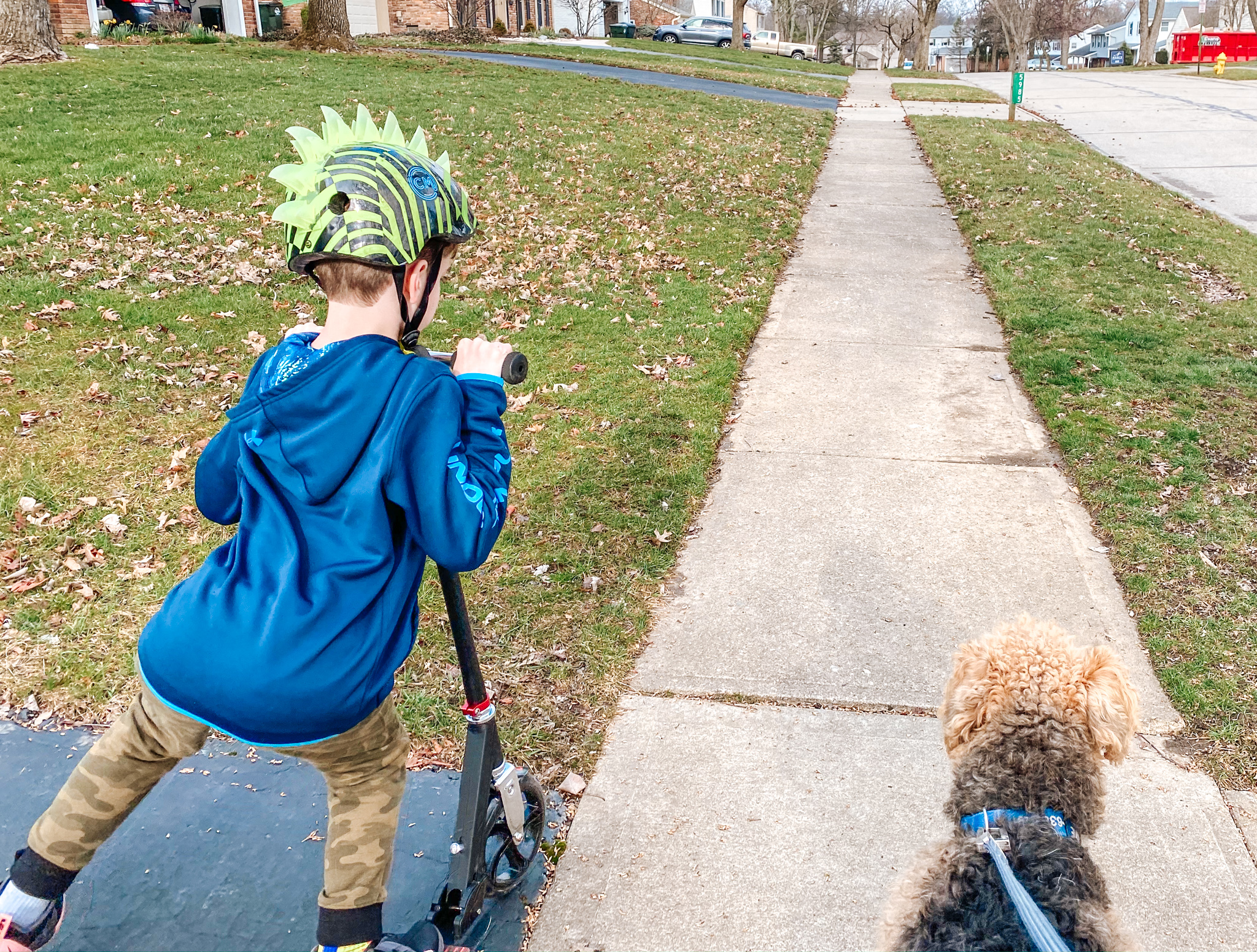 I make a snack at 3 pm, and then - from 3 - 4 pm, they get to play on their computers again.
At 4 pm, computers are shut down for the night. Everyone pitches in to tidy up the house again, and then they have the rest of the afternoon and evening to do whatever they want. They can go outside, do more crafts, video chat with a family member or put together a puzzle.
Like I said - it's an aggressive schedule, but it has been working for us. In fact, we tried not carrying through with it on the weekend, and everyone was begging for the schedule to be put back in place after one day without it. So here we are for now.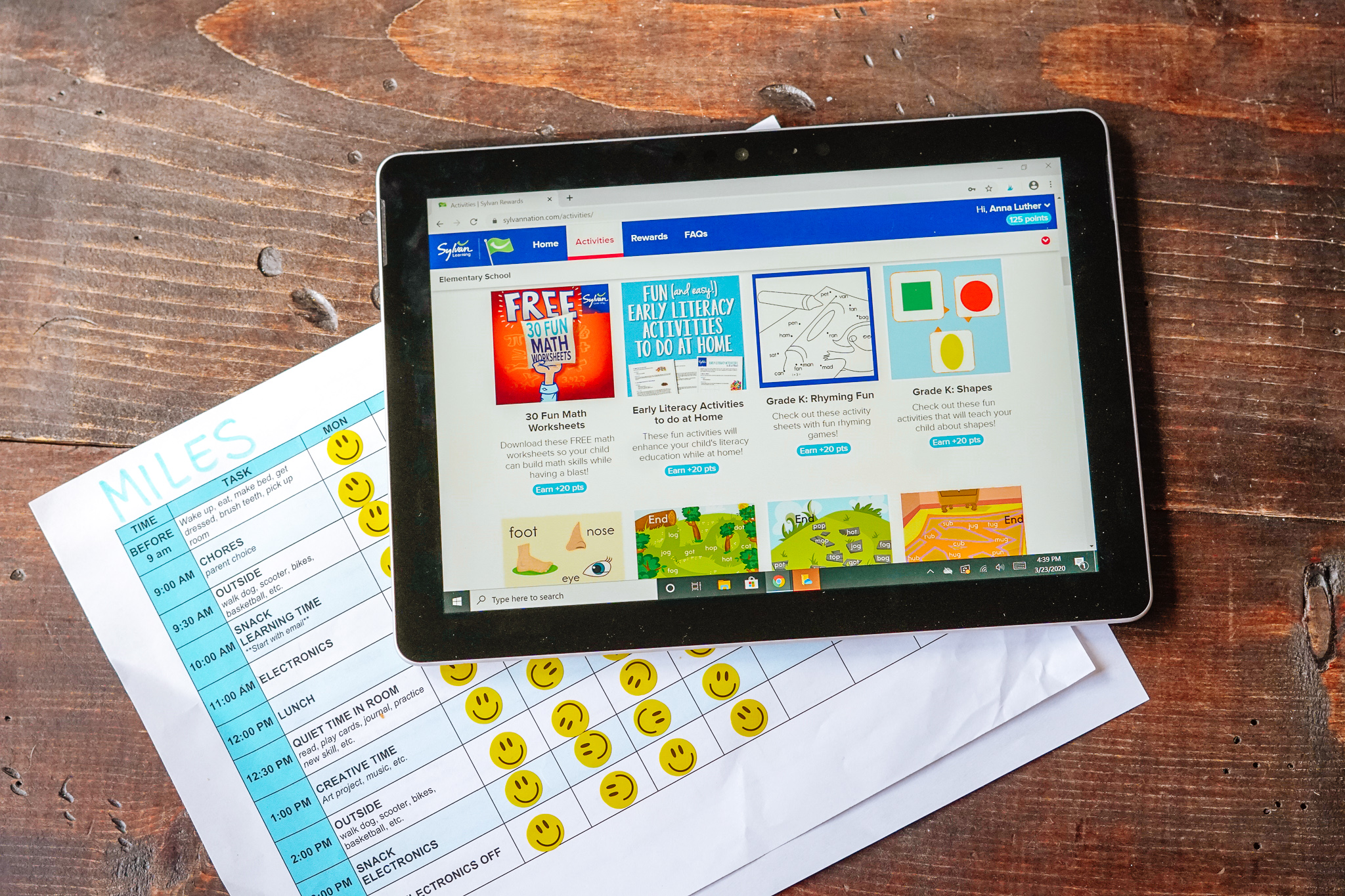 Click here to use my template to create your own schedule that works for your family. This is a google spreadsheet. You will be prompted to save a copy for yourself so that you can edit it for your family's needs.
My kids get a sticker every time they stick to the schedule. It really motivates them, and then at the end of the week, they get a reward.
Learn More About Sylvan Nation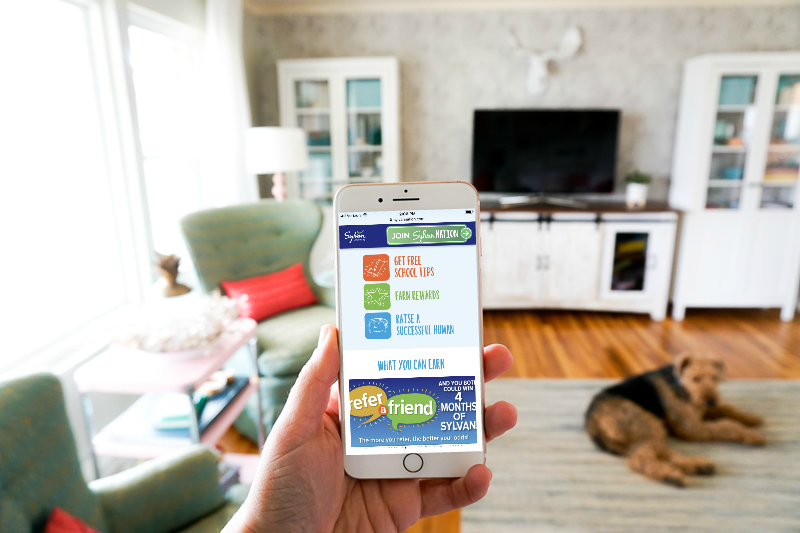 Whether your kids are in Kindergarten or in High School, you're sure to find what you need at Sylvan Nation. I like having a site that I can trust to provide fantastic educational materials and guidance for free.
In addition to their educational resources, there are also tons of helpful articles for parents about important topics like how to help your teen manage stress and anxiety (hello, 2020!) and a cheat sheet to help us learn "new" math - pretty sure I will be carrying that with me from now on.
For every article you read, or worksheet you download, or friend you refer (and even every time you log in), you can earn points. Then, those points can be cashed in for Sylvan Rewards, things like books, cool sweepstakes, Sylvan tutoring or gift cards.
Click here to learn more about Sylvan Nation, and to sign up for their free resources today.