Laughs
My Balls
By |
So, I'm pretty sure that this all started because of a man with one leg at Dick's Sporting Goods.
I was there with all three kids trying to find the cheapest soccer shoes in existence. I was bending down behind a low shelf, and my kids were on the other side talking to one of the employees.
I could only see him from the waist up, but my kids were talking to him, and he was running in place.
Jumping up and down.
And I stood up just in time to see my three kids knocking on his artificial leg.
I was absolutely mortified and told my kids that they could not knock on his leg.
But this man was amazing, and he had invited them to knock on his leg.
He said that he wears shorts to work every day so that kids can see his leg and ask him questions. He then showed my kids how he can jump just as high as they can and run just as fast as they can.
It was a really neat experience. And all the way home we talked about how some people only have one leg or one arm, but they can still do all the things that we can do.
And I'm guessing that this conversation must have been on my mind when the following conversation took place a few weeks later: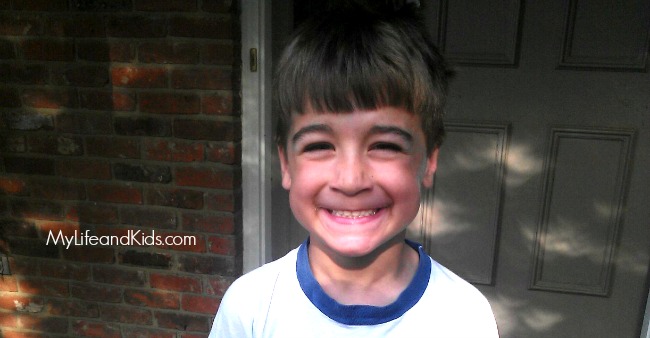 Miles: Mom, you're never going to believe this. I have two balls in my penis.
Me: Yes. You do.
Miles: What are they called?
Me: Balls.
Miles: Does everyone have balls?
Me: Yup – boys have balls.
Miles: Does everyone have two balls?
And this is where I just turned into a total idiot and for some reason felt it was another teachable moment to make sure that my son knew that whether he had one ball, two balls or no balls, he would be okay.
Me: Well, some boys have one ball and some boys have two balls. But either way, you're totally fine.
Seriously. It's not like you can just map out these conversations in advance. They happen at such random and surprising times that you think you'll know what you'll say (we'll be straightforward and honest and use real terms with our kids.) But then it's actually happening, and you're at the playground or you're at the zoo or you're just sitting around at the kitchen table, but you were so unprepared that you just start talking and saying things that you wish you could take back. But you can't. Because you have a 5-year-old and they remember. everything.
Miles: You mean Alice only has one ball?
Me: No – Alice doesn't have any balls. She's a girl.
Alice: YES I DO HAVE A BALL. And it's round and it's pink.
Me:
Miles:
Alice: And daddy bought it for me at Target, and it's in the garage.
The children have now been told that all future body parts questions are to be directed towards Daddy.