Laughs
My Mom is on Facebook
By |
My mom had quite the excitement this week. Luckily, she's on Facebook, so we can see exactly what's been going on.
Saturday's Update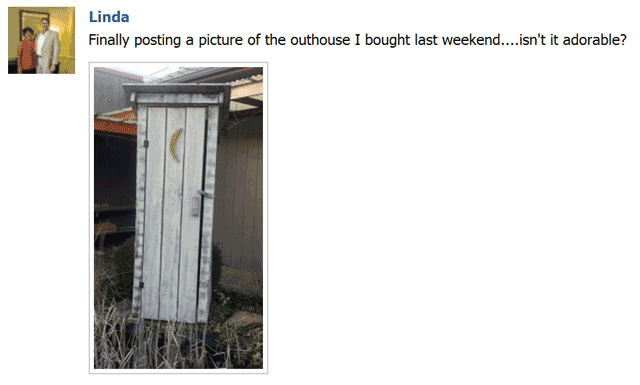 She definitely has a thing for outhouses. Sadly, this is not the only one she owns…
Sunday's Update

What are the odds that the well would dry up just days after buying an outhouse? What she neglected to mention was that it dried up while she was in the shower. And apparently right before a well dries up completely, it sprays black sludge out of the faucets. 🙂
Monday's Update


Of course my mom's well drillers would have a sense of humor!
Tuesday's Update

Hmmm…. This could be a great dating tip for single women. Want to meet a lot of men really fast? Call them and report a gas leak… Great idea, mom!
Wednesday's Update

Of course it got stuck! I hope it's not blocking the new outhouse!
Thursday's Update

What a week!
It's too bad Facebook wasn't around when my mom got pinkeye at the county jail. That's a status update I would have enjoyed reading!