Laughs
Miles and Alice in a Wedding
By |
Miles and Alice were in their first wedding on Saturday. It was also Miles's 5th birthday (how did that happen?)
I was overly confident in my organization leading up to the day. I had Miles's presents wrapped. I knew where their wedding clothes were, I knew what I was going to wear.
I knew who was going to watch Simon while we were at the wedding.
We had to be there at 4 pm – dressed and ready for pictures… But when it actually came time to put my plans into action, absolutely nothing went according to plan.
Our day went something like this:
7 am – 1 pm – We celebrated Miles's birthday.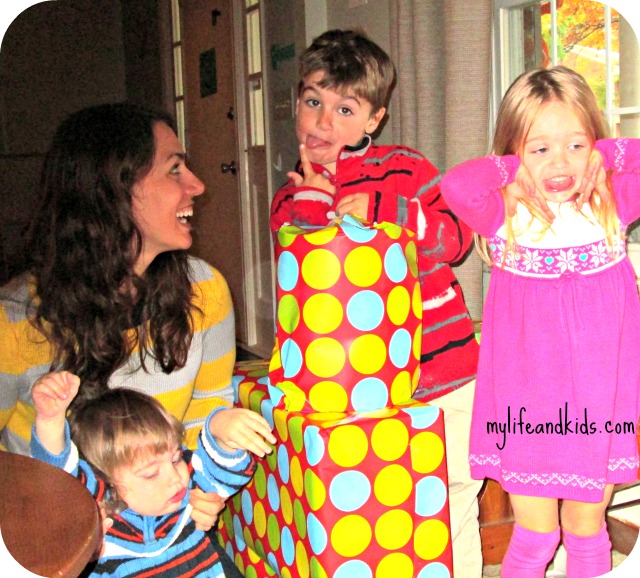 The birthday monsters came to our house overnight and hung up birthday signs and streamers all over the house. We went out to breakfast, we opened presents, we played with new toys. Miles was thrilled to be five!
1 pm – All three kids went down for naps.
2 pm – Even Steven went down for a nap.
2 pm – I decided to exercise.
2:45 pm – I ate lunch.
3 pm – I decided to take Big Hairy Dog for a walk in the rain.
3:15 pm – I woke up Even Steven, Miles and Alice. I proceeded to attempt to get myself ready.
3:17 pm – I decided it would be a great time to Nair my upper lip.
3:17 pm – Even Steven hopped in the shower, and I realized I wouldn't have time to take one of my own. Which is pretty gross considering that I had exercised…
3:18 – 3:45 pm – I spent 20 minutes looking for my other shoe – found it in the laundry chute- no doubt tossed down there by Simon.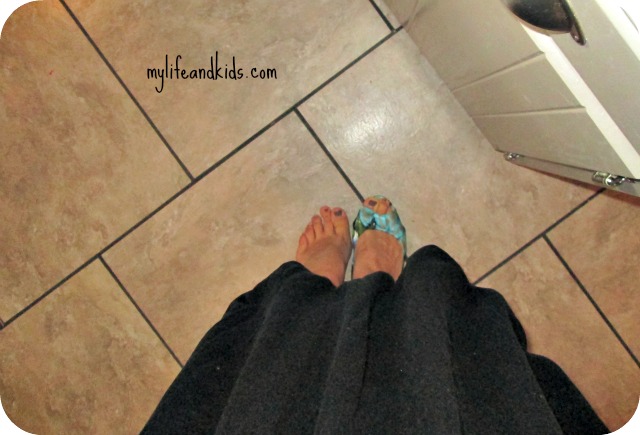 I spent 3 minutes painting the six toenails that would be showing through my peeptoe shoes. (Don't you love my kitchen floor? Read more about that here.)
I made snacks for the kids to eat at the church and finished packing my wedding bag.
I remembered that I had Nair on my upper lip – which meant that I also had a chemical burn.
3:45 pm – We should have already been in the car. I put in an SOS call to my mother-in-law who lives right up the street. She came rushing over to help me get Alice and Miles dressed. She also got Simon up from his nap. (Isn't she the best?)
3:50 pm – I went to curl Alice's hair and realized that I don't own a curling iron. She wore her hair straight.
4:05 pm – We finally got in the car. Even Steven noticed that we're nearly out of gas.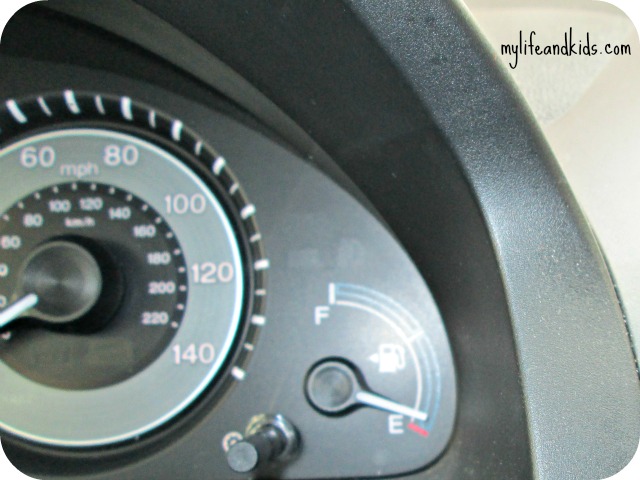 This was the face he made: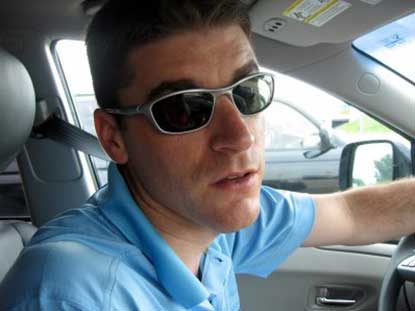 4:20 pm – We stopped for gas. And then we got lost – even though I knew where we were going, and I had just been there last night.
This was the face Even Steven made: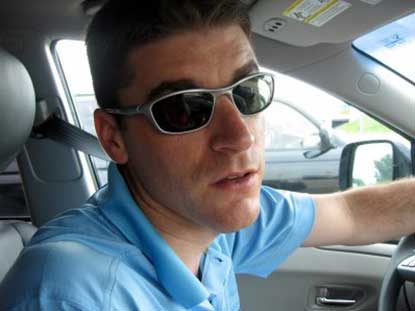 4:25 pm – We arrived at the church. The bride was super relaxed and didn't care that we were late.
4:28 pm – We realized that Even Steven was wearing the exact same suit as the groomsmen. I thought it was hilarious. Even Steven did not.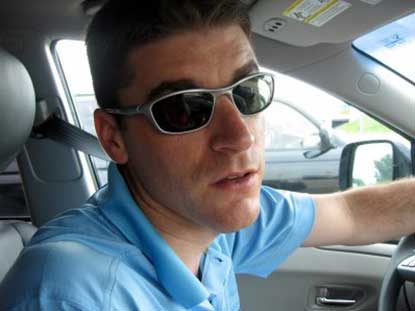 4:30 – 5:15 pm – We put finishing touches on the kids' outfits. They behaved for pictures. We practiced a little.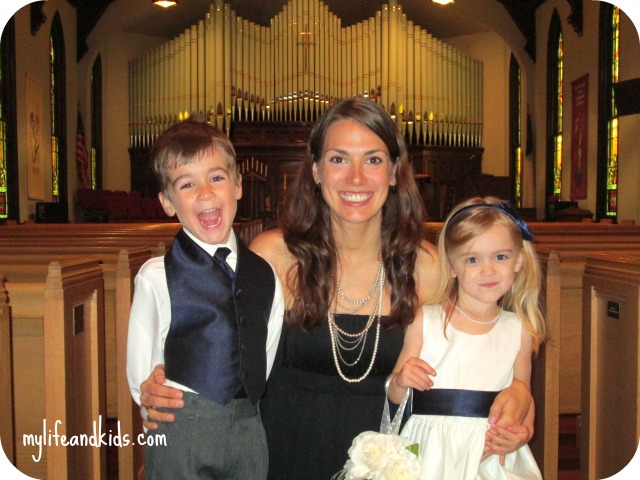 5:15 – 5:45 pm – The kids were starving. Between the two of them, they ate four sandwiches, raisins and two bananas.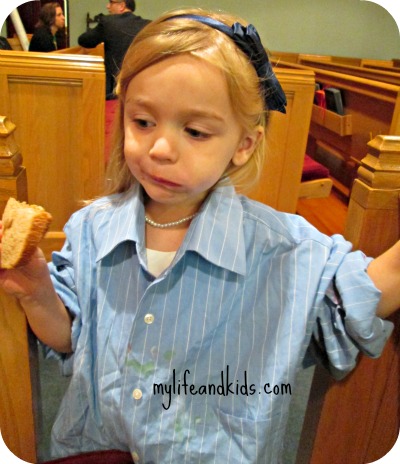 Thanks to Christina for giving me the great advice to bring old shirts to toss on over their clothes while they eat. (And yes – these shirts used to be Even Steven's favorites. You can read more about that here.)
6 pm – I started getting really nervous.
6:05 pm – Even Steven and I were sitting in the 2nd row pew waiting for the wedding to start.
6:07 pm – Miles and Alice started walking down the aisle. THEY MADE IT!! They were adorable! They didn't cry! I'm so proud!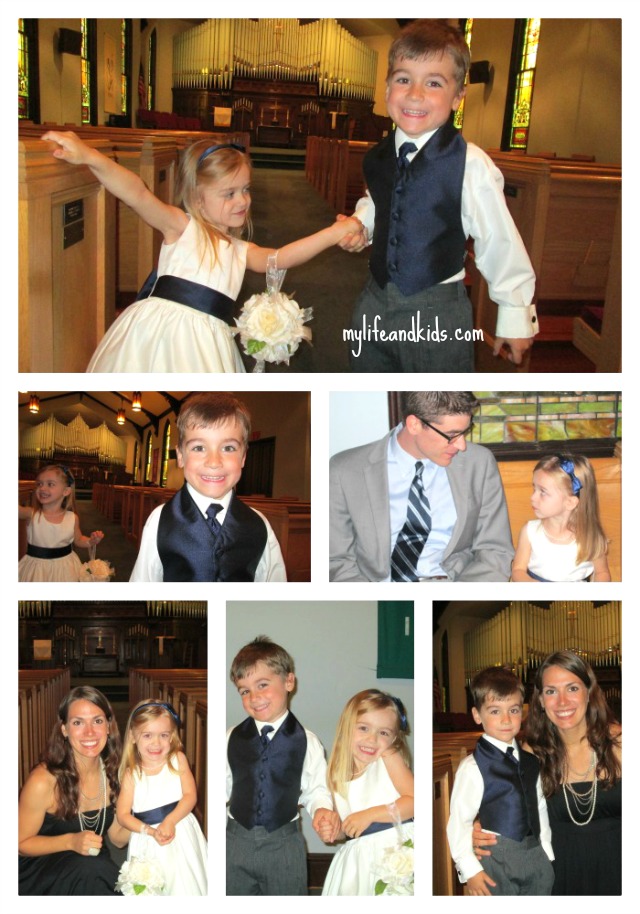 Spoiler alert: It all goes downhill from here…
6:08 pm – The kids were standing at the altar. We bowed our heads to pray. Alice giggled loudly. The entire church laughed, so it was okay.
6:09 pm – Alice realized she had an audience.
She started hamming it up at the front of the church.
She waved to me and yelled "HI MOMMY."
She made silly faces at the wedding guests.
She danced.
6:10 pm – I motioned for her to come sit with me in the pew. She wagged her finger at me and said, "NO NO NO"
6:10 pm – I went to the front of the church and took Alice's hand. She screamed "NO!"
6:10 pm – I carried a sad Alice out of the church.
We ate apples and read books until the ceremony was over.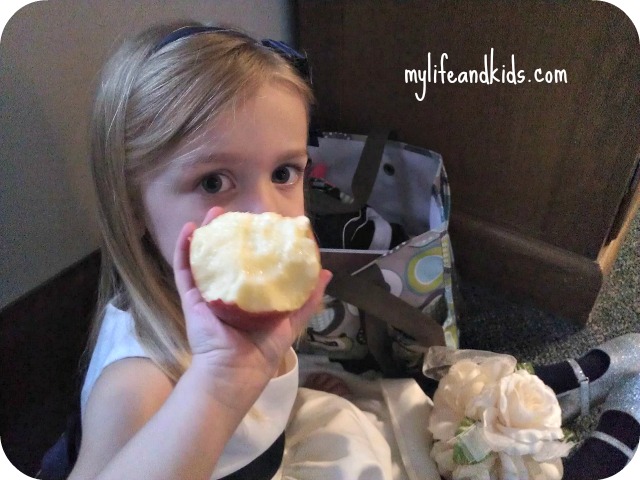 After watching Alice get pulled from the wedding, Miles was on his best behavior for the rest of the ceremony.
Sometime after 7 pm – The pictures were over and it was time to head to the reception. The kids were hungry, but they had already eaten all of my snacks.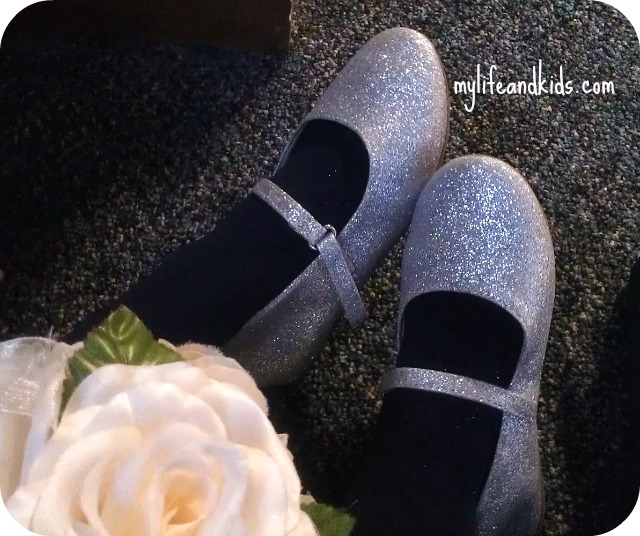 Just before leaving the church, we realized that Alice's shoes had been on the wrong feet all day.
8 pm – We arrived at the reception. The kids were excited. Miles thought that the gift table was full of presents for him since it was his birthday.
8:30 pm – Miles and Alice drank massive cranberry and sprite drinks courtesy of Even Steven. Miles chuggged his (that part is important).
9 pm – Food was just about to be served. The kids were hungry. Miles started complaining of a tummy ache.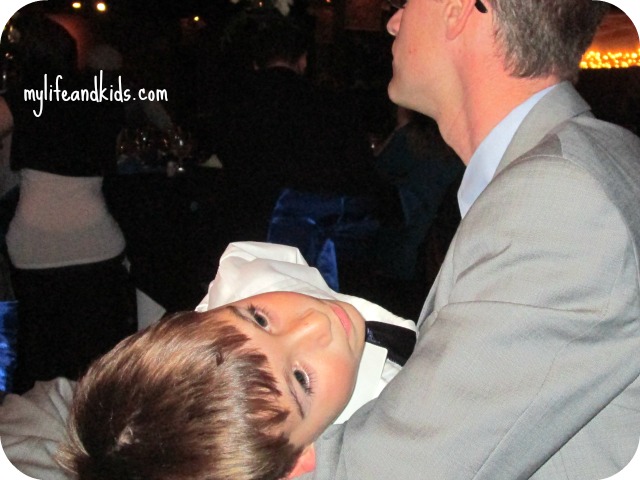 9:08 pm – Miles started throwing up.
Luckily Even Steven got him to the bathroom first.
9:15 pm – We cleaned up the bathroom and said a quick goodbye to the bride and groom.
We didn't eat.
9:20 pm – We were headed home.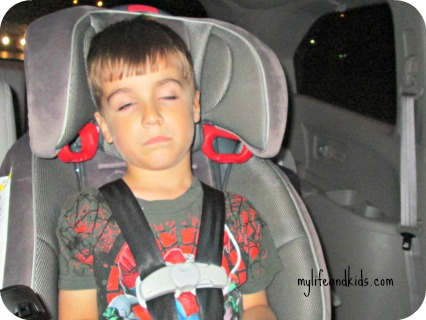 9:45 pm – We got home and Miles threw up all over the bathroom. Big Hairy Dog ate a lot of it.
10 pm – The kids weren't hungry anymore and went to bed. Even Steven put in a load of laundry. I started cleaning the bathroom.
10:40 pm – Even Steven and I had cereal for dinner.
11 pm – The day was over.
I'm pretty sure my kids will never be invited to be in a wedding again. Which is probably fine with me.
What are your ring bearer and flower girl horror stories?