Back to School
Lunch Ideas Your Kids Will Love
By |
I will be honest with you, lunch is my all-time least favorite meal. I can dominate at breakfast. And while my kids might complain sometimes, I can whip up a mean dinner.
But lunch?
Lunch leaves me stumped. I'm either making peanut butter and jelly sandwiches day after day after day, or I'm tossing lunch money at my kids as they run to the bus.
So in order to cure my own lunch ailments, I did a ton of research on how to make lunch easier, more fun and a whole lot more exciting – and I'm sharing that research with you!
First, Let's Talk About a Lunch System
Before we start talking about what to serve for lunch, let's talk about the "making" of lunch. Shall we?
I finally came to my senses a couple of years ago and realized that my kids are DEFINITELY old enough to be packing their own lunches. And I would be frustrated with myself for continuing to pack them for them morning after morning.
Until, duh, it hit me. And we implemented a new lunch-packing system that has been working like a charm ever since.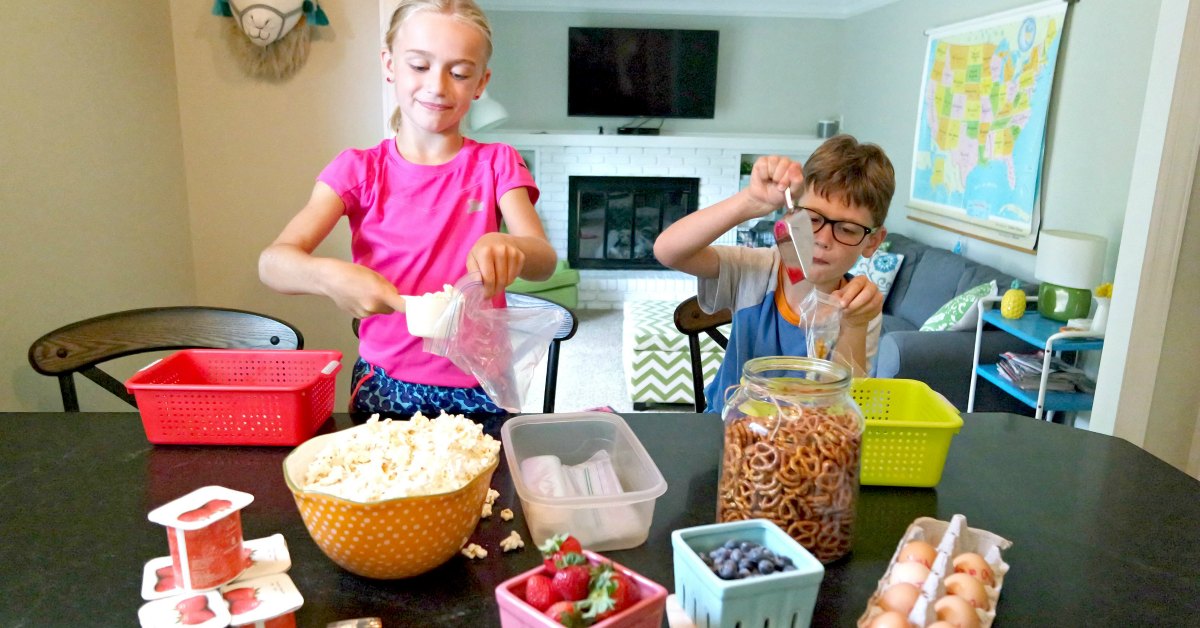 Yes, your kindergartener can (and should?) be packing their own lunch.
Here's the lunch system that works for us!
We now have lunch packing on our Sunday routine card, and it gets done every week. (Here's a link for the routine cards that I get SO MANY questions about. They're seriously life changing!).
And if your kids want to start spending even MORE time in the kitchen and cooking some meals that they can pack up for lunch, be sure to read these 30 recipes that kids can cook themselves!
And Now Let's Talk About Lunch Supplies…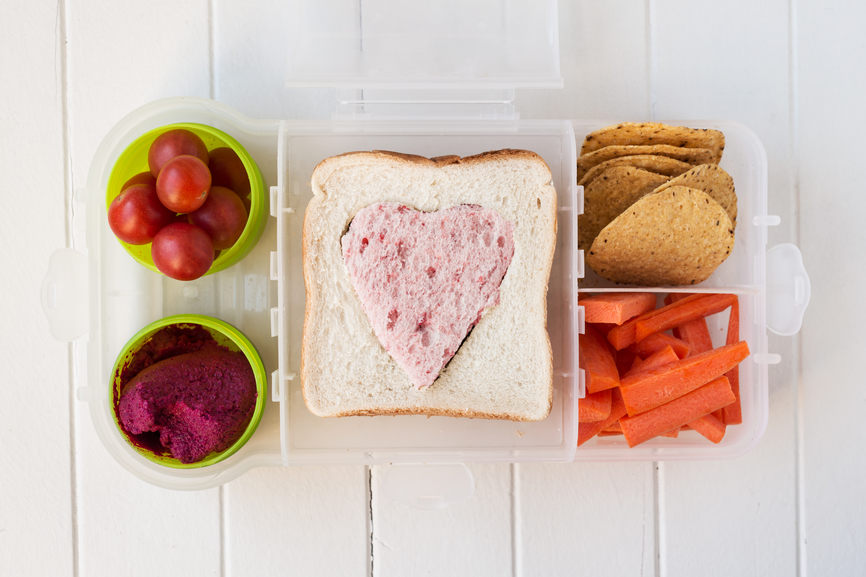 In my house, lunch only happens when we have the right supplies. It shouldn't be that way, but I only need one tiny little excuse to give myself permission to forgo our entire system and routine and send my kids to school with twinkies for lunch.
Not really. But you know what I mean.
Once I finally just bit the bullet and purchased all of the lunch supplies we need, things got WAY easier around our house.
Here are my suggestions:
Lunch Box
I think lunch boxes are such a personal preference, that I struggle to make a specific recommendation. My kids usually pick something they like at the store, and we go with it. I always make sure that there's plenty of room for their food and an ice pack. And I always like to make sure that it has a separate outside spot to hold a water bottle (like this one).
If your kids are more into Bento Boxes, I have heard amazing things about this one.
And (of course), don't forget the ice packs. I have a few packs of these that I keep in the freezer so even if my kids don't get theirs into the freezer after school, I still have one cold for them the next morning.
Food Containers
This was probably my biggest investment, but it's the one that has meant the most to us. In order for my three kids to pack lunch for four days at a time, that means I need enough containers to hold 12 lunches. But it's worth it for me to be able to have SO much extra time every morning before school. Here are the containers we love:
→ Like a Bento Box, but without the full-on commitment. These fit in my kids' lunch boxes perfectly, and we can slip a sandwich in each morning.
→ We also have a plethora of these containers for lunches that don't need a Bento Box. They're great for berries, yogurt, pretzels, veggies, sauce, condiments, etc.
→ These silicone muffin containers are a great way to further separate foods within a Bento Box. And I love the variety of shapes that are included in this set.
→ And, of course, don't forget the thermos. We don't pack this until the morning of (obviously), but we recently upgraded to this one, and the kids love it.
Water Bottles and Silverware
I don't have an official recommendation on water bottles, but you should get at least one water bottle for lunches. We have a drawer full of them that always seem to be lost, but hopefully your house is better at that than I am.
As for silverware, my kids usually grab what they need at school, but here are some other options for you:
→ These have a nice carrying case. Hopefully they make it all back home to you after school.
→ These are probably more up my alley, but I'd need to find a better set for the boys. I like that everything can be tossed into the dishwasher (including the carrying case.)
→ And, of course, you can always go with disposable silverware. I won't judge you, promise!
Disposable Items to Keep in Stock
Even if your goal is to be very green with your kids' lunches, it might not hurt to have these on hand just in case…
→ Napkins
→ Fun lunch jokes and notes. (Yes, this makes me the laziest human alive, but last I checked my kids were more excited about getting SOMETHING in their lunch from me than they were concerned that it was personalized.)
Okay, you've been patient long enough. Now we can finally talk about WHAT to put in those lunches every single darn day…
More than 80 Great Packed Lunch Ideas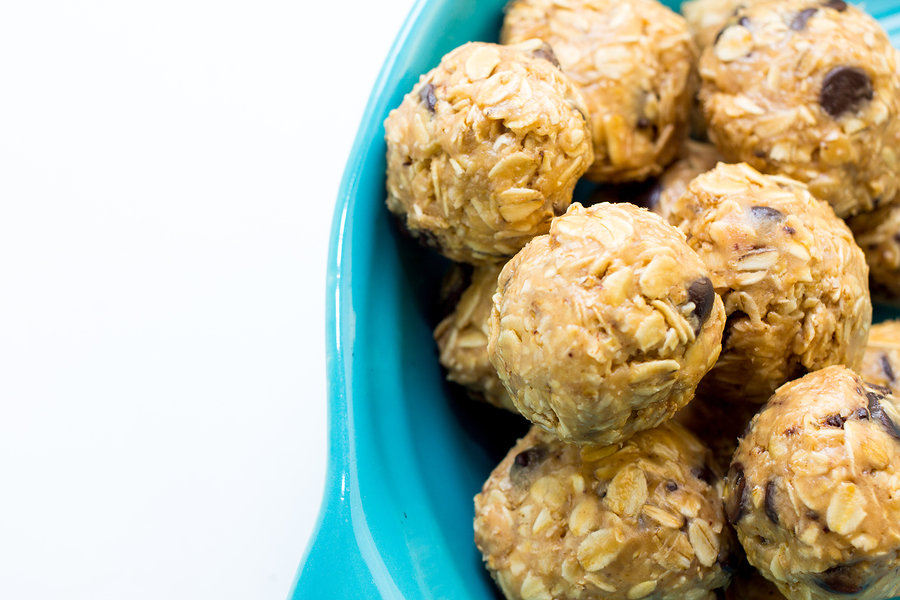 Whether your kids are eating at school or at home, I'm sharing 30 of my favorite packed lunch ideas for kids ages toddler to teens. From meal prep tips to ideas for picky eaters, these easy, make-ahead lunches include healthy options and even options for clean eating kids. Enjoy!
→ Click here to see 30 great packed lunch ideas for kids.
→ Click here for 50 MORE great packed lunch ideas!
Mastering Back to School Together
Back to school can be hectic, but it doesn't have to be hard!
With three kids in school, I've learned a few things along the way that help to simplify the entire back-to-school process, while also keeping me sane.
And I'm sharing them all with you!
Click here to see how I mastered back to school, and you can too!
Including:
The organizational systems we have in place
The routines we use (and how we remember them)
Why my kids haven't missed the bus in three years
How to have the best first day of school EVER
How to put an end to homework battles
How I get my kids talking (and talking and talking and talking) every day after school
How we manage busy sports seasons without going insane
The simple tech hack that EVERY parents needs to know
And so much more!
Plus you can see how I made this amazing command center that keeps me crazy organized – using supplies from the Dollar Store!
Pretty great, huh?!?
Click here to see the 18 things I'm doing to master back to school, and how you can do them too!