Laughs
The End of an Era
By |
Last summer, my brother and I were spending some rare time alone in our hometown. Our kids were tucked in for the night. Our spouses hadn't made the trip home with us. And our parents were more than happy to sit at home so that we could do whatever we wanted.
So we picked up some milkshakes, and went to visit our great-grandmother, Nanny. As we were walking up to her apartment, I slowed down – hoping my brother would go in first. But he slowed down too – wanting me to go first.
I just have a feeling she's not going to be alive when we walk in there, I said.
I have the exact same feeling, he said.
So we walked in together, and there was Nanny sitting on the couch, smiling and thrilled to see us.
On the way home, we laughed at our fear of being the ones to find her dead. And my brother made a great point,
"You know," he said. "For the past 20 years, I bet every single person that has walked into her apartment has had that same thought that we did. And eventually, someone is going to find her dead – and they're going to say, "You know? I had a feeling…"
When someone is just three weeks shy of their 107th birthday, it shouldn't be a surprise when they die.
But Nanny passed away over the weekend, and we're all a little shocked.
Was it time? Absolutely.
Was she ready? Shoot. She hasn't bought green bananas in decades – she was more than ready.
But she's been here for 106 years. It was beginning to seem like she could live forever.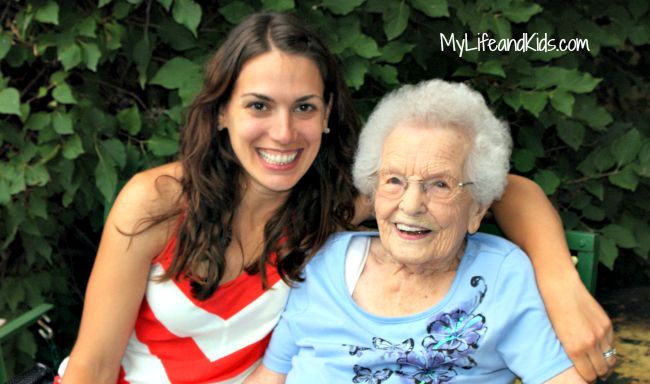 On Nanny's 80th birthday we decided to surprise her with a limousine ride. We pulled up in front of her house, the driver honked the horn, I waved out the sun roof – and she turned right around and walked back inside.
We laughed for years at how Nanny mistook our limousine for a hearse – and thought it rather cruel of us to pick her up in one for her 80th birthday.
And more than 25 years later, when she did pass away, she was still living alone. She was still cooking her own meals. And she probably would still have been driving if we hadn't secretly pulled some plugs in her car.
She was strong. And brave. And funny. And… old.
She was alive when the Titanic sank. She survived World War I and World War II. She lived through the Great Depression. She could recall the first time she saw a telephone and electricity, an automobile and a television.
She outlived all of her 10 siblings, her husband, one of her children and several grand children. For the past 25 years, we've been celebrating each holiday and birthday as though it will be her last. So we shouldn't be surprised that she's not going to be here for her 107th birthday in just a few weeks.
But we are. At least a little bit.
Throughout her 106 years, she got out of bed every day. She tried new things. She made new friends.
She laughed.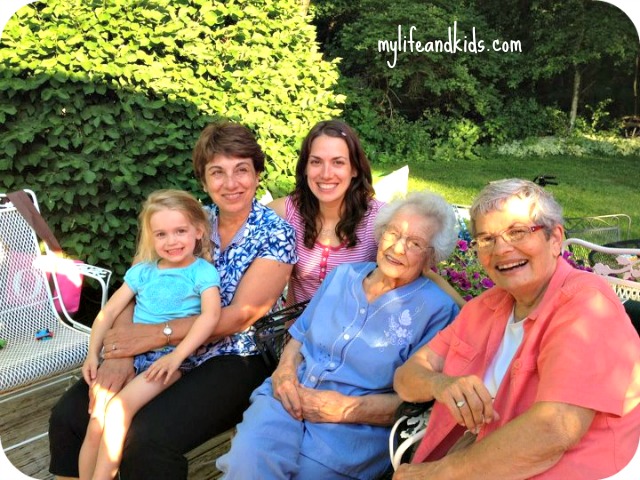 And she taught us valuable life lessons. Here are a few of my favorites.
Never Give Up
Last summer Nanny asked my mom to make a purchase for her.
Nanny: I read about some makeup that's guaranteed to make you look 10 years younger. Can you pick some up for me?
My Mom: Well, that would make you look about 97 years old.
Nanny: Well, wouldn't that be a miracle?
Try New Things
When Nanny was in her 70′s, she decided to write her life story. She hand-wrote 25 pages and bound them in a book. She added on to it in her 80′s and in her 90′s. And for her 100th birthday, we published it into a hardcover book and she held a book signing for her family and friends.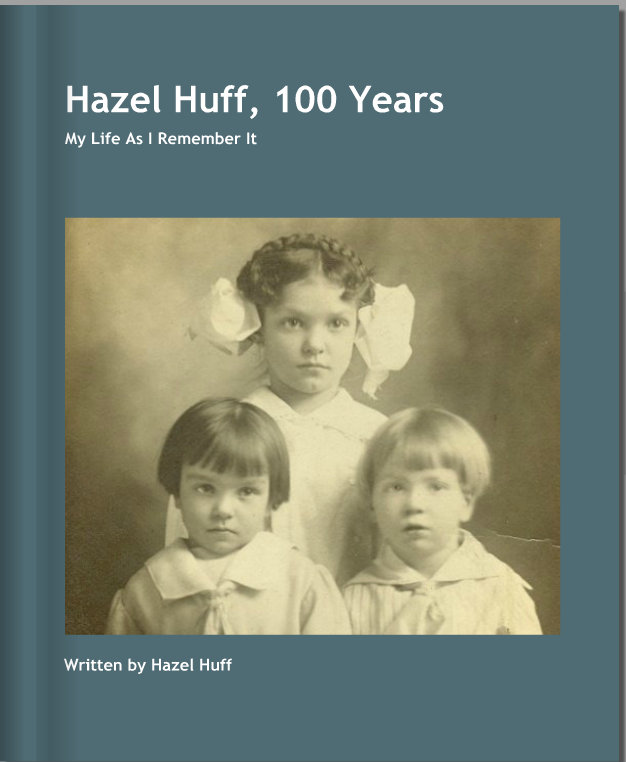 My favorite story is when she describes being a little girl and not being able to walk to school one day because there was too much snow on the ground, and she didn't own a pair of shoes. So what do you do in the early 1900's when you need a pair of shoes? Your dad goes out and kills a muskrat and makes you a pair. Duh…
When she was in her 80′s, she decided to start oil painting. She was surprisingly talented, and all of her family members, friends, neighbors and acquaintances have at least one Nanny painting hanging in their homes.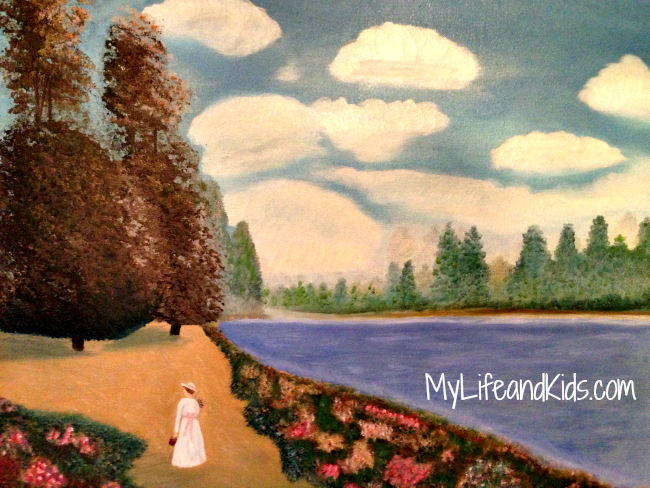 And just this year for Christmas, Nanny pulled together her favorite oil paintings and had a calendar made for her family and friends.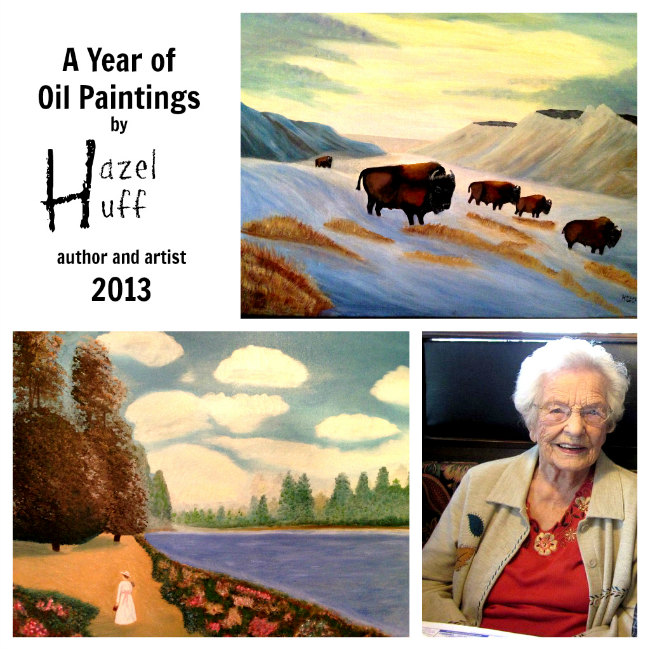 When she was in her 90′s, Nanny decided to try Slimfast. She'd been riding the exercise bike and was toning up but felt like she could lose a few pounds too. One week after starting, my mom checked in to see how it was going.
Nanny: This has been a hard week for me. I'm just so full!
My Mom: You're full? I would think you'd be hungry.
Nanny: How could I be hungry? I just don't know how people squeeze in all of these shakes between their regular meals. I'm so stuffed all the time.
Yes – you read that correctly. Nanny was drinking her Slimfast shakes in addition to her regular meals.
Have Fun!
When she was 100, Nanny went to a Halloween party dressed as Miss America – complete with a blonde wig, sash and tiara.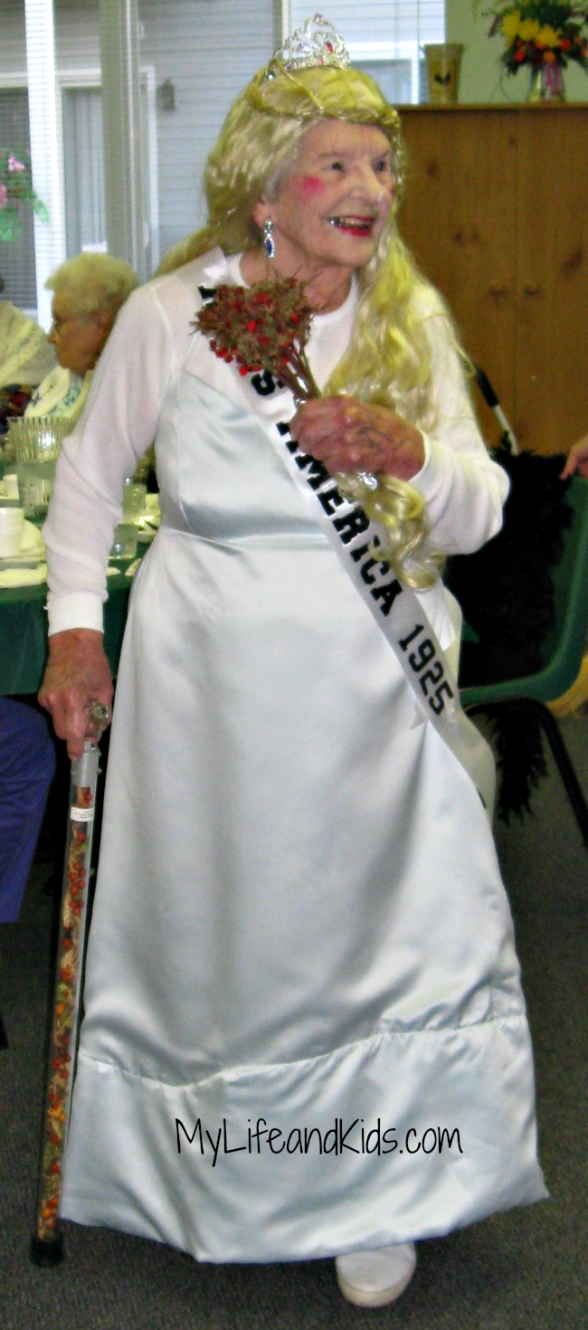 She was bitter that some "little witch" walked away with best costume.
You're Never Too Old…
In her 90's, she hopped on a plane with my mom and grandmother to visit my brother and sister-in-law in Hawaii. 13-hour flight? 6-hour time difference? That wasn't going to stop her!
When she was 101, she came to Cincinnati to celebrate my first-ever Mother's Day.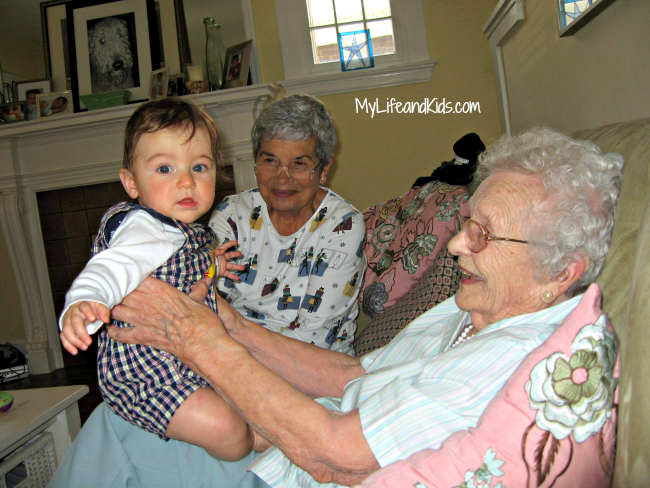 When she was 103, she baked Alice's first birthday cake.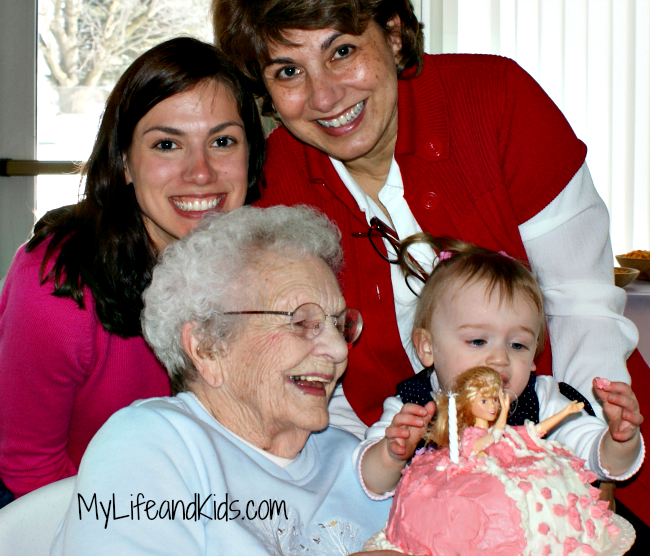 And when she was 105, she insisted on holding baby Simon alone.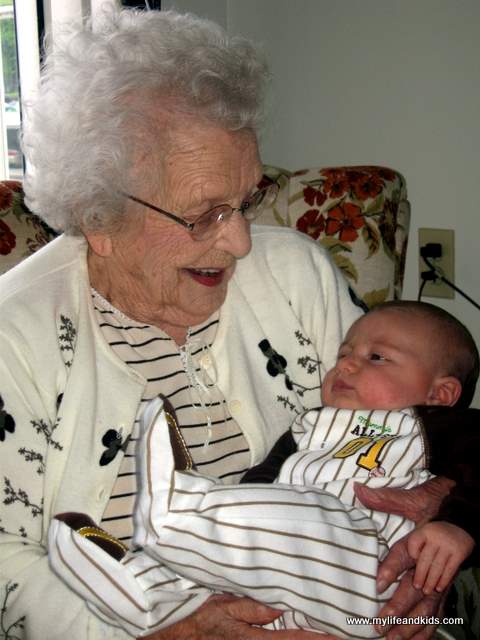 Her last visit to Cincinnati was three years ago. We spent a day making homemade apple pies (using her famous pie crust recipe), and my mom and I spent a good portion of the evening formulating a strategy should Nanny pass away during the night.
Mom: I've been doing some reading. It's very expensive to have a body transported across state lines.
Me: So – you think we should just plop her into the car, and you should drive straight home?
Mom: I'd probably need to use the air conditioning.
Me: Would you buckle her into the front seat – or have her sit in the back?
Mom: Hmmmm… Where do you think she'd be the most comfortable?
It doesn't really matter how healthy someone is, conversations like this are fairly normal when you're traveling with someone that is over 100 years old.
Know When to Say Goodbye
Last spring, Nanny had a very bad day. She was sure that it was her time, and she called my mom and grandmother over to say goodbye.
We've been in the habit of saying "goodbye" to Nanny for the past two decades, so it wasn't terribly traumatic. But they all had a good cry and hugged and said their last words.
It was 10 in the morning, and Nanny said she was going to go to sleep in her bed, and that she would like them all to leave for the day. She asked them to come back in the evening to "take care" of things.
My mom and grandmother spent the next several hours wondering how long they should stay away.
Finally at 3 pm, they decided they couldn't wait any longer. They went back to her apartment and tiptoed in the door.
And there was Nanny, sitting at the kitchen table eating fried chicken and baked beans.
"Well," she said. "I guess it was a false alarm. I decided I wanted to die of natural causes and not starvation, so here I am."
So they all sat around eating fried chicken at 3 in the afternoon.
Four months later, and it really was time to say goodbye. Nanny was at home, surrounded by her family. She went to sleep and didn't wake up – just the way she always wanted to go.