Laughs
Lies My Mother Told Me: Part I
By |
My mother was an elementary school counselor and very tuned in to feelings and emotions. And it was very important to her that I grow up to be a strong, confident woman.
So sometimes, when I probably just needed the truth, she would lie…
"Yes – I think you're a great dancer."
"No – your calves are definitely not big."
"Honey – I don't think your butt crack is abnormally high! Where would you even get that idea?"
At some point or another I would eventually learn the truth. But usually not until much later than I should have.
It wasn't until college that my friend Brooke clued me in that I absolutely could not dance – even when drunk. (Thank you, Brooke!) In fact, I think she said something like, "I was always too self concsious to dance at parties, but when I saw you dancing, I knew I could just go for it too."
It wasn't until we had a "Who has the Biggest Calves" competition at a family reunion (we're Greek) that I realized just how HUGE they really were (I came in third place).
And it wasn't until I was nearly married that I discovered that I really do have an abnormally high butt crack – hanging out of every skirt, bathing suit, pair of pants that I have ever worn. Seriously – it
starts at my shoulders. (And you can read all about it right here.)
But this isn't about my high butt crack.
Or my calves or my lack of dancing ability.
This lie was so major – that I believed it until I was in college and should have known better.
When I was in 5th grade, I assumed that I was a great singer. No one had ever told me otherwise, so I must be pretty great, right?
There was an open talent show for all 5th graders. No tryouts or anything. Just sign up and you're in. So I (of course!) decided to sing a solo – "I Believe the Children are our Future" by Whitney Houston.
I signed up. I practiced. I was ready.
A few days before the talent show I did a full rehearsal for my mom. I used a wooden spoon for a microphone, and I belted out my song. And then I waited for my mom to sing my praises.
And she did.
She said I had a beautiful voice. She said I sounded just like Whitney Houston – only better.
And then she said,
"Oh no. I totally forgot. You can't do the talent show. There's a very rare gene that runs in our family. I have it, your grandma has it, your great-grandma has it.
There's something in our voices that doesn't work with microphone technology. In fact, when we sing into a microphone, this rare gene reacts with the microphone and makes our voices sound awful.
We're hoping that microphone technology will improve enough to work with voices like ours soon – but for now, we can never, ever sing in public.
In the meantime, we'll have to just sing privately at home and try to stay up-to-date on the latest microphone research."
And I totally believed her.
I told all of my friends about my rare voice gene. I never sang in public again. And it wasn't until I told Even Steven about my rare gene during a heart-to-heart talk that he helped me realize that my mother had lied to me!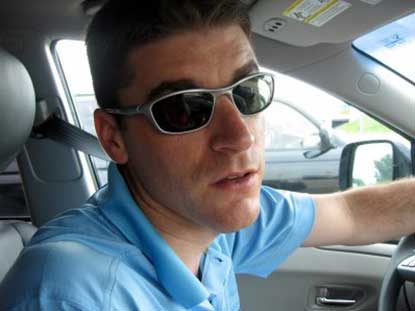 Turns out that I am actually a terrible singer.
It's even worse than my dancing. Most likely – I am 100% tone deaf.
Want to hear why I can't dance? Yeah – my mom has something to do with that too.