Laughs
Just Another Lie My Mother Told Me (Part III)
By |
When I was 8 years old, I wanted to go to Disney World. I wanted it SO BAD! I had dreams about it. I pretended that I was there. All of my Barbies went on trips to Disney World. I just had to go.
I begged my parents to take us there for summer vacation.
My Mom: That sounds like such a great idea! Why don't you do some research on it? We'll need to know where to stay, where to eat, what to do when we're there. There's a lot of research that goes into a trip like this!
Anna: Really? We can go?
Mom: Of course we can go! I bought you a special Disney World notebook and a folder. You do the research, find out how much it's going to cost, and we'll go.
I spent an ENTIRE SUMMER researching Disney World. This was before Al Gore invented the Internet, so it really did take me all summer.
I checked out books from the library. I sent away for brochures and magazines. I knew which hotel we should stay in, which shuttle to take from the airport…
I created packing lists for each of us. I asked my grandparents if they could watch our dog.
I even found out that when we walk into the park, we should turn LEFT to avoid the crowds – because everyone goes to the right.
I was very proud of my research and my full notebook and folder full of our vacation plans.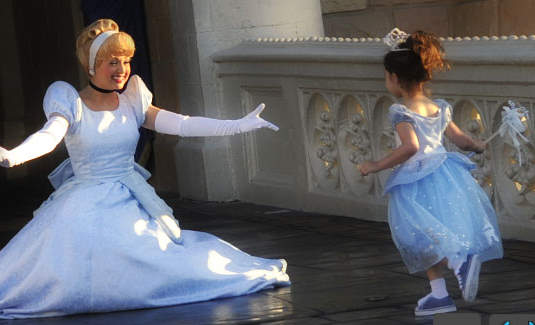 Guess who never got to go to Disney World?
Now that I'm a mom, I at least lied to my kids about Disney World in a MUCH nicer way!