Laughs
I Thought I Was Dying
By |
I'll never forget being 9 years old and thinking I was going to die.
One summer morning, my mom and I drove to Meijer and went straight to the pharmacy. My mom handed the pharmacist something in a ziploc baggie.
I had no idea what it was, but they were both looking at me and whispering.
And then my mom started crying. She came over and hugged me and cried some more.
On the way to the car, she stopped at the payphone to make a phone call. I had no idea what she was saying, but she started crying even harder.
And then we went to my dad's job site. My mom told me to stay in the car, and I watched her trudge through the dirt of the construction site and call my dad down from the ladder. She talked to him for a minute, and then she broke down in sobs.
My dad hugged her for a long time – and I sat in the car knowing that something was very, very wrong. And I knew it probably meant that I was going to die.
Turns out, I had lice.
That was my first time getting lice. And it was also the first time I realized what it meant to have a Greek mother (but that's a post for another day).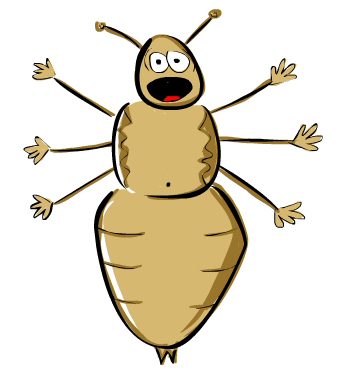 The next time I got lice was just a year later, in 4th grade. My diagnosis prompted a school-wide lice search. And in an attempt to keep the secret that I was the reason for the lice check, they went ahead and checked me too.
And then I got it again in 5th grade. That time, I took the entire cast of the 5th-grade school play down with me. It wasn't pretty.
And with three kids, I'm sure my future holds countless lice scares and probably a few lice realities.
A Letter to My Children
Dear Miles, Alice and Simon,
If you ever have head lice, I promise not to cry and carry on in front of you. I will hold back my Greek-ness and not let you think that you are dying for even a second. I will give you the lice treatment, bomb the house and do everything I can to calm your fears.
But – I'll be honest – I'm also going to write all about it on my blog, post pictures of you with your lice treatment in your hair – and most likely post it on my Facebook page. Sorry in advance!
S'agapo! (Greek for I Love You)
Mom