Laughs
I Love Crisco – and My Mom's Twitchy Eye
By |
I spent the last week at my parents' house with the kids.
I drove my mom a little nuts, but it wasn't too bad because we were at her house.
Which meant that she had 20 boxes of kleenex in her basement and no less than 40 rolls of paper towels – and don't even get me started on the garage full of toilet paper.
As I've said before, if you ever find out the world is coming to an end, make your way to my mom's basement.
Bring your friends.
You will have enough supplies to last you for at least 20 years.
Our week was off to a great start, until I glanced at my mom on Tuesday night and noticed that her right eye was a little droopy.
I immediately made her put both arms in the air, smile and say her name.
That's how I like to check for a stroke. Technically, she doesn't have to put her arms in air, but I find that it adds a little more urgency and drama to the situation. And my patients tend to take me more seriously. (Just a little tip from me to you.)
She was totally fine. She could smile. She could talk. She was even able to clean up after my kids.
So I figured it was that whole meth thing that I had been worried about. (Especially when the pharmacy said she had reached her monthly limit of Claritin D purchases, and she asked me to buy some for her.)
But – I couldn't find any meth-making supplies anywhere. And she didn't seem to be acting any wackier than normal.
And then – I went down in the basement – and I knew exactly what the problem was.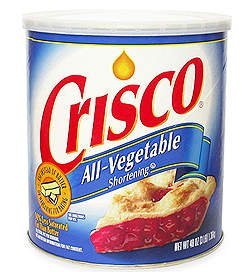 She only had four cans of Crisco in her pantry.
My mom's right eye starts to get twitchy and droopy if she has anything less than 10 cans.
I should have known.
First, I posted on my Facebook page to see if anyone could guess how many cans were in her pantry. I heard anywhere from 0 – because I ate them all – to "eleventeen-thousand" – which is usually closer to the truth.
I raced to the store, filled my cart with Crisco, and it was like magic – her eyes returned to normal.
Seriously.
Then – while she watched my three kids – I created an entire Pinterest board dedicated to Crisco.
What's your favorite thing to do with Crisco?