Laughs
I Drive My Mother Nuts
By |
I'm still recovering from my last week of camping and a stomach bug – not at the same time thankfully. I'm behind on the blog, but I thought this would be a good post to share with you today. I mean – seriously – the woman had Crisco in her camper!

My mom is visiting me this week, which is always fun. We laugh a lot and get a lot of house projects accomplished when she's in town. And she gets to read me your blog comments out loud rather than call me on the phone every time someone comments.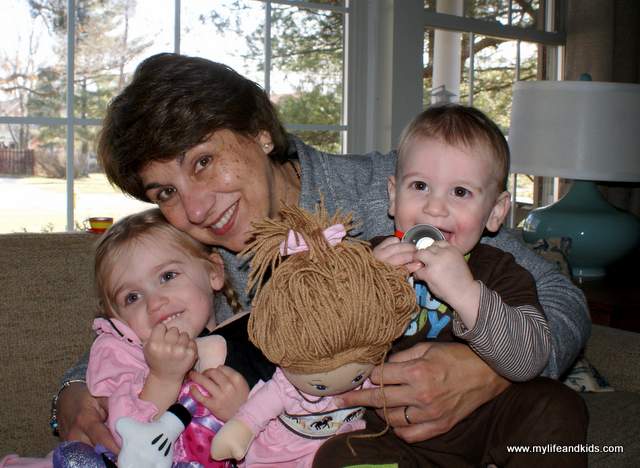 Especially now that I have kids, I could easily have my mom move in full-time. Anyone that wants to wash my windows, change diapers, do my laundry, clean up the kitchen and play with my kids can stay forever as far as I'm concerned.
But – there are several things about being here that drive HER nuts!
I Don't Have a Stocked Pantry
If you've ever been to my mom's house, then you know that if the world is coming to an end – you want to be in her house when it does. She could feed 20 people for 20 years if necessary.
If she has any less than 15 cans of Crisco in the basement, she gets a little twitch in her left eye. And – after camping with her last weekend – I can tell you that she even takes Crisco with her while camping!
And so she is constantly surprised by the bareness of my pantry. We go to the grocery store once a week, and we get what we need.
If we happen to run out of something, we just don't eat that something or bake those cookies until we go to the store again (or we run out and pick some up if we really need to.)
This makes my mom nervous to be here for more than a few days. Because if we run out of brown rice or pasta, the world really could end.
I Don't Keep a Running Grocery List
Along with the pantry issues, I don't keep a running grocery list throughout the week. I'll be the first to admit that this would save me time when I'm making the weekly grocery list – but it just hasn't consistently happened for me.
My mom spends the majority of her visits making her own grocery list for us.
Mom: You only have 10 rolls of paper towels. Do you have paper towels on your grocery list?
Me: No. I don't have a grocery list.
Mom: Well – do you know you only have one roll of tin foil? And I only see 20 AA batteries – that could be a problem.
Now I leave a pad of paper and a pen next to her bed so that she can carry it with her during her visits and write down whatever her heart desires.
I Don't Have Kleenex. Ever.
What can I say? Our noses don't run very much. And when they do, it's nothing that a little toilet paper or a shirt sleeve can't take care of.
My mom, on the other hand, prefers to have tissues tucked into both sleeves, in her pockets, in her bra and in her purse at all times. You never know when you (or someone within a 10-mile radius) is going to need 500 Kleenex.
So you can see why my lack of tissue makes my mom nervous. Within the first few hours of her visit she never fails to ask,
"Where do you keep your Kleenex?"
Me: I don't have any.
Mom: What? What do you wipe your nose on?
Me: I don't.
My mom told Alice that they make special tissue just for noses, and Alice didn't believe her. "Yia Yia is so silly!"
I Don't Care When My Kids Pooped Last
My mom loves to report poops to me.
"Miles just had a really big one. He had to strain just a little, but I don't think it was too bad."
"Alice pooped just before nap. I'd give it about a 4 on the runny scale. And – did you feed her corn today?"
Statements like these usually lead to conversations like this:
Me: Thanks.
Mom: Well, don't you think you should know?
Me: Nope.
Mom: What if you need to know? What if they get sick and the doctor asks you when the last time was that they pooped or if it's been soft or hard?
Me: Ummmm….
What can I say? I stopped tracking poops when Miles was an infant. I'm not even sure when the last time was that I pooped. Oh – wait – I remember now. It was the last time I was in public with all three kids…