Laughs
I Am My Mother
By |
When I was growing up, we hosted most of the family get togethers at our house. Aunts, uncles, cousins, grandparents, neighbors – it seemed like there was a reason to celebrate at our house nearly every single month.
Which meant that every single month, we would spend an entire morning trying to avoid my mother.
See – my mom is normally a very happy, fun person to be around. But you find her within a 3-hour window of company arriving?
You need to run.
She would wake up in the morning, and you'd think that everything would be fine. Maybe this time would be different.
But she'd turn on you on a dime. One minute she'd be mixing up some chocolate chip cookies and the next minute there would be rage and yelling and thick tension.
My dad couldn't do anything right.
My brother and I were told to do inane things like clean out the hot tub or iron tablecloths that didn't seem to need ironing. We'd all be running around trying to help while also staying out of her way.
And usually I'd find myself hiding in my closet calling my grandmother and begging her to come over early.
Because the second our first guest arrived, my mom would return to a normal human being. She'd be nice and friendly and happy again. And we'd all forget what a rager she'd had – until the next time company was invited over.
Well – last month, I officially realized two things.
1. I have become my mother.
2. My mother was running around like a crazy person because her husband was stupid. (No offense dad).
Sweet Alice turned 4 last month, and we celebrated by having her grandma, aunts, uncles and cousins over for a birthday party brunch. I had things fairly organized before the party, and I had a general timeline in my head of what needed to happen between 8 – 10 am on Saturday morning.
I was going to prepare the food while Even Steven bathed the kids. Then I was going to get myself dressed while Even Steven quickly vacuumed the downstairs.
That's it.
Everything else was finished and ready to go.
And yet I found myself trying to make an egg casserole with three helpers wanting to stir and crack eggs and pour the milk THEMSELVES.
And I found myself trying to keep three kids in the bathroom while I took a quick shower.
And I found myself trying to keep three kids entertained while I attempted to slap some makeup on my face.
And where was Even Steven?
Well – he spent his morning vacuuming the house (like planned).
And then he spent about 45 minutes looking for the attachments to the steam mop (that we haven't used in two years) because that day of all days was the day it needed to be done.
And then while I was trying to get all three kids dressed and presentable – while also making sure not to burn the egg casserole – he walked around on his hands and knees putting outlet covers in every single outlet in the house that didn't already have one.
You know – just in case one of our guests tried to stick their keys in the outlet.
And all I could think the whole time was,
Oh my gosh, you are killing me.
Please help with the kids.
Why are you doing this?
GRRRRRR…..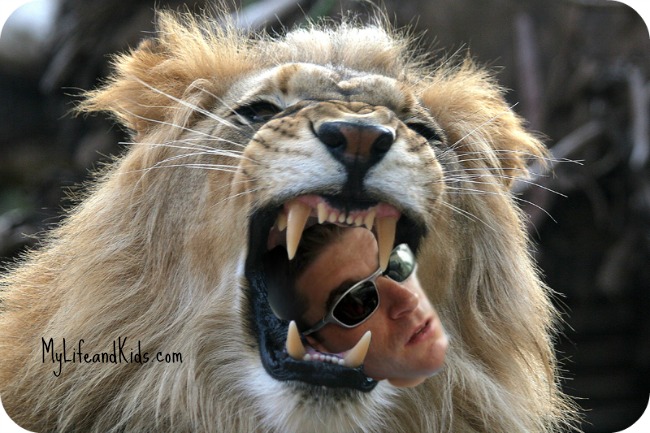 How is it that men always know how to play this game? It's like they purposely do things that are super annoying – but that you really can't complain about.
I mean – can you really complain that your husband is helping you get ready for a party by steam mopping the floor and covering the outlets?
YES.
You can.
Despite all of this, I felt like I was keeping it together fairly well considering the circumstances.
Until I caught Alice calling my mom on her fake phone. "Yia Yia – my mom is crazy. We need you here – now!"
And that is when I officially knew that I was my mother.
Next I'll be wearing flannel shirts and eating the dog's thyroid medicine.
When did you know you were becoming your mother?