My Husband
Do You Cut Your Husband's Toenails?
By |
I've been doing something for Even Steven for the past 10 years. It started on our honeymoon, and it's been happening regularly ever since.
Up until this week, I thought wives everywhere were doing this for their husbands… but apparently not?
It all started with Mommy Shorts doing a little husband shaming (Click here to read the entire post – it's hilarious!). Of course I jumped on board, and submitted this picture of Even Steven.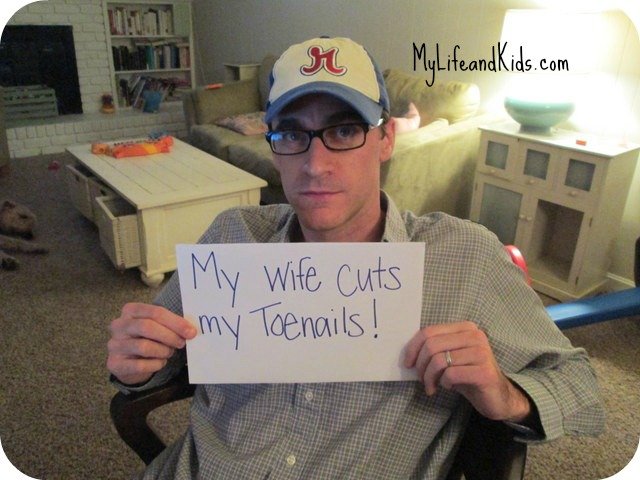 And I'll be honest with you, out of all the things I could have written on that sign, I thought I was choosing something that was very relateable. Something that women everywhere would read and say, "Oh yeah – I do that too."
But apparently everyone's been keeping a huge secret from me, and wives DON'T cut their husbands toenails.
For real – I thought it was part of my job. Now that I think about it, I also consider cleaning toilets and doing laundry part of my job, but I dropped those things years ago. So why have I so diligently been trimming Even Steven's toenails for the past 10 years?
I'm not sure.
Wait – yes I am. It's because if I don't cut them, Even Steven picks them. And then he leaves them all over the house for me to find. Something like this happened a few months ago, which prompted this text: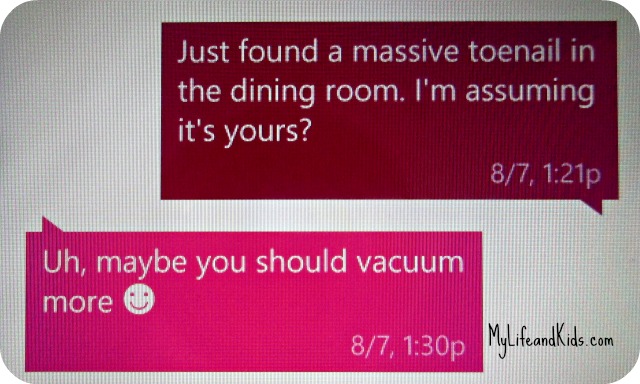 So much easier just to cut them myself, right?
So – come clean – do you cut your husband's toenails? Would you ever cut them? Do you think I'm crazy?