3-year-olds
How to Make a Robot out of Fruit and Vegetables
By |
Miles is 7 years old. He's in first grade. He's very busy – constantly thinking, asking questions, reading, doing homework, playing with his younger sister and brother.
Seeing him now, you would never guess that he was born prematurely. You'd never know how scared we were when my water broke so many weeks early. You'd never know how many people rushed into the room when he was born – just in case. You'd never know the joy and relief my husband and I felt when he came out tiny but perfect.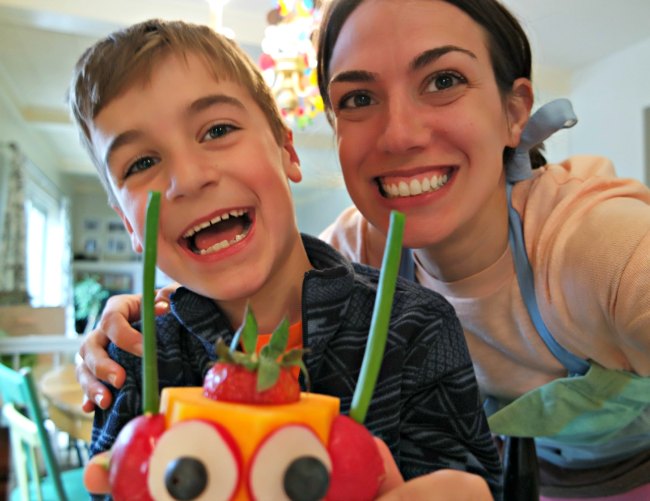 Which is just one of the reasons I was so excited when the Marzetti® brand reached out to me to help them promote a very special project and raise money for March of Dimes all at the same time.
This year, Marzetti is helping their consumers connect with their friends, family and produce in ways they never have before – by helping them make their fruits and vegetables more fun than they've ever been.
Let me tell you – they aren't even kidding!
It seemed only fitting that my little preemie-baby help me create our very first Marzetti creation – a robot made out of fruit and vegetables.
Yes – I said a PRODUCE ROBOT!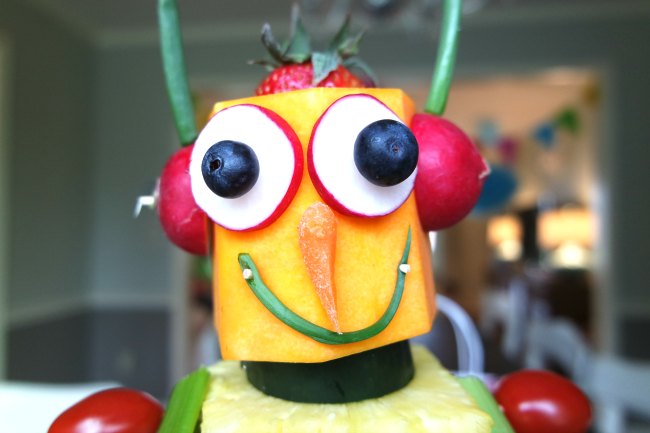 Luckily, Marzetti provided a step-by-step video to guide us every bit of the way.
Be sure to scroll to the bottom of this post to watch the video for yourself.
For every like or share of the video, Marzetti is donating $1 to the March of Dimes,* so don't forget to watch!
Miles and I gathered our supplies and watched the video at least 20 times.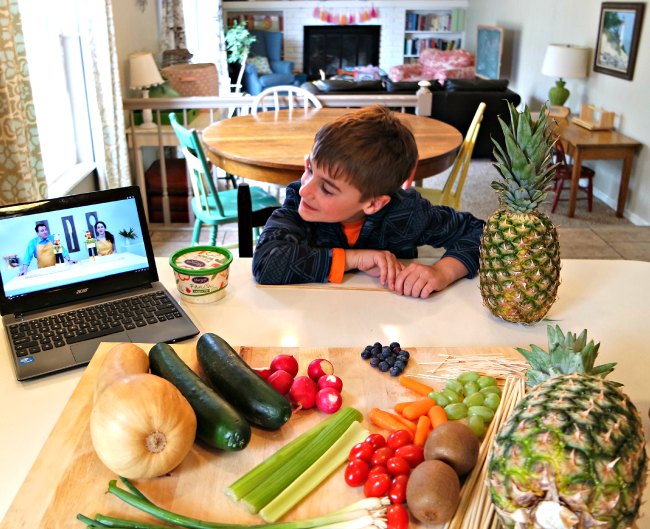 And then I got to chopping while Miles guided me through each step. He took his job very seriously.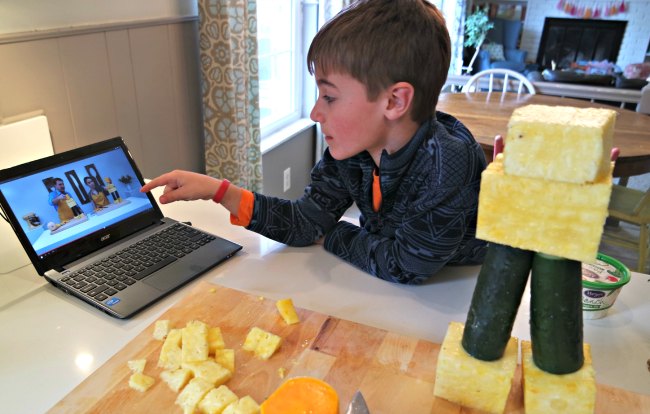 I thought we'd have a fun day creating the robot.
I didn't expect it to be such a special day. With the chaos of three kids and everyday life, Miles and I don't get to spend as much time together alone as we'd like to. But on this day – it was just us and the robot.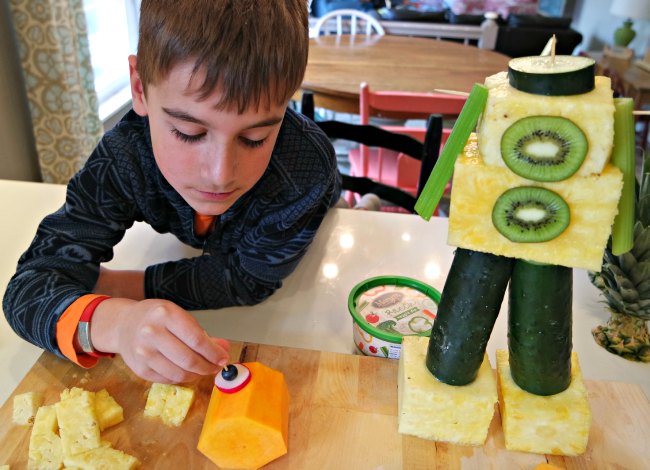 We laughed and laughed and laughed. And then I cried a little because I'm a giant dork, and I just wanted to pause time so that we could have more moments like this.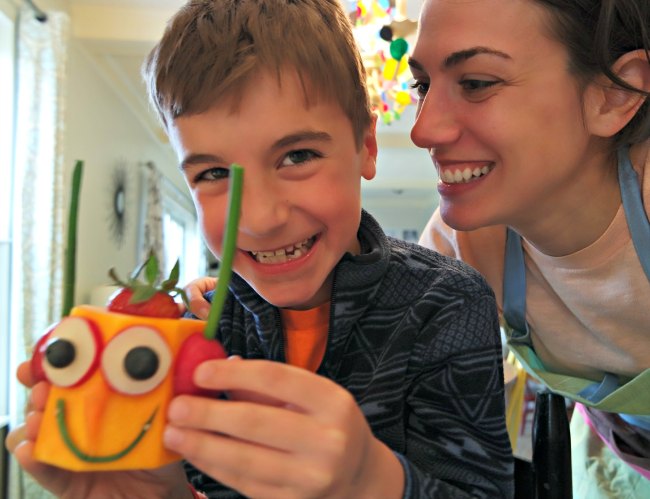 It didn't take us long before we had created our very own robot out of fruit and vegetables. Miles chose a carrot for his nose and a strawberry for his hat.
I wasn't going to bother with a mouth, but Miles insisted that our robot have a smiley face out of green onions. I think he was right.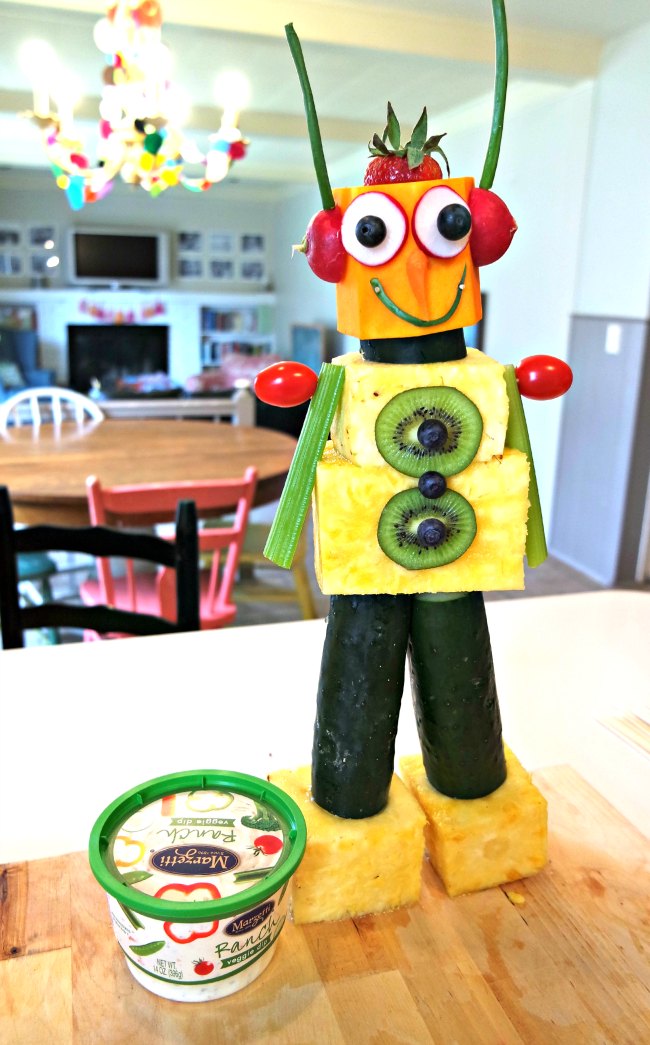 We named him Zurbee.
A Vegetable Miracle
Miles got hungry just as we were putting the finishing touches on the robot, and I convinced him to try eating some carrots dipped in Marzetti® Ranch Veggie Dip.
Miles doesn't like ANY vegetables, so it was a huge deal to get him to even take a bite.
Guess who now thinks carrots are the greatest vegetable ever?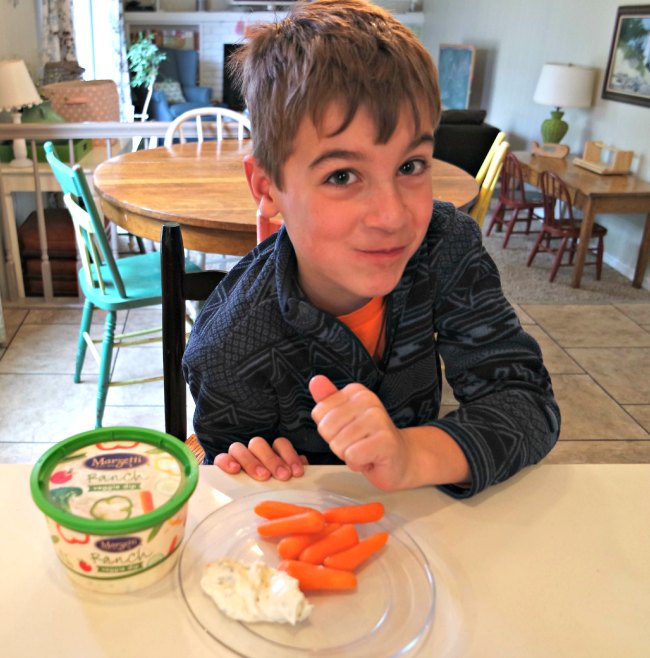 Yup – that would be this guy!
Marzetti loves produce, which is why they make products that enhance their fresh, natural goodness. And that is why I love Marzetti!
Produce Robots Love Parties!
Miles's sister Alice came home shortly after we created the robot, so we decided to throw a party for the robot.
Miles and Alice began decorating the house, while I whipped up a quick veggie tray and made my very favorite pinwheel sandwiches.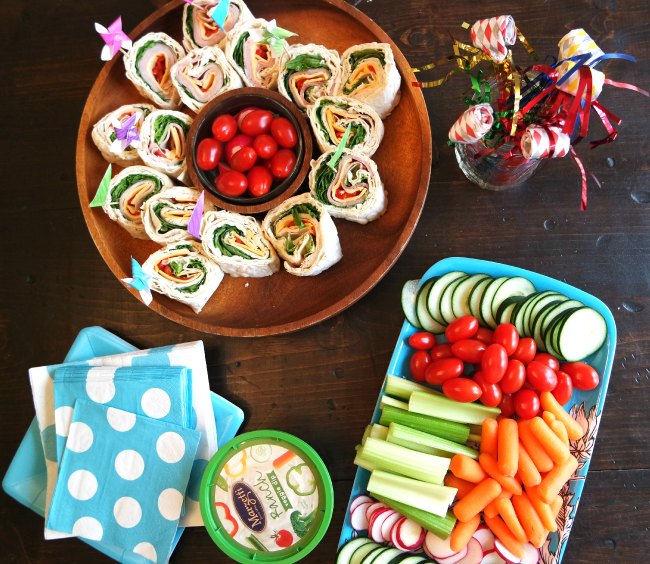 They're so simple to make, and SO delicious.
I spread Marzetti® Ranch Veggie Dip on a wrap, then add lettuce, cheese, turkey and roasted red peppers, roll up the wrap and then slice it into little pinwheel sandwiches.
YUM!
With the house decorated and the food ready, we were ready to party!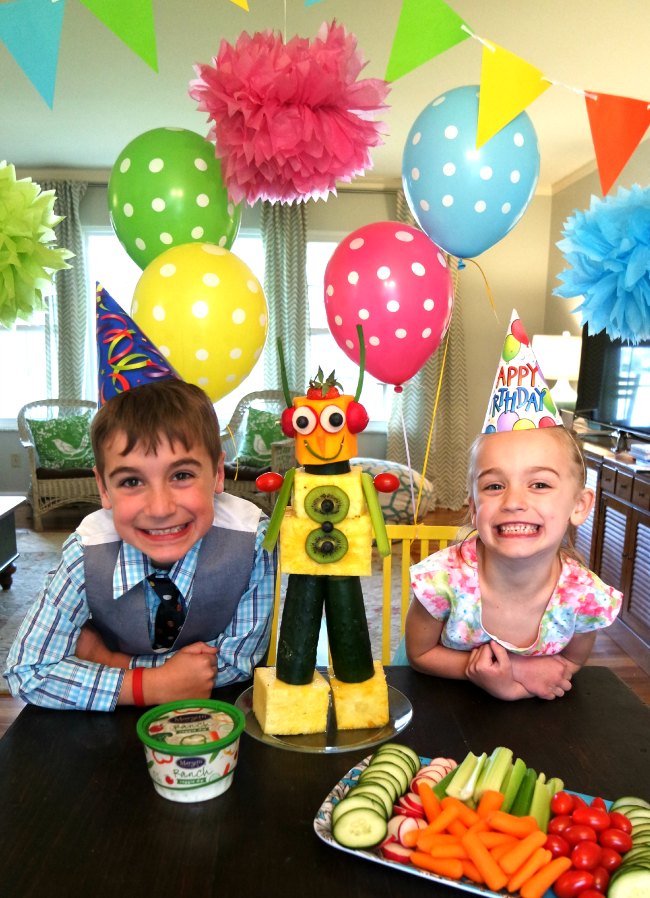 Miles and Alice slipped into their party clothes, we turned on some music, and I tried to teach the kids how to do the robot dance.
It didn't go so well. Turns out I'm terrible at doing the robot – let alone teaching it.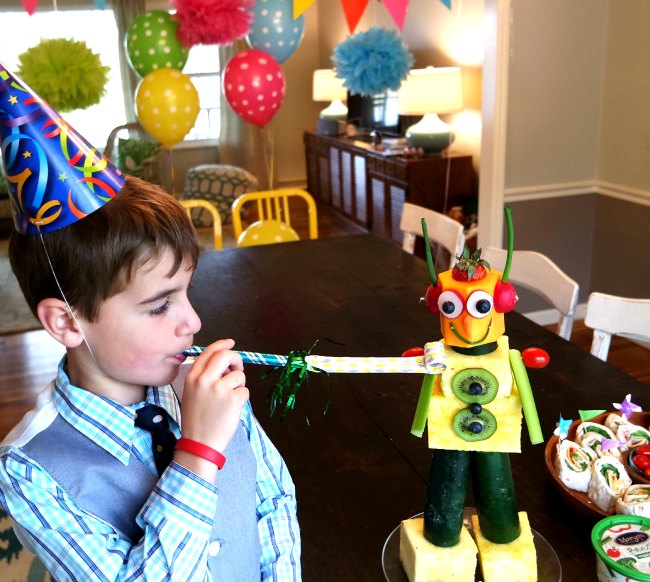 And the kids were more interested in pretending to EAT the robot than trying to dance like him.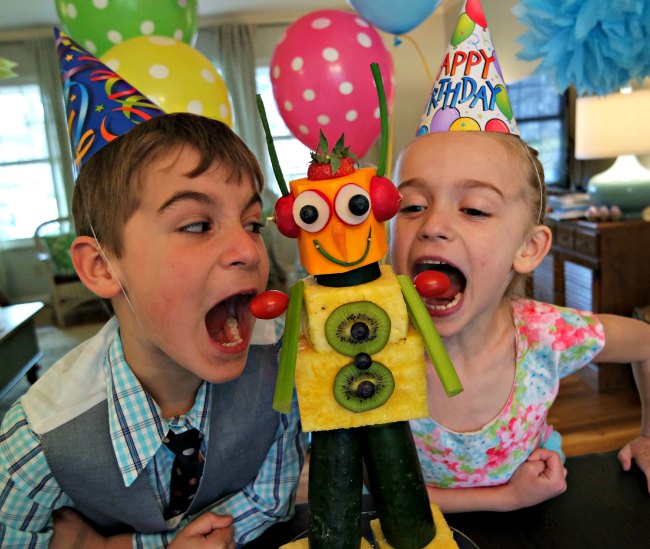 Alice said she was pretty sure the robot was going to come alive at night and walk around our house while we were sleeping.
I asked him to please CLEAN my house if he decided to come alive.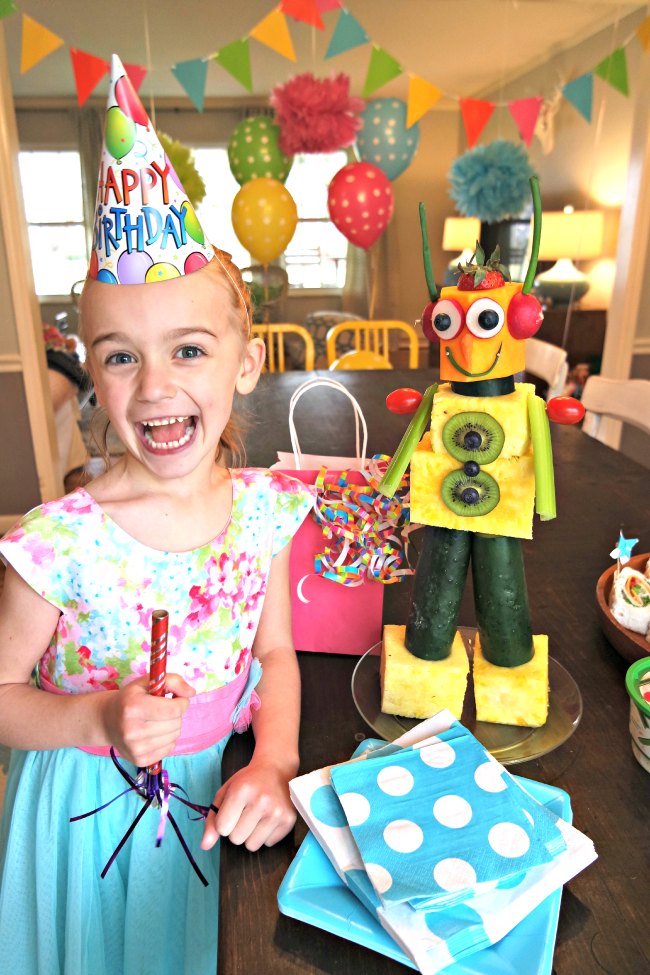 Neither happened.
But we did have a wonderful day that I will remember forever – all because of some fruit, some vegetables, a robot and Marzetti.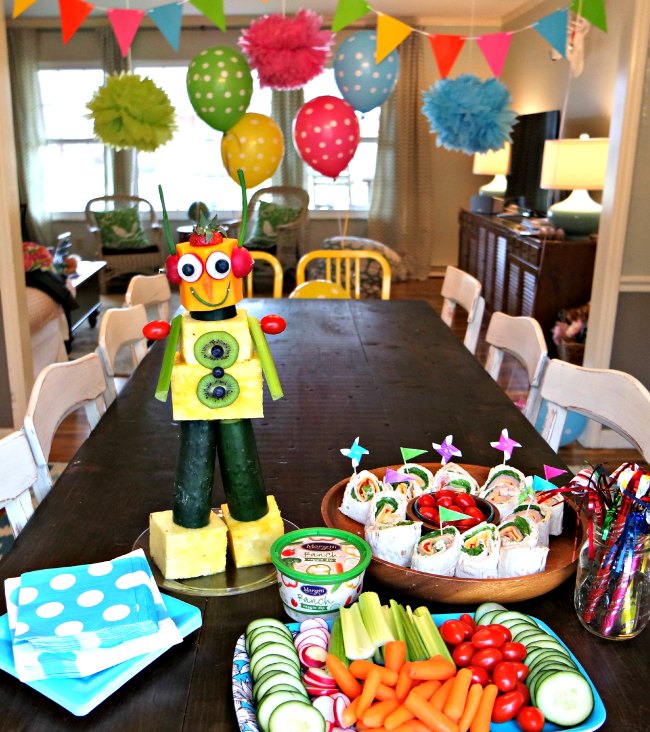 How to Make Your Own Produce Robot
It's easier than you'd think to make a robot of your own! He'd make a perfect addition to any kids' birthday party!
Butternut Squash
Two Pineapples
Green Onions
Radishes
Cucumbers
Blueberries
Kiwi
Carrots
Grapes
Cherry Tomatoes
Strawberries
Celery
BBQ skewers
Toothpicks (NOT the flat ones – learned that mistake the hard way.)
Directions
Watch this video for step-by-step directions! (Hint: you may need to cut your toothpicks into smaller sizes as you go.)
For every like or share of the video, Marzetti is donating $1 to the March of Dimes,* so don't forget to watch!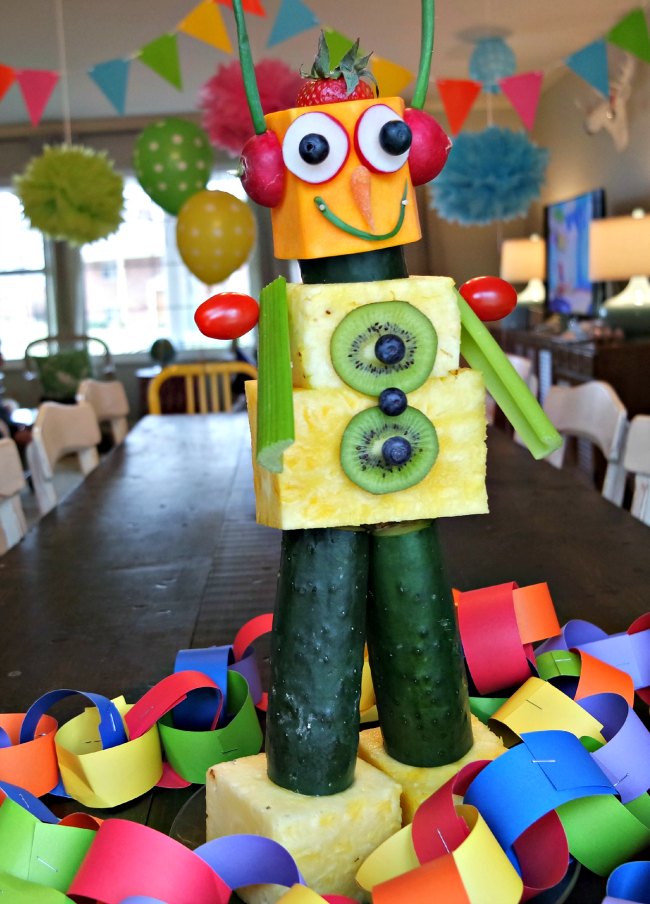 I have been invited to participate in a Marzetti ambassador program. This post is sponsored by Marzetti and product has been provided by them. The opinions and ideas expressed here are my own.
*Marzetti will donate up to $5,000 to March of Dimes.