This post is in partnership with Sylvan Learning.
From as far back as I can remember, writing has been a huge part of my life. I "wrote" constantly as a little kid, and I even attempted to publish my own newspaper one summer in 3rd grade.
But I didn't really start loving writing until I felt like I was really good at writing.  And that is all thanks to my journalism teacher in high school - Mr. Woodruff.
I came across my old high school newspapers a few weeks ago, and I can still remember the passion I felt for that paper.
I loved it.
I became editor-in-chief and then later won an all-state journalism award.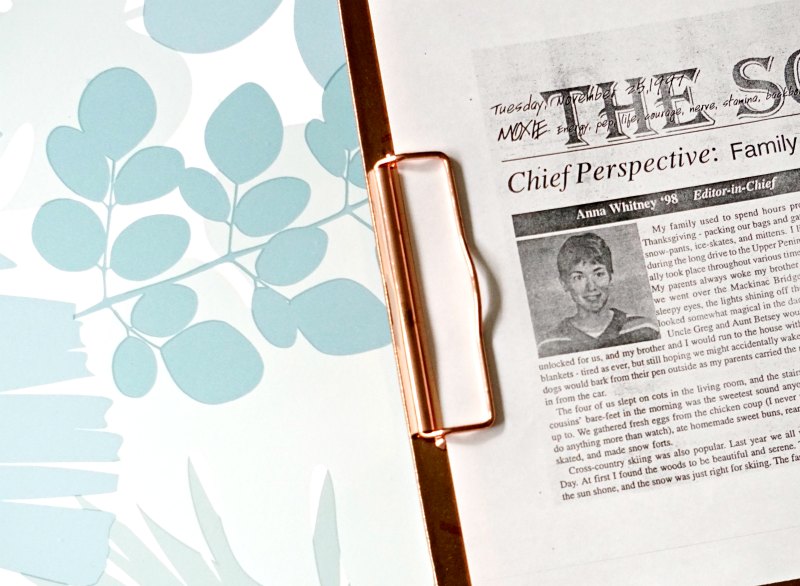 Because of Mr. Woodruff's instruction, I became a better writer. Because of his encouragement, I BELIEVED I was a better writer.
You could even say that that's how I got to where I am today.
Well, you know, after getting a degree in technical writing in college and then working as an event planner and online fundraiser for over 10 years and then quitting my job to become a stay-at-home mom and then starting a blog so I had something to do during naptime. Basically, it all starts with Mr. Woodruff and the high school newspaper...
Whether you're a journalist or writing a book or blogging or just living in the world, writing skills have never been more important than they are now. From emails to social media posts, nearly every single job and interaction requires some sort of writing ability.
So, I'm teaming up with Sylvan Learning to help my kids become better writers and (hopefully) learn to love it as much as I do.
Here are five ways to help your kids become better writers, even if they don't love writing (yet).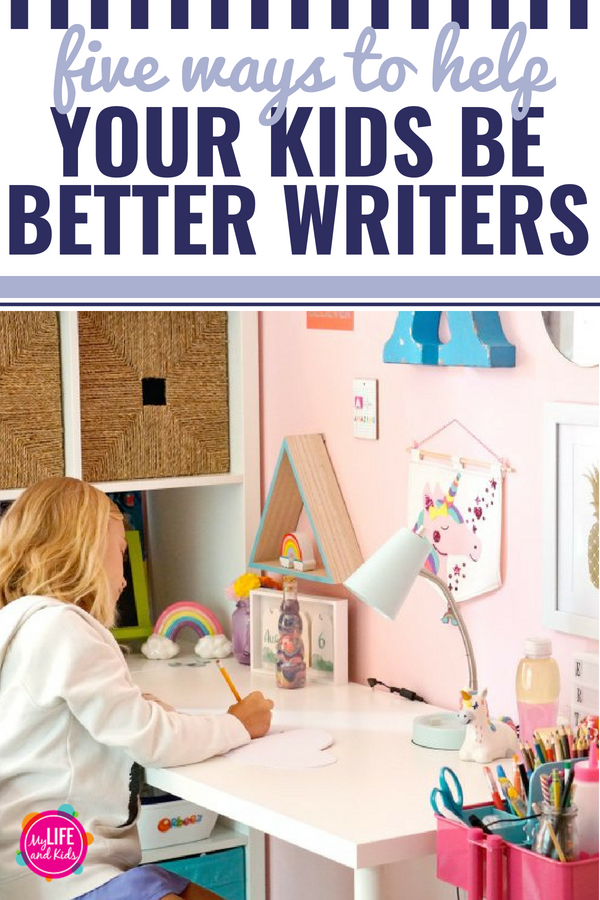 1. Talk about Writing
I know that sounds crazy, but sometimes it's as simple as reminding my kids that the email they just sent their grandma is an example of writing, or that the blog post I just wrote is writing.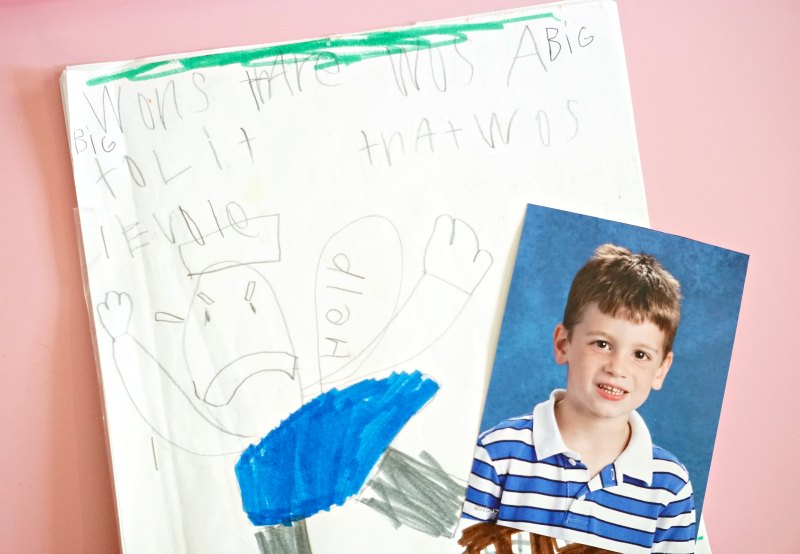 Or that even when my youngest writes books about evil toilets (with pretty much everything spelled wrong), it's still an example of writing.
We are all writers in our own way, even if your writing is never for sale in a bookstore.
2. Read (or Listen)
Personally, I don't think you have to love reading to be a great writer. I do, however, think that people who love writing also love reading.
Read to your younger kids (even when they can read on their own). For older kids, see if they'd be open to starting a little book club where everyone in the family reads the same book and then talks about it later.
Developing a love of reading can lead to a love of writing. And remember, reading doesn't always have to be reading anymore. As far as I'm concerned, listening to an audiobook counts too.
3. Utilize Sylvan Learning
Sylvan Learning is the leading provider of personal learning for students in grades K-12. While they offer a wide variety of services (including tutoring, STEM activities and college prep), I especially love that they offer writing tutoring.
Almost 75% of students in American are not writing at grade level. Sylvan Learning's programs focus on grammar and mechanics, structure and process and writing more in-depth thoughtful analysis, leaving kids better prepared for schoolwork, standardized tests, college application essays and holding a job.
Click here to learn more about Sylvan Learning!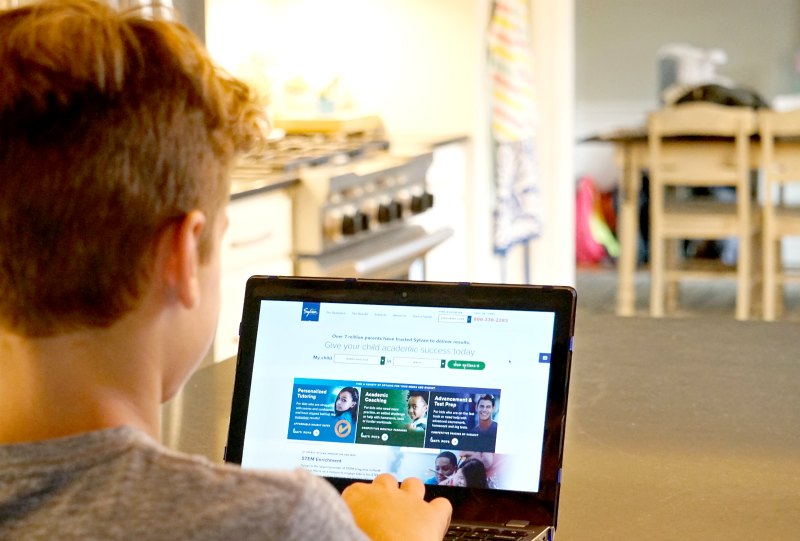 Specifically, expert tutors will identify your child's exact writing needs and develop a custom learning plan. They'll share useful writing tips to help guide your child through writing exercises in their daily life, and the tutors even collaborate with your child's teacher to track progress at school.
How awesome is that?
While I'm doing what I can to help my kids at home, I love knowing that Sylvan Learning will be there for me if (and when) I need them.
Click here to learn more about Sylvan Learning and all of the services they offer.
4. Stay in Touch with Their Teachers
When it comes to writing, I never hesitate to contact my kids' teachers to make sure they're performing at grade level and to see if there's anything we should be working on at home.
Based on my experience, my kids will love writing if they feel confident that they are good at it.  Staying in touch with the teacher will let you know if there are any specific writing challenges that you weren't aware of yet. Or the teacher might let you know of an area where your child is excelling so you can be sure to offer extra praise and encouragement at home.
5. Make Writing Fun
Over the past year, I've made sure to keep our house stocked with blank books (that you can get at most dollar stores). Sometimes the kids just fill them with pictures, but other times the books have a beginning, a middle and an end.
Making writing a little more fun can be as simple as writing in an actual book.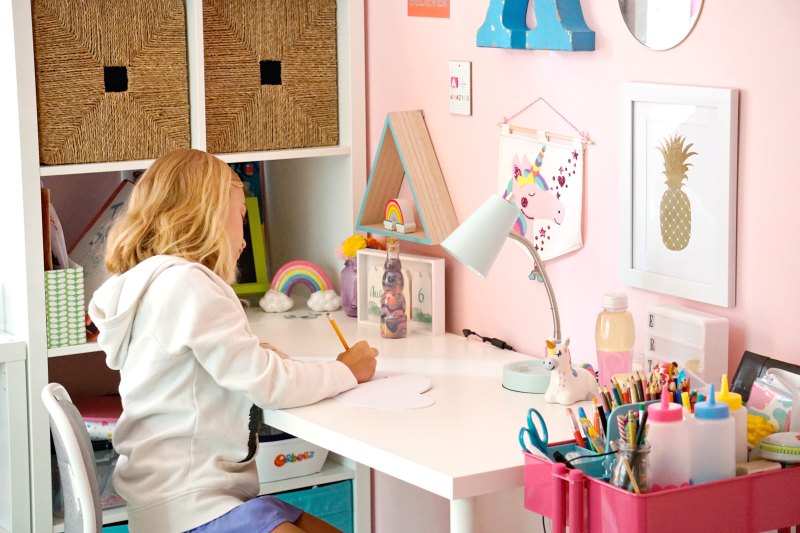 My daughter and a couple of friends created a shared google doc at the beginning of the summer, and they've been working on tag-team writing a story. I love seeing how the three of them are putting their own spin on the plot and how they're illustrating with clipart. (And, yes, I actually had to remind my daughter that THIS IS WRITING.)
In class last year, my son and a partner got to write a "choose your own adventure" book. They had a blast, and my son loved figuring out the different plot lines based on the choices his readers might make.
Think about different ways you can make writing more fun for your kids.