Mom Life
Help with Picky Eaters
By |
My favorite ladies from Prescribe Nutrition are here today to share some amazing tips and tricks to help you handle your picky eaters!
Remember that time the kids came home and said,
"Hey mom, let's have a kale caesar, some roast veggies and that salmon with the delicious herbed pesto for dinner – okay?"
No? Oh right. Because kids can be impossible when it comes to food.
In a world run by kids, mac and cheese would likely be the dessert following a meal of graham crackers. They are amazing and clever and witty and moody and uncensored and above all, they like what they like.
It can throw a major wrench into the daily grind when you have made healthy eating a top priority, and your kid isn't even willing to take that first bite of anything new, mushy or god forbid, green.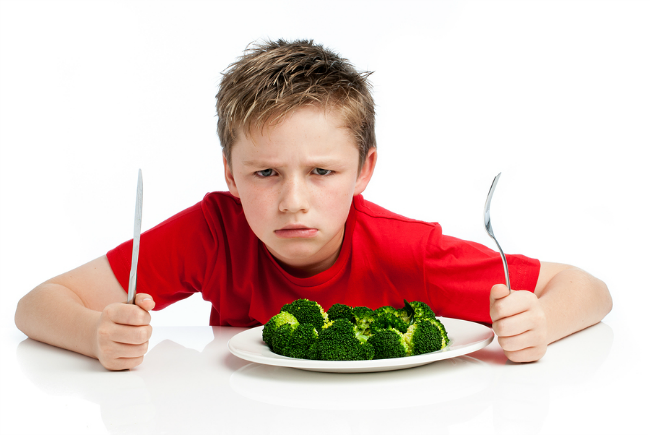 We want our kids to eat the meals they need to grow, to thrive and to be healthy people, because what's more important than that? Nothing. But when you've got a picky eater putting up roadblocks with every attempt you make to get in the good stuff, then we've got to dig a bit deeper and ask, what's causing that resistance?
It's one of the core reasons we developed Kids Rule.
If you're feeling challenged sneaking in the nutrients your child needs, but aren't quite sure where to start, we've got you covered. Kids Rule will not only fully support you with unbelievable recipes that your kids will love, it will also help you navigate the complicated world of food sensitivities, picky eaters and behavior concerns.
Sometimes solving these issues can be as easy as eliminating some common problematic foods.

Did you know that there's usually a reason behind picky eating?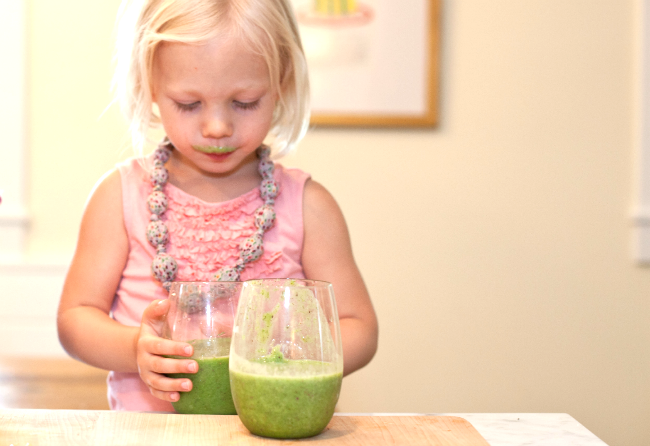 Usually it's an indication of something off balance that can be balanced. Your kids are NOT destined to live off cereal!
Here are some core reasons that your child might be a picky eater:
● sensory or motor challenges (affinity to soft or crunchy)
● nutrient deficiencies (when the tanks are low – we actually lose the ability to taste)
● yeast, viral and microbial overgrowth
● anxiety
● food addictions and cravings
Ok, so let's break them down.
Sensory or motor challenges are many times tied to the topics we're addressing below. But know that more major feeding issues tied to sensory or motor challenges are likely something that can be addressed with formal therapy in conjunction with our tips and tricks.
If your child likes things more crunchy, we can make some of our nutrient-dense foods crunchy and the same goes for mushy.
Nutrient deficiencies are a topic we can't wait to dig into! When a child (or adult alike) is deficient in key vitamins and minerals (specifically zinc), it can make all food taste bad or bland.
In these cases texture can then become an even bigger issue – imagine if you couldn't taste something like hummus – it would be like a bland mouthful of mush!
Yeast, viral and microbial overgrowth can create a strong affinity to high carbohydrate foods and sugar rich foods. Yeasts food? You guessed it – SUGAR. If there is yeast in the body, the body will then crave sugar. Just like that. And if you're connecting to this bit yourself… you're not alone. This goes same with adults, big time.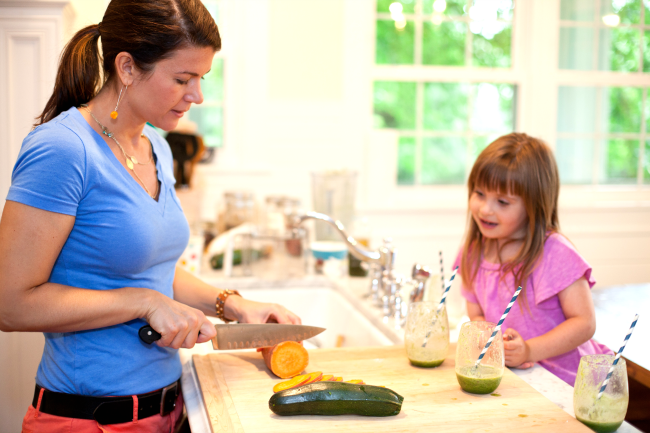 Addictions (last but not least) are sometimes the most profound yet least understood or considered when it comes to what kids (and adults) gravitate towards certain foods. We are going to develop this topic more when discussing gluten and dairy but to note the following:
When gluten and dairy are not properly digested, the body can create compounds that fit into opioid receptors in the brain and feed these opioid (morphine-like) receptors. The child then becomes restricted to only foods that fuel this addictive cycle – creating limited and picky eating! A true cycle.
Chemicals, dyes and additives also have some significant addictive qualities as well. Think of it this way – chemicals crave chemicals. The more we have – the more we want (this really goes for just about anything.)
Tips & Tricks for Picky Eaters – From your PN team: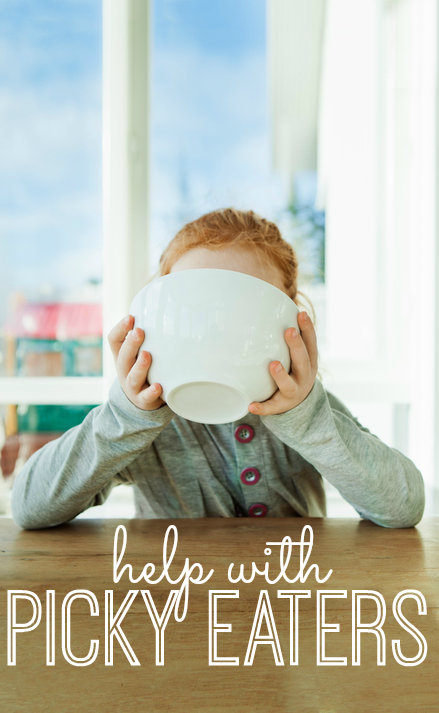 Start slow.
Remember no one (not even us!) does great with drastic change. The pickier the eater, the slower the implementation should go.
It's important to note that getting valuable information usually leads the the desire to act fast and/or to feel bad about continuing to do what we've done before now that we know more.
It's about the journey.
We invite you to set goals with the Kids Rule community. Whether it be weeks, months or even a year. That's what we are here for!
Here are a few goals to start with:
Add purees to pancakes, applesauce, meatballs or chicken nuggets.
Make veggies crunchy – carrot chips, sweet potato fries and more (we're sharing tons of recipes like these during our Kids Rule program)
Try to mix or dilute a brand of food/beverage they like with a healthier version in small amounts and slowly increase. Things like milks, peanut/nut butters, applesauce – things that blend well.
Stay Positive!
Kids pick up on frustration and negative energy and if parents are picky eaters themselves that message is easily absorbed. Do what you can to stay positive!
Get the kids involved.
A little ownership and responsibility goes a long way. We will talk about this extensively in the program.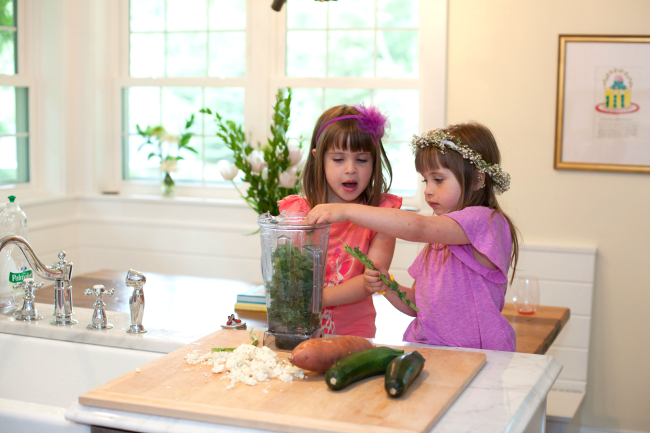 Let the kids help meal plan, shop, wash, prep and even cook. If they are involved, it's far more likely that they will consume and even enjoy the foods THEY made!
It really is possible!
It is possible to have a child that makes sure you put the cauliflower in the shopping cart, to make one meal and only one meal for dinner, and to just feel less crazy about world of kids, food and health.
You simply need to understand some of the hows and whys behind food.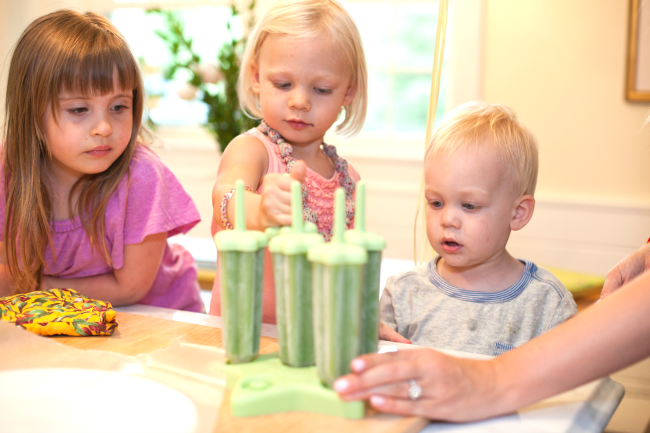 Don't panic! Try some new tactics and, of course, give it time.
Watch your kids begin to embrace eating healthy and feeling good on their own. Hey, maybe they'll make you a green smoothie for once.
---
Join Me at Kids Rule!
I'm counting down the days until Kids Rule.
What would be even more exciting? For us (you and me) to do this together.
Let's tackle this one as a team.
Talk about wins, our challenges and have fun while doing this.
Katie, Megan and Anna (you know, the ladies of Prescribe Nutrition) have offered us a 20% off coupon code – MLAK20. If you use that code before March 24th there is an additional discount (already reflected at checkout) of $10.

On the 25th the early bird ends and the price goes back up. Heck, lets go for the double bonus.
This will be my third PN program. Can you tell I'm a believer?

Click here to register now and join me on this journey!
The majority of photos within this post were taken by Barrett Loving.