Laughs
How Even Steven Shows his Love to Me… on Facebook #iamloved
By |
For those of you who have known me for awhile, you're going to be shocked to hear that Even Steven is now on Facebook!
Without even asking for help, he navigated through the internet, found Facebook and signed himself up.
And for the past three weeks that he's actually been part of this century, I have never felt so loved.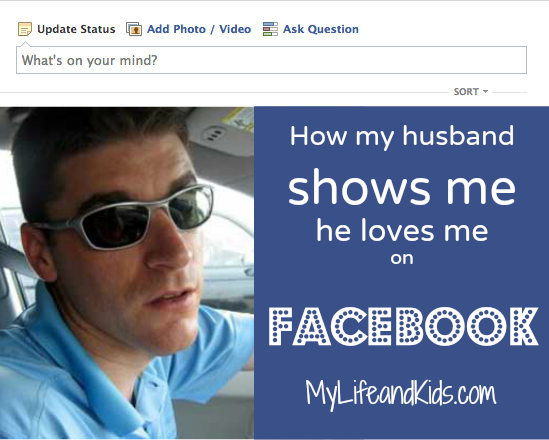 Even Steven is a fairly non-expressive person. He's not into grand gestures. He doesn't like public displays of affection. Romance is not his middle name.
But now that he's on Facebook, it's like he's an entirely different person. And never have I seen such public displays of his love for me. Right there on Facebook – for all six of his friends to see.
For example – not ONCE in the past three weeks has Even Steven posted something like this:

And he certainly didn't post anything like this:

Which pretty much made me kiss him on the lips and stock up on Bean-o just out of gratefulness.
And he definitely didn't post a picture like this – even though I'm sure he wanted to: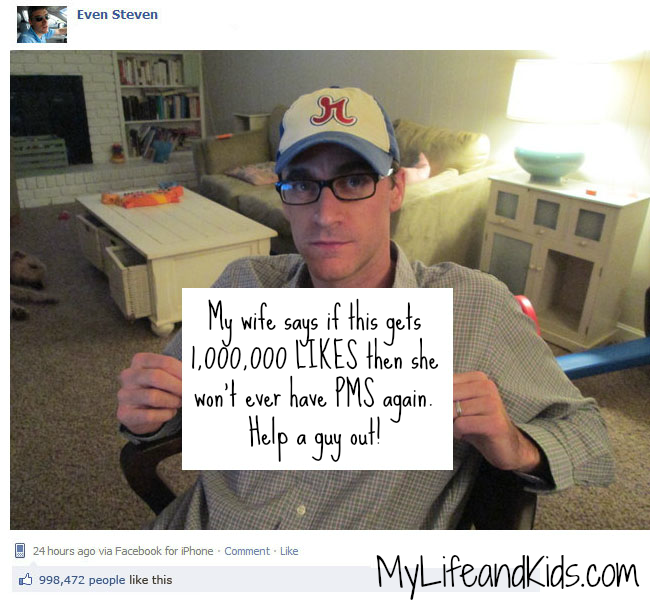 Do you see why I'm feeling so loved all of a sudden? It's like Facebook has brought a whole new dimension to our marriage – and I'm loving it!
Now if only I could convince him to accept my friend request…
I'm partnering with Helzberg Diamonds to share love stories in support of Make-A-Wish.
For every love story shared at iamloved.com, Helzberg Diamonds will donate $1 (up to $5,000 per month!) to Make-A-Wish!
Visit iamloved.com to share YOUR love story and help a child receive their wish. (It's easy and fast – I promise!) While you're there, you can meet some inspiring children who have benefited from having a wish experience.
As part of the iamloved ambassador program, I'll be sharing my favorite love stories for the next month – and reminding you to share yours at iamloved.com!
Help me help kids! Visit iamloved.com to share your love story today.
This post is sponsored by Helzberg Diamonds. The opinions and content are my own.