4-year-olds
6 Hacks For Getting Your Kids To Clean the Bathroom
By |
It's a well-known joke that moms never get a moment alone in the bathroom, and for good reason; we can pretty much count on having an audience every time we need to shower or pee.
If we do manage to get a spare minute in there alone, we're much more likely to spend it cleaning the tub than lounging in the tub.
Amiright?
But what if you had some clever ways to get the kids to do the dirty work? They're already responsible for making 99% of the bathroom mess, so it only makes sense for them to clean it up.
Besides, it teaches them responsibility… and if that happens to mean the tub is sparkling and ready for us to hop in the next time we need a bubble bath, so be it!
If that's your dream (and of course it is), here are six tips for getting your kids to take over the bathroom cleaning duties.
6 Hacks For Getting Your Kids To Clean the Bathroom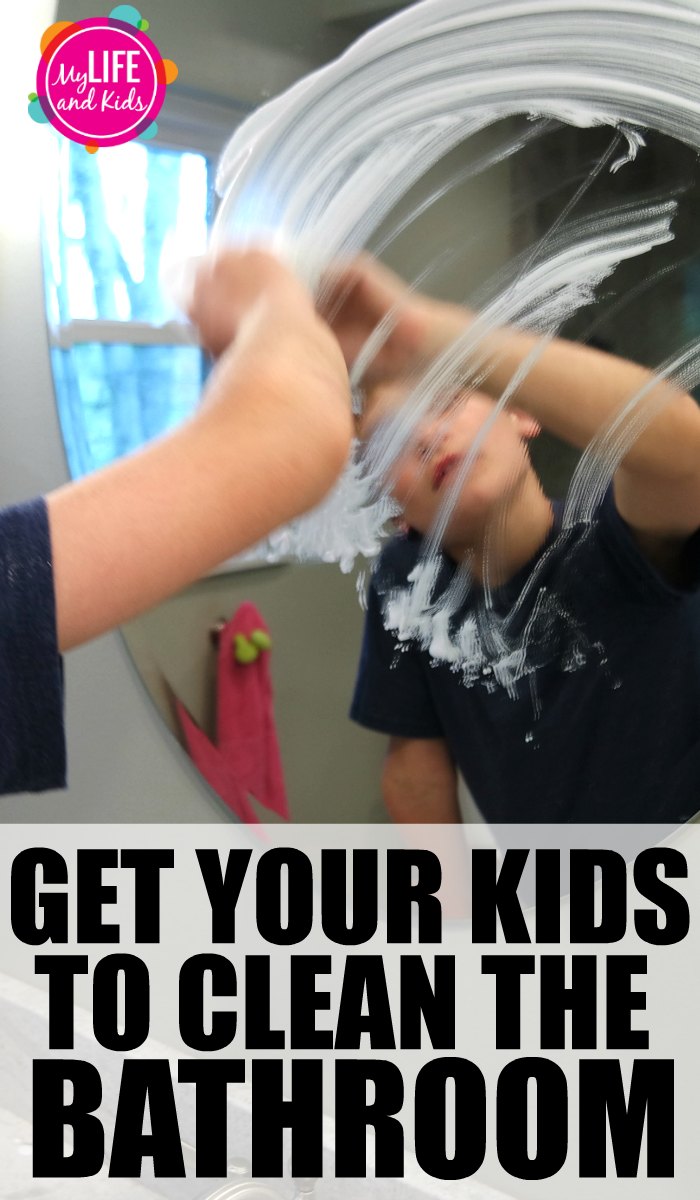 Invest in a Squeegee
Kids love doing silly things – and hopping into the shower in clothes and socks is definitely silly. Teach them how to use a squeegee, and they'll be begging to clean the shower walls for you.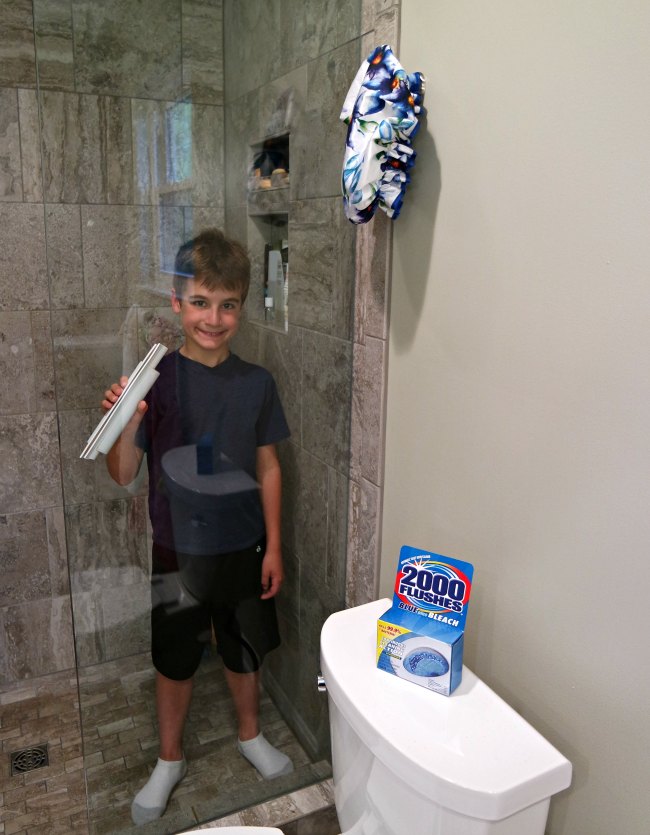 Change your Towels
I don't just mean swap them out for clean ones (though kids can certainly do that, too), I mean change how you display them. Hanging towels on coat hooks rather than on towel bars, as well as rolling hand towels and washcloths instead of folding them, make freshening them up much easier for kids. Plus it saves you the temptation of going back in there and refolding everything later!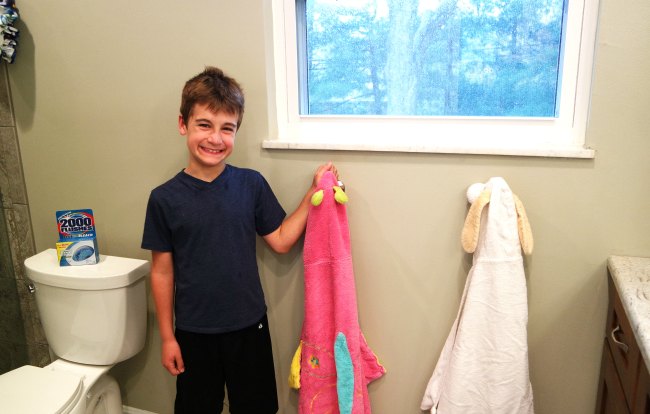 Make it Fun
Seems impossible, I know, until you start thinking like a kid. Kids love to try new things, so introducing an unusual product or technique can be just the thing to pique their interest.
Show them how to dust the air vents with an old bottle brush, or let them spray shaving cream onto the mirror and wipe it off with a damp rag (it keeps the mirror from fogging up for about a week, plus kids think it's extra fun when you tell them to do stuff that they'd normally get in trouble for).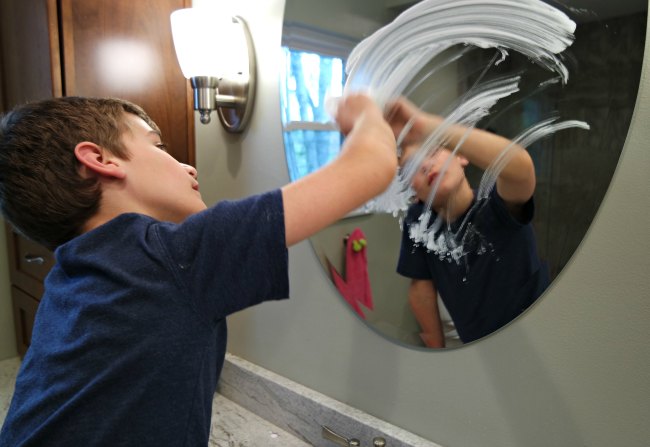 Polish Up their Polishing Skills
If there's one thing about cleaning kids usually like, it's polishing. There's just something about wiping stuff with a cloth that hits the sweet spot between easy and visually satisfying. Luckily there are TONS of things within reach of even the youngest helpers that could stand a good wipe-down in the bathroom!
Baby wipes are a safe, inexpensive (and delightfully disposable) product to use on sinks, doorknobs, and light switches, while dryer sheets are known to easily remove soap scum from shower doors.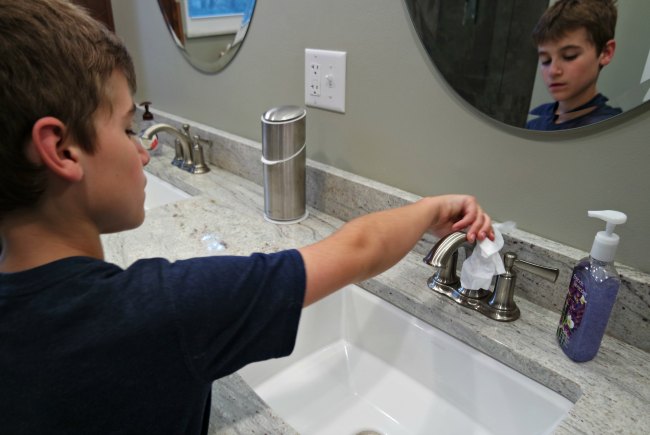 Flush the Toilet
Face it, we definitely want our toilets to be sparkling clean, but nobody wants to reach in there, and we sure don't want our kids in the bathroom waving the toilet brush around near our toothbrushes!
Use 2000 Flushes in your toilet tank and you'll be cleaning and deodorizing with every single flush.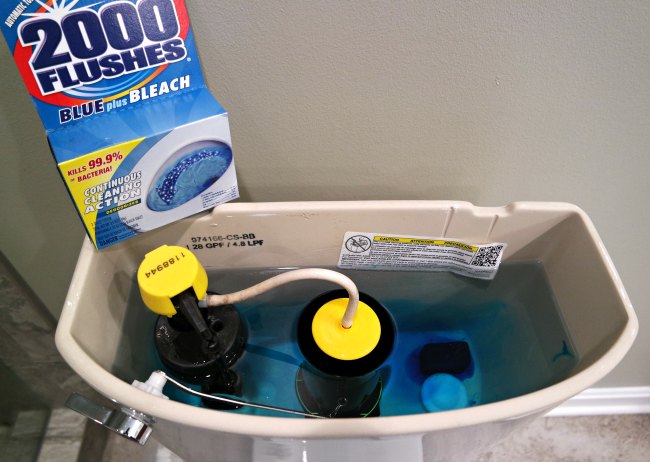 Each one lasts up to four months. That's a lot of hands-free cleaning, not to mention peace of mind that your kids won't end up getting eight gallons of toilet water on the floor by splashing the brush around in the bowl!
So all your kids need to do to clean the toilet is flush it! How simple is that?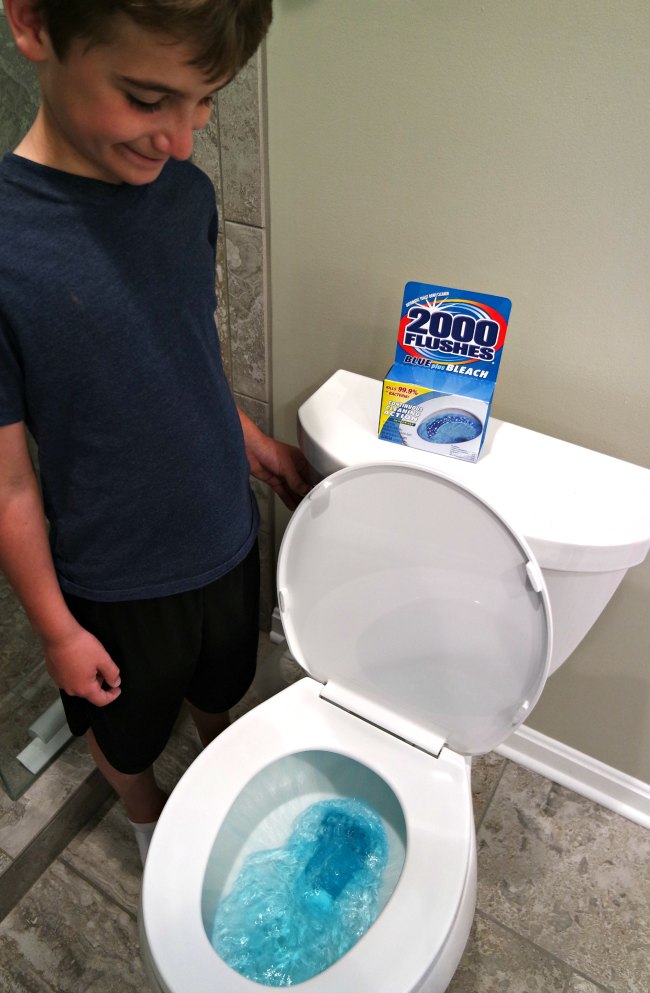 Bonus? Your kids will LOVE having blue toilet water. Don't be surprised if they start taking their friends to the bathroom to show off that blue water.
(I'm not kidding.)
Chart It
Keep a laminated list of these chores, as well as any other bathroom-related tasks you think your kids can handle, on the door, by the mirror, or anywhere else your kids are sure to see it. Or use a small chalkboard like we do to easily change out responsibilities each week.
Make it easy for your kids to check off each job as they complete it, and at the end of the week they get to reap their rewards (as do you, in the form of a clean bathroom).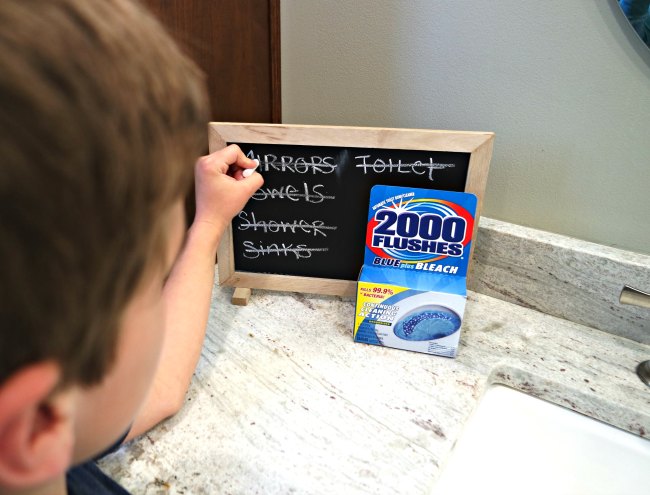 Base your reward system on whatever works best for your family and motivates your child; an allowance is pretty common, but things as simple as getting a special spot to sit during movie night or picking out a dessert at the grocery store work wonders, too!
Use 2000 Flushes!
Made with a unique formula, 2000 Flushes cleans and deodorizes with every flush, keeping your toilet fresh and clean and making your scrubbing easier! It kills 99.9% of bacteria while continuously cleaning your toilet bowl water for up to four months.
Whether you have your kids clean the bathrooms or not, you will love using 2000 Flushes!
Visit 2000FlushesBrand.com to learn more!
This post is sponsored by 2000 Flushes. All opinions (and clean bathrooms) are my own.