Desserts
Gluten Free Desserts
By |
I went gluten free in 2013, and ever since I've spent a lot of time researching recipes for the very best gluten free desserts.
I've collected some of the most delicious gluten-free desserts recipes out there so you don't have to hunt around! Enjoy!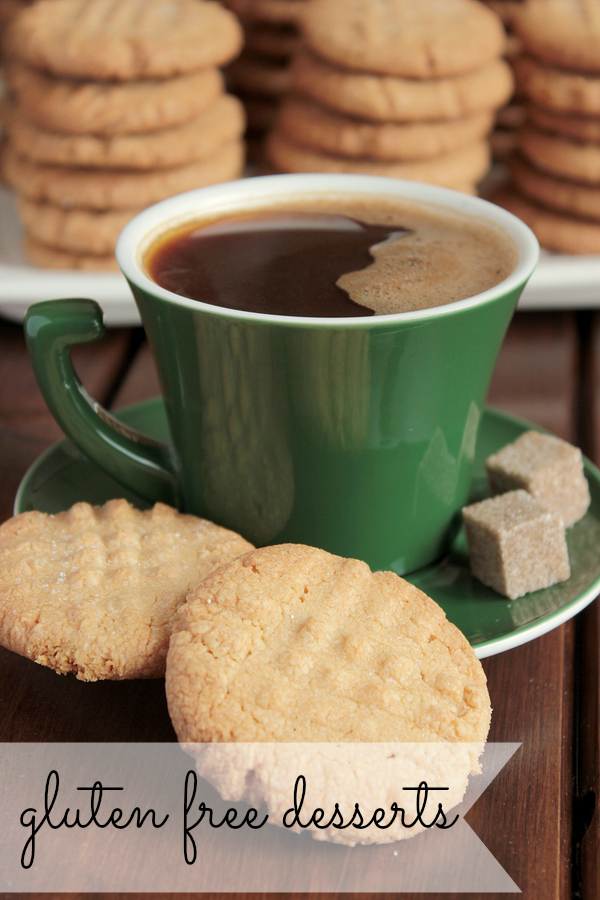 Gluten Free Desserts
Are you a chocolate and peanut butter lover? Try these delicious healthier buckeyes.
These peanut butter kiss cookies are sure to make mouths water.
Snickerdoodles, a timeless favorite, go gluten free!
What about lemon shortbread cookies? Yum!
Don't feel left out of cutting out and decorating you own holiday sugar cookies: you can still enjoy this tradition with this gluten free cutout cookie recipe.
While you're in the cookie decorating mood, try these cranberry ginger cookies. This recipe comes complete with instructions for making your own maple icing. Have fun decorating!
This blogger shares her recipe for lady's kisses, which are dollops of Nutella squashed between tiny hazelnut cookies. Sounds delicious, right? And this recipe only has 5 ingredients! Sounds easy, right?
If you're still in the mood for Nutella, try these hazelnut cookies.
Pumpkin pie fudge cookie dough chocolate bites. Let me repeat that so you know you're not dreaming: pumpkin pie fudge cookie dough chocolate bites. This recipe packs all these things into one bite-sized morsel, and it looks in.cred.i.ble. Helpful hint: there's a video on this site to walk you through!
This recipe claims that these are the easiest Christmas cookies ever. Make the dough. Roll dough balls powdered sugar. Bake. Enjoy the melt-in-your-mouth cookies!
Do you like chocolate? How about hazelnut? If so, these chocolate-covered hazelnut balls might be for you!
For a break from cookies, cookies, cookies, try this recipe for English toffee.
How about some pistachio brittle to go with that toffee?
Substitute the all purpose flour in this recipe for a gluten-free alternative, and you'll have some delicious raspberry almond thumbprint cookies!
For a mix of salty and sweet, your tastebuds will love gingerbread white chocolate popcorn.
Looking For More Great Recipes?
Follow the My Life & Recipes board on Pinterest to find more amazing recipes!
Follow My Life and Kids's board My Life & Recipes on Pinterest.