Laughs
Firefighters Can be Funny
By |
Last Monday marked the 8th week that someone has been throwing up or had a fever in our house. In those 8 weeks, there were only 13 days (non-consecutive) where someone wasn't sick.
So with my calendar-of-doom in front of me, I called my pediatrician.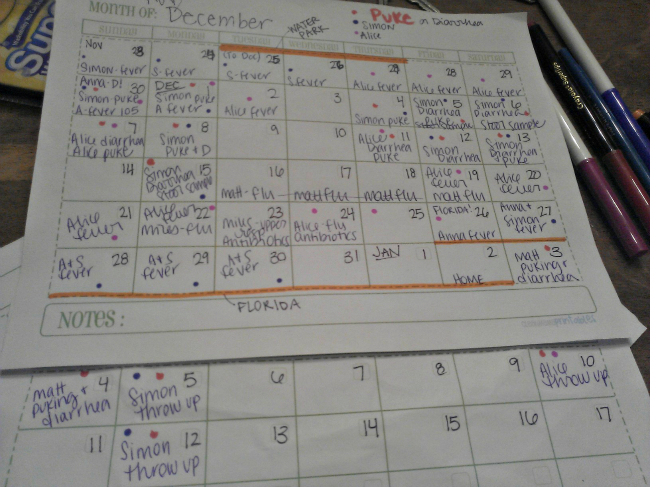 I'm going to lose my mind.
Do you think we are dying?
Do you think our house is poisoning us?
Will my house smell like this forever?
Should I move? Burn it down?
Why can't my 2-year-old make it to the toilet?
Should we see a specialist?
CAN YOU HELP US?
At that point, I had a terrible headache and Miles was sent home from school with a headache. Simon had been throwing up all night after Alice had been throwing up most of the weekend after Even Steven had been throwing up… you get the idea.
Our pediatrician said all the right things and encouraged me not to move or burn anything down. But she did suggest that I call the local fire department to see if they could do a quick carbon monoxide check for us.
Me: I have carbon monoxide detectors, and they haven't gone off.
Doc: Well, maybe you have a very low level that's just enough to make you sick but not enough to kill you or set off your detectors.
When someone makes a suggestion like this – and when you've been sick for 8 weeks – you can't really argue.
So I called the local fire department and explained the situation.
Me: Do you have carbon monoxide detectors? Could we set up a time for you to come over and do a check of our house?
Firefighter: Yup. You need to call 911 to dispatch us. Just tell them you have a carbon monoxide alarm. I'll get the guys in the truck, and we'll see you in a few minutes.
So of course I spent the next 3 minutes running around like a crazy person shoving dishes into the sink, picking dirty diapers up off the floor, putting on a bra and trying to get pants on the kids.
Okay – it may have been more like 5 minutes.
And then I called 911.
Me: This isn't an emergency, but I just talked to my local fire department and they said to report a carbon monoxide alarm.
911 Operator: Okay. Everyone needs to evacuate the premises immediately. They're on their way.
And that is why I spent last Monday sitting on the front porch with my kids (in the freezing cold) watching a fire truck and a police car pull up in front of our house.
The firefighters were in full on uniform, so I couldn't tell if they were hot or not. Which was a little disappointing. I mean, I even put on a bra!
And the police officer stood on the front porch, and I was so uncomfortable with the idea of possibly wasting the time of so many people that I couldn't even bring myself to take any pictures. (Which basically makes me the worst blogger ever.)
The great news is that we are not under the influence of carbon monoxide poisoning.
Firefighter: Not a bit in the house. We checked the water heater, the furnace, upstairs, downstairs. You're good.
Me: Great! Thank you so much for checking. Sorry that we wasted your time.
Firefighter: It's never a waste of time. Always better to check – especially when you've been throwing up for two months.
Me: Yeah… you might want to sanitize heavily after you leave my house.
Firefighter: We'll probably just burn these clothes. No telling what kind of germs are in that house.
You gotta love firefighter humor, right?
So – the good news is we are not suffering from carbon monoxide poisoning. The even better news is that no one has thrown up since. That's more than a week, people! (Well, the 2 year old threw up for awhile on Sunday morning, but it was just clear stuff, so we're not counting that. Okay?)
Tell me – do you think the plague has passed us by – or will I start puking this afternoon? Have you ever posted a calendar of when your husband is throwing up and has diarrhea on the internet? Have you ever wasted the time of 4 firefighters and a police officer? Tell me all about it so that I feel better!