Laughs
Finding your RollerGirl Name
By |
Over the weekend Even Steven and I went to a Cincinnati Roller Girls match.
We try to go at least once a year – and I have to say that I love it a little more each time.
In case you've never been – or aren't familiar with Rollergirls – basically it's grown women on roller skates beating the crap out of each other.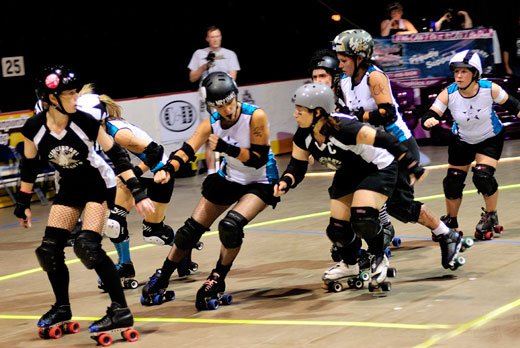 Okay – not really beating each other up, but throwing shoulders, hips, thighs and booties to knock each other down and hold each other back.
It's amazing.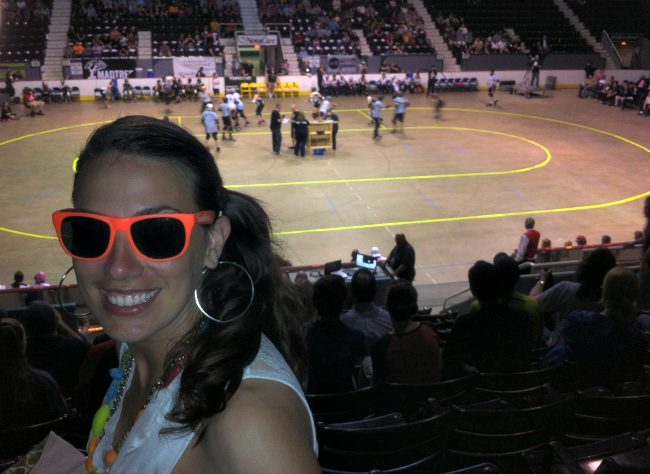 And we happened to be there on 80's night, which made it that much better.
Aside from the shouting, the fights and the $1 Hudy Delights, I have to say that my favorite part of the night (by far) is reading the names of the team members.
You can't just have a regular name if you're a roller girl. Absolutely not.
It needs to be clever. And a little… frightening.
A few of my favorites included Ima Tattoher and Skunna Hurt. (You bet it is!)
My neighbors and I spent most of the evening trying to determine our RollerGirls names. Even Steven suggested that my RollerGirls name be ANNAmal. Get it?
Clever – but far too tame in my opinion. I was thinking more along the lines of:
YER GonnaDie
or
Ima Chokavitch
I mean – those are some solid names, right?
One of my neighbors is a teacher, so we thought her name should be: Ima TeachUaLesson
Which brought up a great discussion about how you'd feel if you found out that your child's sweet little teacher was also throwing punches at RollerGirls and goes by the name Big Ugly or Kitten Kicker. (And yes – some of the RollerGirls are teachers.)
Personally, I think it would make me like the teacher even more – but that's just me.
After a lot of thought, I came up with some great RollerGirl names for a few other people in my life.
If Even Steven Was a RollerGirl…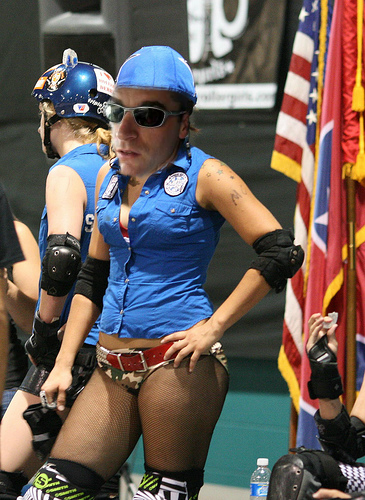 His name would be… Even Steven.
Not very clever, I know. But very fitting, don't you think?
If My Mom Was a RollerGirl…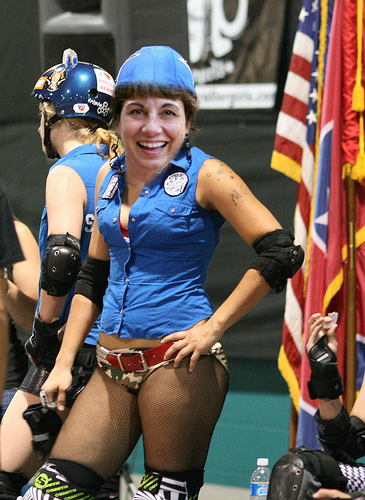 Her name would be… Imma Hoarder. Tee hee – sorry mom – just couldn't resist on that one.
Maybe another option would be Killer Calves? I'm open to suggestions here.
If My Trashy Sister-in-Law Was a Roller Girl…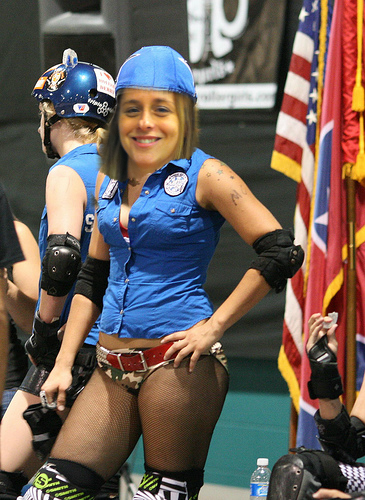 Her name would be… MyMoms inPrison. Bwahahhahahah. I'll admit that I'm probably the only one that thinks that's funny, but I thought it was REALLY Funny. Like – started snorting laughing after I thought of that one.
I guess a better option would be just to call her Trashy or something like that, right? (PS – You can read more about my trashy SIL right here.)
If Simon Was a RollerGirl…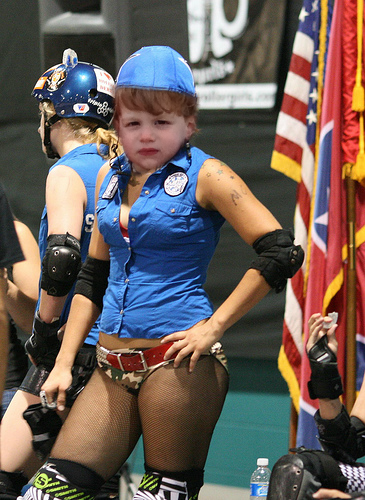 After going to the grocery store with my 3-year-old yesterday, I decided that his RollerGirl name would be:
Cart Licker
or Potty Licker.
As he did both yesterday. In public.
Which is actually more frightening than the girl named MirderHer if I do say so myself.
So – have you ever been to a RollerGirls game? What would your RollerGirl name be?