Laughs
Feeling Like an Amateur
By |
Last week, Even Steven was running late at work, so I took all three kids to Miles's soccer practice.
Things were going well for the first 20 minutes or so.
Miles was playing soccer. (And by playing, I mean that he was following the other kids around on the field and asking when they would be breaking for a snack.)
Alice was playing on the playground nearby. (And by playing, I mean that she had found four little girls that were a little younger than her so she could boss them around.)
And Simon was happy to stand at the sidelines and watch Miles. (And by happy, I mean that he was running into the parking lot every two minutes – when he wasn't pulling on my shirt and saying, "I want to go to the playground.")
I finally gave in to Simon's pleas and took him to the playground.
He ran around to the side to climb up the stairs, while I watched Alice bossing her friends around.
And then I saw three dads standing near the playground looking out onto an empty soccer field. They were wearing perfectly pressed khakis and button-down shirts with sunglasses tucked into their top buttons. They were staring at something and shaking their heads in disgust.
I looked over, and there was my Simon – happily jumping in the only mud puddle within a 2-mile radius. (And by happily jumping, I mean squealing with delight, covered in mud from his knees to his toes.)
I stood next to the dads for a few minutes and watched.
Oh my God, they said. Can you imagine?
Ugg – that's so disgusting. Another said.
Seriously. Someone needs to get their kid, I said.
They all nodded vigorously.
I'm going to pretend he's not mine for a little longer, I added.
WHAT? He's YOURS? OH MY GOD – and they all stared and judged me for a little longer.
I walked down to get Simon out of the mud puddle, only to find out that it wasn't just any puddle. It was thick, tarry mud that smelled worse than Big Hairy Dog. It was like he had bathed in a swamp.
I dragged him to the car, stripped him down to his diaper and strapped him into a stroller – where he proceeded to scream at the top of his lungs.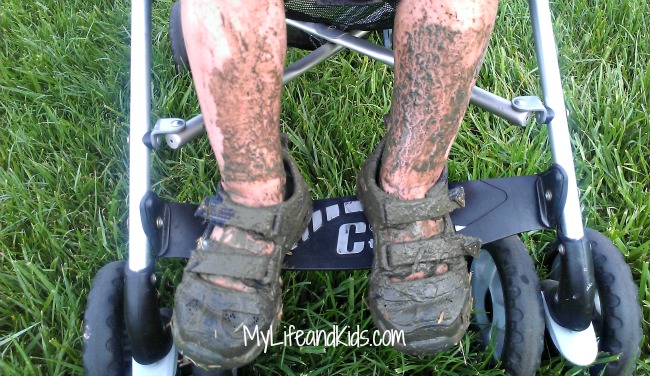 People were staring.
And all of a sudden, all I could see were perfectly put together people. Perfect moms with their perfect kids who would never find a mud puddle. Some of the moms even had their sweaters tucked into their pants. I'm not kidding.
I decided it was time to go. Or at least go sit in the minivan until it was time to go.
So I pushed screaming Simon through the grass to the playground to get Alice.
And of course Alice climbed to the highest point on the playground and refused to come down. And when she did finally come down, I had to CHASE her to get her to come near me.
At which point, she hit me.
In public.
I kid you not – she HIT me.
It was as though time was standing still.
I calmly carried a screaming Alice while pushing a screaming Simon across three soccer fields to our minivan.
Their screams were only drowned out by what I knew the other moms were saying as we passed:
Oh my gosh – do you see that mom with the two screaming kids? Why doesn't that one have any clothes on? And did her daughter just HIT her?
No – that can't be the mom. She's acting like she doesn't even have kids. Must be the freakishly old babysitter.
The rest of the practice was fairly uneventful. We watched movies in the minivan. We talked about appropriate behavior. Miles got his snack. We finally got to go home.
And I took it as a good reminder that just when I feel like motherhood is getting a little easier… it's not.
Please tell me that you've had amateur moments in parenting too?