Laughs
My very favorite #TBT pics
By |
If you're on social media, then most likely you're aware of #TBT.
For those of you not aware (Hi, Mom!) #TBT stands for Throwback Thursday – and people post old pictures on Facebook, instagram and twitter and tag them with the hashtag TBT.
I have to say, Thursday has become one of my favorite online days ever. I love looking at my friends' #TBT pics, and I love posting my own as well.
Or – more accurately – I love thinking about what I would post if I had access to that picture or had the energy to dig it out, photograph it and upload it.
I always have big plans, but then I forget or I get lazy or whatever. And then before I know it, it's Friday.
So I was thrilled when Hallmark asked me to write a #TBT post to help promote their newest line of cards – by the one and only – Sarah Jessica Parker.
Yes – Sarah Jessica Parker has a line of greeting cards (and other goodies) at Hallmark. And you're going to love them!
The assignment was this – share my favorite #TBT pics, and then choose one of the people featured in those pictures to receive a Sarah Jessica Parker Hallmark card from me.
How fun is that?
Super fun – trust me.
My Favorite #TBT Pics
This was taken my freshman year of college – just before one of Even Steven's formals. Or maybe it was one of my sorority formals? I can't remember. Just love his terrible haircut, and my blonde hair. Good times.
Moving right along to my first trip on an airplane.
I was 10 years old and threw up all the way to Florida. We were in Boca Raton, and apparently I spent my week there dressed like this. The picture is cut off, but I'm wearing lacy socks and tennis shoes. Maybe flip flops didn't exist in 1990?
And – yes – I am carrying my fanny pack rather than wearing it. I at least knew that much.
Look at my adorable little cuties! This was the first daycare photo after I went back to work when Alice was born. They combed Miles's typically wild hair and somehow managed to make his entire head look funny. And I have no clue what's going on with his ear.
Pictures like these make me realize just how crazy life used to be – when I had two little ones under the age of 2.
My brother and I riding our big wheels. While there's no proof, I'm pretty sure that my brother pulled my hat down and then attempted to ride off.
And here we are again. How adorable are my pigtails?
And raise your hand if you think my brother looks like he could grow up to be the kind of brother that would spend his days shooting me with a bb gun. PS – You should all have your hands raised right now.
No doubt my dad will hate me for this one, but how could I not share this? I have no idea what's going on here, but I do know that it wasn't Halloween.
If you look closely, you'll even see the jewels on his shoes.
And let's not forget to notice the necklace…
This was my cat growing up.
I hated her.
She hated me – and would express her hatred by sleeping on my face at night and trying to suffocate me.
Or by bringing a dead mouse from outside in the middle of the night to be eaten on my bed. It's a huge bummer to wake up and find a cat eating a dead mouse on your pillow. You know?
Talk about nightmares.
Now look closely at this picture. Notice anything missing? Like something important?
Yeah – someday I'll tell you all about that.
I was two years old in this picture, and that doll creeped me out. I had nightmares that she would come alive at night and roam the house trying to find me. Doesn't she look a little possessed?
I have to say that this "outdoor shower" explains a lot about my life growing up.
But not quite as much as this picture of my "playground."
Our "sandbox" was the dirt pile behind our house. (And can I get a little AMEN for the Tab in the background?)
And my mom spent her days dressed like this. Check out those rockin' boots!
This was taken the morning of our very first Thanksgiving as a married couple. We hosted Even Steven's entire family.
The food tasted terrible (thanks to me) – and this was the scene in our kitchen just before we sat down to eat…
Luckily Aunt Pat was there to strain the shards of glass out of the mashed potatoes. Yum.
This probably explains why I came in 4th place in the beauty pageant I entered in high school. Apparently blacking out a tooth and attempting to look like an old lady and act out a scene from Fiddler on the Roof isn't exactly what they mean when they refer to the "talent portion" of the competition.
This was one of the first times Even Steven visited me at home in the winter. He took full advantage of the massive snow piles – and my mom was a little too excited to capture this on film.
Okay – let's all just stop for the next hour and really study this picture.
That's me in the blue. My brother in the white helmet with the superman outfit underneath. No clue who that kid is in the carseat (safety first!). And that is my dad sitting with me.
I'd like for you to see how long it takes you to find 10 things wrong with this picture.
And then find another 10 life-threatening things that are wrong with this picture.
PS – my brother is 6 or 7 here.
Okay – ready to move on? Here we go…
Here's why I love this picture so much.
#1 – that brown truck in the background brings back some great memories. Towards the end of its life, half the floor was missing under the passenger seat. I remember riding along (in the front seat, of course) and hoping that my doll didn't fall out of the car.
#2 – My mom has us both wearing bibs. It was always one of her greatest wishes to have boy/girl twins named Jack and Jill. She didn't get her wish, but she still tried to dress us alike whenever she could.
#3 – I'm currently the same age that my mom was in this picture. And that totally blows me away. (And I'm pretty sure I'm not aging as well as she did…)
Pretty cool if you ask me.
Now it's your turn…
I want to see your #TBT pics. Upload them to my Facebook page and tell me what's going on. I'll share my favorites in an upcoming blog post.
Who's Getting My Card?
While you're busy uploading your #TBT pics to my Facebook page, I have a greeting card to send.
And I'm sending it out to my mom – for showing me the path for fun, joy and happiness over the next 30+ years.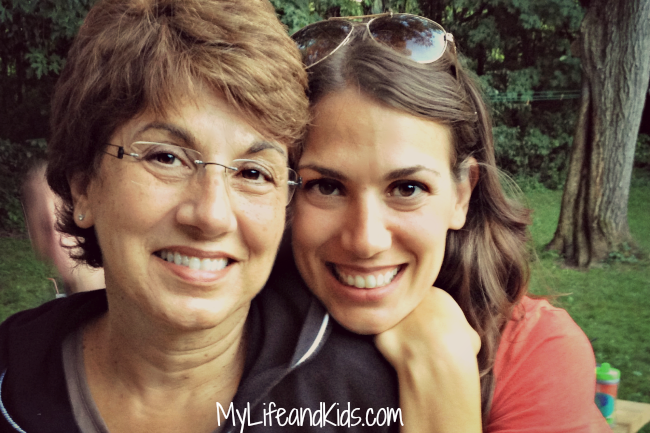 And it's especially fitting that it's a Sarah Jessica Parker card from Hallmark because I never heard from my mom so much as when she started watching Sex and the City back in the day and had so many questions.
I always told her to ask my trashy sister-in-law for the answers instead of me. Seems that's just a sister-in-law's job. Don't you think?
So – what do you like best about my favorite #TBT pics? Is it my dad in drag? The 3-legged cat? How about a carseat rigged up on the back of a 3-wheeler?
This is a sponsored post. All opinions are my own.