Fall is the prefect time to treat yourself to a seasonal dessert. Apple pie and pumpkin bars are just the start of these autumn temptations. Fill the house with the smells of the season, and fill your soul with the warmth of gooey, yummy desserts!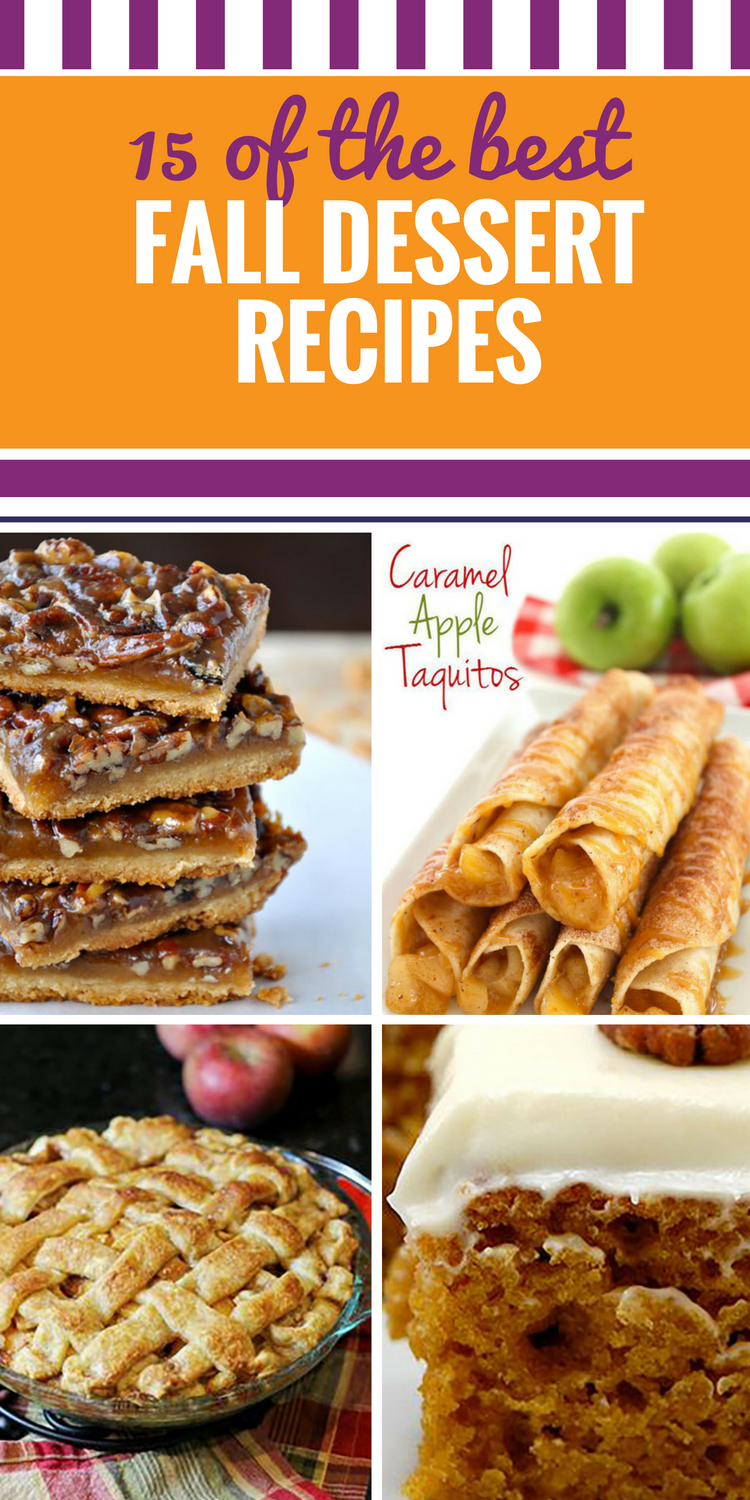 15 Fall Dessert Recipes
Caramel Apple Taquitos are flour tortillas loaded with apple pie filling, cinnamon sugar, and caramel. Great fall dessert that is super easy to make and a guaranteed classic! I love to make these for potlucks or parties because they are the PERFECT finger food.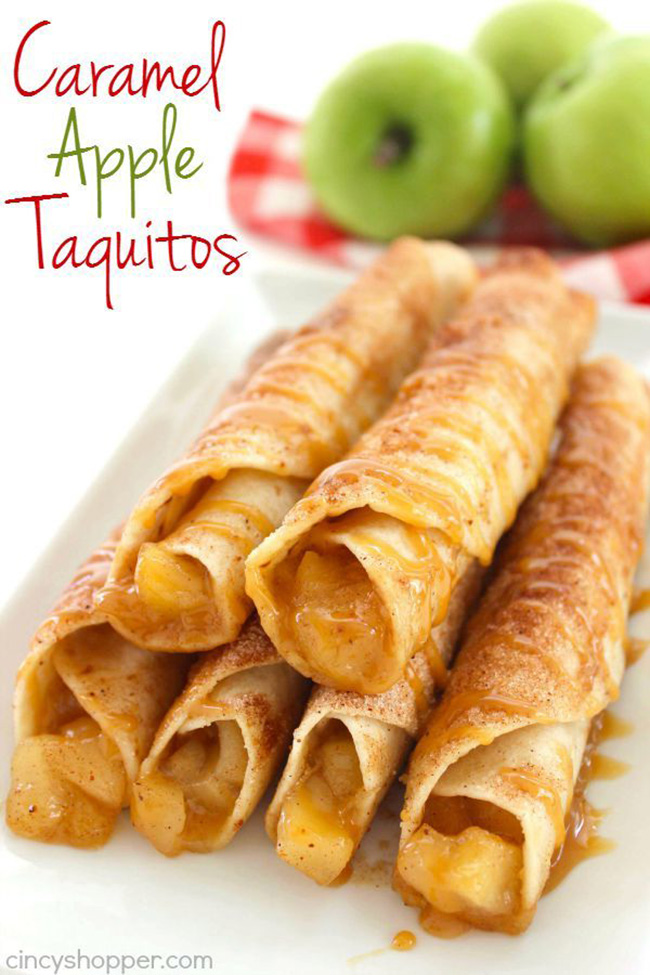 I love these no-fuss little guys! Make these ahead for your next party and watch them disappear in a FLASH. Dipped s'mores are your new favorite thing:
Graham crackers with 'fluff' in the middle, dipped in chocolate and dressed up with some colorful sprinkles that can match the theme of any party. These are a great idea for your next classroom party or surprise the crew with a special after school treat!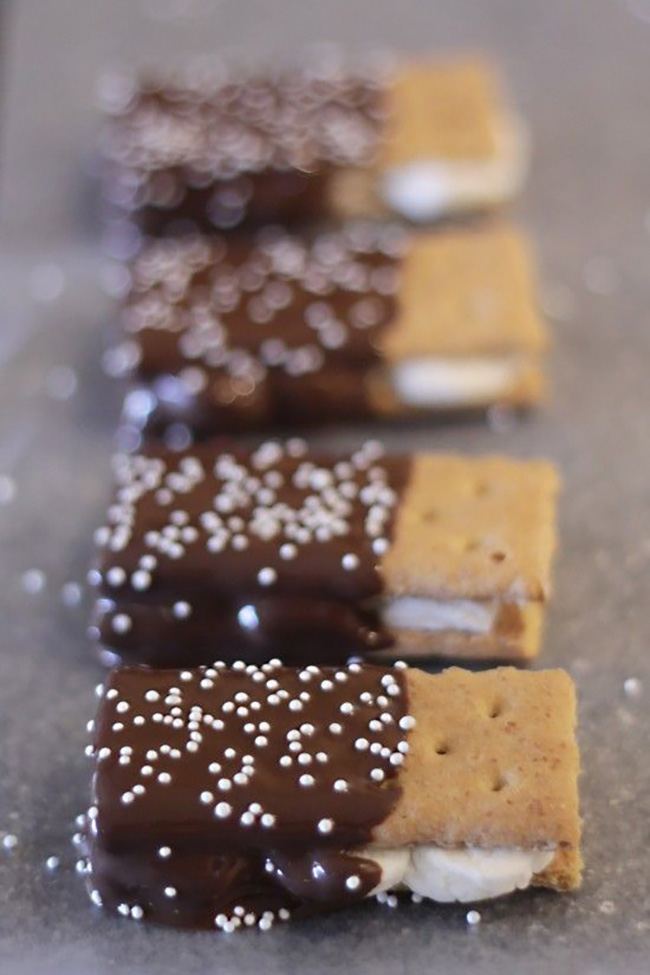 Bloomin' Cinnamon Baked Apples are heaven. Gooey, buttery, warm and cinnamon flavored apples (cut like a "Bloomin' Onion") and baked.  We love to add our own toppings which can be anything from vanilla ice cream, caramel sauce, chocolate sauce, or even cinnamon sprinkles and whipped cream!
Make a double batch and enjoy for days!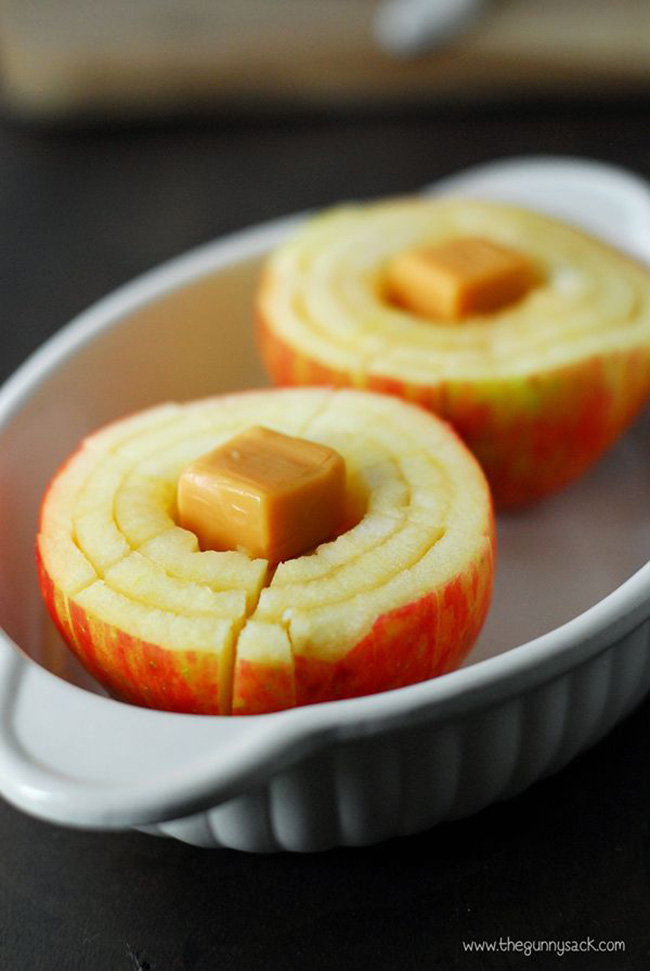 Pecan Pie Bars. Easy to make and even easier to eat! These are the most chewy, satisfying treat - loaded with pecans, butter, and brown sugar coating your favorite and easy to make crust.
ProTip: These will go fast - don't be afraid to make a double batch (this dessert freezes up perfectly!)!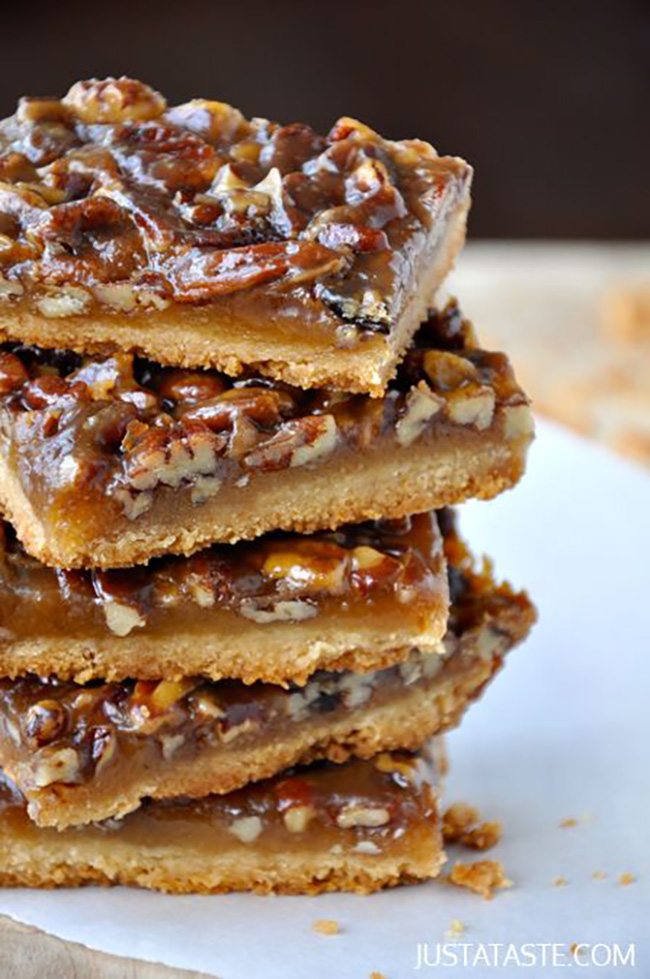 Pumpkin Pecan Pie Singles make the perfect dessert or snack and soooo easy to throw together!
I am ALL IN on the individual portion servings in adorable little dishes. Include a mini spoon and make this dessert one that guests and enjoy as they mingle and chat.
These can be made with or without nuts and flare can always be added to the whip cream to commemorate the holiday or theme of your gathering!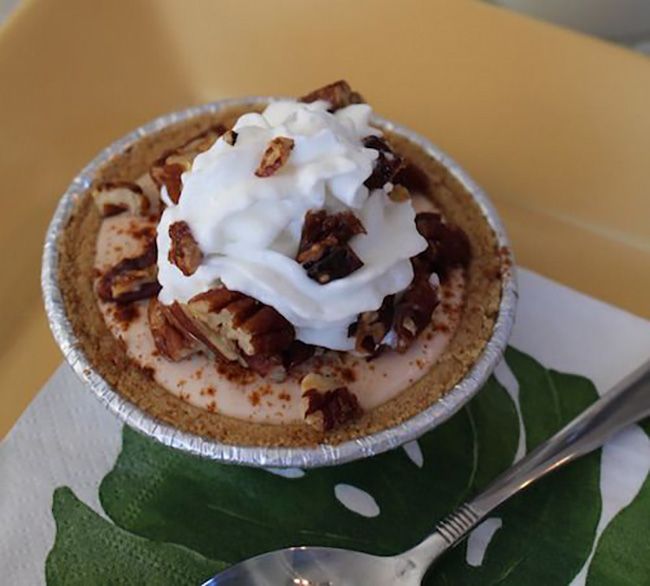 New England Apple Cider Cake
Never tried it? You are in for a succulent and divine treat.
This is a  simple, moist and delicious cake with a decadent, creamy apple cider glaze. Find your favorite sweater, pack up the family and head to the park to enjoy the crisp air and fall leaves, while enjoying this truly perfect fall dessert!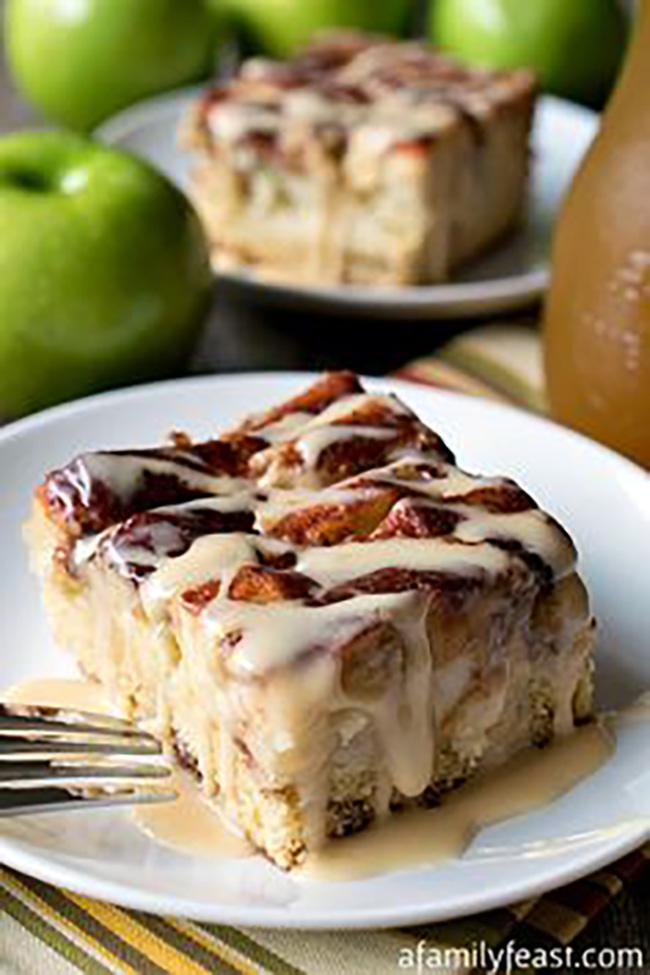 Nothing says fall quite like cooking with apples. When the whole house is filled with wafting aroma of apples and cinnamon, my crew knows that fall is upon us. To conjure up the memories that warm the soul, this is one of my favorite - EASY - recipes. It is always a gold star choice for dessert when we have dinner parties or are celebrating!
This Easy Apple Crisp dessert recipe makes it stupid easy!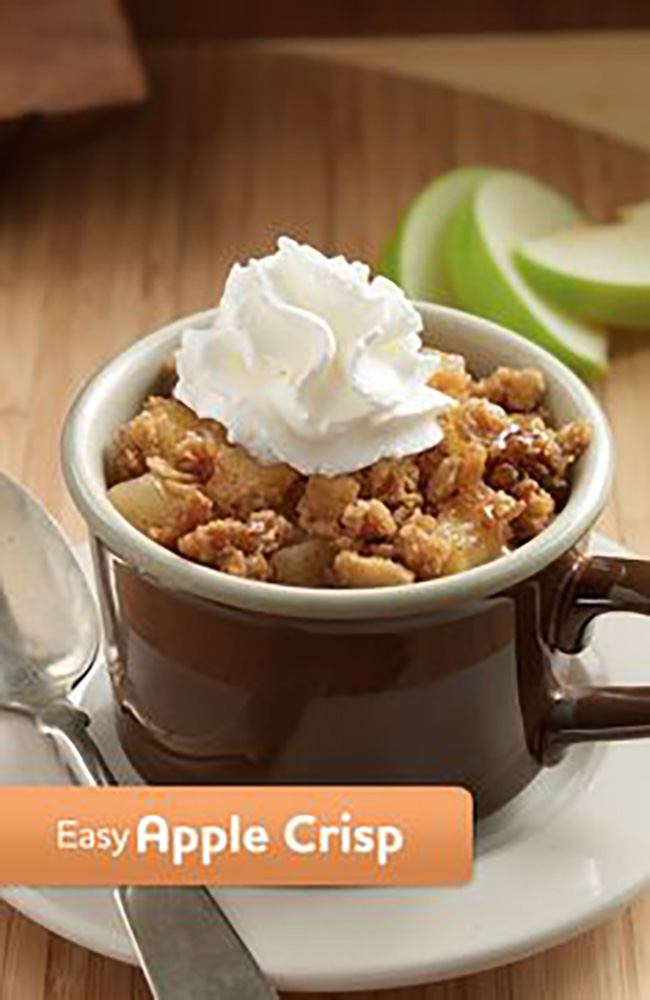 This is a perfect recipe for Thanksgiving!
Easy to make and very little fuss, but all of the comforts and feels of home. Dazzle your friends and family with an Apple Pie so delicious, you will wonder where it has been all of your life!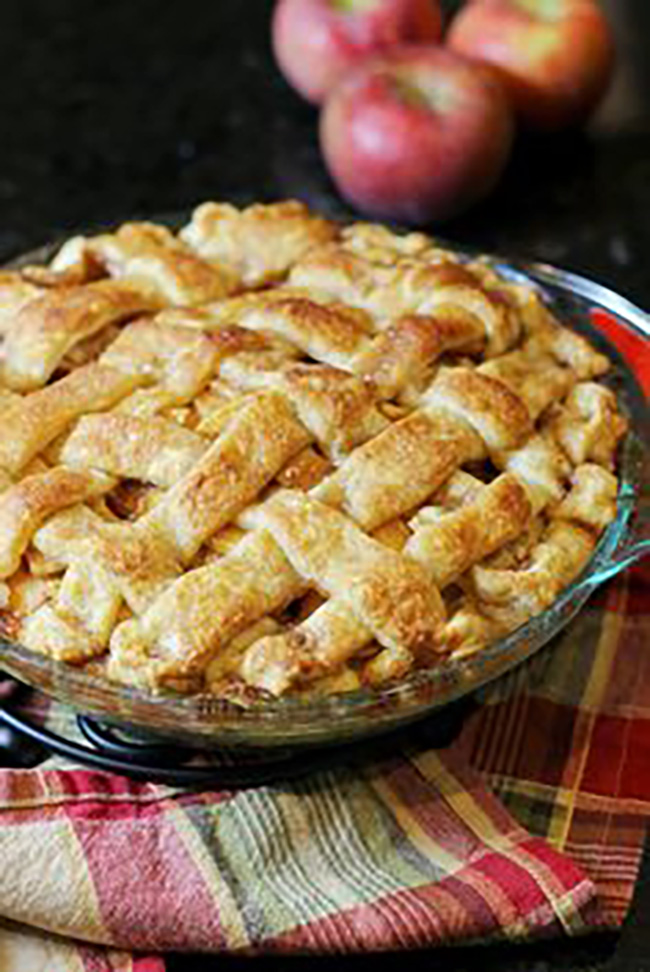 Is there anything that says fall like pumpkin and cream cheese frosting? I agree! We have your new favorite recipe, Pumpkin Bars with Cream Cheese Frosting. This straightforward recipe takes any of the fuss out of baking masterpiece!
There will be no leftovers, that is a promise!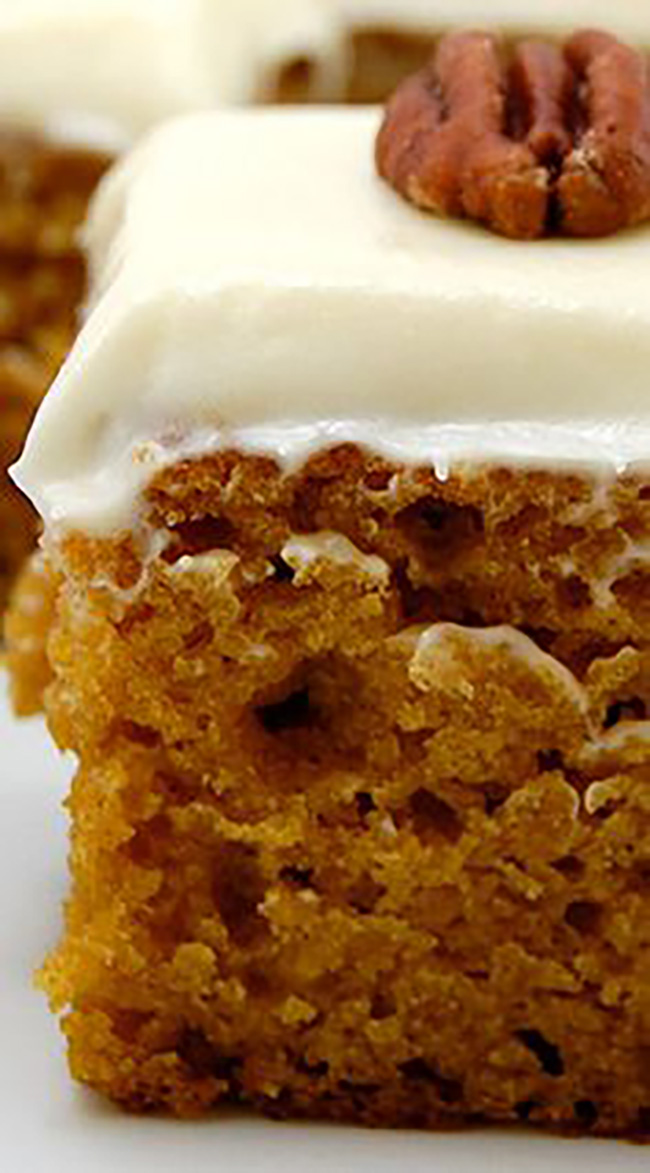 Cheesecake is always appropriate and can take on any flavor experience that you desire. For fall, we cannot get enough of these Caramel Apple Cheesecake Bars!
Creamy, classic cheesecake lathered in caramel with chunks of apple and a crispy crunchy crust...HEAVEN on a spoon. You are welcome!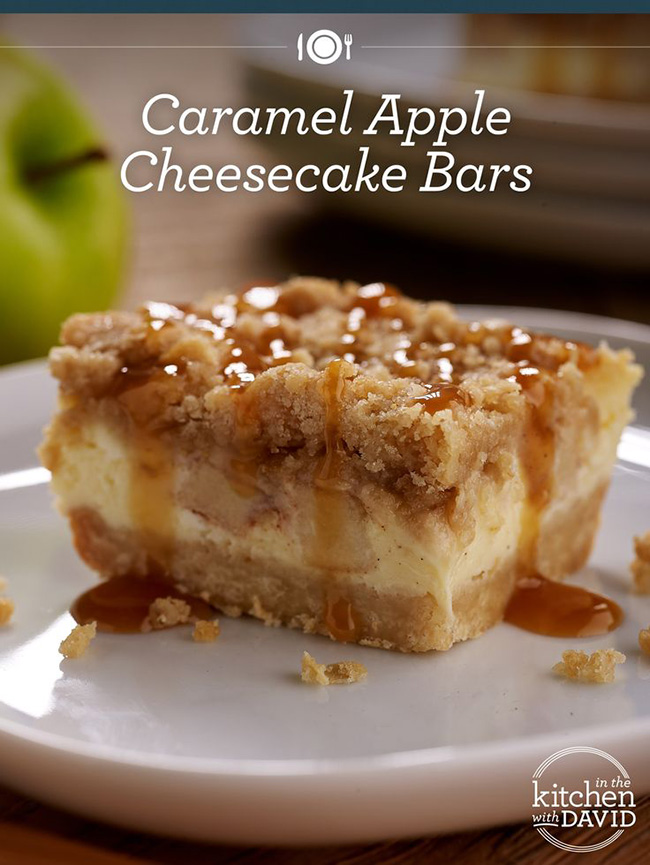 Cinnamon Candied Pecans are delicious little morsels that are so easy to make! The flavors are the perfect harmony of sweet and savory - with a super satisfying crunch.
ProTip: Make up a double (or triple batch) and freeze what you don't need! These hold up excellent in the freezer and can be pulled out to top off your favorite salad or be added to a trail mix that needs a lift!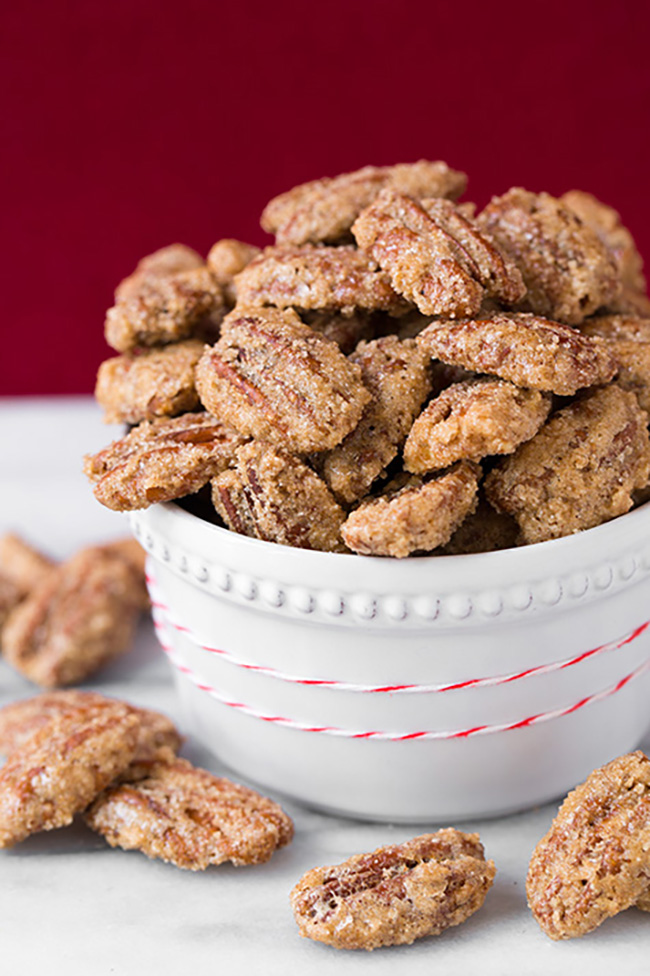 Caramel Apple "Nachos" will dazzle and amaze.
This is a quick, simple and delicious treat that the whole family will enjoy! The crisp and tart apples are lathered with gooey, warm caramel and can be topped with chocolate sprinkles, granola, mixed nuts, or your favorite ice cream!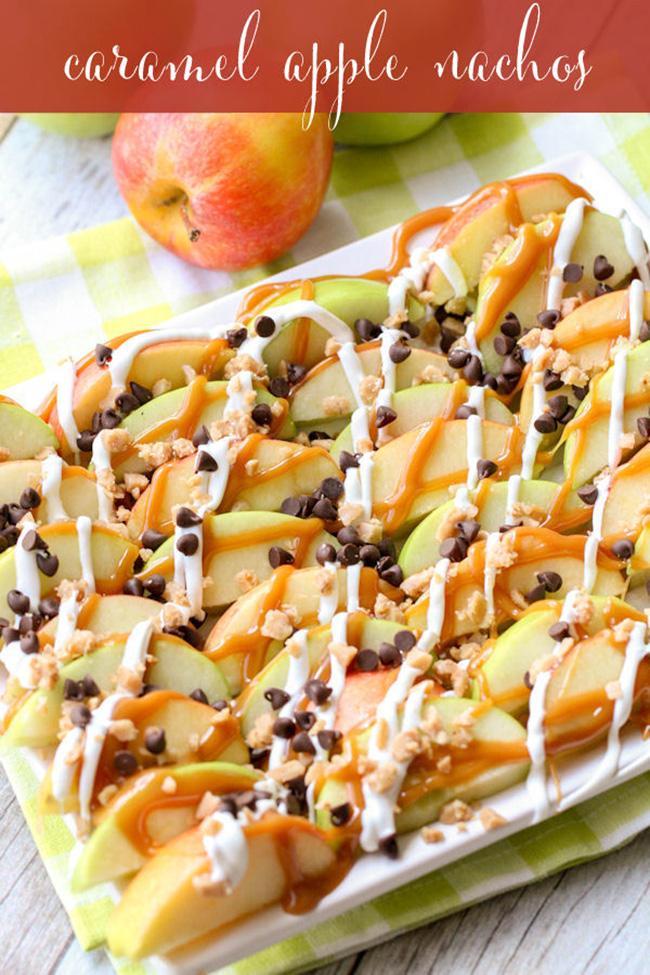 Warm apple pie filling wrapped in a crispy cinnamon sugar shell is all that you ever needed! Such an amazing fall dessert, and way to treat your family and friends with the comfort foods of home. We love how easy this is to make and how it pleases every crowd.
Grab these simple ingredients the next time you are shopping, and get ready for fall!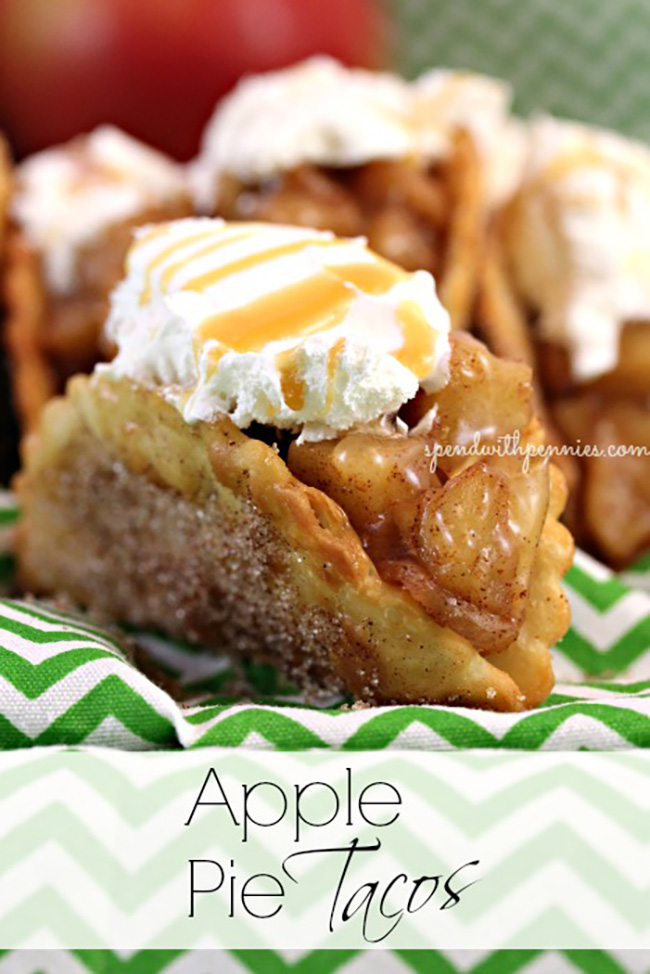 Creamy Pumpkin Cheesecake ~ what a lovely Fall dessert! This is such a simple recipe that is sure to please any dessert junky! We make it for potlucks and even family gatherings. The cheesecake is creamy and quenching, while the crust rounds out the subtle punch of pumpkin flavor that you are craving.
Enjoy your new favorite treat!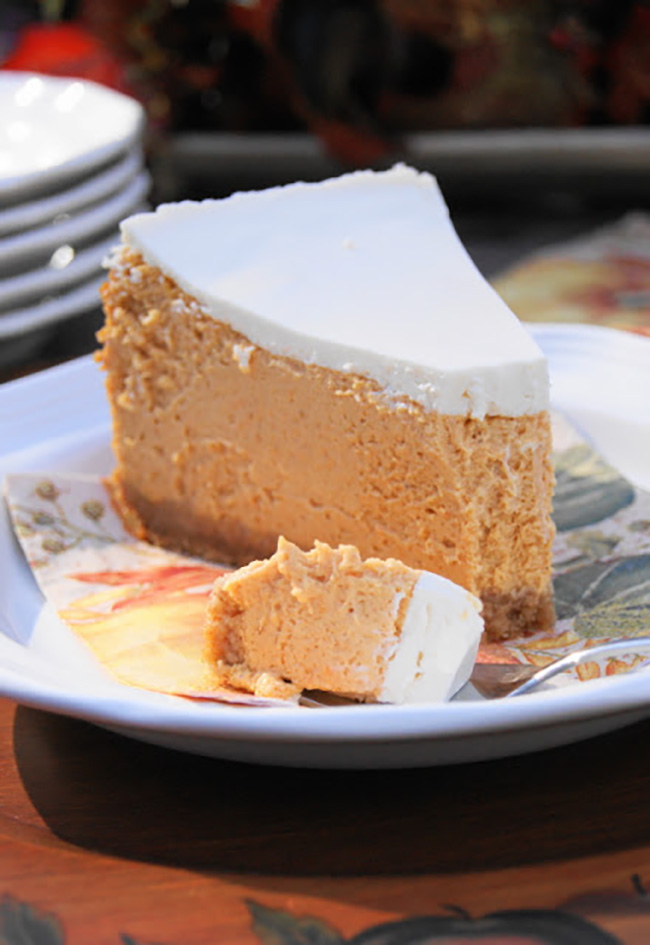 HOLD UP.
Pumpkin + Chocolate = HEAVEN
I made these moist and incredibly delicious homemade Pumpkin Swirl Brownies from scratch and they were possibly the best fall dessert I've ever had! They are easy to make and sure to please, which makes them a no brainer dessert for all things.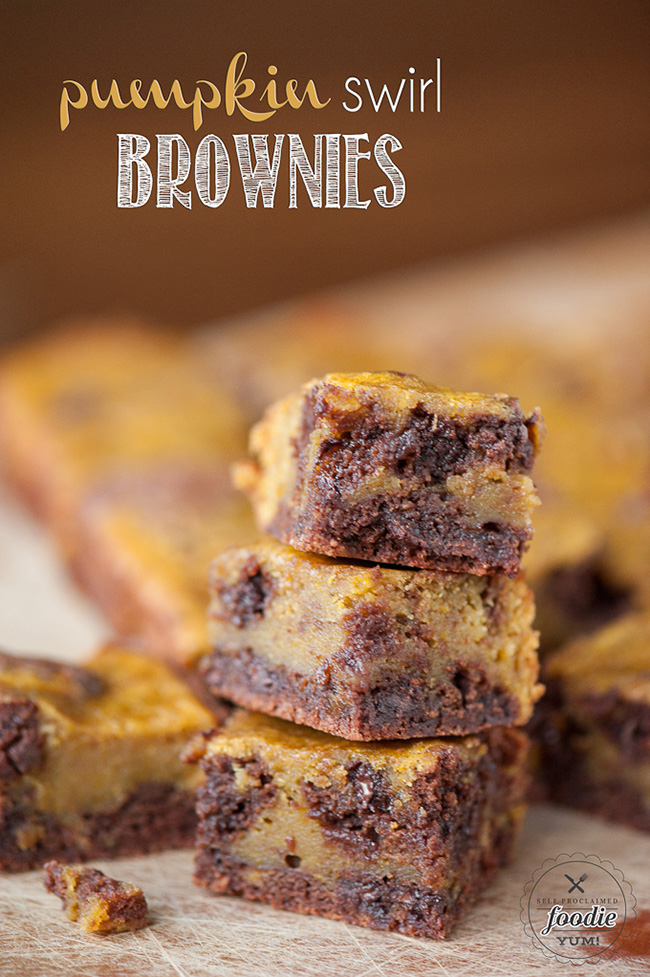 My FAVORITE Dessert Hacks, Steals, and JackPots:
For Even More Great Resources for No Bake and Other Desserts, Here's My Go-To Collection:
Pumpkin Cookbook: Pancakes, Pies, Pasta Fall Favorite Seasonal Recipes
The Best Savory Pumpkin Cookbook: Fall has never tasted as good as it does with these delectable recipes
Unicorn Food: Rainbow Treats and Colorful Creations to Enjoy and Admire
The Deceptively Easy Dessert Cookbook: Simple Recipes for Extraordinary No-Bake & Baked Sweets
No-Bake Desserts: 103 Easy Recipes for No-Bake Cookies, Bars, and Treats (RecipeLion)
No-Bake Treats: Incredible Unbaked Cheesecakes, Icebox Cakes, Pies and More
Clean Desserts: Delicious No-Bake Vegan & Gluten-Free Cookies, Bars, Balls, and More
The Ultimate No Bake Dessert Recipes: Bakeless Bars, Cookies, Cheesecakes, Pies, and More
No Oven Lovin' (No Bake Recipes For Cakes, Cookies & Bars)
Clean Sweets: Simple, High-Protein Desserts for One
Decadent Gluten-Free Vegan Baking: Delicious, Gluten-, Egg- and Dairy-Free Treats and Sweets
Country Living Christmas At Home: Holiday Decorating – Crafts – Recipes
The Pioneer Woman Cooks: A Year of Holidays: 140 Step-by-Step Recipes for Simple, Scrumptious Celebrations
Betty Crocker Christmas Cookbook: Easy Appetizers, Festive Cocktails, Make-ahead Brunches, Christmas Dinners, Food Gifts
Magnolia Table: A Collection of Recipes for Gathering
The Barefoot Contessa Cookbook
The Happy Cookbook, A Celebration of the Food that Makes America Smile
Better Homes and Gardens, Very Merry Cookies
The Good Housekeeping Christmas Cookbook
Holiday Cookies: Showstopping Recipes to Sweeten the Season