Laughs
Even Steven's Assistant
By |
My mom is a helper. That's just who she is.
She wants to help you solve your problems. And she's Greek. So while she's helping you solve your problems, she also wants to cry with you when you're sad – and laugh really, really hard with you when you're happy.
She's also a little… nosy.
Not necessarily in a bad way – just in a I'm very interested about every detail in your life kind of way.
Because – you know – she might be able to help you with something you didn't know you needed help with.
Like writing a grocery list for you.
Or telling you when you've used enough toilet paper.
Those types of things.
So, for example, if she's staying at your house, she won't think anything of opening and sorting your mail for you. Answering your phone. Organizing your cupboards. Folding your laundry and balancing your checkbook.
It's not that she really wants to know what you got in the mail or what color Even Steven's underwear is – it's just that she wants to help. She's a helper. This is what she does.
In the last few years, I've thrown in a few bondaries to help us all live in peace during her visits.
She is no longer allowed to wash Even Steven's underwear and my father's underwear in the same load – because it is inevitable that they get mixed up and Even Steven finds himself pulling GIANT underwear out of his drawer and looking to me with a face full of fear and questions.
She is also no longer allowed to answer our home phone if we are standing right there and could easily answer it. This has been going okay, although she still races us to the phone so that she can read who is calling us on caller ID before handing it over for us to answer.
But we're making progress.
I tell you all of this because I think it's important that you really understand the environment in which I was raised before I tell you the next story…
Last Friday, Even Steven took the day off work to spend some time with the family. It was 10 am, and he was taking a quick shower while I made a picnic lunch for us to all enjoy at the park.
When his cell phone rang.
And without thinking, I picked it up and answered it.
Now – this probably wouldn't be that big of a deal. So what? I answered my husband's cell phone – I'm sure it happens all the time…
But it was as I said "Hello" and heard a guy ask for my husband that I realized that this wasn't just my husband's cell phone. This was also his work phone.
And it was a Friday at 10 am.
Which meant that I could be talking to his boss. Or to an employee. Or to a current client. Or to a prospective client. (Although I'm pretty sure that Even Steven doesn't have clients, but I'm not positive, because it's still not clear to me what he actually does. Maybe I'll ask my mom – I'm sure she knows…)
Anyways – so there I was, stuck with Even Steven's work phone, and I panicked.
Instead of saying "Wrong Number" or HANGING UP, I said,
"Even Steven is not available right now. This is his assistant, can I take a message?"
There are so many things wrong with this – the main one being that he doesn't have an assistant. But I started down this path, and I just couldn't stop.
And that is why Even Steven now has an appointment on July 19th at 10 am with a financial planner that he has been effectively avoiding for the past two months.
He was less than thrilled when I explained the situation to him.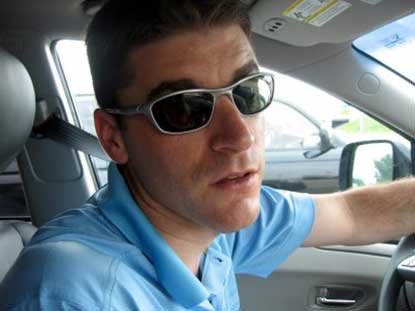 Even Steven: Let me get this straight. My WORK phone rang… and you answered it?
Me: Yes. I don't know what happened. I didn't mean to.
Even Steven: How do you accidentally answer my phone?
Me: Ummm…. it just sort of happened…
Even Steven: So what you're telling me is that you've officially become your mother?
Me: Yes. Yes, that's exactly what I'm telling you…
So – tell me – do you answer your husband's cell phone? Ever?