Sticking to a certain meal plan can be a challenge, but it doesn't always have to be. These dinner recipes, soup ideas, desserts and crockpot favorites will make sticking with your paleo lifestyle a snap. With just a moment of prep required, we have tracked down our favorite paleo recipes for busy families who eat clean!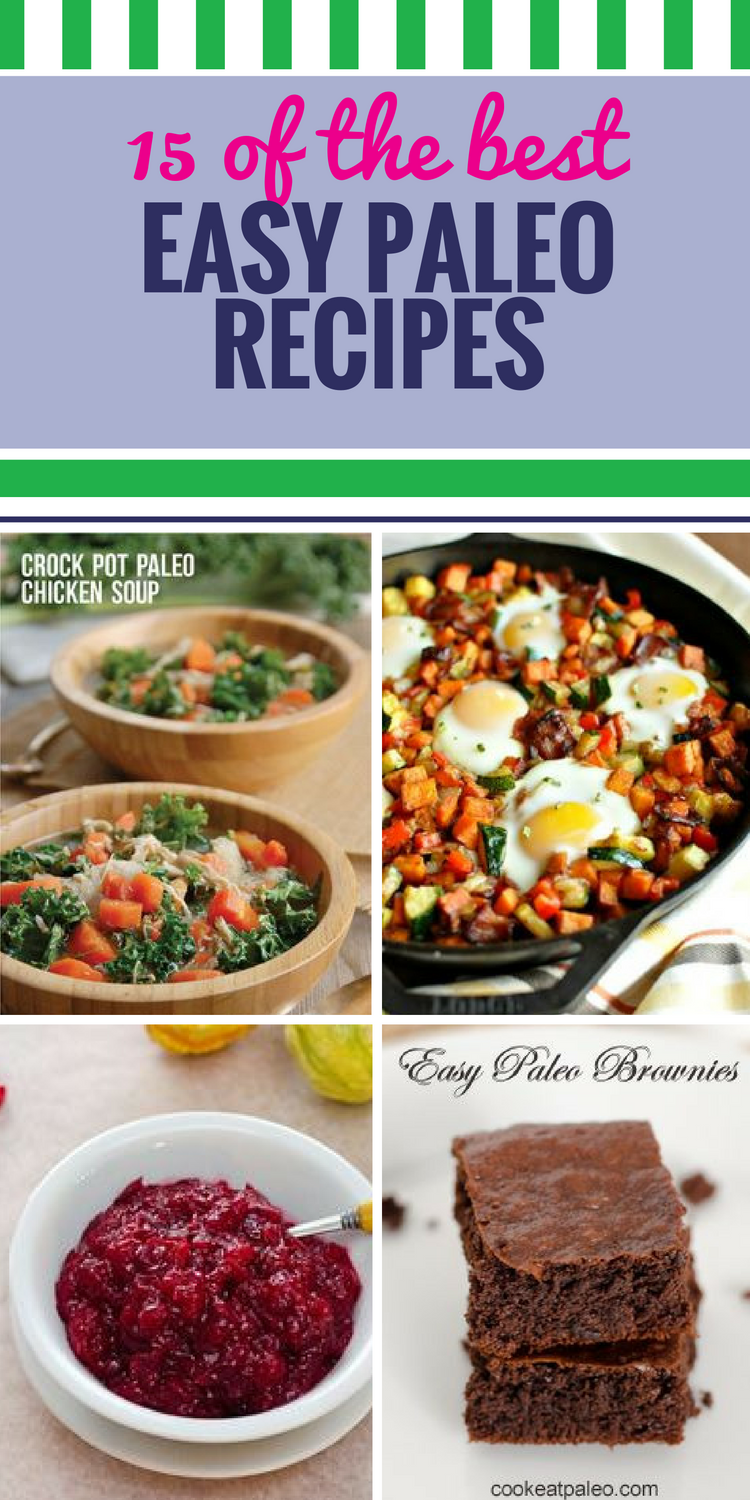 15 Easy Paleo Recipes
Healthy.
Easy.
Delicious.
This chocolate is decadent, rich, and ready to please even the most dubious eaters. When I set this out, it is always the first dessert to disappear! With only 6 simple ingredients, it is hard to imagine why eating healthy once seemed so difficult.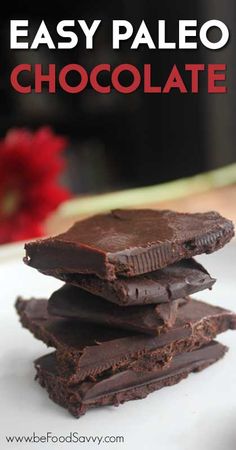 This paleo chocolate mousse has hit all the bulls-eyes for my family! Quick, easy, few ingredients, and totally PALEO-PERFECTION! We love it for satisfying the after-dinner sugar cravings or whipping it up for a special celebration. Being able to accommodate our palates with something dairy free and paleo that doesn't compromise flavor is a real TREAT!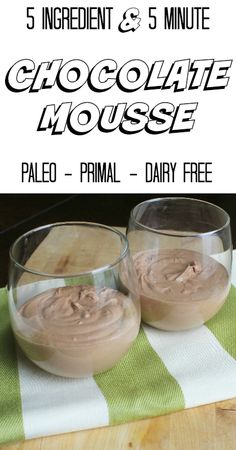 This super easy and delicious paleo chicken recipe will add some zeal and spunk to your weekly meal menu! These paleo teriyaki chicken skewers are bright, refreshing, and hardy. Our kids LOVE skewers and these are packed with all the good stuff to keep us fueled and strong during the busy week.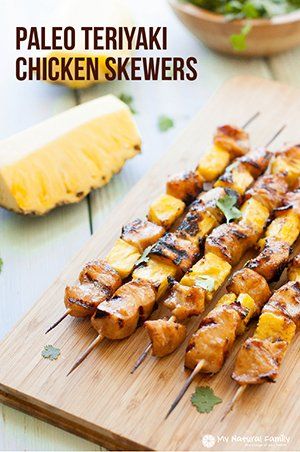 We love this simple and tasty pork chop recipe. It hits all the comfort feels without the unnecessary processed ingredients. With under 10 ingredients, this Apple Onion Pork dish quickly became our go-to meal for our weekly friends and family dinners. It is definitely a crowd pleaser!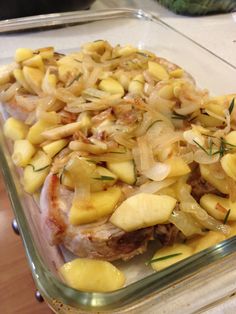 When all you need is a delicious burger, we HIGHLY recommend this Paleo Jalapeño Chicken Burger. With or without guacamole, this dish excites all the tastebuds and completely fulfills even the most complex appetite.
When the nostalgia of home is tugging at my heart strings, this Paleo and Gluten Free Sweet Potato Breakfast Skillet with Bacon takes me right back to my Grandma's table. The cast-iron frying pan has been in our family for decades, and is cured with magical flavors! With or without an heirloom cast-iron frying pan, this meal could stand alone with its fresh and simple ingredients. The flavors are robust, straight forward, and satisfying.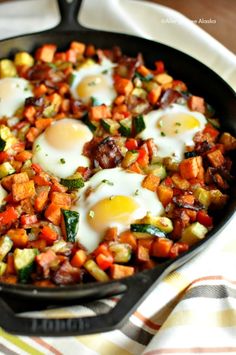 This supple dish really does the trick for my family. When the weather is not on our side and the weekly schedule has us ragged, nothing grounds us quicker than the Easy Paleo Chicken Casserole (which is also Gluten Free and low carb!). It is easy to make, delicious, and extremely comfort-food fulfilling. With even our pickiest eater on board, this is a dish that makes it on our weekly meal menu every week.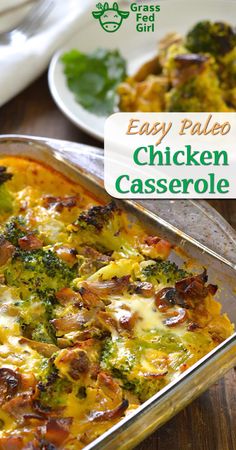 This is a hardy, winter soup but we don't wait for winter to come to enjoy it! Every bite is filled with quenching, fresh vegetables and flavor dazzling sausage. The soup is robust and is sure to feed the masses! Because it makes such a large quantity, I throw a batch in the freezer for those crazy busy evenings when we are needing a beloved leftover!
Gluten Free AND Paleo!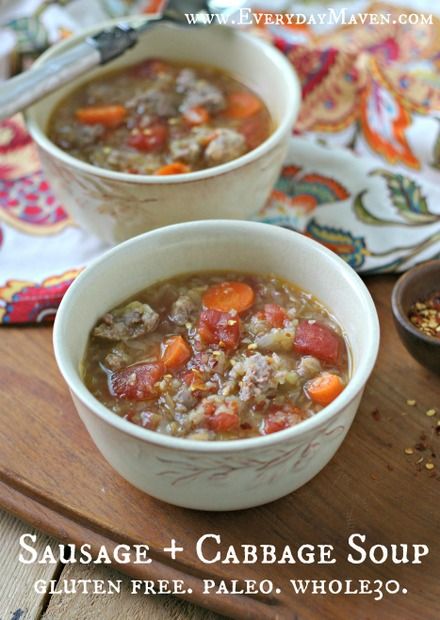 Paleo Taco Pie  Easy taco pie recipe with a crumbly crust, hearty meat, spiced-up seasonings and fresh veggies.
This Gluten Free, Paleo Taco Pie is heaven. With crumbly crust, hearty meat chunks, bursting fresh veggies and spiced up seasonings, this recipe levels up the evening for sure! We love how easy it is to make and how satisfying it is to eat! The perfect balance of all great things in every bite.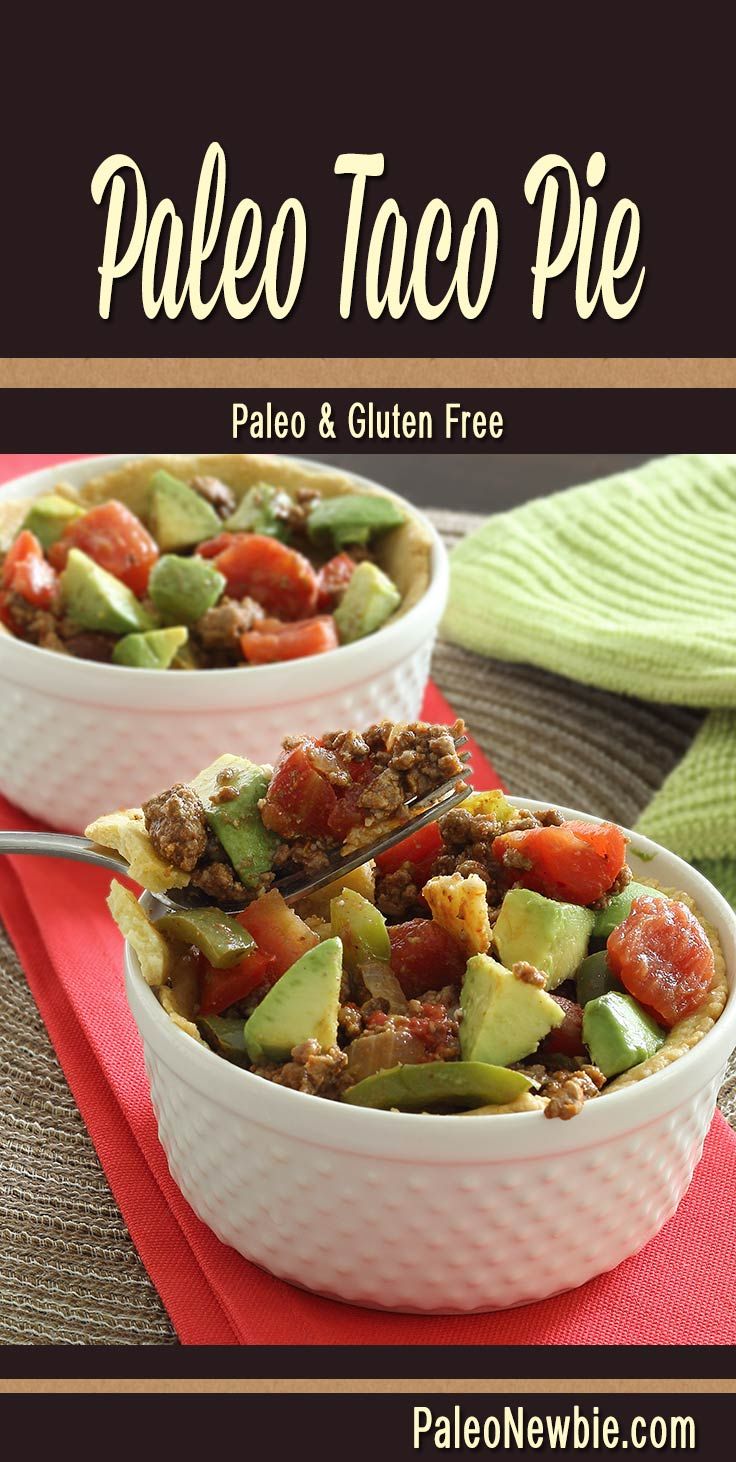 Only 5 ingredients!
Paleo
Crockpot Sweet and Spicy Chicken
This simple, slow cooker dinner is the perfect healthy meal that is a little sweet and a little spicy. Because we can fix-it-and-forget-it, this is a standard meal at our house! The balance of sweet and spicy is refreshing and sophisticated.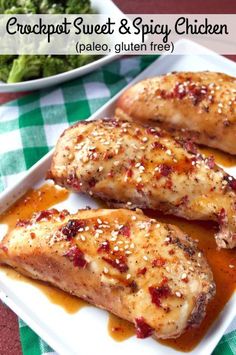 Paleo Chicken Soup has never been so satisfying as in this crockpot gem! Loaded with fresh veggies, it is the perfect well-rounded meal to cure anything that ails.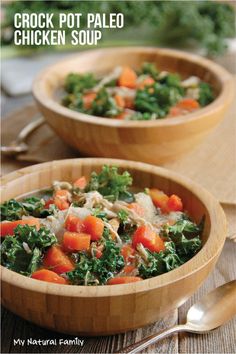 The PERFECT side and delightful compliment to so many dishes, this 3 Ingredient Paleo Cranberry Sauces is DIVINE. Super quick prep time, cook time, and total time  - what isn't to love about the unsung hero of turkey dinners?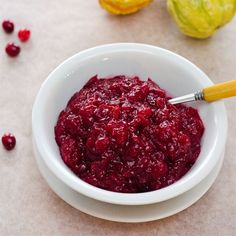 Brownies. Brownies. BROWNIES! We found our dreams coming true with this Paleo Brownie recipe. Using your food processor, no bowls to dirty - and only requiring 5 minutes in the oven - these brownies are your go-to for a quick party trick.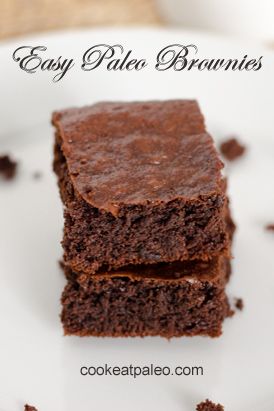 Paleo
Gluten Free
Grain Free
Naturally sweetened!
OMG!!!!!! This is all we ever needed. In our house we are HUGE fans of strawberry crumble, but this is the only recipe that could meet all of our needs. Not only does it hit all the feels for texture, flavor layers, AND dietary restrictions, it blows away any competition for our dessert summertime tradition!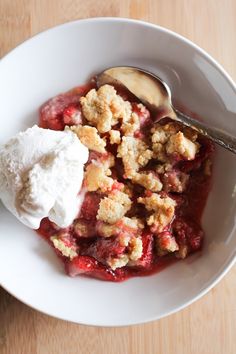 You had us at crockpot! This super easy dinner is Paleo, Gluten Free, and 100% crowd pleasing! Add your favorite fresh toppings (green onions and avocado chunks are our favorite) to make this hardy dish even more mind-blowing! Every member of our family loves this dish and it has become the favorite potluck dish friends and family request. There is really no way to go wrong with something so packed with goodness!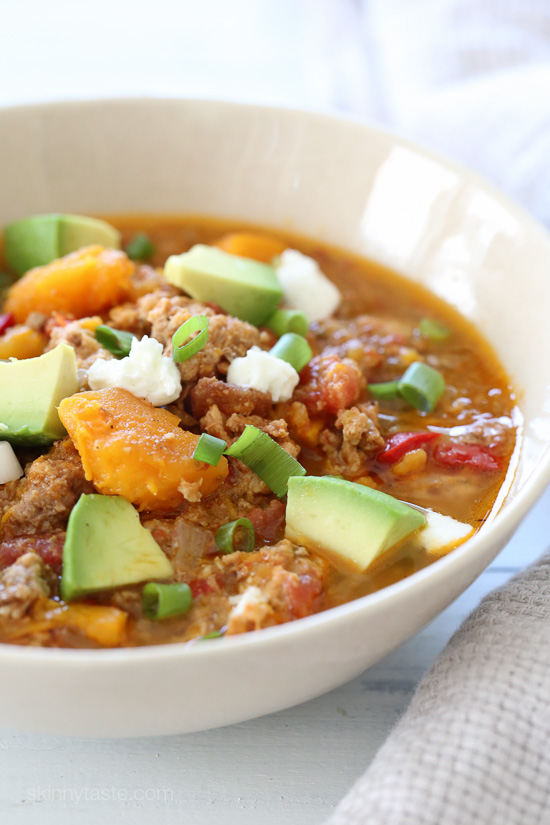 FOR EVEN MORE OF MY FAVORITE TRIED-AND-TRUE PALEO RECIPES, CLICK BELOW!
15 of the BEST Crockpot Paleo Recipes
Find Your Favorite Paleo Breakfast Recipe Here! My Top 15 Paleo Breakfast Recipes!
New to Paleo Cooking? Click here for my Top 15 Simple Paleo Recipes for Beginners
15 Paleo Recipes for Weight Loss
These are my favorite comfort food Paleo recipes: 15 of the Best Paleo Casserole Recipes
FOR MORE GREAT RESOURCES ON PALEO EATING, CHECK OUT MY RECOMMENDATIONS BELOW:
Danielle Walker's Eat What You Love: Everyday Comfort Food You Crave; Gluten Free, Dairy Free, Paleo Recipes
The Big 15 Paleo Cookbook: 15 Fundamental Ingredients, 150 Paleo Diet Recipes, 450 Variations
Paleo for Beginners: Essentials to get Started
Paleo Diet Cookbook: 500 Delicious Recipes to Improve your Health
Well Fed: Paleo Cookbook for People Who Love to Eat
The Ultimate Paleo Cookbook: 900 Grain and Gluten Free Recipes to Meet Your Every Need
Quick & Easy Paleo Cookbook: 77 Paleo Diet Recipes Made in Minutes
Paleo Power Bowls: 100 Easy, Nutrient Dense, Anti-Inflammatory Meals
Paleo Slow Cooker: 40 Simple and Delicious Gluten Free Paleo Slow Cooker Recipes for Healthy Lifestyle
Asian Paleo: Easy Fresh Recipes to Make Ahead or Enjoy Right Now From I Heart Umami