Laughs
Why I Tried to Sell my Nearly New Fridge on Craigslist
By |
Three years ago, we moved into our fixer-upper of a house. In case you don't recall, there was wallpaper everywhere (even on some ceilings), my son's room had once been the old lady's smoking lounge, and nothing had been updated… ever.
You think I'm joking? THIS is what my bedroom looked like when we walked through the house for the first time. See that stain on the headboard? That's from her middle-of-the-night smoke breaks.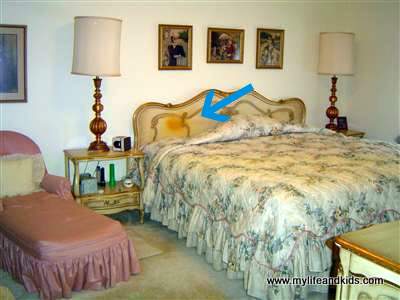 We had a week to get the house move-in ready, so Even Steven and I yanked out carpet, scrubbed walls, peeled wallpaper and painted what we could.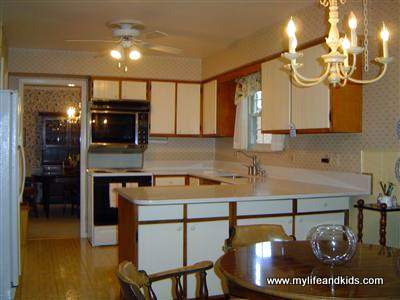 While we weren't ready to tackle the total kitchen demolition and renovation that the house needed (that's what it looked like when we moved in!), we did paint the cabinets, install a backsplash and eventually we got a new floor (read all about my floor right here.)
We also bought new appliances. Appliances that I thought I would love forever. Appliances that made me jump up and down for joy because they were the three new things that we would be bringing to our new house.
Three years later, and the oven, the dishwasher and the microwave are fine. I've seen better , but they're fine.
But the fridge? It is driving me slowly insane.
Our kitchen is small, so we needed a counter-depth fridge. Which basically meant that most refrigerator options were not available to us – or cost at least $1,000 more.
I wanted stainless. That was a huge mistake.
Have you ever seen what three little kids can do to a side-by-side stainless steel refrigerator? It's downright horrifying . And I'm not just talking about the fingerprints.
And – seriously – in my opinion – side-by-side refrigerators should not even be available in counter-depth. Or there should be a rule that only single people without pets are allowed to buy them.
Because I can't fit ANYTHING in mine.
We go to the store several times a week for things like milk and yogurt and meat – because we can't fit a weeks' worth of groceries into our fridge.
And don't even get me started on the freezer. Are you kidding me?  We haven't eaten a frozen pizza in three years because it won't fit in the freezer!
And – to top it all off – I'm really unhappy with the brand that we chose. The customer service has been awful. Parts are breaking off or missing altogether. I'm not going to name names, but I know I will never buy this brand of fridge again ever.
Enter Craigslist…
So last week, despite Even Steven's attempts at banning me from Craigslist, I attempted to sell my fridge on Craigslist. My goal was to get as much money as I possibly could and then march on down to my local appliance shop and get myself a beautiful, counter-depth french-door refrigerator in SLATE!
Side note: Have you heard about slate appliances yet? They're the same color as stainless, but the same material as a black or white fridge. So no fingerprints. No scratches. No big glops of dog drool. Just beautiful, clean, slate-colored fridge. Sign me up!
I took pictures of my fridge. I broke into my old Craigslist account (after Even Steven had changed my password in an attempt to keep me from selling things.) I thought for about two seconds how mad Even Steven would be if I sold our fridge without telling him.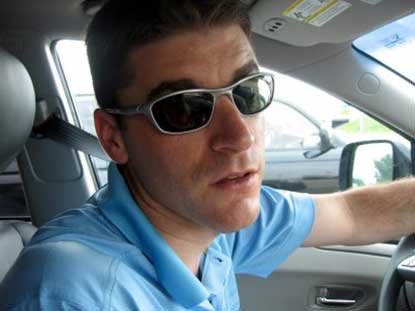 And then I hit publish.
While I waited for the emails to come pouring in, I called my local appliance shop and spoke to a salesman to see just how much money I would need to pay for a counter-depth, slate, french door refrigerator.
And it turns out that they don't exist.
GE is the only company to sell slate appliances, and they have yet to come out with any counter-depth models. Which means that moms with small kitchens and lots of kids are out of luck.
Which also means that I deleted my craigslist ad before a single person had a chance to respond. (But I have no doubt that they WOULD HAVE responded. I mean – most people are searching the market for an over-priced, tiny, piece of junk stainless steel refrigerator covered in dents, scratches and dog glop.)
And it means that when my brother-in-law offered to give us his old beer fridge, I said absolutely  and thank you very much.
Because just for once, I'd like to be able to buy more than one gallon of milk at a time.
And since Even Steven's brother lives in our neighborhood (did I ever tell you that Even Steven's mom lives 4 blocks one way and his brother and sister-in-law live one block the other way?) it just made sense to walk down and wheel the fridge back to our house.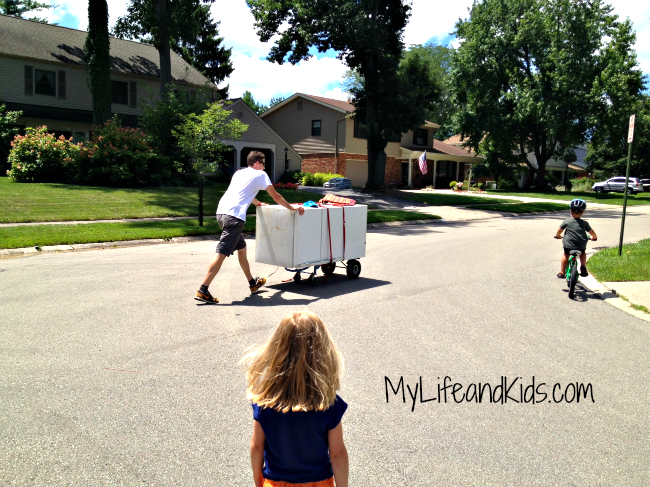 And why wouldn't we take our kids for fridge rides in the street?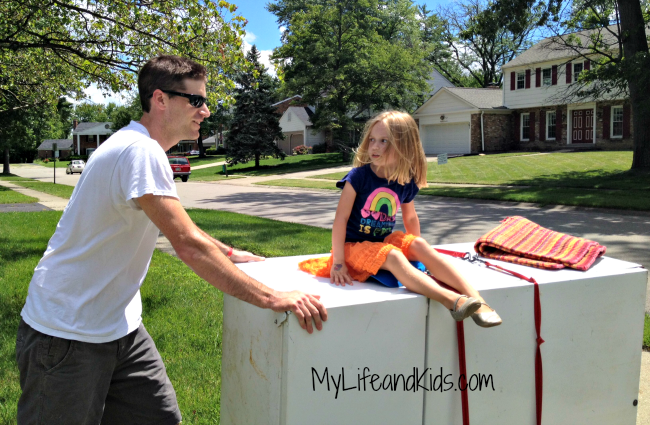 So – now – I have a banged up beer fridge in my basement that is full of milk, yogurt, beer and frozen pizzas.
I like it way better than the nearly new one sitting in my kitchen.
And GE – if you ever want to test out your first french-door, counter-depth fridge in SLATE – give me a call!
Do you hate your fridge as much as I do?
Do you feel like this was the longest blog post I've ever written, ever?
Do you wish your husband's entire family lived in your neighborhood?