Food Allergies
Does your Child have Food Allergies? Five Things You Should Know
By |
When my youngest was diagnosed with food allergies at the age of two, our whole world was turned upside down. How was I going to keep my wild toddler from having an anaphylactic reaction when he was prone to putting EVERYTHING in his mouth?
We had to switch grocery stores because the specialty store we had always shopped at seemed to only sell items that were processed in a facility with tree nuts.
We had to educate grandparents, aunts, uncles, babysitters and friends on what was and was not safe for our son. And then we had to remind them again and again and still remain vigilant because it's so easy to forget or not be quite careful enough when it's not something you live with on a daily basis.
Six years later, and we're very used to our food allergy routine. My son is now 8, and he can identify the two nuts that he's allergic to.
His siblings know the signs of an anaphylactic reaction and how to call for help. Our entire family is educated enough to advocate for him if he doesn't remember to. It's so much easier than when he was two.
But that doesn't mean that it doesn't impact our lives on a regular basis.
So I'm teaming up with Kids With Food Allergies (KFA), a division of the Asthma and Allergy Foundation of America (AAFA), to share some important information for parents, caregivers, family members and friends of kids with food allergies.
Five Things Every Parent of a Child with Food Allergies Needs to Know
#1 – You are not alone.
I think one of the most important things to remind yourself (sometimes every single day) is that you are not alone.
The current estimate is that 5.6 million (or 7.6%) of children in the United States are living with food allergy. That's one in every 13 children.
In a significant study called "My Life with Food Allergies" conducted by the AAFA, more than 2,000 patients and caregivers reported that food allergies presented a higher burden to caregivers than to patients with food allergies themselves.
I can certainly relate.
And so can countless other parents and caregivers.
WE ARE NOT ALONE.
When you worry that no one will have a safe lunch at school and your child may have to sit alone in the cafeteria…
You are not alone.
When your child's favorite packaged snack suddenly switches to a facility that risks cross-contamination, and you cry a little in the grocery store…
You are not alone.
When you have to leave a restaurant because you aren't convinced they understand the severity of your child's allergies…
You are not alone.
When you overreact every time your child coughs at the dinner table or when you try to have all of the playdates at your house or when you have to give your child an epinephrine injection and you cry more than your child does…
You are not alone.
When you get your hopes up that your child has outgrown their allergy only to go through another round of testing and find out just how wrong you were – and it hurts even more than the initial diagnosis…
You are not alone.
The My Life With Food Allergies report found that…
Parents of children with food allergy can experience anxiety, depression, isolation and stress associated with risk of reaction and possible societal stigma.

For many, the constant fear of accidental exposure to food allergens leads to loss of normalcy and results in adjustments in decision-making and daily routines. Acute awareness at every meal and in every new environment can be stressful.
But it's not all bad news. Which leads us to…
#2 – There is hope!
While there is currently no approved treatment or cure for food allergies, recent advances in research have paved the way for two new immunotherapy treatment options. The FDA is currently evaluating these possible treatment options for kids with food allergies. You can click here to learn more about this exciting development.
As these two new treatment options are being evaluated by the FDA, the AAFA was able to present the results of the "My Life With Food Allergies" study to the Institute for Clinical and Economic Review (ICER) – a watchdog group who recently assessed the clinical effectiveness and value of treatments for peanut allergy.
Thanks to the parent voice shared through the online survey, AAFA was able to present evidence to ICER about quality of life issues impacting families with peanut allergies.
This is significant because not only does it mean there could be hope for alleviating life-threatening food allergies, it also means that your voice matters!
Which leads me to number three:
#3 – There is an Online Community Waiting For You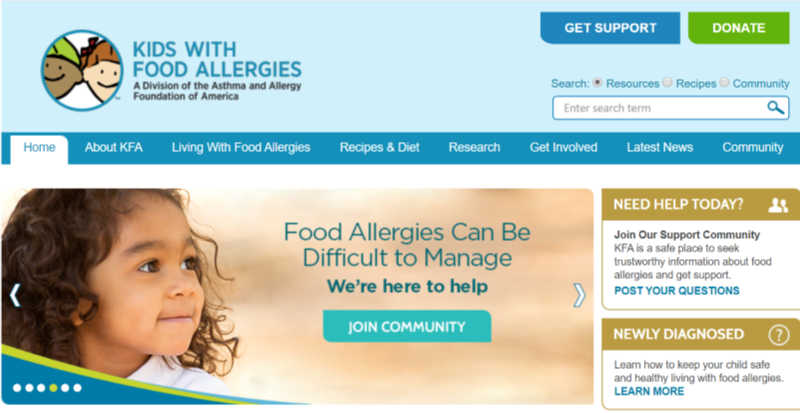 Kids with Food Allergies is the largest online support community for food allergies.
Not only does it offer practical, evidence-based education to help parents understand food allergies, it also gives us a safe, private place to connect with one another, ask questions, share recipes, ask questions for an allergist to answer, and learn about the latest news, research and clinical trials.
Registration is free at www.kidswithfoodallergies.org/join.
I'm in several food allergy Facebook groups. What I love about KFA is that there are staff members moderating the comments (no drama here!) and pointing you in the right direction when you're looking for answers. And I love that it's private.
Another bonus to joining this free community? You can lend your voice to future reporting on important issues (like the My Life With Food Allergies survey).
Now let's talk about the financial impact of life with food allergies.
#4 – You May Be Able to Get Help with Medication
From paying for expensive epinephrine, lab tests, oral food challenges and co-pays for specialist doctor visits, managing food allergies can be expensive.
Beyond these out-of-pocket costs, there can be additional financial impacts associated with food allergy.
The My Life with Food Allergies report found that:
Nearly half (44%) of parents say they or their spouse have had to make a career choice (such as quitting or changing jobs) in order to care for their child with food allergy.
Many pharmaceutical companies, state programs and nonprofits have drug assistance programs that offer free or low-cost medicines if you don't have insurance or can't afford your medicine.
Program benefits vary, but depending on your insurance and medicine, you may be eligible for help to reduce your medicine co-pay. Here are three links to find more information.
And finally, this one took me the longest to learn…
#5 – You Need to Share What You're Going Through
I used to not really talk about my son's food allergies – even with other food allergy parents. I never wanted to sound like I was whining or complaining. And he is only allergic to two nuts, so I felt like maybe his allergy (while still anaphylactic) wasn't a large enough deal to warrant the way I was feeling.
But over the years I've realized that sharing our story helps me better cope with the realities of living with food allergies. The more I share our story, the more I find other allergy parents and families to connect with.
And the more all of us share our stories, the more aware the rest of our community becomes about food allergy and all that comes with it.
Learn More About the Kids With Food Allergies Community
Sometimes just knowing there is someone else out there who understands what you're going through can provide an overwhelming sense of relief.
The Kids with Food Allergies private community for parents of children with food allergies offers:
Peer-to-peer support and help
Ask the Allergist service
Opportunities to participate in research to make a difference
Timely news to keep you updated about food allergy treatments and research
Tips and resources to help you manage food allergies with confidence
Easy tools to take action and encourage federal and state policies to improve life with food allergies.
Click here to join Kids with Food Allergies.
And for anyone whose child was recently diagnosed, you'll want to take this free online course. (It will take you less than an hour and is so worth it.
Learn More About the My Life with Food Allergies Findings
I recently had the opportunity to chat with Kenneth Mendez, President and CEO of the Asthma and Allergy Fundation of America and Kids with Food Allergies. He shared some interesting insights into the My Life with Food Allergies research findings.
Watch our talk below, or click here to see it directly on Facebook.
This post is sponsored by Kids With Food Allergies (KFA), a division of the Asthma and Allergy Foundation of America (AAFA). All opinions are my own.