Christmas
DIY Hot Chocolate Stand
By |
Winter is officially here, and I am not loving the cold. But I am loving the excuse to break out my favorite hot chocolate recipe and cozy up with a hot cup of cocoa.
This hot chocolate is creamy and rich and full of real ingredients. When served with goodnessknows snack squares, it's the perfect way to warm up and re-energize during the cold winter months!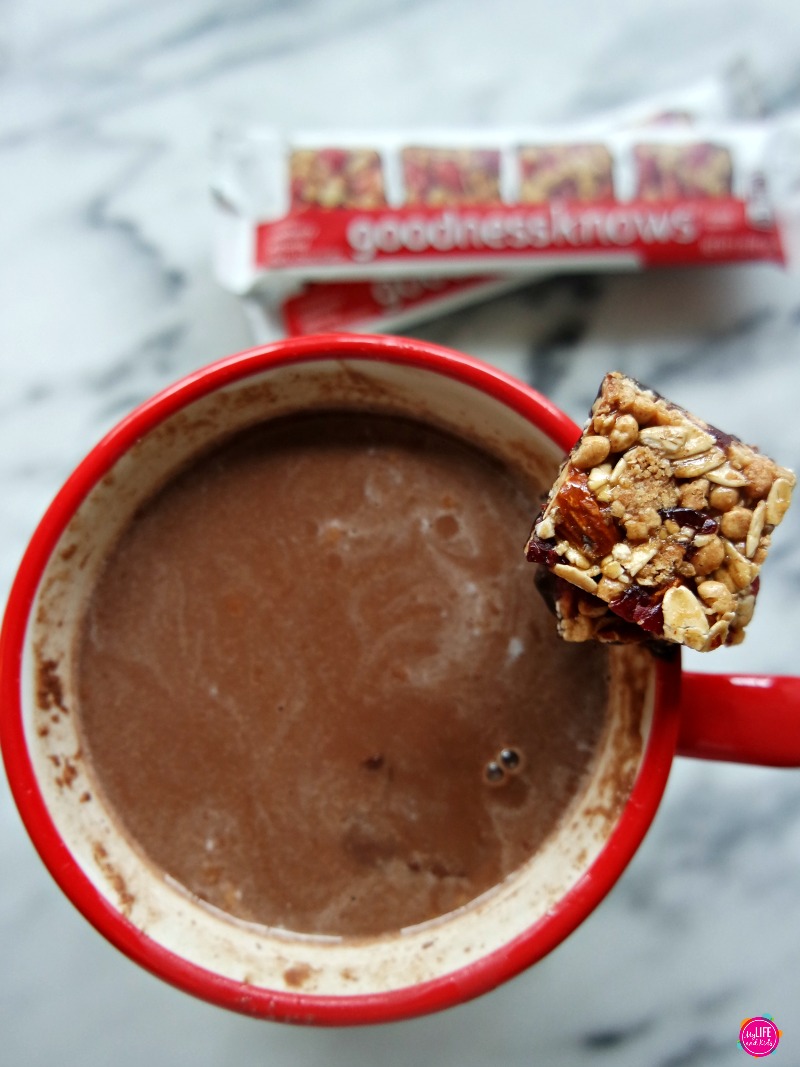 Made with maple syrup, almond milk, cocoa powder and vanilla, this hot chocolate recipe is full of goodness. And it's quick and easy to make.
Hot Chocolate Recipe
INGREDIENTS:
4 cups almond milk (you can also use coconut milk or regular milk)
4 tablespoons cocoa powder (unsweetened)
2 teaspoons vanilla
4 tablespoons maple syrup (add more or less based on how sweet you like it.)
goodnessknows snack squares (I recommend trying the cranberry, almond, dark chocolate flavor!)
whipped cream (optional)
DIRECTIONS:
Add almond milk, cocoa powder, vanilla and maple syrup to saucepan. Heat on medium and whisk until all ingredients are mixed together and hot chocolate is warm.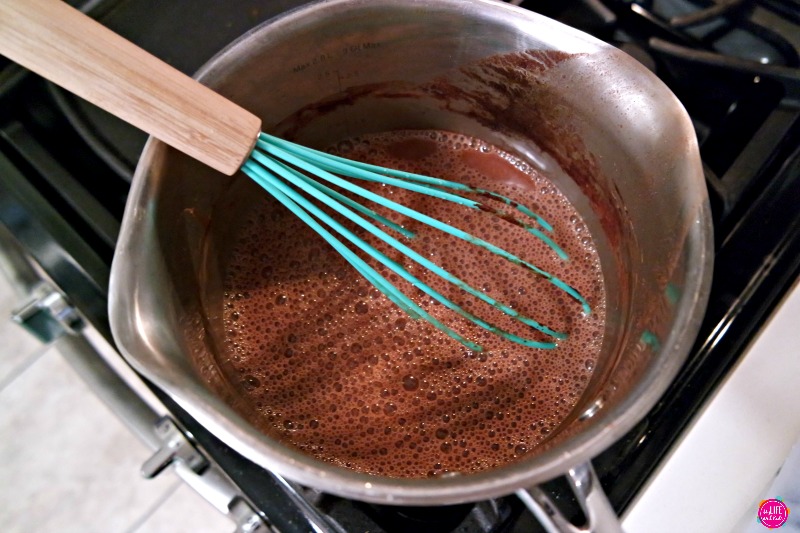 Pour into your favorite mugs and serve with a side of goodnessknows snack squares. goodnessknows snack squares are nestled in a layer made with dark chocolate, and one individual, two-bite square contains approximately 40 calories. In addition to being delicious, goodnessknows is now gluten free.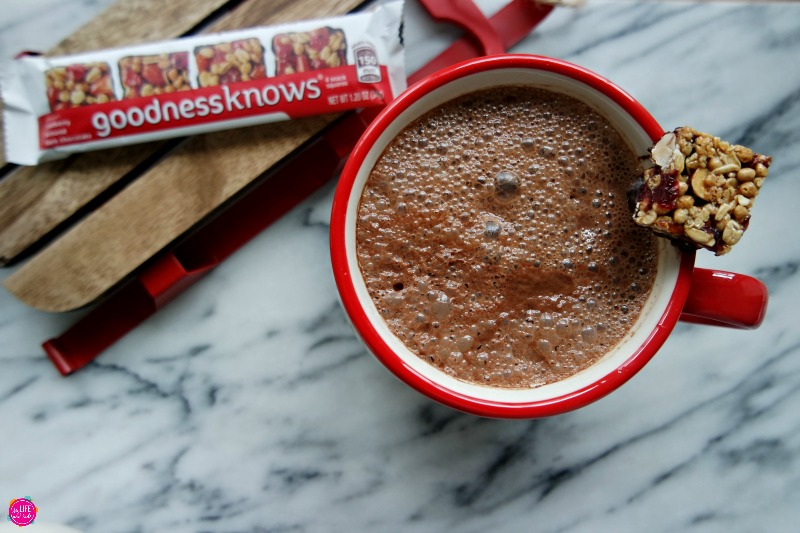 Personally, I like to add a dash of whipped cream and float my goodnessknows snack square on top.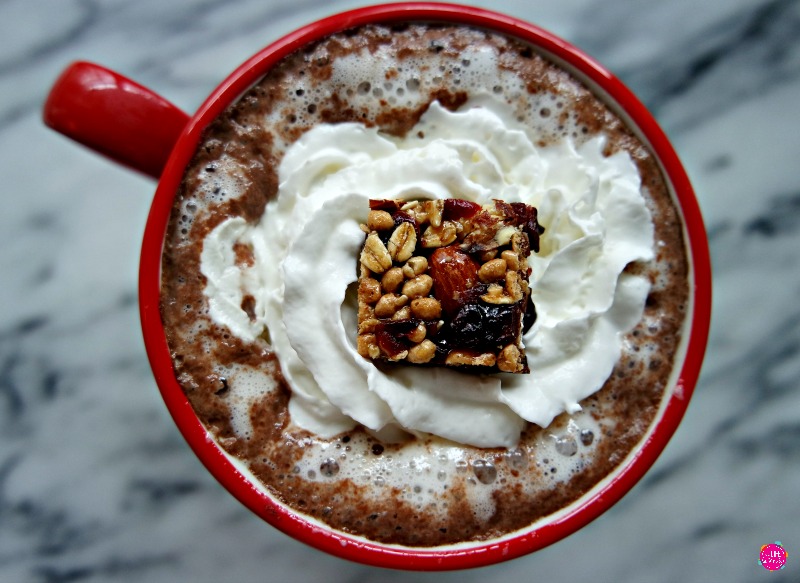 Once the whipped cream starts to melt into the cup, the dark chocolate in the goodness knows snack square  starts to melt as well and adds to the rich flavor of the hot chocolate.
It tastes as good as it sounds. Trust me!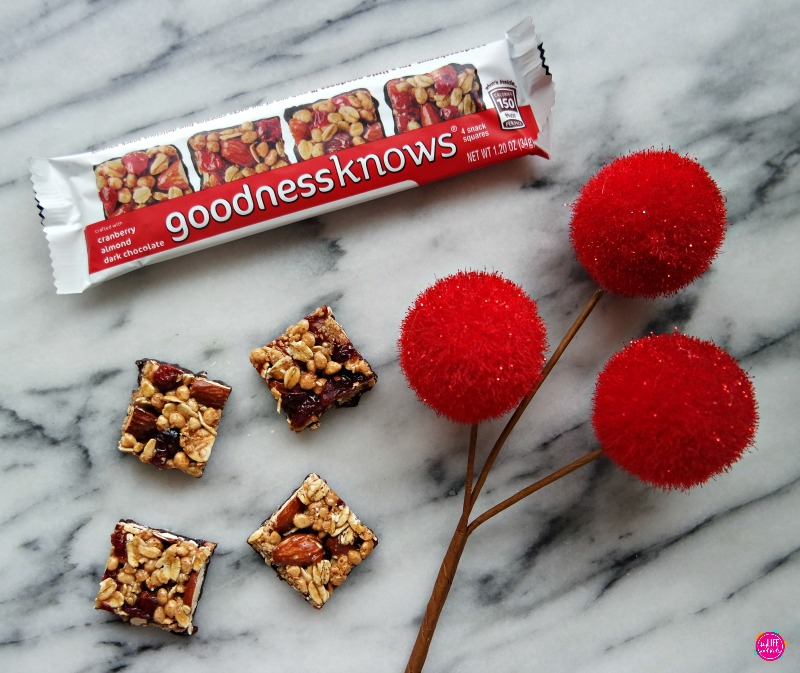 goodnessknows is divided into four snackable squares per serving – all for 150 calories. I prefer the cranberry, almond, dark chocolate flavor with my hot chocolate. But it's also available in two additional flavors:
apple, almond & peanut, dark chocolate
peach & cherry, almond, dark chocolate
After trying this delicious recipe, my friend Alicia decided to create a DIY Hot Chocolate Stand for her daughter and friends.
DIY Hot Chocolate Stand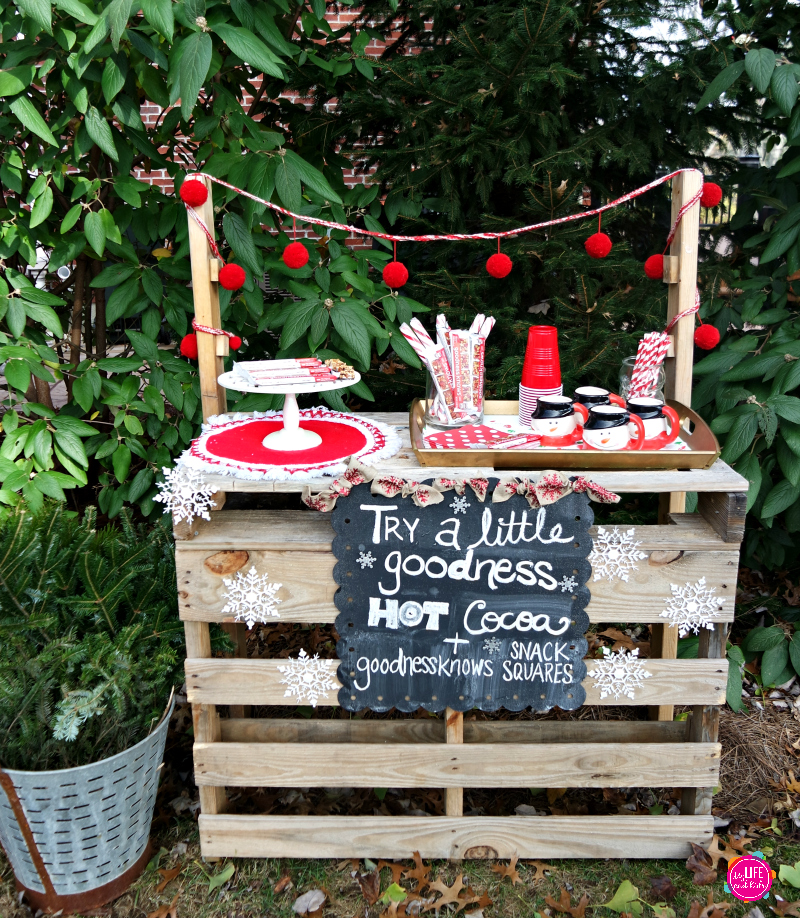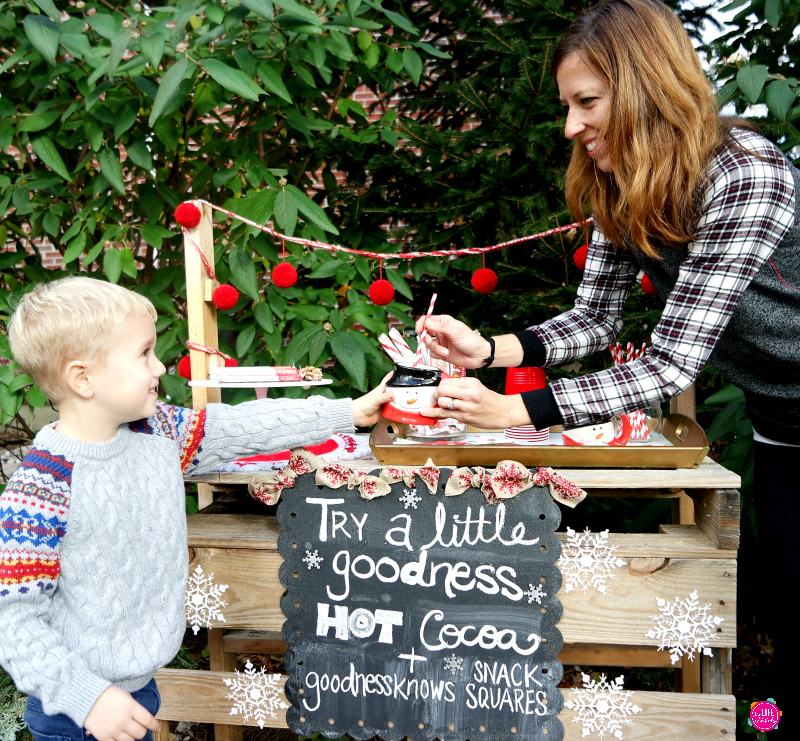 It was pretty much the cutest thing you've ever seen. She served hot chocolate with goodnessknows snack squares on the side.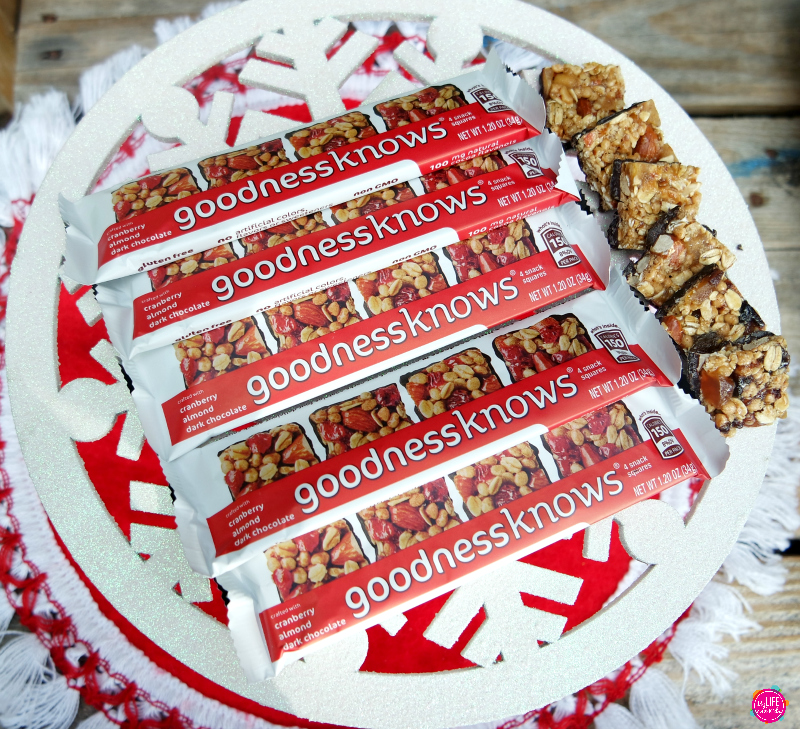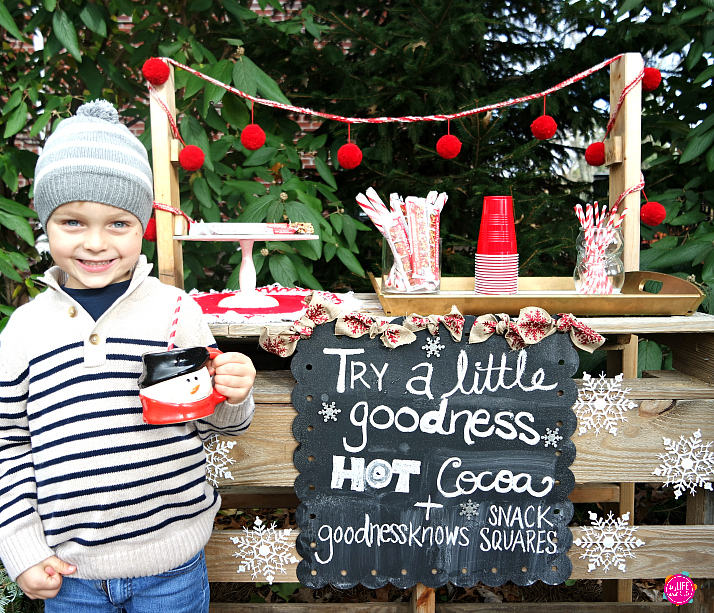 The kids devoured their drinks and snacks and immediately wanted more. (And we couldn't really blame them!)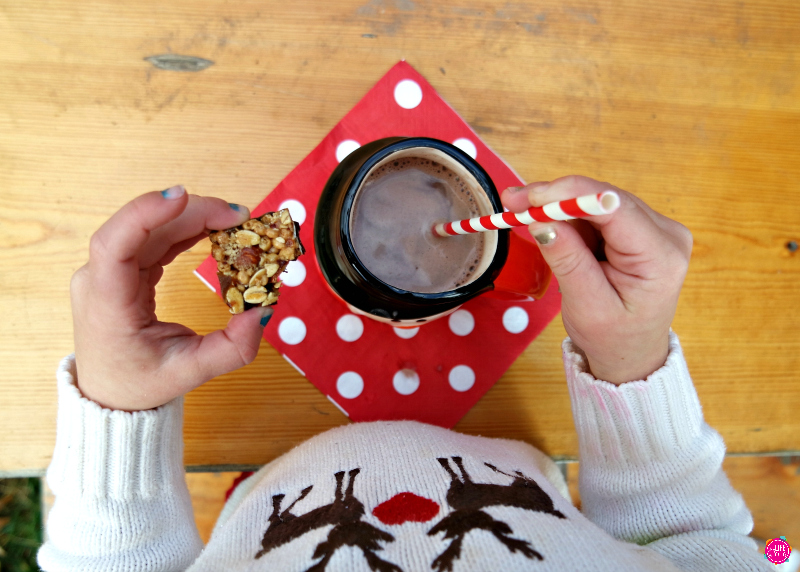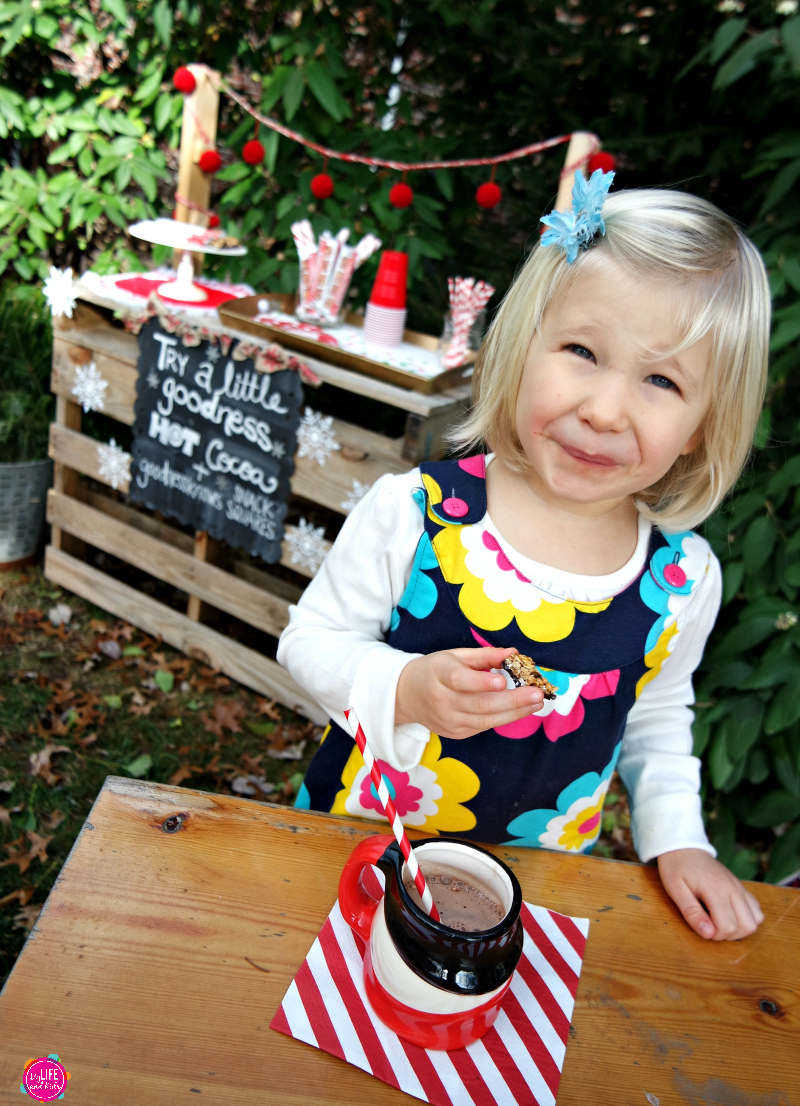 The kids loved that they were drinking hot cocoa and eating a chocolatey snack. They had no idea that goodnessknows snack squares are made with whole nuts, real fruit, toasted oats, dark chocolate AND no artificial colors, flavors or sweeteners.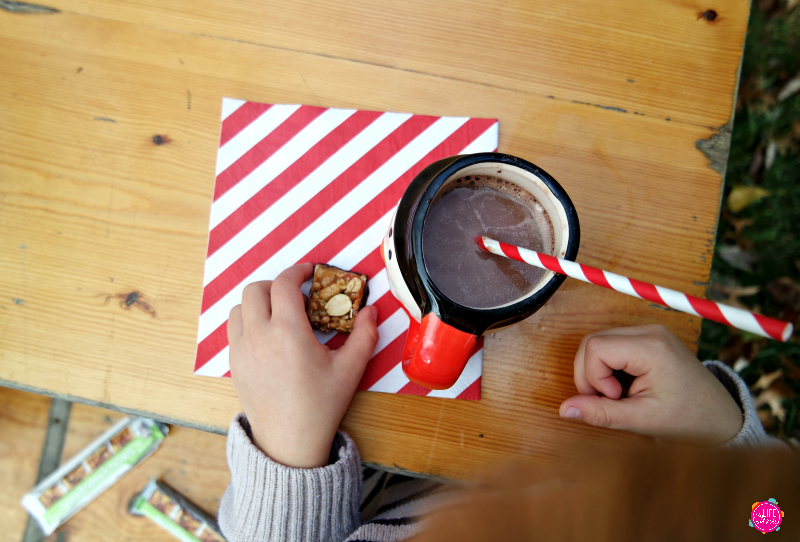 This DIY hot chocolate stand could be a great way to spread holiday cheer this winter.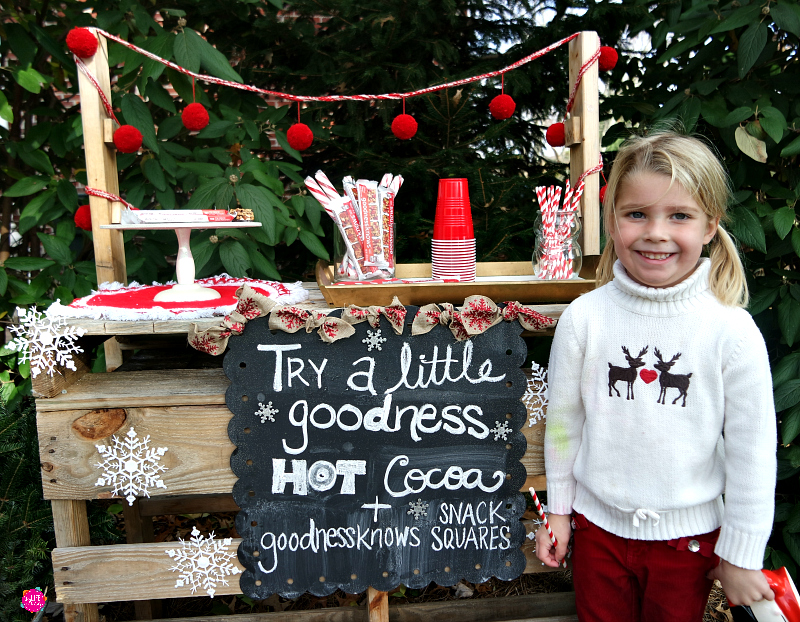 This is a sponsored conversation written by me on behalf of goodnessknows. The opinions and text are all mine.
Pin It!