Cooking with Kids
Cooking with Kids: Crunchy Autumn Chicken Salad Recipe
By |

Disclosure: Post sponsored by Mirum Shopper but all opinions are my own. Please see below for additional disclosure.
I love cooking with my kids. Whether we're whipping up dinner or trying a new dessert recipe, being in the kitchen with my kids is loads of fun. Plus, it's a great way for us to spend time together – especially now that they're getting older.
So when Mirum Shopper reached out and asked me to help them promote the great savings on certain Unilever brands at Target by cooking with my kids, it basically meant that all I had to do was take pictures of what we normally do when preparing dinner.
I'm sharing one of our new favorite fall recipes that Alice and I whipped up for dinner last night. But first, let me tell you about the savings!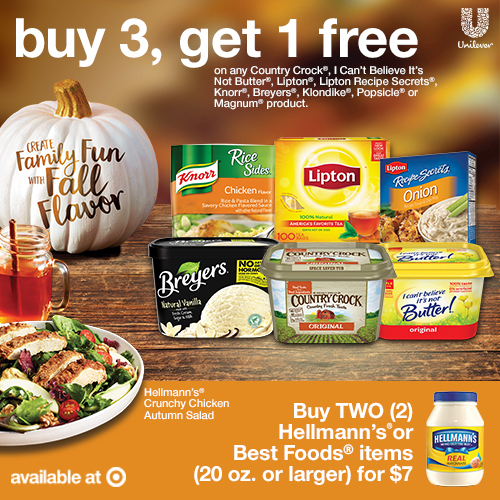 Buy 3, Get 1 Free on select Unilever food and ice cream brands at Target. Plus, buy two Hellmann's or Best Foods items for $7. How great is that?
Click here to find a Target near you!
Alice and I hit up Target to get all of our supplies for dinner.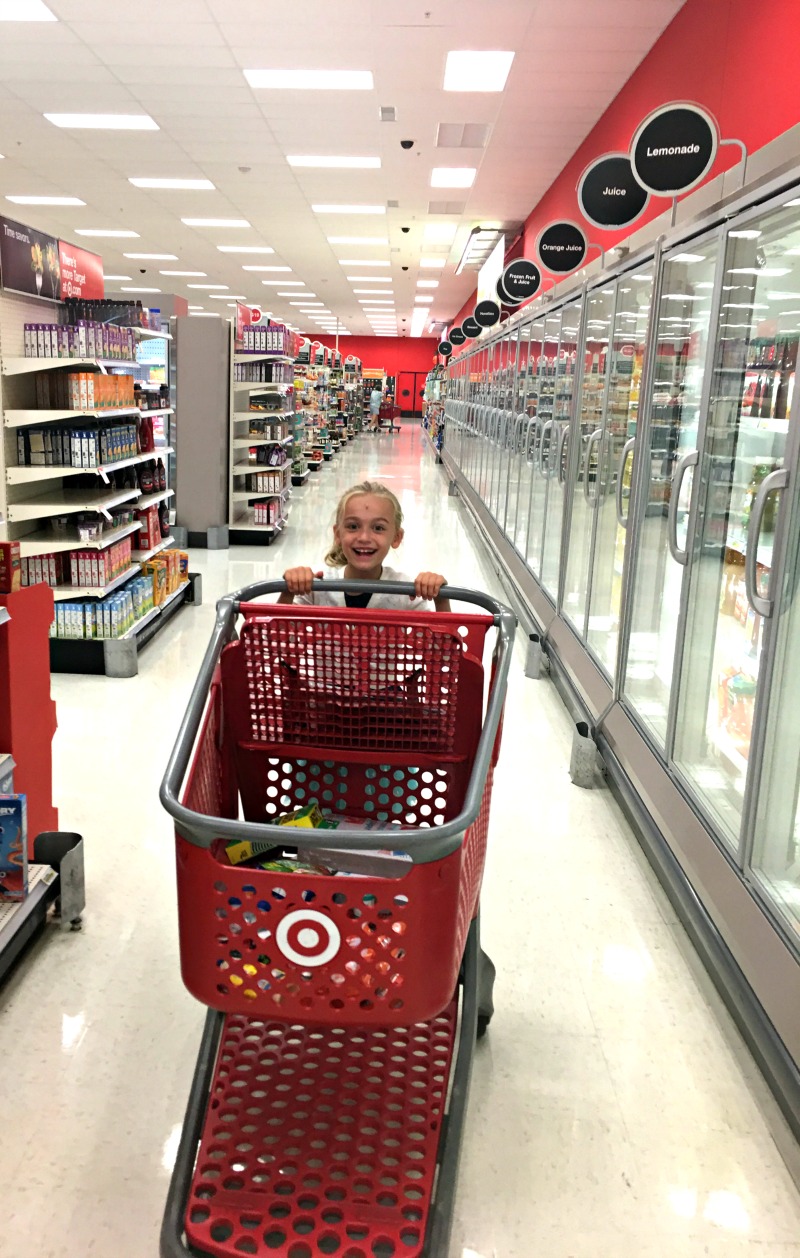 I should probably mention the cut on Alice's forehead that you'll be seeing in every picture. It's a rug burn. I'm not sure what else to say except that she is 7 and her hands are always covered in marker no matter how many times she washes them and she occasionally shows up with random scrapes and seems to have no idea where they came from. I'm sure if you've ever been around a 7-year-old, you can relate!
Once we got home, it was time to cook. Alice was VERY excited to be pretty much making our entire dinner herself.
Hellman's Crunchy Autumn Chicken Salad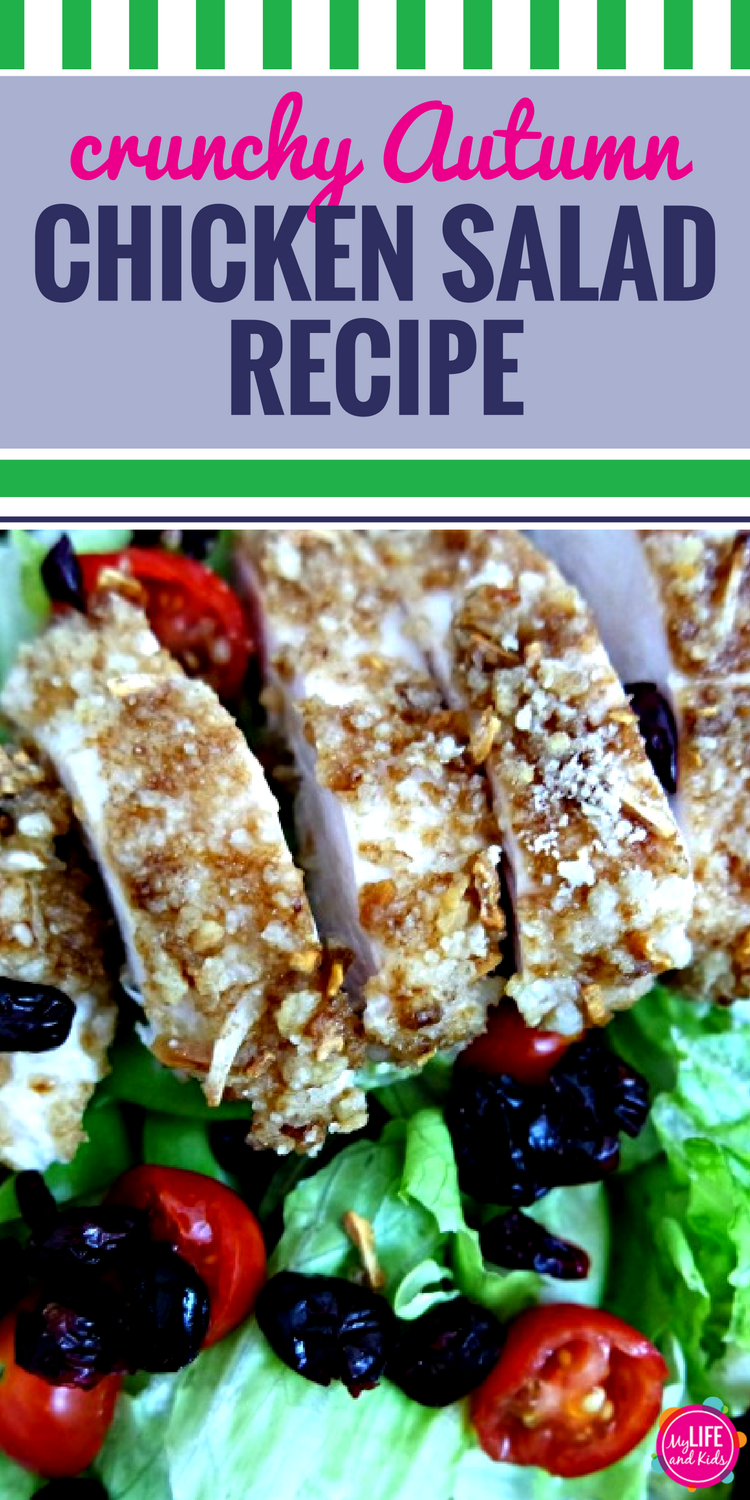 Ingredients:
1 package Knorr® French Onion recipe mix
1/2 cup plain dry bread crumbs
4 boneless, skinless chicken breast halves (about 1 lb.)
1/3 cup Hellmann's® or Best Foods® Real Mayonnaise
2 medium zucchini, sliced
8 cups mixed salad greens
1 cup grape tomatoes, halved
1 large Granny Smith apple, cored and thinly sliced
1/2 cup walnuts, lightly toasted
1/2 cup dried cranberries
Directions:
Preheat oven to 425°.
Mix together the Knorr® French Onion recipe mix and bread crumbs and set aside.
Now take a break and pretend your whisk is a microphone. Sing your favorite 15 songs – or just sing until your mom says you have to finish making dinner – whichever comes first.
Coat your chicken breasts with Hellmann's® or Best Foods® Real Mayonnaise.
The recipe calls for 1/3 cup, but Alice preferred to eyeball it. And then she pretended she was a famous artist painting the chicken.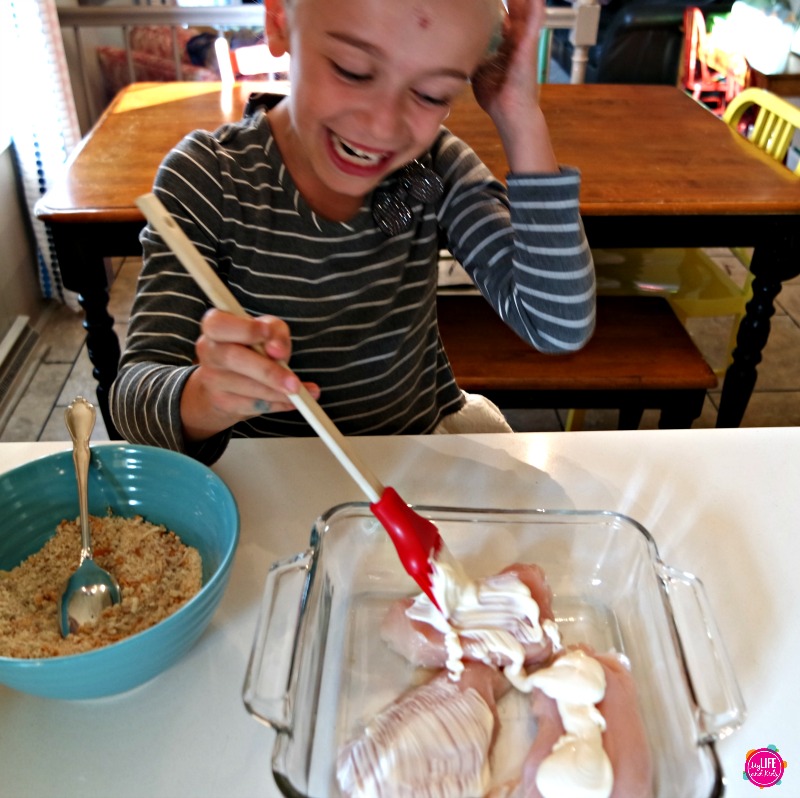 Next, coat the chicken with the bread crumb mixture and arrange it on a baking sheet. Add the zucchini around the chicken.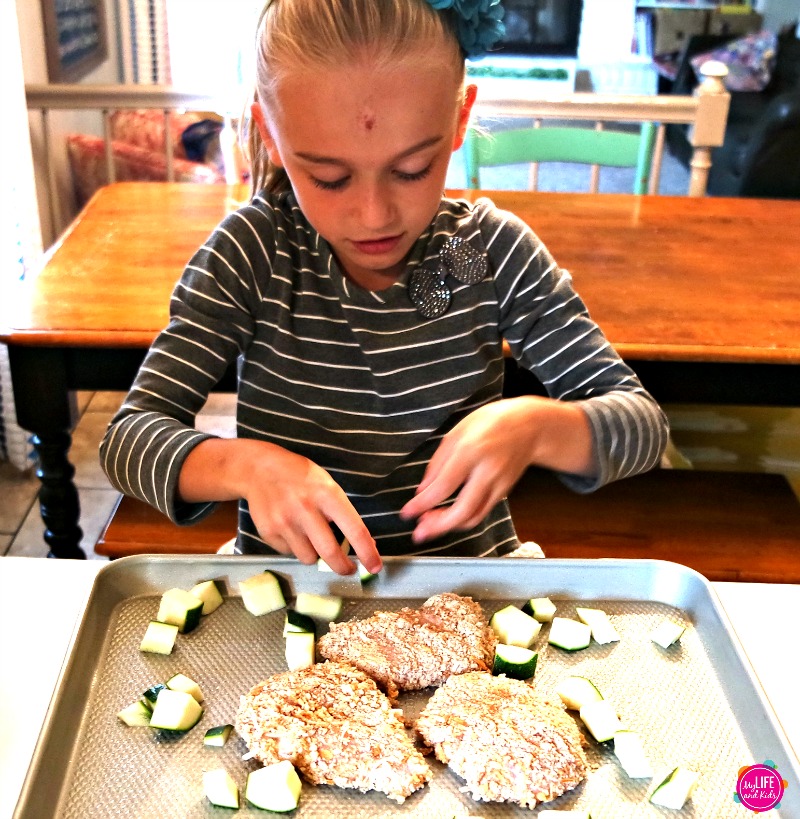 Bake, turning zucchini once, until chicken is thoroughly cooked, about 20 minutes.
While the chicken is cooking, cut up the tomatoes and apple.
We've been working with Alice on how to use a knife, and she's been doing a great job cutting up fruit and vegetables.
Except sometimes she likes to pretend that she's cut off her finger. She screams and carries on. And then she laughs and laughs and laughs.
And then I take her knife away.
Once your chicken is ready, cool it slightly and slice. Arrange salad greens on a serving platter and top with chicken, zucchini and remaining ingredients. Although the recipe calls for them, we had to omit the walnuts due to Simon's nut allergy. But it was still delicious!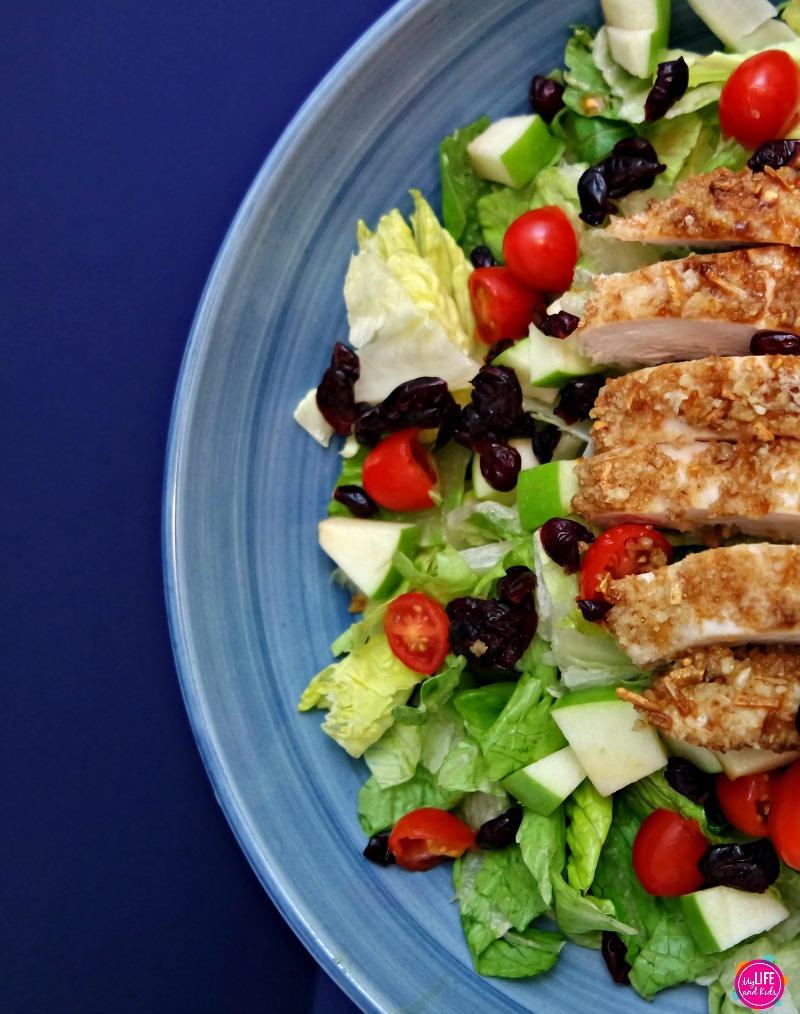 While it wasn't a huge surprise to me, the kids decided that they LOVED the chicken but preferred to eat it separate from their salads. I really didn't care how they ate it as long as they ate it!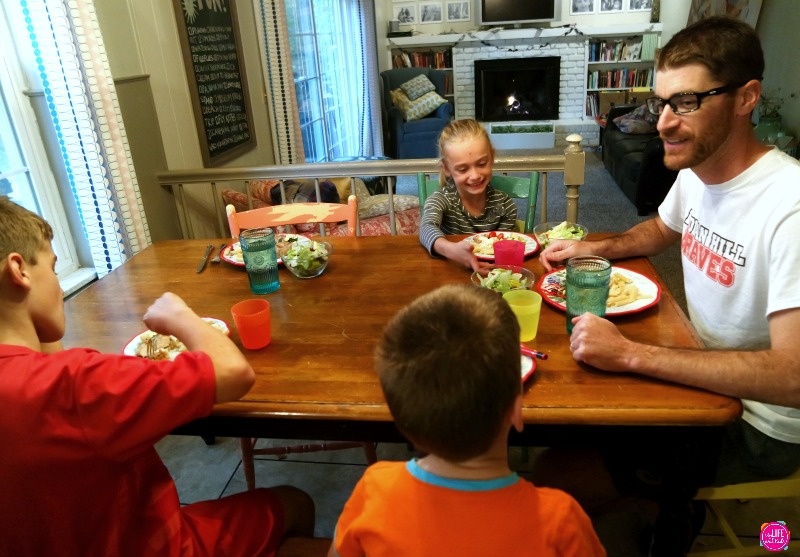 I've already had three requests from three different kids to make this same recipe tomorrow night, which equals a success in my book!
Don't Forget!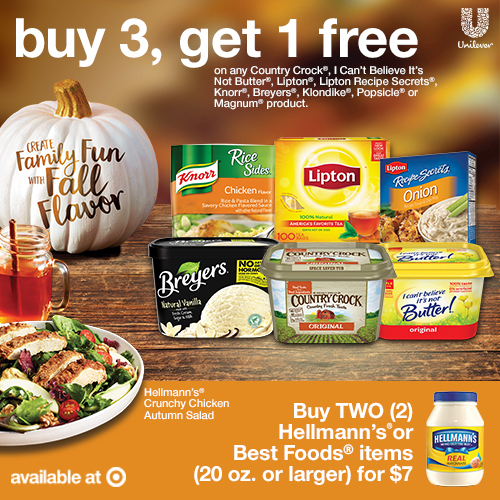 Buy 3, Get 1 Free on select Unilever food and ice cream brands at Target. Plus, buy two Hellmann's or Best Foods items for $7.
Click here to find a Target near you!
This is a sponsored post by Mirum Shopper. All opinions are my own.