As a #TalkEarly blogger for Responsibility.org, I was very interested in hearing the results of their national #HolidayResponsibly survey.
The data reveals that males (58%) are more inclined to intervene and stop someone who has consumed too much alcohol from driving than females (49%). The data also shows that Americans are not relying on alternative forms of transportation, like an Uber, to get home after going out socially. In fact, 63% said they rarely or never use alternative transportation to get home.
Beyond that, 19% of Americans said that they don't feel comfortable speaking up to prevent a friend from drinking and driving.
In some ways I'm shocked by that number.
In other ways, not so much.
When I was in high school and in college, the drunk driving message was widespread and consistent: Don't drink and drive. Don't let your friends drink and drive.
My parents let me know that I could always call them for a ride. Always.

My friends' parents let me know that I could always call them for a ride. Always.
There was even the occasional party where the host's parents collected keys from everyone that came.
It never felt difficult or challenging to find a way home or to convince other people to find a way home instead of driving.
But now that we're adults, it can feel a bit more challenging.
Instead of telling your binge-drinking college friend that they can't drive, you're more likely dealing with a highly-buzzed adult friend.
Instead of going out with roommates and sorority sisters that you know as well as family, you're more likely to be out with neighbors, co-workers, and acquaintances that you don't know quite as well.
Not only can it be difficult to suggest that someone may not be able to drive, it can also be easy for an over-confident drinker to make you second-guess your original perception.
If you ever find yourself in this position, here are a a few ideas that can help.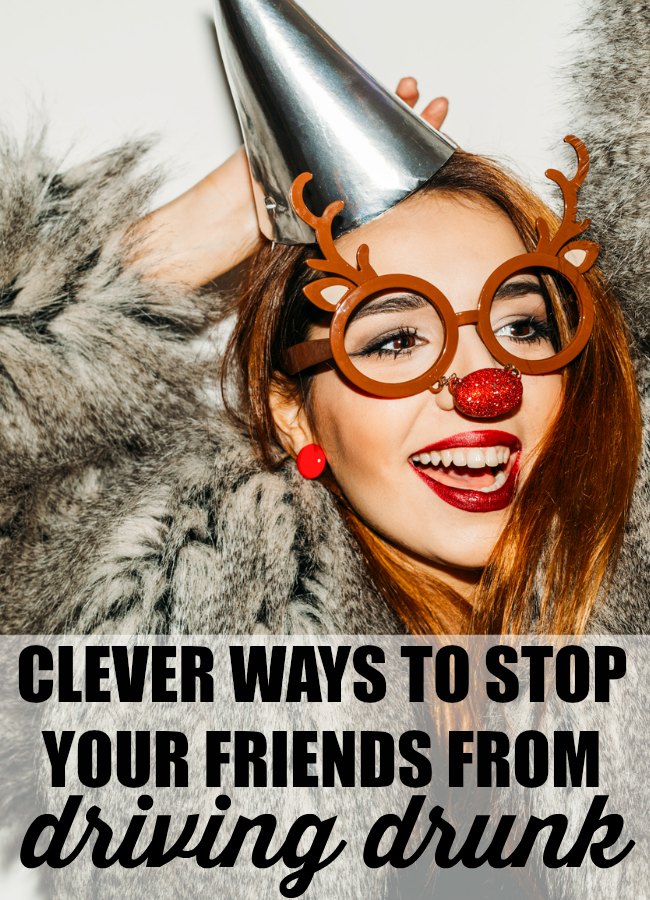 #HolidayResponsibly – 5 Clever Ways to Keep Your Friends from Driving Drunk
1. Be Bold
Yes – the first (and probably best) option here is to just flat out ask them.
"Are you okay to drive?" is oftentimes enough to get them to stop and assess the situation with you. And then either call for back up or wait a bit longer before leaving.
Unfortnately, this isn't always something adults feel comfortable asking. And it's also possible that the person will be very confident in their ability to drive – even when it shouldn't be an option.
2. Rally Friends
If #1 doesn't feel like a good option, then grab a few friends to help with the conversation and offer alternative rides home.
Or, if you think this will make the situation worse and embarrass the person, then…
3. Go it Alone
Pull your friend into the bathroom and let him or her know that you're concerned about their ability to drive home. Offer to call them a cab or give them a ride yourself. (Sort of like #1 – just in a more private setting.)
4. Buy them Another Drink
I'm not kidding here. I polled a few of my friends, and this came up again and again.
Keep her drinking until the Uber you've called arrives or the friend or family member you've texted shows up to drive her home.
No awkward or embarrassing conversations for your friend, and everyone is safe.
5. Surprise them With a Ride Home
This was another popular option from my friends. Keep the party going by making the exciting announcement that you've secured a safe ride home for both of you, so no one has to worry about driving.
#HolidayResponsibly – Taking Care of Yourself
While you're busy watching out for your friends, don't forget to watch out for yourself too. My husband and I always decide who will be driving before we even leave the house, and we stick with it.
If neither of us wants to drive, then we make sure we have another way home.
It really is that simple.
Learn more about the #HolidayResponsibly survey results here. (Be sure to check out the Virtual Bar while you're there. It's fascinating!)
You can also see great tips from Doctor Gilboa (@AskDocG) in the below infographic and by visiting her website at http://askdoctorg.com/.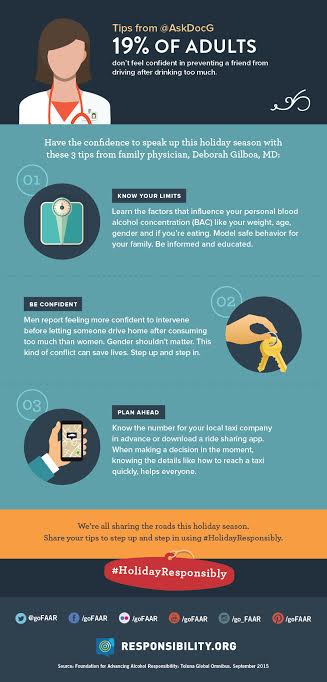 Learn More at Responsibility.org
For more great conversation starters, tips and tricks, visit responsibility.org and be sure to follow them on Facebook, twitter and Instagram!
This is a sponsored post. All opinions are my own.