5-year-olds
Chocolate Chip Cookie Math
By |
This post is in partnership with Sylvan Learning.
I have three kids with three very different thoughts on math.
One of them loves it and wants to do math all day every day.
Another one dreads it. Numbers don't make a ton of sense, and there is a lot of frustration at homework time.
And another one is fairly indifferent – math is math – no love, no hate, just… math.
But you know what all of my kids love?
Baking cookies!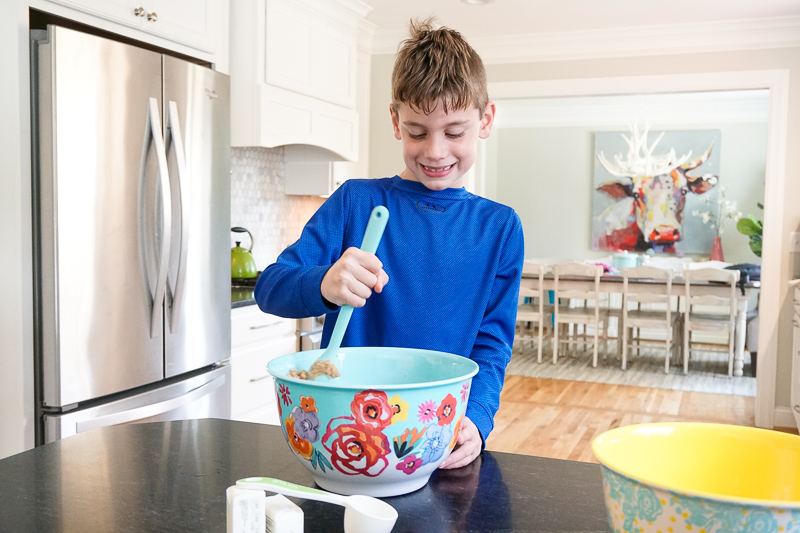 As a mom, I'm always trying to think of creative ways to incorporate math into our everyday lives. For my child who loves it, I want to help him experience it as often as possible.
For my child who hates it, I want to highlight how math can be fun throughout our everyday lives.
And for my child who doesn't really care, I'm hoping that indifference spreads a little bit to the enjoyment side of the spectrum.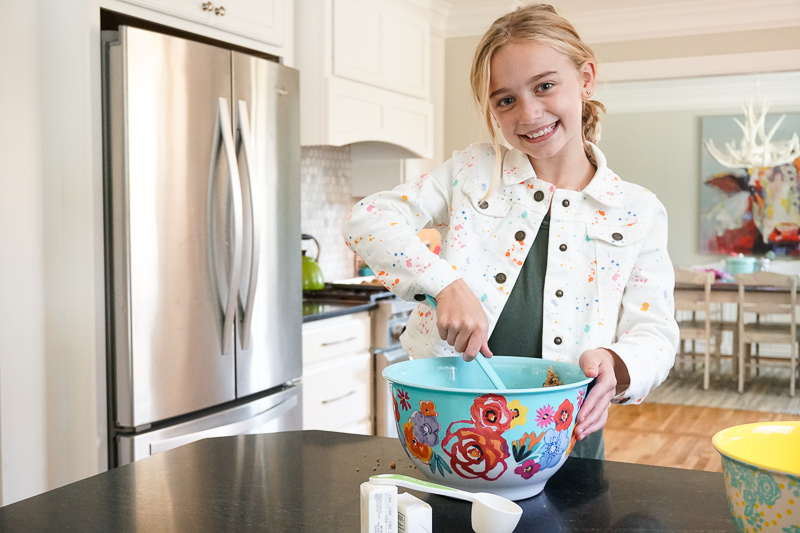 So, as we do our holiday baking this year (as we always do), I've switched up our classic cookie recipes to give each child a little bit of math to do along with his or her baking.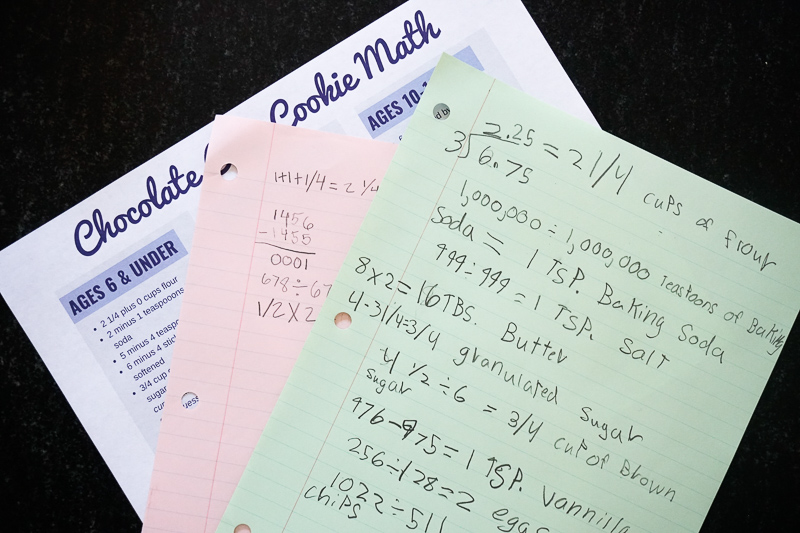 Chocolate Chip Cookie Math
Over the weekend we baked chocolate chip cookies, but first my kids had to use their math skills to figure out the exact recipe.
For example, my 11-year-old had to do equations like: 6.75 divided by 3 cups = how many cups of flour needed.
And my 9-year-old had to do equations like: 66 divided by 33 = how many eggs needed.
And my 7-year-old had to do equations like: 5 minus 4 teaspoons = how much salt needed.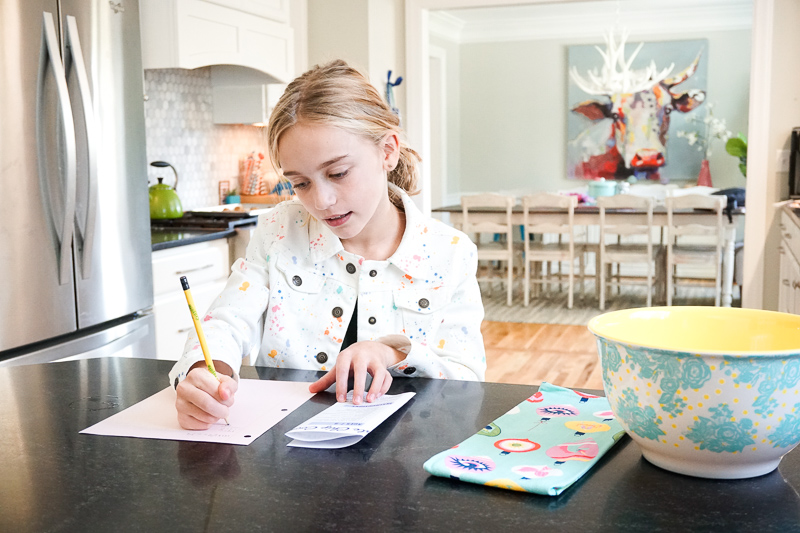 And you know what?
They all loved it.
At each age level, they found a problem or two that was a challenge, one or two that felt easy and plenty that made them do a little work to get the answer.
I think it made the cookies taste even better at the end, because they each worked so hard to get the recipe just right.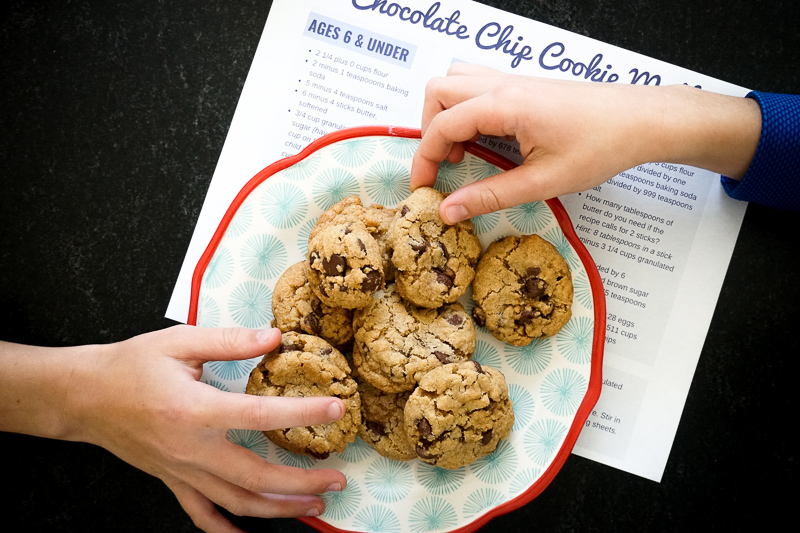 As you're doing your holiday baking this season, create your own recipe math problems to challenge your kids in the kitchen.
Or you can download our "recipes" for chocolate chip cookies.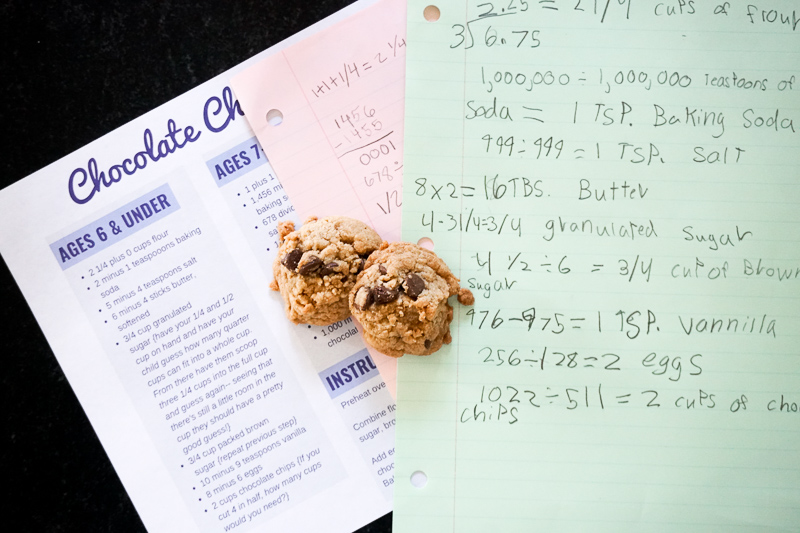 You'll see different variations for kids ages 6 and under, 7 – 9 and 10 – 12.
My kids suggest folding the paper to the correct age category so that cheating is not an option.
Ahem…
Click here to download your free Chocolate Chip Cookie Math recipe (complete with baking instructions.)
Learning to Love Math with Sylvan Learning
Sylvan Learning is the leading provider of personal learning for students in grades K-12. I've written about their fantastic writing tutoring offerings here and their SAT/ACT prep courses here.
In addition to these great services, Sylvan Learning also offers math tutoring that is perfect for all three of my kids.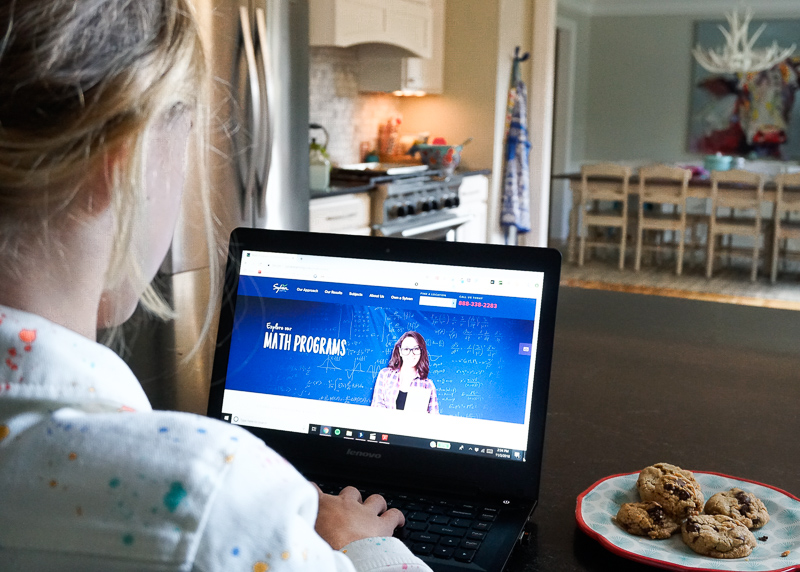 All of the tutoring programs follow Sylvan Insight (Sylvan's personalized approach to learning) including assessment, planning, teaching and overall application (where they will work with my kids' teachers to make sure that the work they're doing at Sylvan is being demonstrated in the classroom.)  Click here to learn more.
Each child has an individual tutoring plan to meet him or her where he or she is at with a specific subject and help them to meet their goals.
So, my math lover will most likely be part of their Math Edge program – to increase his math proficiency, accuracy and fluency while allowing him to get ahead.
And my math hater will probably benefit from more direct tutoring services to build up confidence and proficiency, so that math is at least tolerable (even when we aren't baking cookies).
And my indifferent kiddo probably won't need any tutoring for now, but it's helpful to know where to turn when the time comes.
Click here to learn more about Sylvan Learning.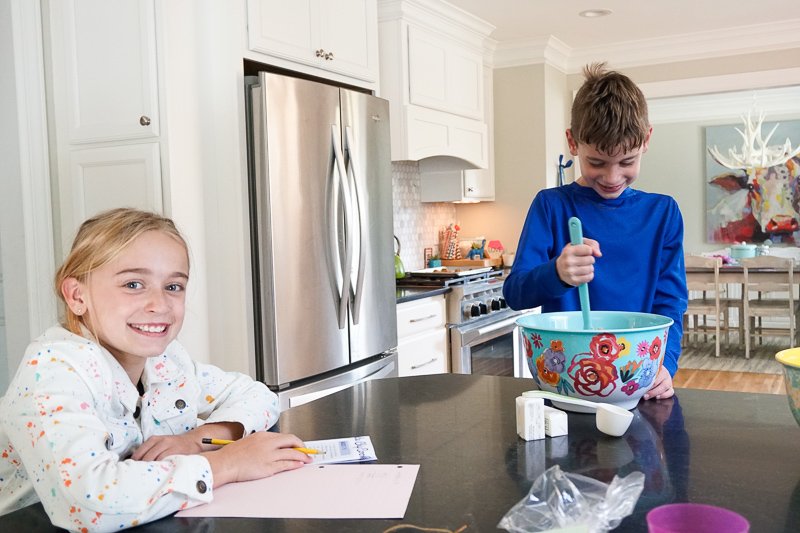 Chocolate Chip Cookie Recipe Cheat Sheet
Need to check your child's math before you start baking? Here's the full chocolate chip cookie recipe just in case you need it.
INGREDIENTS
2 1/4 cups flour
1 teaspoon baking soda
2 teaspoon salt
1 cup (2 sticks) butter, softened
3/4 cup sugar
3/4 cup packed brown sugar
1 teaspoon vanilla
2 eggs
2 cups chocolate chips
DIRECTIONS
Preheat oven to 375 degrees. Combine dry ingredients. In a separate bowl, beat butter, sugar, brown sugar, vanilla and eggs until creamy.
Beat in flour mixture and then add chocolate chips.
Drop onto baking sheets by rounded tablespoon. Bake for 9 to 11 minutes or until golden brown.
Enjoy!