Exercise
Bike Riding Tips for Beginners
By |
I don't want anyone to be jealous, but this is Even Steven on a bike.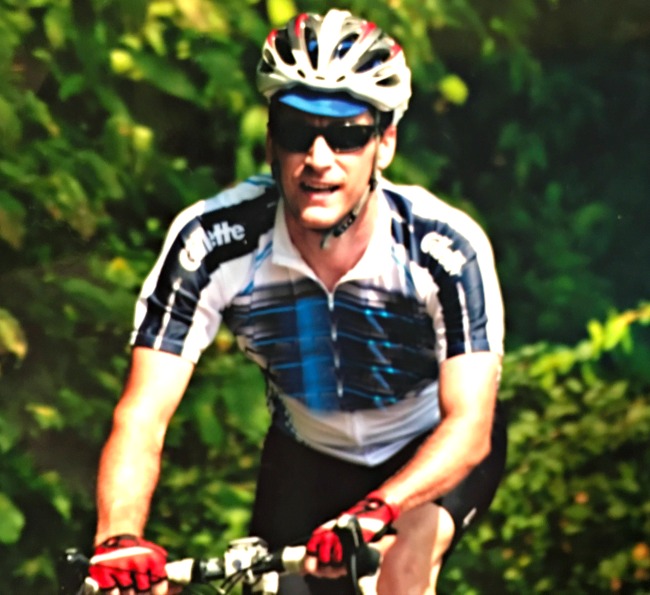 I know. Right?
He rides his bike several times a week, and he prefers to be called a "cyclist" (never a biker.)
Ahem…
He wears a lot of spandex (which he calls lycra), and he is all about trying to convince me to become a cyclist along with him.
I'll go ahead and pause while we all laugh together over the thought of Even Steven and I on a bicycle built for two.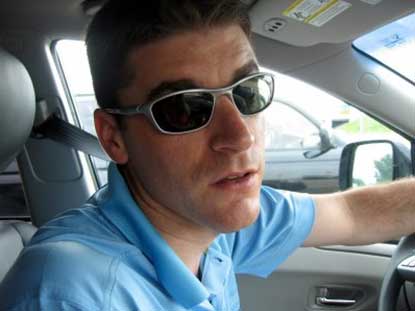 While I would never refer to myself as a cyclist (I have refused the padded bike shorts, thankyouverymuch), I do love to ride my bike.
So when I mentioned that I was teaming up with goodnessknows to write about biking to work and riding your bike in general, Even Steven was very excited.
FYI – This is what he looks like when he's excited.
He said he wanted to write a post about the best type of helmet to buy, how to keep your spandex (I mean LYCRA) from riding up your legs, the best method for men to use to shave their legs (don't even ask. Seriously. I can hardly handle it.) And even his tried and true tips for carrying your work stuff on your back while you ride to work.
It's possible that I fell asleep a little bit while he went on and on and on.
I told him that I was planning to take pictures of a beautiful bike with flowers in the basket instead.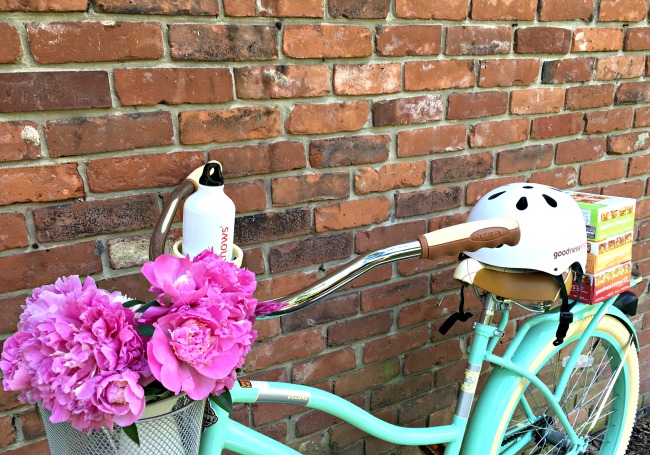 And that I would write some tips about bike riding for beginners. You know – for those of us that aren't wearing spandex or padded bike shorts – but want to ride for fun and maybe a little bit for exercise.
Personally, I like to ride with the kids. It's one of our favorite summer activities. We just hop on our bikes and head to the nearest park or library or just go exploring.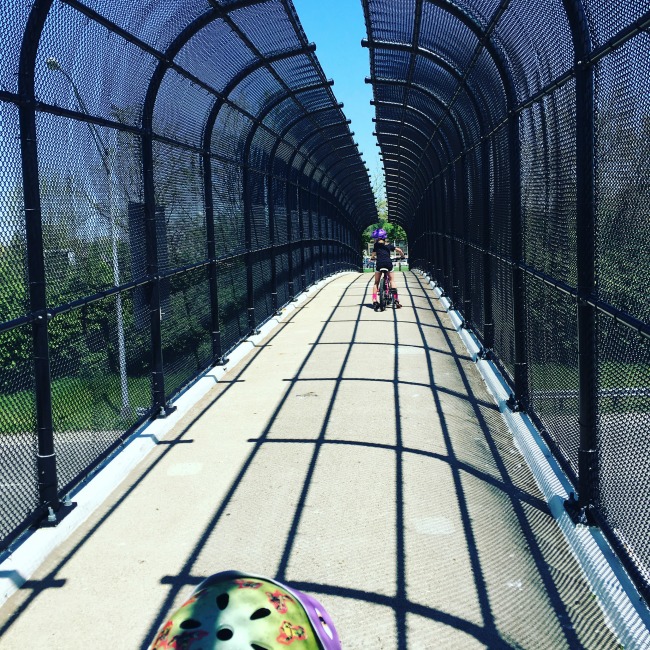 So, much to Even Steven's dismay, I'm not writing a post for hardcore cyclists that shave their legs. Instead, I'm sharing bike riding tips for beginners. Complete with pictures of my pretty bike as well as an awesome giveaway opportunity from goodnessknows! (Be sure to read to the bottom of the post for more information about the giveaway!)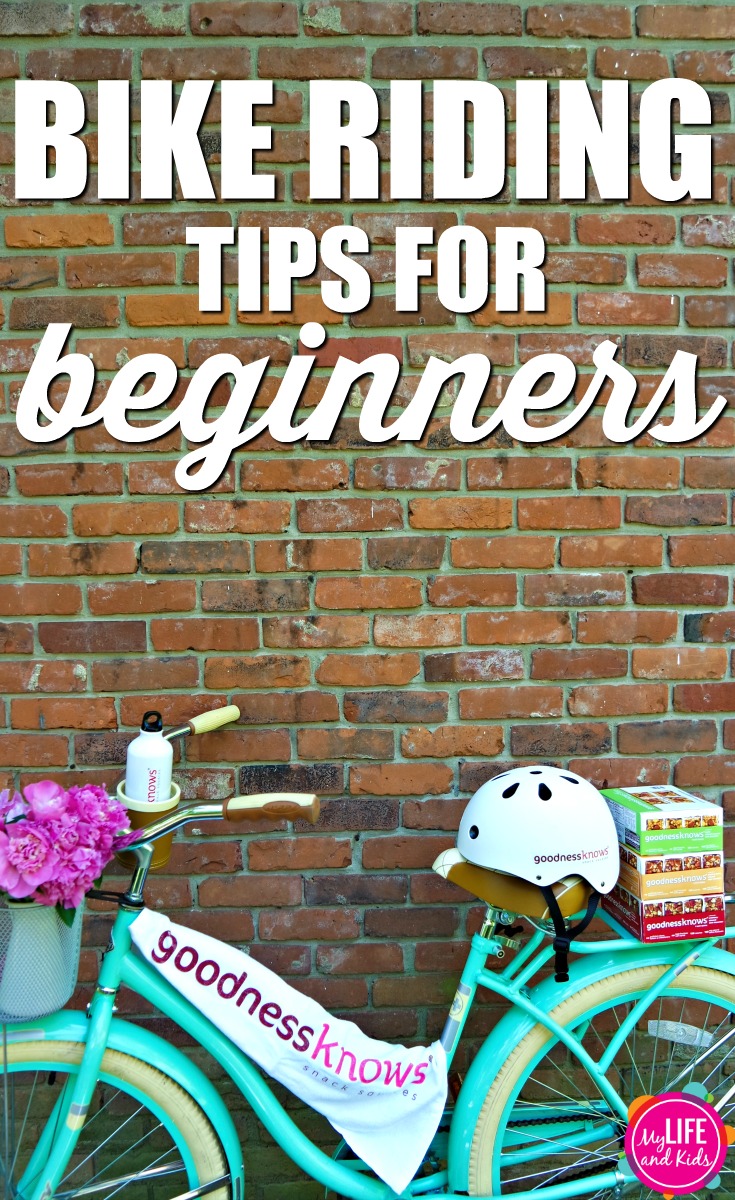 Whether you're planning to start riding your bike to work this summer or you're looking for a fun way to get around town or spend time with your kids, here are a few tips to get you started.
Wear Your Helmet
Yup. You'll probably get hat head. Yes, you may not look as amazing as you would without it. BUT – it could save your life.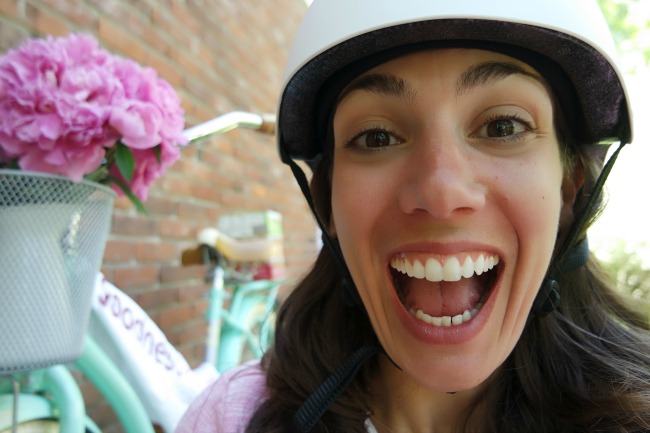 Even Steven has had two decent crashes on his bike and both times walked away with a cracked helmet. I hate to think what may have happened had he not been wearing one.
Check Your Bike
I always want to skip this step, but luckily I have Even Steven to keep me honest. Your bike will work better (and you'll be safer) if you care for it properly. Before you head out on your ride, make sure you have air in your tires, double check that the brakes work and check your chain (it should look like two parallel lines.)
Accessorize!
Even Steven rolls his eyes at me about this, but I think the right accessories are an important part of having a fun bike ride.
For me, this means a basket (so that I have lots of room for flowers or my cell phone or library books) and a cup holder. And Even Steven has added lights to my bike as well.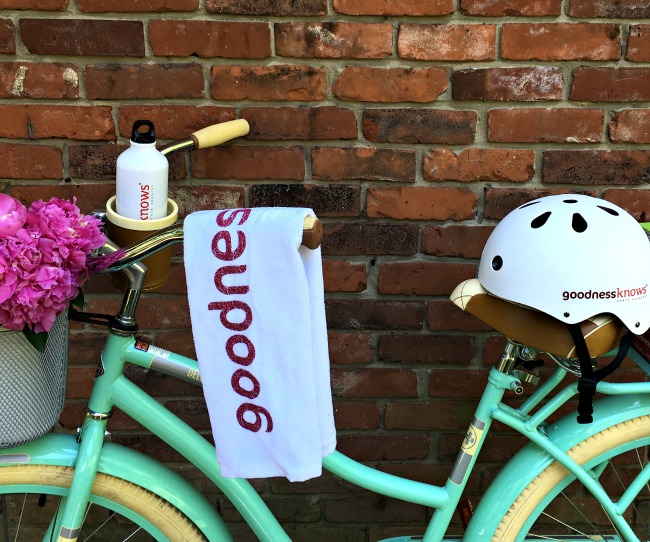 And when I say lights, I mean at least 50 gazillion. In fact, I went for a bike ride in our neighborhood at dusk one night, and it's possible I was visible in space because I was so lit up. I happened to pass by my mother-in-law (who lives in our neighborhood), and she made me turn half of them off because I looked so ridiculous. I'm not kidding.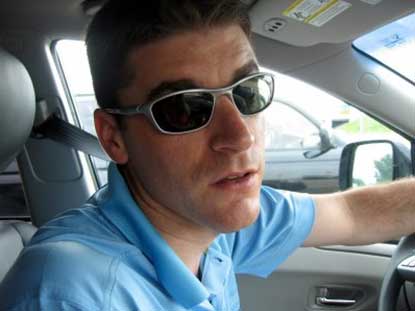 Pack Your Snacks
This is such a no-brainer, but you need to bring snacks and a water bottle when you ride. If you've been reading for awhile, then you know I've been reaching for goodnessknows snack squares after my workouts.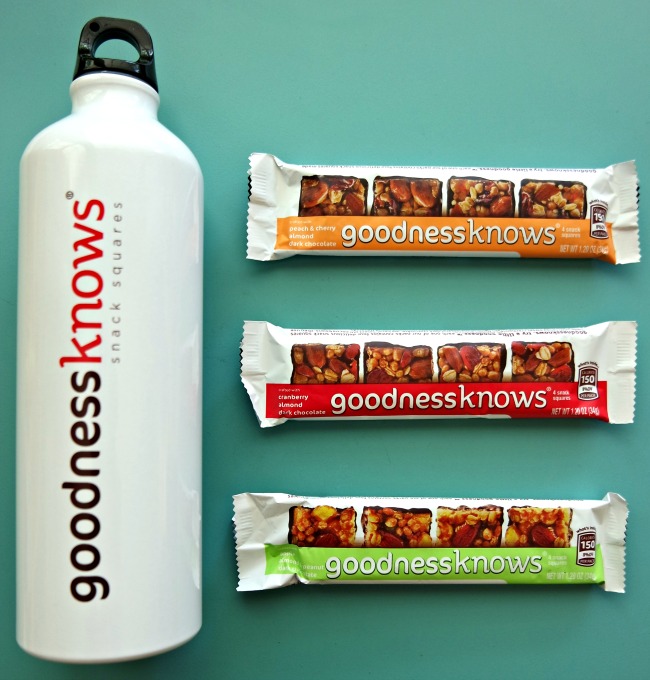 With whole nuts, real fruits, toasted oats and dark chocolate – goodnessknows snack squares have no artificial colors, flavors or sweeteners.
And – my favorite part?
Each serving contains 100 milligrams of naturally-occurring cocoa flavanols – the good stuff found inside cocoa beans – and each snack square is just 40 calories.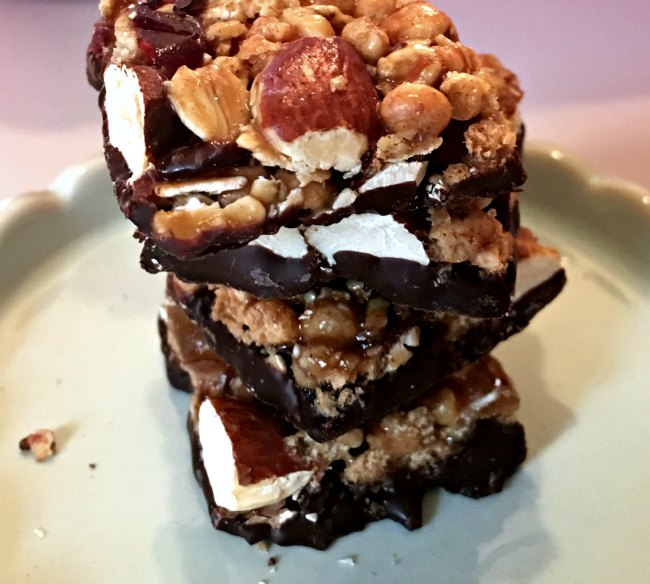 Because of their unique size, they're the perfect on-the-go snack when you're riding your bike.
Bring Your CellPhone
You never know when you're going to get a flat tire or get stuck in a random lightning storm. Keep your cell phone with you, so you can call for help if you need it.
Last summer, I was riding with the kids when Miles hit a stop sign, went flying over his handlebars and slid down the road. He was totally fine (minus some roadrash), but he was also a sobbing, bloody mess. There was no way I was going to be able to get him and the other kids home on my own. Luckily I had my cell phone, and Even Steven came to our rescue.
You also never know when you're going to want to pause your bike ride to take a selfie. Happens to me all the time.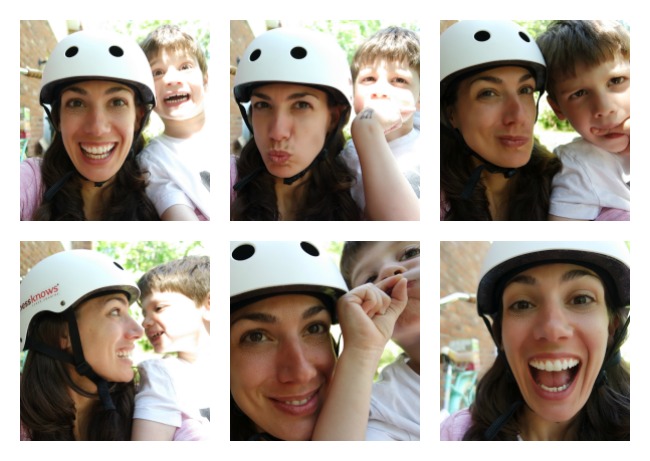 goodnessknows Giveaway
As the ultimate on-the-go snack, goodnessknows snack squares wants to encourage YOU to get active, ride your bike and #tryalittlegoodness.
And I'm teaming up with them to give away a goodnessknows Gear Up and Go kit.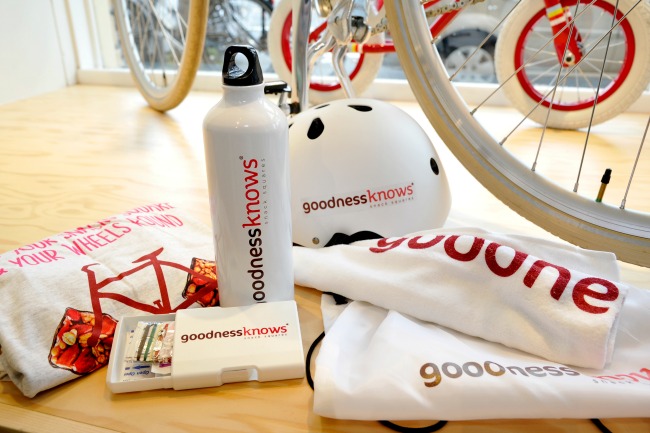 This kit contains a goodnessknows water bottle, T-shirt, sport towel, first aid kit, cinch bag and (of course) goodnessknows snack squares.
How to Enter
Entering is easy! Click here to head over to Instagram, and follow the rules on the post. Must be 18 or older to participate and in the United States. Winner will be chosen at random on Friday, June 3, 2016.
Want more great bike riding tips?
For five more great bike riding tips for beginners, be sure to download this handy guide from goodnessknows.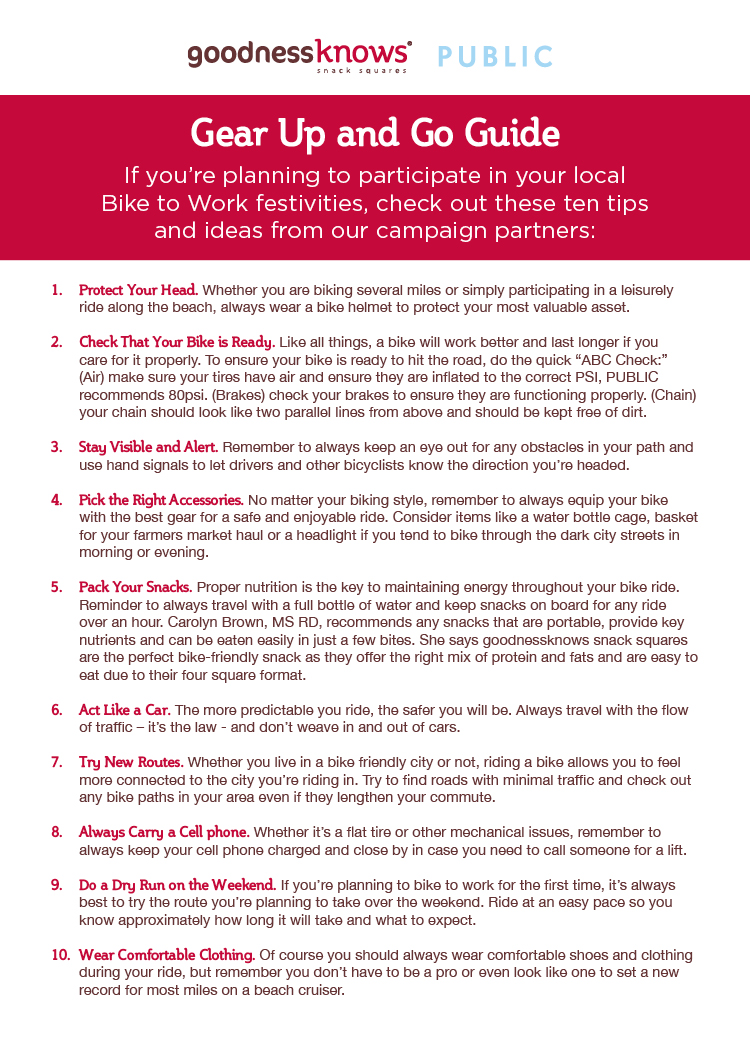 This is a sponsored conversation written by me on behalf of goodnessknows. The opinions and text are all mine.