My Husband
Cleaning Up After Big Hairy Dog
By |
Several years ago, before we had kids, Even Steven and I lived in a charming old home in the city. It was full of character – and had bright white carpet all throughout the upstairs.
Back then, our biggest responsibility in life was Big Hairy Dog.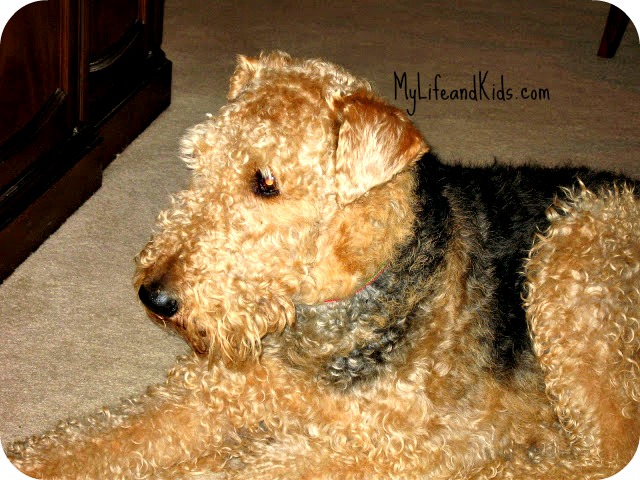 He was just a young guy, and he was known to have raging diarrhea in the house about four times a year.
It was gross.
Even Steven and I had one rule. If you were the first one home from work, you had to clean up any messes that Big Hairy Dog made. Simple enough…
One night in 2006, I got home first. The moment I opened the front door, I could smell it.
I knew that there was poop somewhere – and I followed my nose upstairs.
Right in the middle of the upstairs hallway – splat in the middle of our wall-to-wall white carpeting – was the stinkiest, runniest, darkest brown flood of doggie diarrhea I have ever seen.
Even now – three kids later – I have to say that this is one of the more disgusting poop messes I've witnessed.
I did the only thing I knew to do… I left the house.
I gave Big Hairy Dog a treat, erased any proof of my presence, locked the door, and drove to Target.
I called Even Steven to tell him I would be working a bit late, and he said that he was on his way home.
So I hung up the phone and walked around Target for 45 minutes.
When I came home, there was not even a hint of dog poop in the air, and Even Steven was in the backyard throwing the frisbee with Big Hairy Dog.
I tried to play it cool… "How was your day?"
Even Steven: Great. They gave us these awesome exacto knives at work with the company logo on them. They even have a light on them in case you need to cut something in the dark.
Me: Wow. That's random. Anything else happen today?
Even Steven: Big Hairy Dog took a dump upstairs, but I cleaned it up.
Me: Really? That's too bad. Thanks for taking care of it. Was it hard to clean up?
Even Steven: Not hard at all. It came right out.
I was very impressed – and began to wonder if I had over-estimated the damage.
I went upstairs to change my clothes, and I realized why the clean up seemed so easy for Even Steven.
There – in the middle of my hallway, where the diarrhea had been – was a giant hole in the carpet.
Turns out Even Steven's new exacto knife worked like a charm.
He used it to cut a perfect square out of the carpet. Right in the middle of the hallway.
Did I mention it was the middle of the hallway?
We eventually got new carpet.
And I never left poop for Even Steven to clean up again.
What are your tips for cleaning up dog poop?