Back in my working days, I was a fundraiser for non-profit organizations. I believe strongly in giving back, and I believe even more strongly in teaching my kids to give back as well.
But sometimes that can be tricky.
I model "giving" behavior with my kids, but it's hard to known if it's really sinking in.
I let them watch me write my monthly checks to various non-profits – but they barely even understand the concept of checks – let alone how that check is helping anyone.

MY LATEST VIDEOS
I can take them with me to volunteer, but the volunteer opportunities available for little kids are either totally unavailable, incredibly distant from from the people we're helping (why are we dropping my toys off here?), or I fear I'm exposing them to too much before they're ready.
All of this to say that I am always on the hunt for fun and unique ways that I can teach my kids to give back and get them excited about helping others.
Which is why I'm thrilled to be teaming up with cuddle+kind to share a fun way to teach your kids about giving back.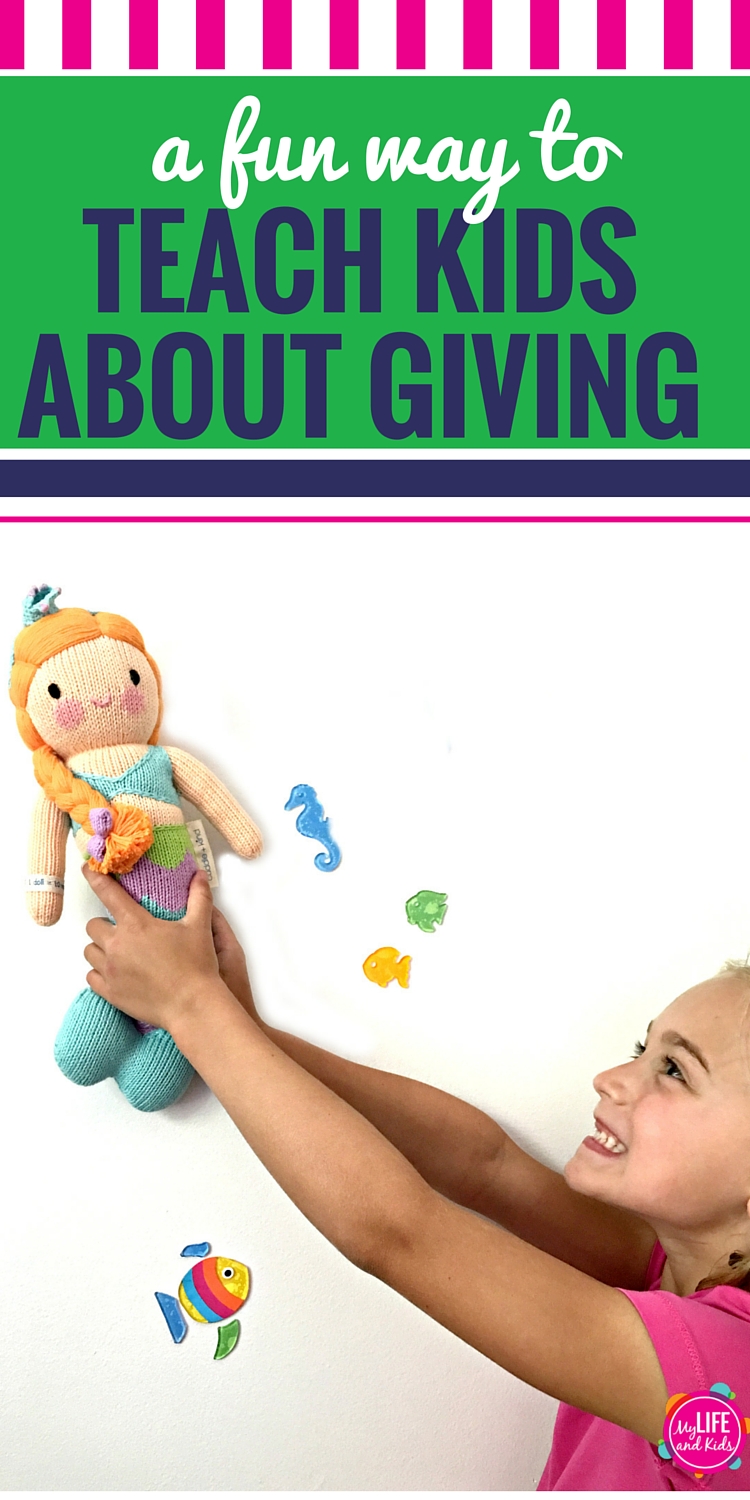 Cuddle+kind was created by Derek and Jen Woodgate. As parents of three young children, they believe every child should have enough food to eat and an opportunity to thrive.
When they saw a documentary on the devastating impact of childhood hunger on millions of children around the world, it inspired them to help.
With the sale of each cuddle+kind doll, 10 meals are given to hungry kids.
Through giving relationships, cuddle+kind sponsors feeding in the WFP School Lunch program and sponsors the feeding at Orphanages in Haiti through the Children's Hunger Fund. Learn more about how and why they give here.
Meet Isla
Isla the Mermaid arrived to our home last week, and Alice was immediately in love.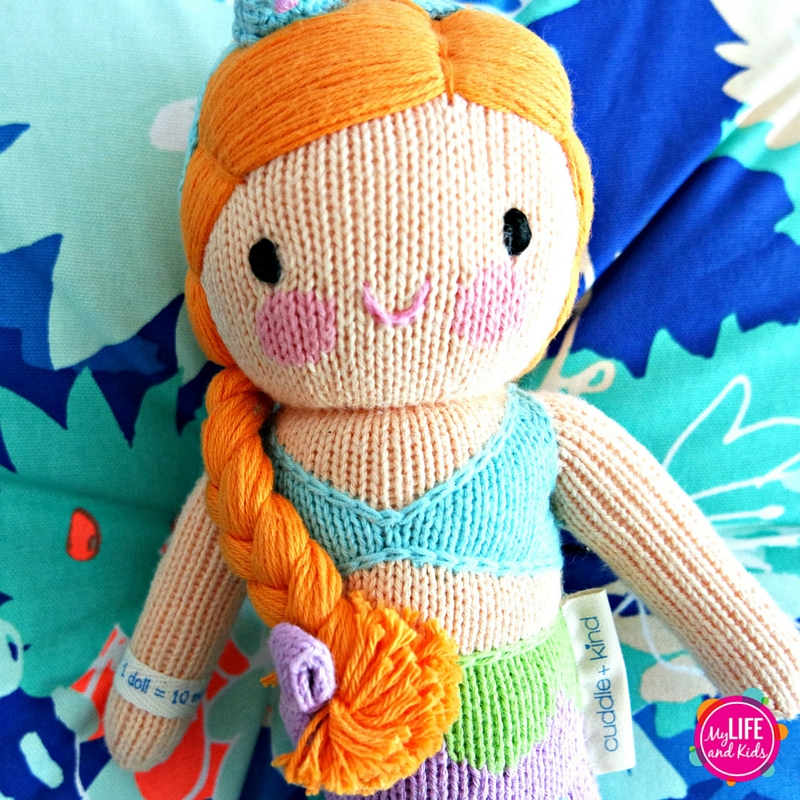 Isla comes from a magical world where she swims with dolphins and rides sea horses every day. She even has a favorite quote:
"Throw kindness around like confetti."
Alice and Isla went outside for a picnic on the lawn, and I could hear Alice pretending that they were mermaids and needed to hide from the evil sharks (aka, her brothers.)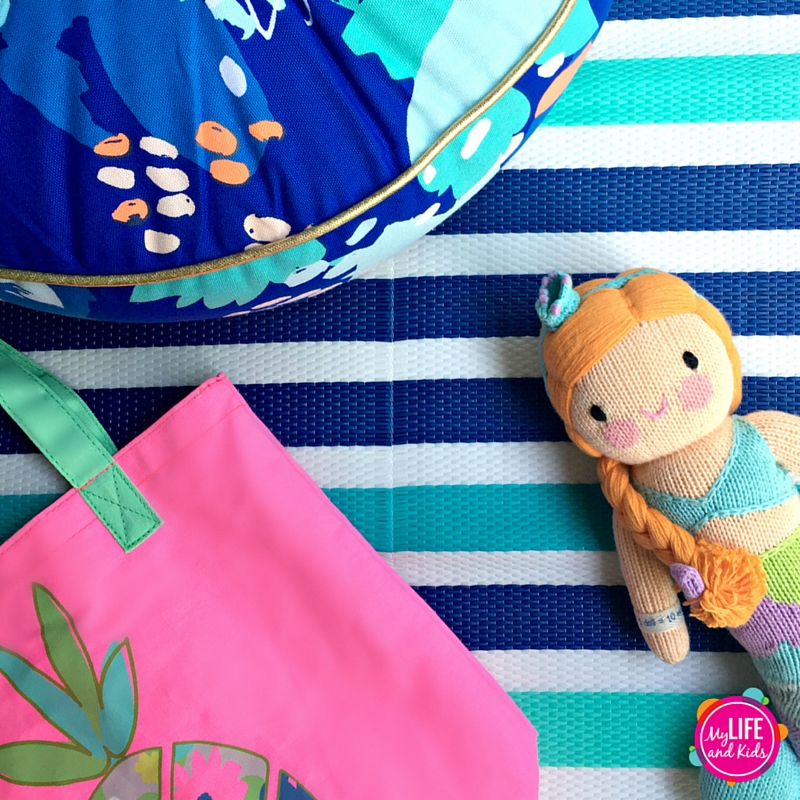 When I sat Alice down and explained to her how purchasing Isla helped feed 10 kids and also helped artisans in Peru have jobs, she was so excited!
Alice is always excited about helping others, and she has a very kind heart.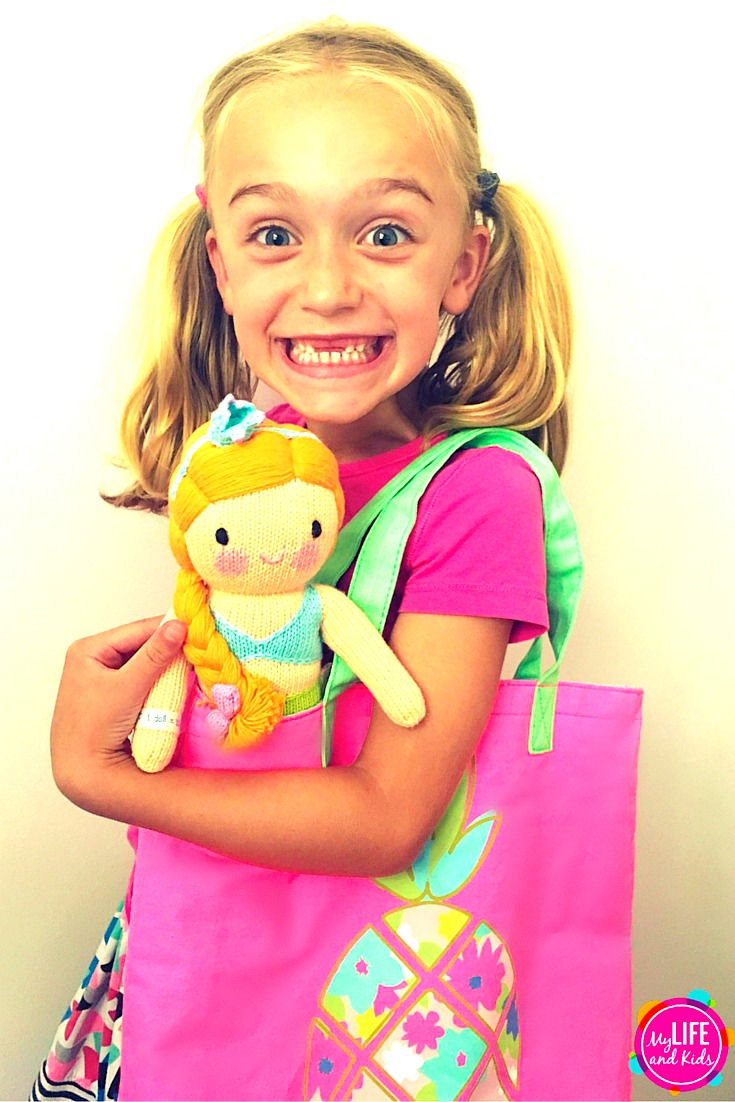 She said it made her love Isla even more. And she wanted to learn more about what kids were being helped.
So we checked out the cuddle+kind website, and read through the stories together. (They have an amazing giving book that is perfectly geared to read with your kids. Check it out here.)
We talked about the fact that more than 66 million kids her age go to school hungry every day.
And we learned that by purchasing cuddle+kind dolls (like Isla), more than 189,000 meals were provided in just a few months in 2015. And that their goal is to provide one million meals this year!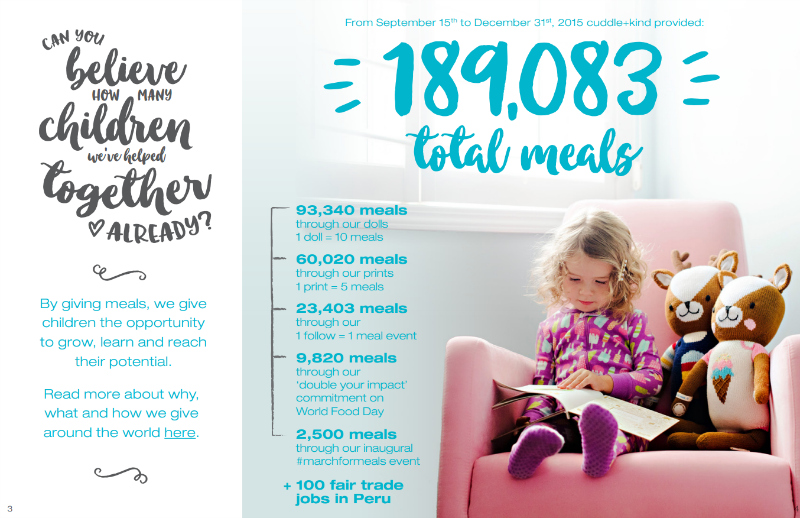 We also learned that they're able to provide fair trade employment to over 100 artisans in Peru. How cool is that?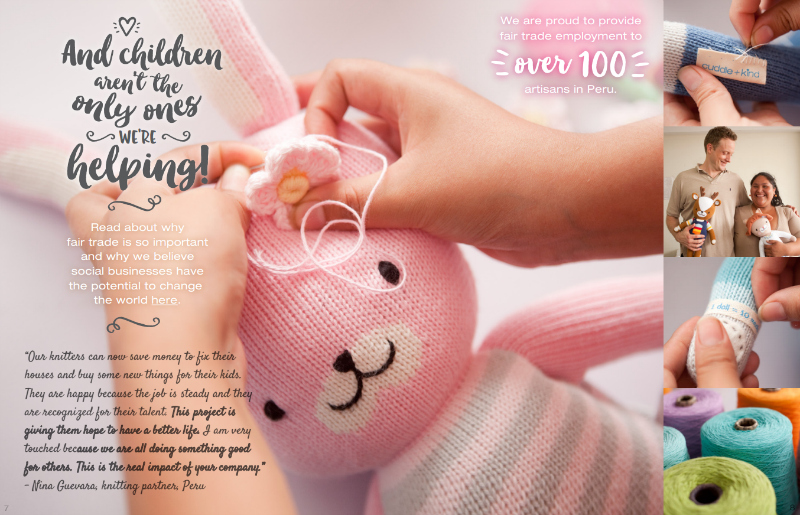 Alice especially loved their Inspiration Wall. I told her that everything on the inspiration wall reminds me of her and the way she approaches the world with kindness. (Even her stinky brothers.)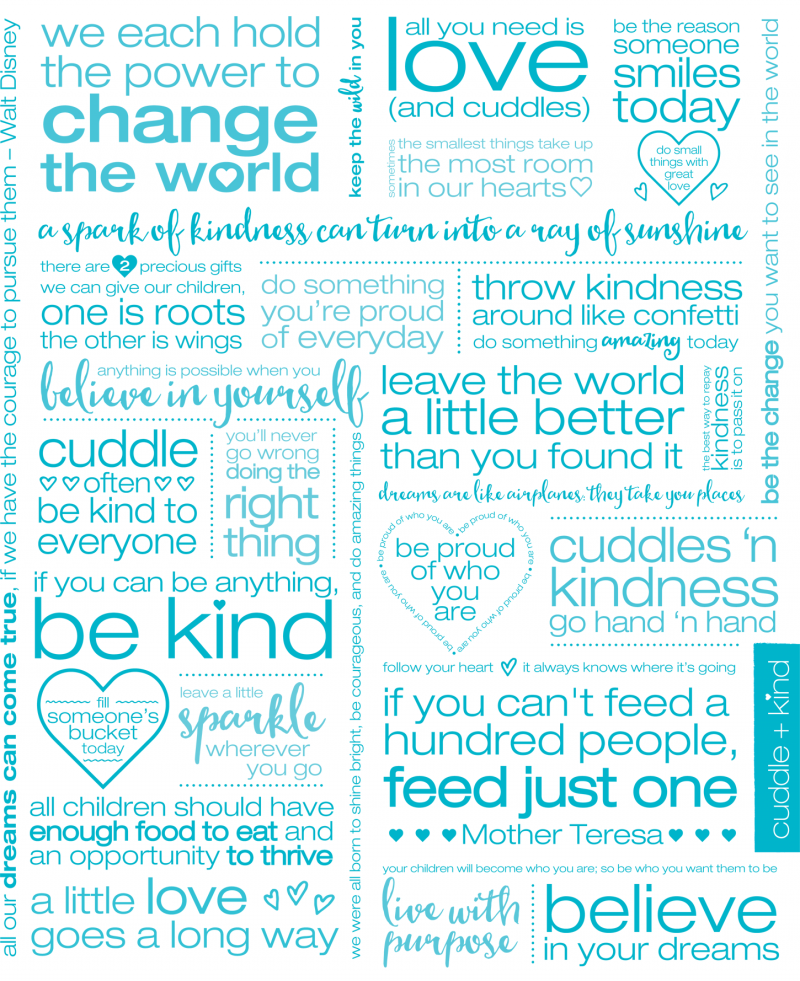 Buy a Doll, Feed Kids in Need
Whether you're buying a doll for your child, as a baby gift or for your child to give to a friend, cuddle+kind is a good company with a good heart.
And their dolls are pretty awesome too!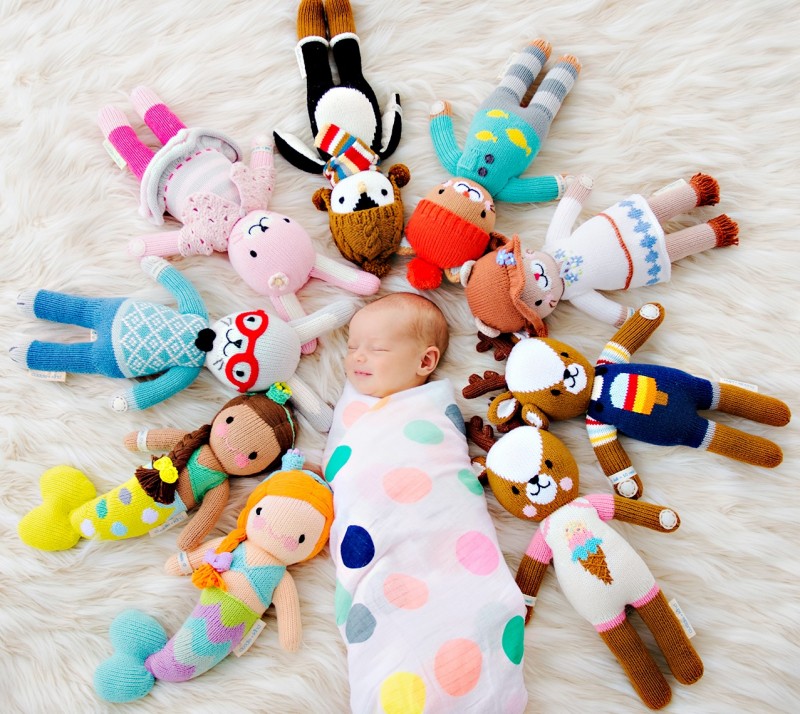 All nine dolls come in a 13 or 20 inch size, are hand-knit with premium, natural cotton and meet or exceeds safety standards in the US and Canada.

Learn more about cuddle+kind here, and be sure to follow them on Instagram, Facebook and Twitter.
This is a sponsored conversation written by me on behalf of cuddle+kind. The opinions and text are all mine.