1-year-olds
7 Simple Ways to Be a Better Mom
By |
As part of Responsibility.org's #TalkEarly team, I had the amazing opportunity to learn from Meaghan Leahy at the TalkEarly summit in Washington DC in January.
Meaghan is a certified parenting coach, holds a master's degree in school counseling and is the author of the parenting expert column for the Washington Post. She was full of information, down-to-earth – and downright funny. Best of all, I walked away with seven simple tips that are making me a better parent!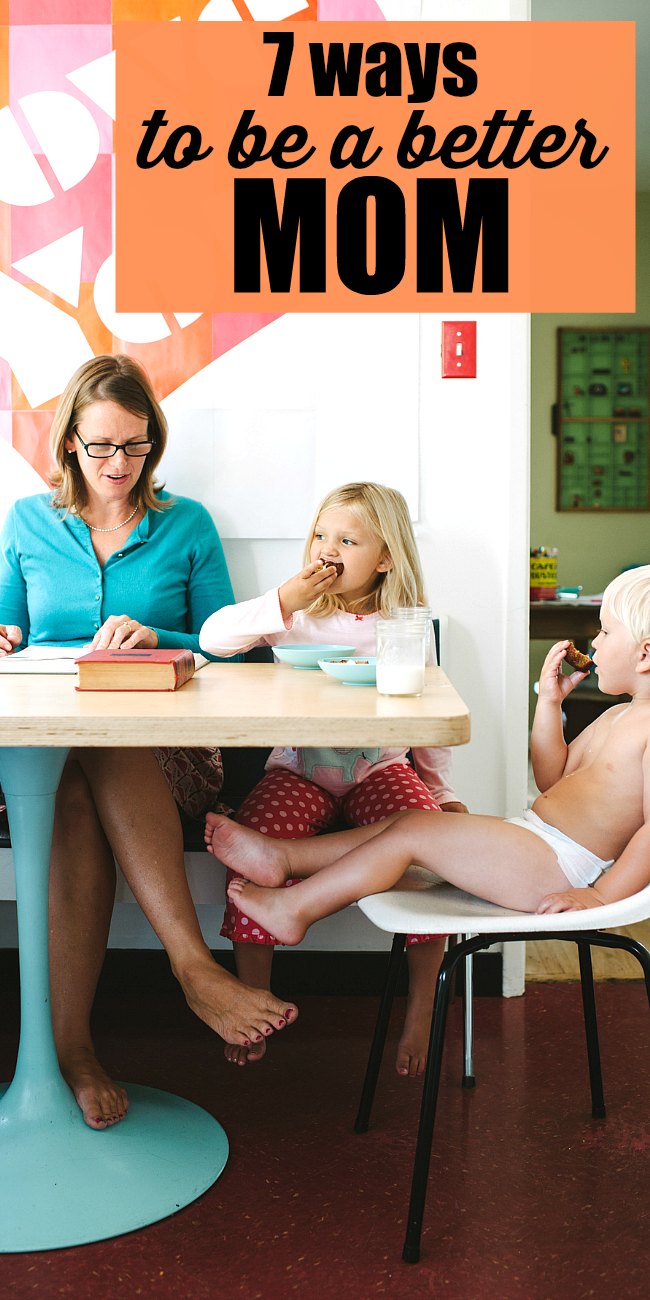 1. No parent is perfect.
Duh – I know we all know this. We hear it all the time. No one is perfect. You're not perfect. I'm not perfect. Yadda yadda yadda. But in the heat of the moment, after you've just shouted at your child, or expected great behavior at the grocery store when you knew they were exhausted and hungry – are you really giving yourself a break?
Bottom line – we're all going to make mistakes as parents. Period. But instead of beating yourself up over those mistakes (as I often do), take a deep breath, acknowledge that it wasn't your best work, and move on. You're not going to have a perfect day every day, so stop expecting it.
2. Let your kids be bored.
Meaghan didn't actually touch on this during her speech, but I was so inspired by everything else she said that I have been stalking her blog ever since. (You can read it right here. It's FULL of inspiring parenting advice and wisdom.)
So why should we let our kids be bored?
Meaghan explains, "The irony is that the more we don't allow our children to be bored, the more accustomed they become to being entertained.  The more entertained the children are, the deeper the brain habits are ingrained.  Their young brains are literally conditioned to constant entertainment, whether it is from a parent or caregiver or technology!"
She provides a full-blown tutorial  for parents on how to allow your kids to be bored. (HINT: it might be challenging for you.) Read the full tutorial here.
3. Let your kids attach.
I was especially fascinated by Meaghan's research and knowledge on attachment parenting – and the importance of allowing your kids to be attached – and what exactly that means.
This isn't out of Meaghan's mouth, but my takeaway from her talk was that in order to thrive as adults, children need to feel secure and attached during their childhood.
Kids attach to adults in stages as they grow – from physically requiring human touch in order to thrive, to mimicking everything we do (and realizing that they can love us and be with us without constantly touching us) to starting to feel really secure and loved enough to disagree with us and even disobey us – knowing that we will always love them.
Not all children have this opportunity for attachment, but secure children grow (like an acorn) into the natural, beautiful children they are born to be.
Powerful stuff, right?
4. Be mindful.
Part of Responsibility.org's mission is to really dig into how we're talking to our kids (even our young kids) about alcohol – and what we're teaching them about alcohol through our actions.
Being mindful was a huge part of Meaghan's talk – and something that I've thought a lot about ever since – especially when it relates to our drinking habits.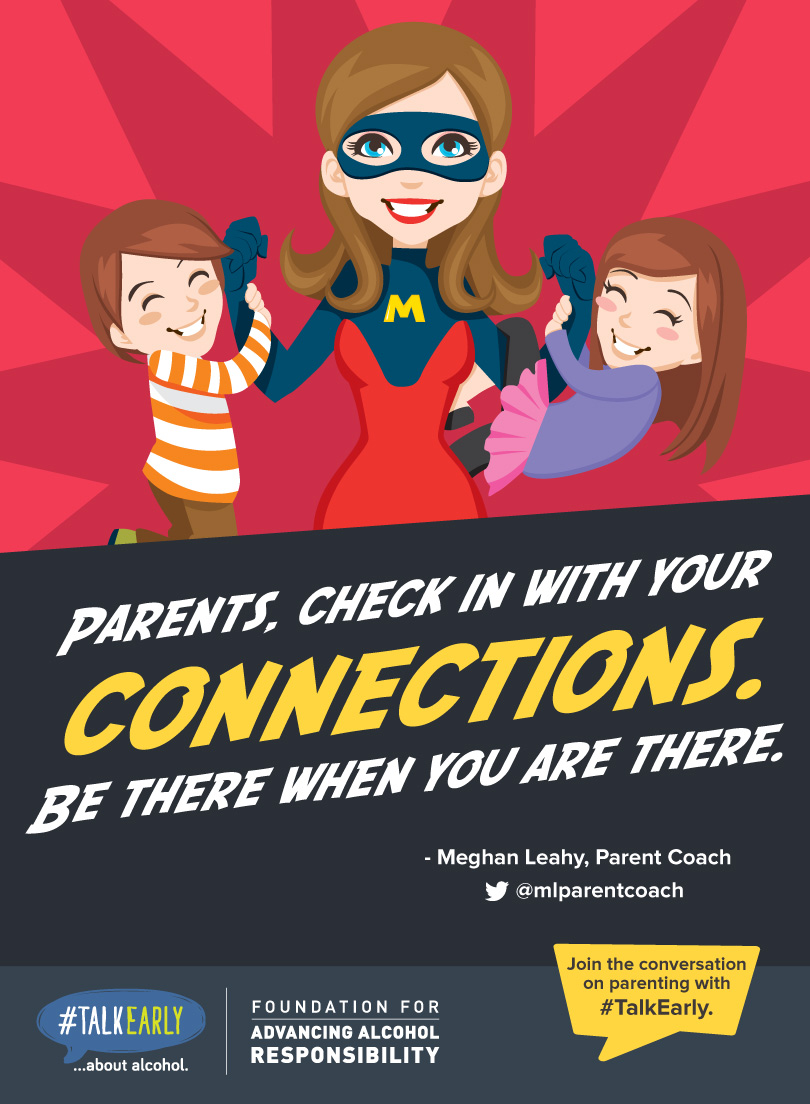 Be there when you are there.
I really enjoyed this mantra, and it's something I've been trying to incorporate. When you're with your kids – BE THERE. Not on your phone. Not escaping into your 3rd glass of wine. Just be there with them. That's really all they want.
I'm not a huge drinker, so this related to me more on the technology level or even the cleaning the kitchen, constantly folding laundry, doing onemorething before reading to them or playing with them or just looking them in the eyes level.
But it's also a huge part of drinking and parenting.
When kids see you drinking out of stress, frustration, anger, being tired, or something that relates to them – it makes them insecure.
Kids who feel insecure, don't know how to express their insecurities.
When alcohol is mixed with relaxation and calm, they feel that.
Bottom line – kids are smarter and more observant than we give them credit for. Part of our job as parents is to make them feel secure. And kids often feel insecure when we're drinking.
This doesn't mean you need to stop drinking – or even stop drinking in front of your kids. It's just something to think about as you explore your own drinking habits and the impact it could be having on your kids.
5. Give yourself a break.
Yeah – I know – we already covered this a little with #1, but it's worth mentioning again.
Parenting is hard! We can't always be amazing every day – it's an unrealistic expectation. You're going to make mistakes every single day – and that's okay. Because we're ALL making mistakes every day.
6. CONNECT
This was another great tip that I took from Meaghan's blog. Take a little time each day or each week to really connect with your kids.
This doesn't mean taking your daughter to get a manicure. But it could mean sitting at the dining room table and painting her nails.
This doesn't mean taking your son to the amusement park. But it could mean having a swinging contest at the playground.
This doesn't mean taking your kids to the movies. But it could mean looking them in the eyes and listening to everything they want to tell you about their day.
Our kids don't need big, grand gestures. They don't need expensive gifts or experiences. They just need eye contact. 10 – 15 minutes of time that is all about them. No distractions. Just you and them.
(Click here to read Meaghan's post about why your child should NOT be in the nail salon.)
7. Give yourself another break.
Yeah – I'm going back to this again. Because if you're anything like me, you're making a mental list to force your kids to be bored, spend 10 minutes with each kid each day, stop drinking and doing laundry and running errands with them and to take time to breathe.
This isn't a checklist kind of thing. This is a general awareness kind of thing that will slowly change how you're parenting – and how you're thinking about parenting.
As parents, we're condition setters every single day. We set the stage and the tone for the day. We're the ones that are teaching our kids about lifelong healthy behaviors – as they relate to our relationships with others, our relationship with technology and our relationship with alcohol.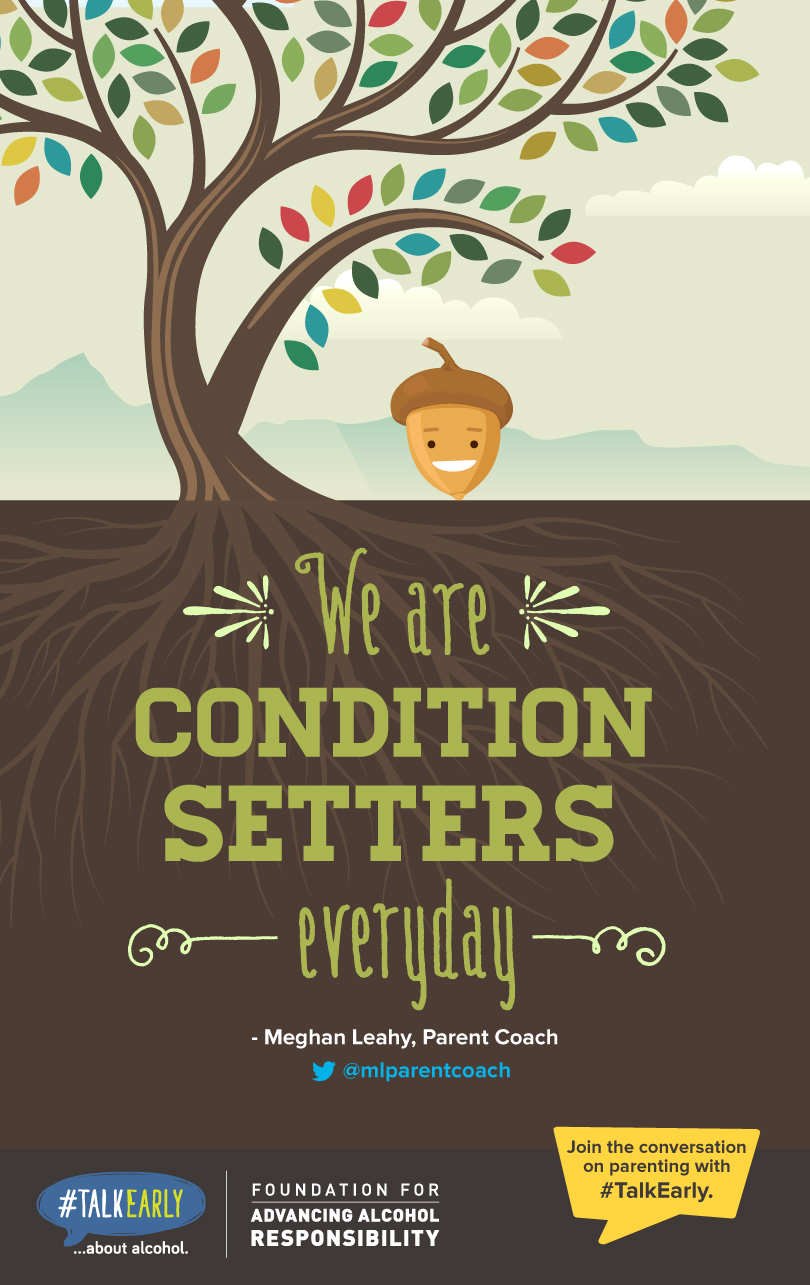 Some days will be awesome. Others – not so much.
But all of the days give us another opportunity to connect with our kids, have conversations with them – and move forward on the path of parenthood.
So put away your list, take a deep breath and do the best you can.
Read More from Meaghan
I highly encourage you to check in with Meaghan. She is truly inspiring and full of parenting advice and ideas.
You can sign up for parenting coaching and online classes here.
And you can follow her Washington Post column here.
Oh – and catch up with her on twitter here.
Learn More at Responsibility.org
For more great conversation starters, tips and tricks, visit responsibility.org and be sure to follow them on Facebook, twitter and Instagram!
This is a sponsored post. All opinions are my own.