1-year-olds
6 Tips for Stress-Free Holiday Travel with Kids
By |
Traveling around the holidays can be stressful – especially when you add in extra traffic, jam-packed airports, and weather delays. All of that, plus the usual stress of packing bags and corralling kids can nearly be enough to make any parent decide to never travel during the holidays again.
Luckily, Verizon is here to save the day with Thanksgetting!
No, that's not a typo. Thanksgetting is Verizon's way of acknowledging that the Wednesday before Thanksgiving is the biggest travel day of the year, and they want to do everything they can to ease your stress.
All you have to do is visit the Thanksgetting website between now and November 25th to sign up and claim the benefits you want – including access to movies, music, e-books and more from some of the top names in digital entertainment!

They want to help everyone, not just Verizon customers, get through their pre-Thanksgiving travel with a smile. And if you're a Verizon customer, it's even better – you'll get some extra data to use those fantastic perks.
That means traveling the day before Thanksgiving just got loads easier with tons of ways to pass the time and entertain your kids, so you can arrive at your destination still full of holiday cheer.
That should be all you need to ease your holiday travel stress, but here are six more tips to make your holiday travel easier with kids – just in case you need them.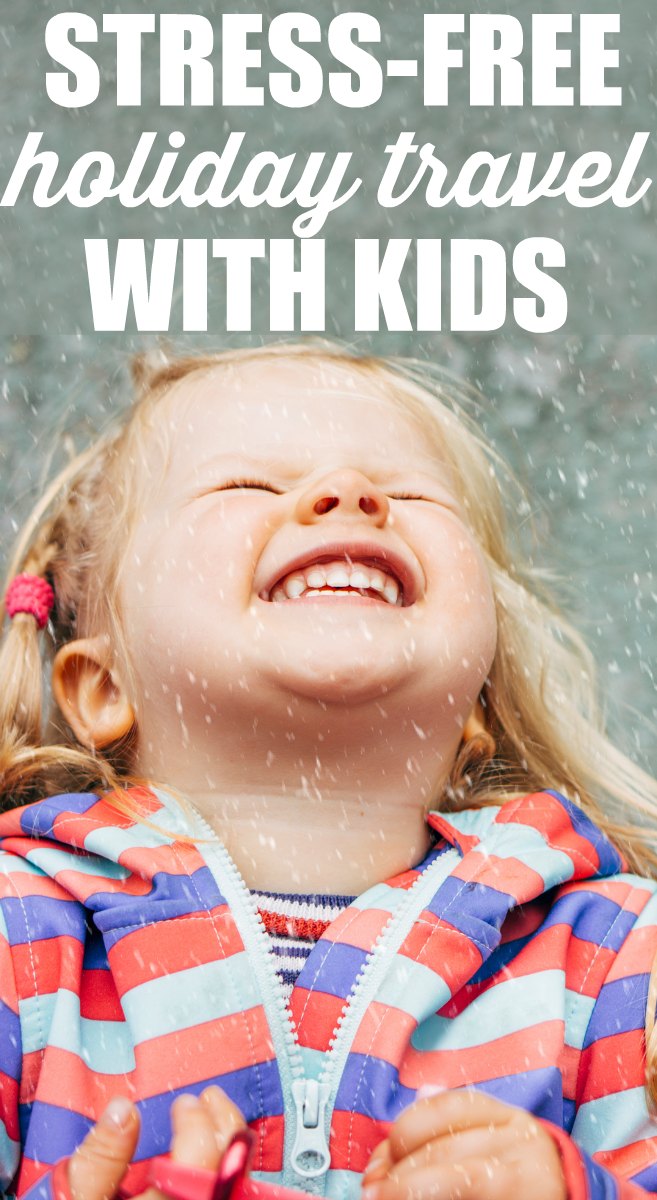 Keep the kids informed. You're far more likely to avoid meltdowns if your kids are excited about the trip and know what to expect. Help them decide which toys they can bring, talk about what you'll do when you get where you're going, and prepare them for the possibility of long lines or airport waits, so they're as prepared as kids can possibly be for that sort of thing.
Pack smart. Be extra careful about bringing essentials like medicine, a change of clothes (maybe two… or seven for the baby), and toothbrushes in your carry-on bags if you're flying; lots of travelers near the holidays equals lots more lost luggage than usual. Even if you're driving, make sure you have plenty of snacks on hand in case restaurants are too packed to stop, or in case you need to stay on the road to make up for travel time lost to traffic. And no matter how you're getting there, be sure to keep at least 47 pounds of antibacterial wipes within arm's reach at all times!
Travel very early, or very late. You'll battle through less traffic, have more opportunities to make up for any early morning delays, and as a bonus, your kids might just snooze instead of asking, "Are we there yet?" a hundred times per minute.
Hit up Pinterest for hints. There are tons of activity kits you can throw together in no time to distract your kids from the drudgery of travel (and thereby distract them from the temptation to drive you crazy). Crafts, building blocks, I-Spy printouts, and tons more ideas are just a click away.
Take advantage of "travel" versions of your go-to gear. On the road (and at your destination) you're challenged with taking care of your kids' every need, without the benefit of the comforts of home. Make it easier with baby bathtubs that fold up, collapsible high chairs, portable bassinets, and any other child care necessities now available in lightweight forms that are easy to take on the go.
Before you load up your bags, load up on apps. Do your research before you leave by downloading handy apps you might need to help you reach your destination. There are apps to keep you updated on flight and traffic delays, apps to help you find the cleanest public restrooms wherever you are, and of course you'll want to visit the Thanksgetting website to grab movies, music, eBooks and games to keep your little ones (and maybe yourselves) occupied.
Safe Travels!

This is a sponsored conversation written by me on behalf of Verizon Wireless . The opinions and text are all mine.