1-year-olds
50 Tips for Flying with Kids
By |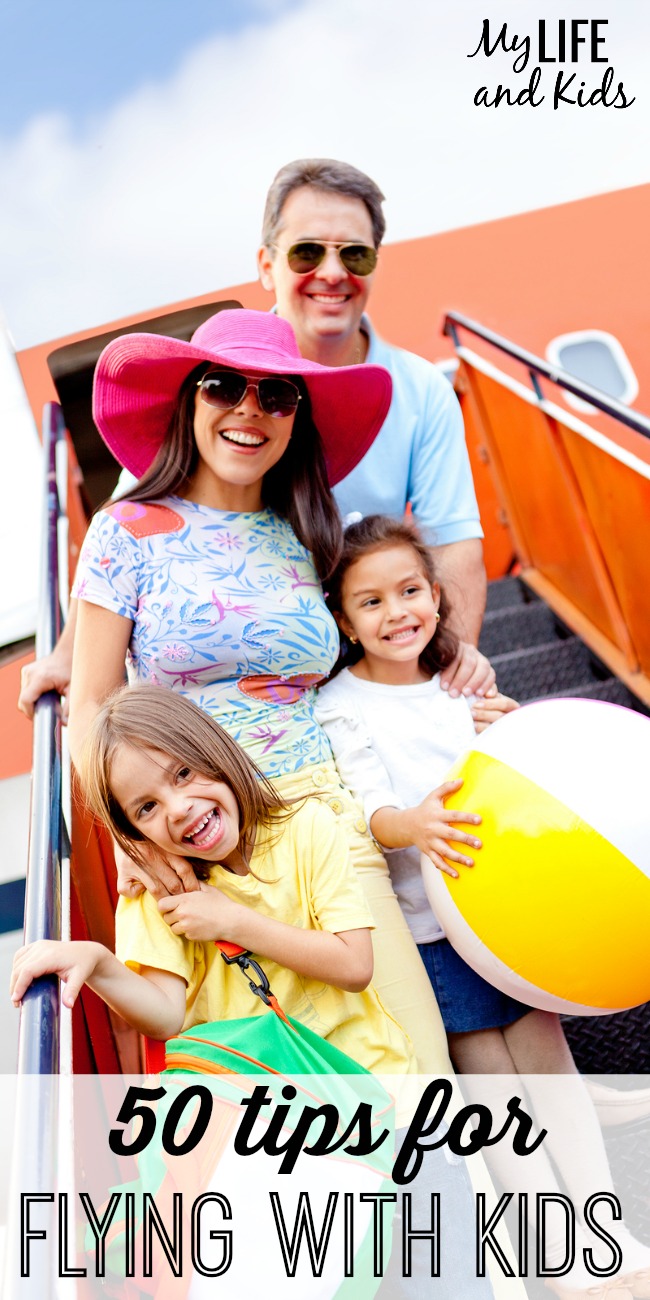 If you're planning a flight with kids, you'll want to read this first! From flying tips for babies to toddlers and even older kids, these 50 flying tips will make your flight as smooth as possible – for you, your kids, and your fellow passengers.
Flying Tips for Babies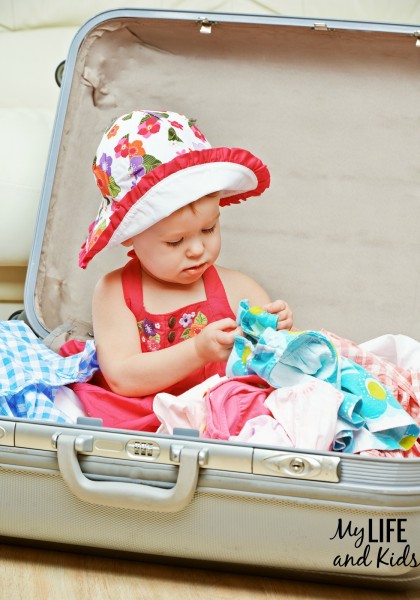 Check their ears with the pediatrician. If there is any inflammation going on beforehand it will really help you to know before you put them through misery of an altitude change.
Have pacifiers, bottles, and teething toys handy. Sucking and chewing helps to relieve the pressure of altitude change and aids in getting small ears to pop.
Pack comfort toys, as well as new ones to keep them interested and engaged throughout their awake hours.
If your baby likes to be worn, bring your baby carrier and you can wear it after the plane reaches a safe altitude.
Prepare your bottles. TSA prohibits traveling with more than 3 oz. of liquid, but there is an exception to that rule with baby formula. Liquid formula and pumped breast milk can be tested via a handheld scanner. You can also bring powdered formula and request warm water from your stewardess.
Pick your seats ahead of time. Sitting near the front may provide extra leg room. Additionally, if you are traveling as a couple it might be nice to purchase an entire row so that you have the middle seat to use.
If possible, choose flight times that correspond with baby's nap schedule.
Try to make friends with a sympathetic flight attendant and/or other passengers. Don't be afraid to ask for help if you need it.
Bring antibacterial hand-wipes to clean off the arm rests, tray tables, and seatbelts. These are all things that your baby will want to touch and maybe put in his mouth.
Don't forget their medicine. Bring baby Tylenol, teething tablets, and gas drops. Even if you don't end up using them, having these medications handy will bring peace of mind.
Consider purchasing Baby Einstein or other baby-centered entertainment. I don't know what it is about this show, but babies really do respond well to it. You might not want your baby to have screen time at such an early age, but desperate times call for desperate measures. After having three babies I can honestly say that Baby Einstein is a lifesaver.
If they can eat solids, bring Cheerios or Mum Mums for them to snack on and to keep them interested.
Make use of the aisle way to walk them up and down. Babies certainly know the difference between sitting and standing and they enjoy a change of scenery.
Bring a handheld mirror. This sounds strange, but babies love faces. They will be totally entertained by seeing themselves (and you) in the mirror.
Bring teething necklaces. Babies love to gnaw on mommy's jewelry, and with the awesome selection of silicone teething beads out there you should consider purchasing some for your flight. Teething jewelry provides a soothing distraction for baby, and a user-friendly product for the mom who is sick and tired of picking up dropped toys and pacifiers.
Flying Tips for Toddlers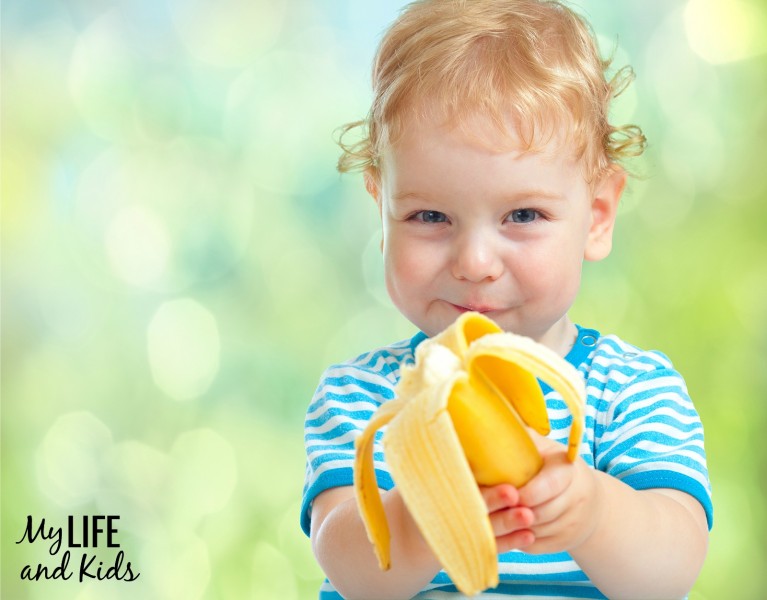 Before you board, use the time to get out as much energy as possible. Encourage your child to jump, run, and move while they have the chance.
As with a baby, plan your flight around your child's naptime or at night. Even if it's just an hour-long snooze, you will appreciate the reprieve of having a quiet kid.
Bring favorite toys, books, and comfort items. Before your flight, pay attention to which toys your child is most responsive to and remember to bring them with you.
Pack new toys and books to keep them busy and engaged.
Build up to the big day by pointing out airplanes, talking about flying, and even playing pilot. Remember, the concept of flying is absolutely fascinating to your little one so use that to your advantage!
Plan ahead with various games that you can play while they are sitting. For example, I Spy will be a great one to keep him/her distracted while sitting still.
Pack really fun snacks. While you don't want to load them up on sugar for a long flight, pack foods that you know they will view as treats. Maybe save the sugary ones for the end of the flight when they're particularly squirrely and need bribing.
Before the flight, give your child time to get used to using headphones. While Dora might be your saving grace, your flight passengers will not want to hear her the entire time.
Definitely make use of the pre-boarding privilege. Before the plane gets completely filled up with noisy, stressed-out passengers, use the pre-boarding time to let your child explore the plane and maybe even meet the flight attendants.
Make a photo album on your phone for them to look through. Toddlers love identifying familiar faces. Download photos of distant relatives, pets, and friends for them to look through and identify.
Limit beverages. Of course you don't want them to become dehydrated, but multiple trips to the bathroom with a small child is both tiresome and difficult.
Download new apps on your iPad, iPhone, or tablet. Having some fun new games or activities will really help when they get particularly bored.
Tape a sheet of paper to the window and allow your child to put a new sticker on it ever thirty minutes.
Use trips to the bathroom as a chance to expend energy and wiggles. There isn't very much room on an aircraft, but you can allow your child to hop and wiggle in front of the bathroom for several minutes at a time.
Lower your expectations. Don't fall prey to the idea that you'll get to read a book or take a catnap. You have a toddler, and keeping him/her occupied and quiet is your job throughout the duration of the flight.
Flying Tips for Kids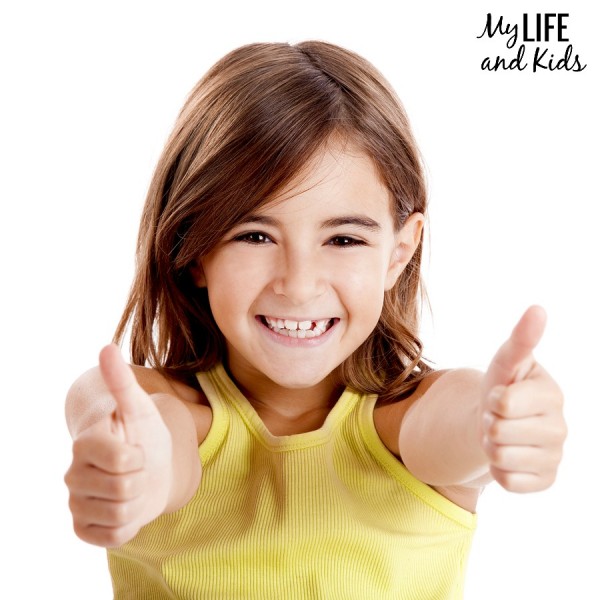 Talk it up. Days leading up to the flight, talk to your children about what is expected of them on the flight. If they have never been on an airplane before, prepare them for the noise, turbulence, and rules of an aircraft.
Have them use the bathroom before they board. It's common sense, but we all need reminders.
Pack fun snacks for them. That one snack they always beg to have in their lunchbox? Yah, bring that.
Bring activity books, sticker sheets, and crayons/pens for them to play with.
Bring travel pillows, blankets, and favorite stuffed animals. They just might decide that a nap is a good idea, and airplanes are cold anyway.
Check in with your kids and see how they are feeling. Of course this is a stressful situation for you, but chances are your kids are a little stressed/anxious as well. Make sure they know you see the struggle and are trying to comfort them.
Let them be responsible for their own stuff. Kids love being entrusted with responsibility. Buy them a new carry-on bag or backpack and let them help with packing it for the flight. Remind them that they are in charge of their belongings and watch as they take pride in being responsible.
Take little walks. Every hour or so, let your child get up and stretch their legs by walking up and down the aisle.
Purchase new games/apps on your iPad, iPhone, or tablet beforehand. When my kid discovers a new game on the iPad it is like Christmas morning for him.
Download a bunch of animal/nature photos for them to look at on your electronic device. My kids could look at pictures of sharks for hours. It just takes a little forethought and might be the distraction you need after a few hours in flight.
Bring a chapter book to read to them. Find an engaging story that you can read aloud during the flight.
Purchase a new movie. Buy a DVD or download a file for a movie they have never seen before. They will be thrilled and you might even get to take a break.
Bring chewing gum for takeoff and landing. Kids have trouble with their ears adjusting to altitude change. Chewing gum will help them gain relief from the pressure.
Bring flashcards. Whether it's phonics, vocabulary, or math, bring something that will engage and challenge your child's mind.
Bring a paper map that they can follow and mark with stickers and notations throughout the flight.
Give them a travel journal that informs them about the places they fly over and have them write notes in their journal.
Buy and wrap several new toys/games for them to open during the flight. This will give them something to look forward to, and give you a built-in incentive for good behavior.
Avoid bringing snacks/food items that are crumbly. You don't want to leave a giant mess for the flight attendants so think about the mess before you buy an item.
Have a prize ready for the end of the flight. Maybe it's a trip to the movie theaters or a jaunt to a toy store; whatever it is, have a reward in mind for good behavior. Flying with kids can be extremely exhausting and tedious. However, having a backup plan (bribery) will ease the tension.
Adjust your expectations. Listening to a mother hiss and yell at her children is more irritating than listening to a child whine. Remember that this is challenging for them and give them a lot of grace.
Meet the Author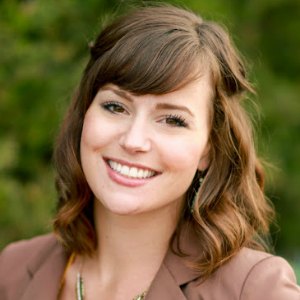 Hillary Leonard is a witty and sarcastic mother of three – married to a philosopher. She shares funny stories, recipes to try and her struggles with Rheumatoid Arthritis on her blog: Because My Life is Fascinating.
Follow her on her blog, on Facebook, Pinterest, Instagram and Twitter.