Self Care
5 Ways to Love Your Mornings
By |
Our mornings used to be a bit of a disaster.
It was a whole lot of me waking up to kids yelling at me to WAKE UP. Trying to find clean socks and convince three kids to get dressed while helping my husband get out the door. Trying to find time to walk the dog and feed him. Trying to convince three kids to eat their breakfast while I made their lunch. Rushing to get coats, shoes and backpacks on and hopefully not miss the bus.
And – you know – maybe get dressed myself.
I spent a lot of time wishing that our mornings could be a little smoother and a whole lot more fun.
So I did what I always do when faced with a challenge – I asked my friends for advice on what makes them like their mornings a little more. Here are the five tips that have worked for us.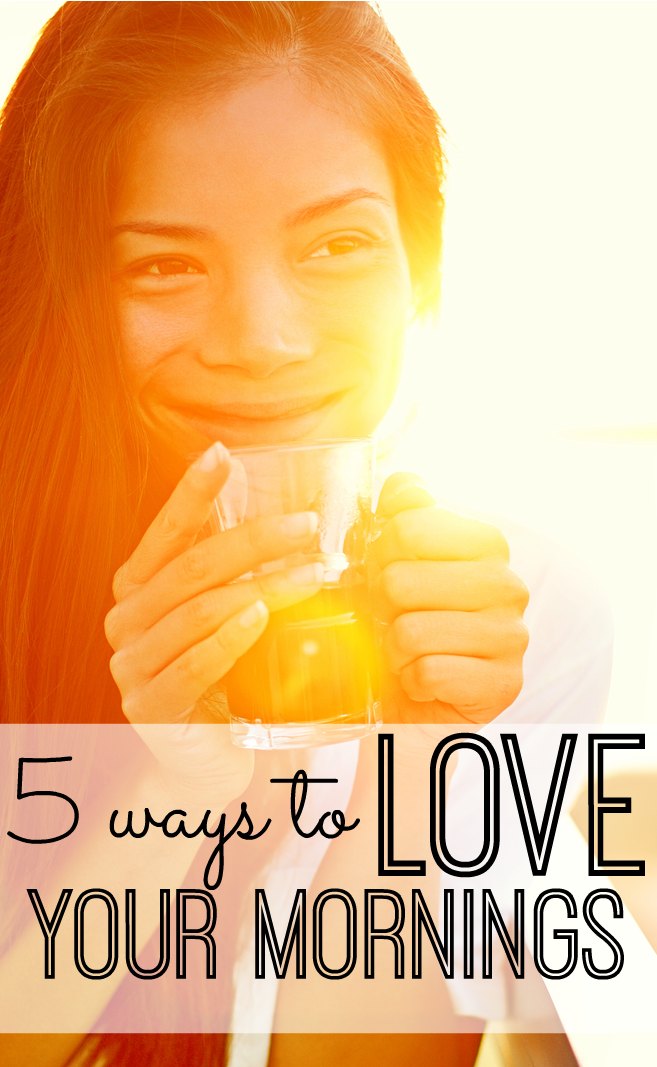 1. Set an Alarm
There are some mornings when I am downright grumpy to have my dreams interrupted by little kids breathing in my face, jumping on the bed or farting. (Yes, I said farting.)
My neighbor suggested that I take control of when and how I wake up.
My kids usually invade my room at 6:30, so I've started setting my alarm for 6 am.
It feels early and cruel. But that feeling lasts for about ONE minute – until I realize that I've just given myself 30 whole minutes to start my day however I want. Sometimes I take a shower and get dressed. Other times I stay in bed and read. And there was this one time that I actually got some work done.
That 30 minutes has made a huge difference in my day.
2. Get some Exercise
This doesn't work for me on a regular basis, but when the weather's nice, I meet up with neighborhood friends for a power walk one morning a week.
We all have to be back home by 7 am when our husbands leave for work, so we start early and walk fast. It's a great way to start the day.
In the cold, winter months – we've been meeting at a local coffee shop one morning a month. It's also a great way to start the day.
3. Put it to Music
Our mornings used to feel rushed and hectic. And then I followed a friend's advice to blast music in the mornings.
I made that one change, and WOW – what a difference! We have SONOS speakers throughout the main floor, so I can control our morning soundtrack with my phone. We usually listen to this playlist to keep everyone smiling and dancing.
It's SUCH a great way to start our day – and I love that my kids are hopping on the bus in such great moods.
4. Take Care of Yourself
I used to be so focused on getting everyone else dressed, fed and packed up for the day, that as soon as the kids were on the bus, I'd find that I still hadn't gotten dressed. I hadn't gotten anything to eat. And I certainly hadn't had a chance to make coffee.
And I'd been up for hours.
And then I had a chance to try out Opus – the new K-compatible single serve brewer from iCoffee.
It's pretty much my favorite thing on earth!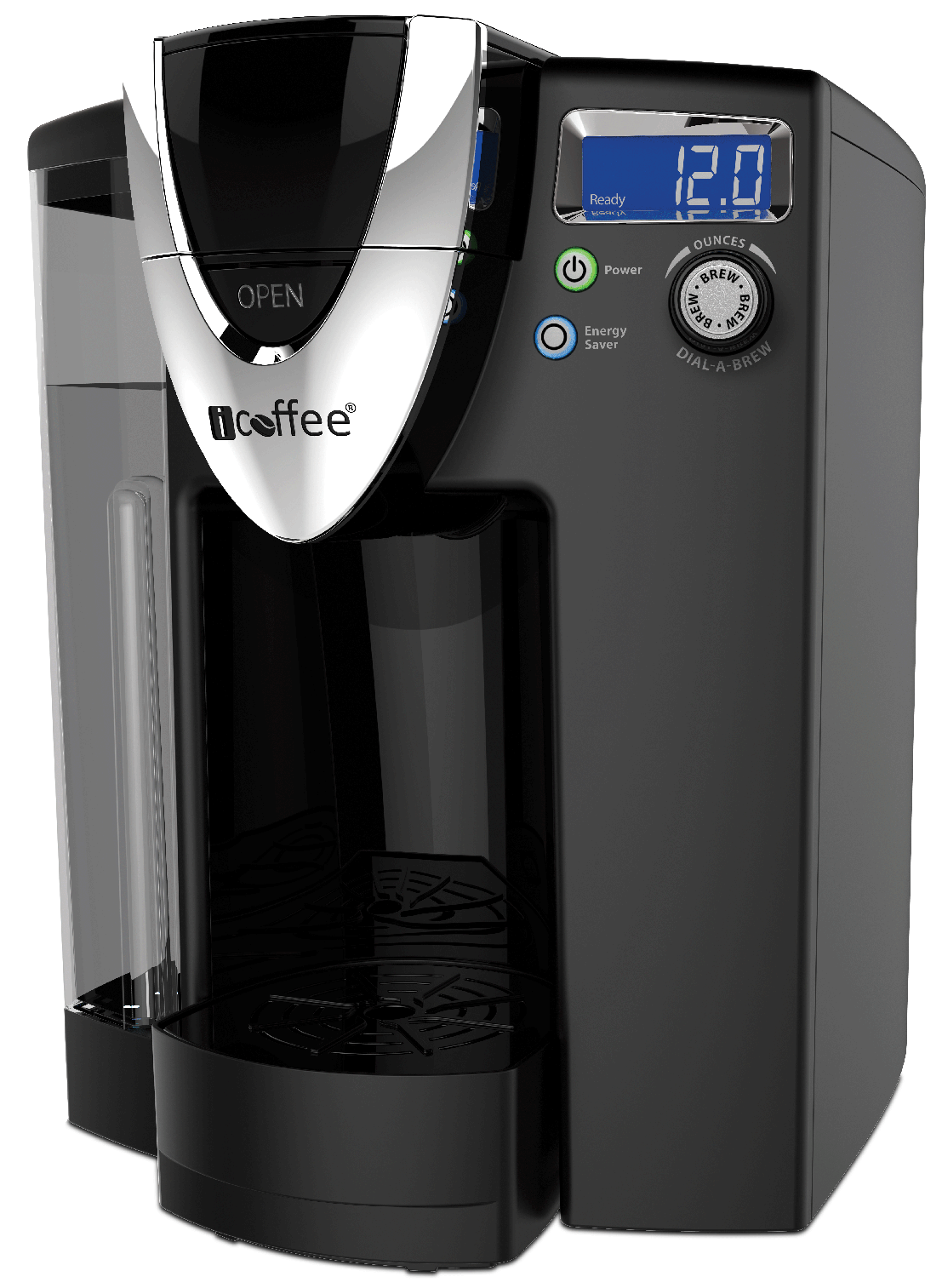 The Opus has seriously changed my life. It works with ALL K-style cups (woo hoo!), and its revoluntionary SpinBrew technology spins, steams and stirs the coffee – resulting in the smoothest cup of coffee you'll ever have. I'm not even kidding.
But here's the best part – and the reason my husband loves it as much as I do – you don't have to use a K-cup at all. It comes with an iCup Reusable, so you can put any coffee grounds in it you want. Just like a normal coffee pot.
You can also put your loose leaf tea in it (AMEN, right!?!)
Now I can make myself a cup of coffee while my kids are still in bed – or while I'm in the kitchen juggling three breakfasts, three lunches and a Big Hairy Dog.
Click here to read more about my new best friend, Opus, and see why other people love it as much as I do. And be sure to follow iCoffee on Facebook.
5. Prepare ONE THING the Night Before
I used to try to make lunches, lay out clothes and pack backpacks the night before. I'd do okay with it 2 or 3 nights a week, but the rest of the week I'd just wake up even madder that I hadn't been prepared.
Now that we're dancing to music, and I give myself a few extra minutes of being ALONE in the morning and have time to grab a cup of coffee, I feel like I have plenty of time to make lunches and help pack bags every morning.
But there is one thing that I do every single night to prepare for the next day.
I find a pair of matching socks for each kid, and put them on the couch.
For whatever reason, I just cannot handle the sock search in the mornings, and this makes a huge difference in our day.
Pick one thing that will help your mornings run smoother (even if it's something small), and do that in the evenings. You might be surprised at how much it helps.
Now – go out and enjoy your morning!
I received an Opus in exchange for this blog post. No monetary compensation was received. This post contains affiliate links.