3-year-olds
30 Ways to Make Birthdays Special
By |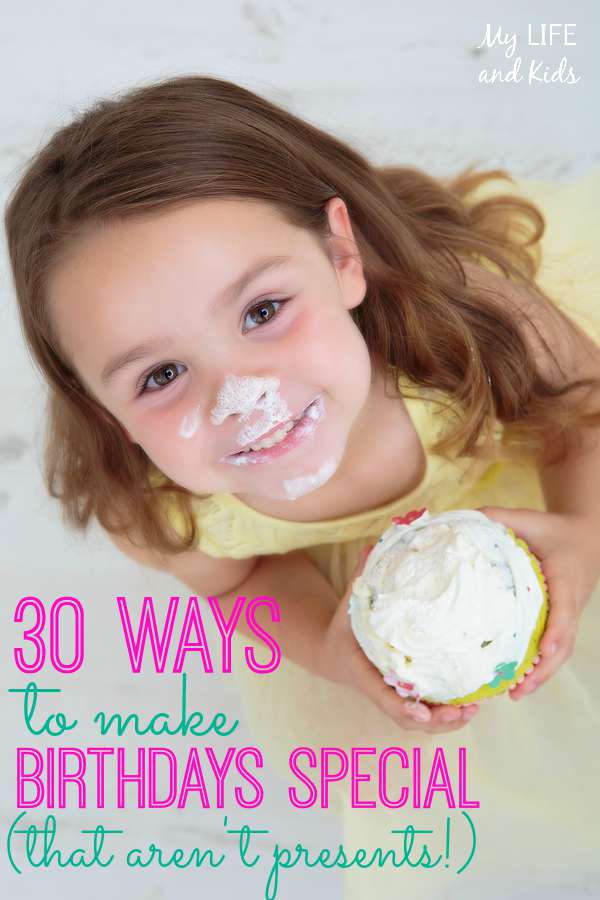 I honestly don't remember the gifts, or the parties, or even what birthday cakes I had when I was growing up.
What I remember and cherish are the little things my parents did that helped make my birth DAY truly one-of-a-kind for me.
That's why I love these 30 ways to make birthdays special (that aren't presents!).
Pick a couple of these to do every year or choose different ones to do every year! Either way, you have a recipe to create an amazing day for your child!
1. Cook a special breakfast and bring it to your child in bed.
2. Exemption day: This can be specific or broad as you want it to be. Allow your child to be exempt from chores, or certain house rules you have (he wants to watch an extra hour of TV? absolutely!), etc. You can set the perimeters for exemption day.
3. Let your child pick her favorite meal for dinnertime.
4. Have your child pick a place (or two) he would love to go to on his birthday.
5. Balloon avalanche.
6. Plan a day of awesomeness – check out this free printable!
7. If her birthday falls on a school day, write a special note and include it in her lunchbox.
8. Write a birthday message on their bathroom mirror.
9. Serve your child's food on a special plate.
10. Sponsor a child in another country with the same birthday!
11. Individually wrap the items in your child's birthday lunch.
12. Put together a photo slideshow of the last year (with the birthday girl as the star!) and watch it together as a family.
13. Interview your child.
14. Decorate the inside of the family car.
15. Decorate the breakfast table.
16. Make a donation to a charity your child chooses.
17. Set up a parent/child date night!
18. Make a paper birthday crown.
19. Celebrate with a bit of silliness.
20. Turn bath time into a party!
21. Give them a special birthday shirt to wear for the day!
22. Designate a chair of honor for the birthday kid.
23. Arrange to have a surprise visitor!
24. Make cupcakes for your child to bring into school.
25. Have everyone in your family tell the birthday boy what they love about him and a favorite memory.
26. Wear a special pin all day indicating it's your child's birthday – my mother-in-law still wears hers for my husband every year!!
27. Do a special birthday project.
28. Look at pictures of them when they were babies and talk about their birth story, etc.
29. Have a special way to wake up.
30. If your child has a birthday on a holiday, you will love these tips!
For more great parenting tips and tricks, be sure to follow our My Life & Parenting board on Pinterest.
Follow My Life and Kids's board My Life & Parenting on Pinterest.