2-year-olds
25 Quick and Easy Activities for Toddlers
By |
I can't tell you the number of times I've been scrambling to find an activity for my two-year-old, G, to fill some time.
If you have a toddler, I'm sure you have been there too!
I need activities that only require every day supplies I have around the house and don't require a ton of set up time.
That's why I've been on a quest to find super simple, quick and easy activities for little ones.
I love these 25 quick and easy activities for toddlers – I've already done many of these already with G!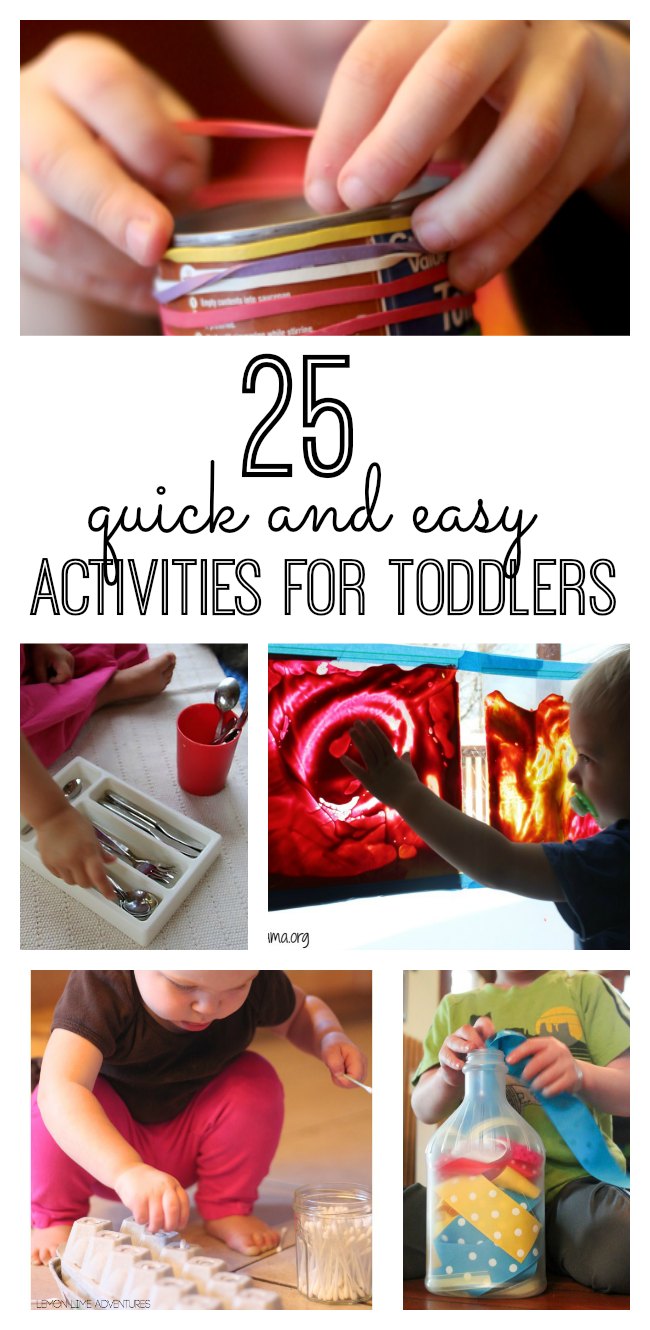 1. Rip and Tear paper by Creative with Kids
2. Tape and a Refrigerator by Inspiration Laboratories
3. Scribble Table by Creative Playhouse
4. Egg Carton & Q-Tips by Lemon Lime Adventures
5. Ribbon Fine Motor Play by Hands on As We Grow
6. Lego Sensory Play in Sink by Creative with Kids
7. Tube Play by Laughing Kids Learn
8. Stacking Plastic Cups by Hands on as We Grow
9. Cotton Balls by Teaching Mama
10. String Cereal by From Whine to Wine
11. Can and a Rubber Band by Hands on as We Grow
12. Foil and Toys by Munchkins & Moms
13. Sorting Silverware by Chasing Cheerios
14. Water & Paint Brushes by Lemon Lime Adventures
15. Pasta Threading by Laughing Kids Learn
16. Tongs and Cheerios by Craftulate
17. Cheese Shaker by Mess for Less
18.  Spoon Beans into an Egg Carton by Moms have Questions Too
19.  Pick up Blocks by Hands on as We Grow
20.  Empty Containers by This Reading Mama
21. Cereal Towers by Mess for Less
22. Build a Fort by Love Play Learn
23. Balloon Tennis by Toddler Approved
24. Paint in Bags by the Teaching Mama (note: I used food coloring because I didn't have any paint at the time, and it worked great!)
25. Paper Clip Chain by Hands on as We Grow
For more fun activities to do with your kids, be sure to follow our My Life & Kids Activities board on Pinterest.
Follow My Life and Kids's board My Life & Kids Activities on Pinterest.