Exercise
12 Tips to Help you Stick to your Workout Routine
By |
I'm the queen of "starting" workout routines. Jillian Michaels in the basement? Yup – that lasted for about three months. Bootcamp classes at the gym? That lasted for about a week.
Power walks with my neighbors? That lasted for about a month.
And on and on it goes.
So I did some research – and asked some friends (YOU) – to gather the best tips and tricks to stay motivated and stick to your workout routine!
1. Find a Routine that Works!
After what feels like 100 years I have finally gotten into a routine and I think that's what's key if you want to be successful. My hubby drops the kids off at school and during that 1/2 hour he's gone, I jump on the treadmill. No excuses. I just do it, by the time he's back I'm done and we have a nice healthy breakfast before he leaves for work. – Happily "Un"Processed
2. Make Yourself a Mix
Here are 50 awesome workout tunes that are sure to keep you going!
3. Find Something You Enjoy!
Find something you really enjoy doing. I always found a reason not to go to the gym but I recently found a kickboxing class that I absolutely love. I really enjoy going and look forward to it. It's "me time" and I get to hit things. – Karen S.
4. Keep it Simple!
I use the free workouts on fitness blender.com they are awesome and I get up early before the kids to do them. Minimal equipment and I don't have to drive anywhere! – Allison U.
5. Read This!
From helpful gadgets to portion control to powerful sayings – this article gives great tips!
6. Spend Some $$!
Pay for my classes. I hate losing money. So I go. – Take 10 With Tricia
7. Hire a Professional
Hiring a personal trainer who's job it is to keep me motivated. Also, shelling out $ for a PT makes you really think twice about missing a workout! – Allison O.
8. Marry a Slave Driver
Seriously – just marry someone like Even Steven. You'll quickly realize that you'd rather exercise regularly than listen to him ask you when you're going to exercise.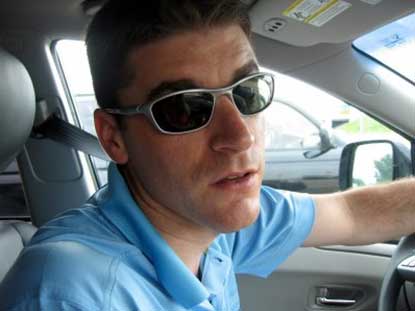 9. Write it Down!
Print out a blank calendar and write out your schedule. Give yourself rewards along the way (for me, I've done a reward every ten pounds lost) and set a reward for your end result. And once you see results, that's all of the motivation you will need. And maybe plan a beach trip. That's good motivation, too. – Definitely Ashlee
10. Free Childcare!
Free childcare at the Y! I love running and not actually chasing things. Other motivation: all my friends are on health kicks and hate being left out. – Amanda G.
11. Make it UNcomfortable
I wear pants one size too small. – Holli W. (My trashy sister-in-law)
12. Incorporate it into Your Daily Life!
I no longer us shopping carts or strollers when we go shopping. I get plenty of cardio in chasing my 2 yo around the store. – Alisa R.