Mom Life
10 Fabulously Funny Children's Books
By |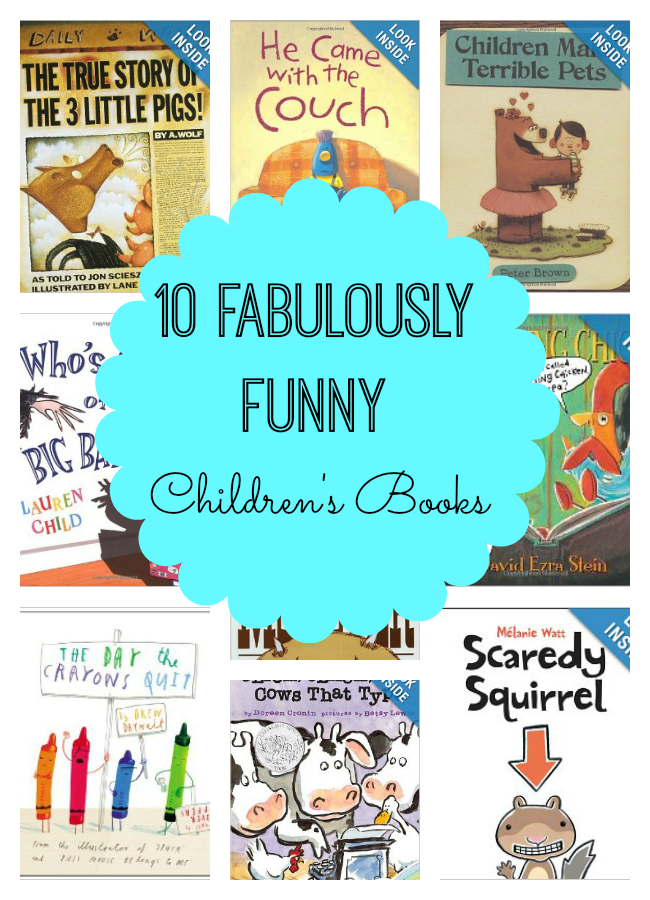 The creator of Little Luvins, Shannon, is back to share her 10 favorite funny children's books with us!  
One of my favorite things about being a third grade teacher was sharing my love of books and reading to my students. There was nothing better than seeing the engagement and enjoyment on their faces as I introduced them to new characters and imaginative worlds that they could get lost in. They would beg for more and get disappointed when the books would end, which is how I often feel even as an adult.
It's no secret that literacy is a lifelong skill that we rely on every day and often take for granted. It's hard to remember a time when words on a page were nothing more than a jumbled string of nonsense.
Research shows that early exposure to written text is crucial to a child's language and literacy development. We all know that bedtime stories, or "any time" stories for that matter, are a key to this.
While I don't have the magic formula to get your child to love reading, I can share with you lists of my favorite children's books by category. At the very least, I hope this will introduce you to a new title, author, and illustrator that will become a new favorite in your household.
I wanted to start off with a list of my favorite funny books. These were the most revered by my third graders and can even make my husband and me laugh out loud. It was difficult to narrow it down to just 10, but here is my humble attempt at doing so.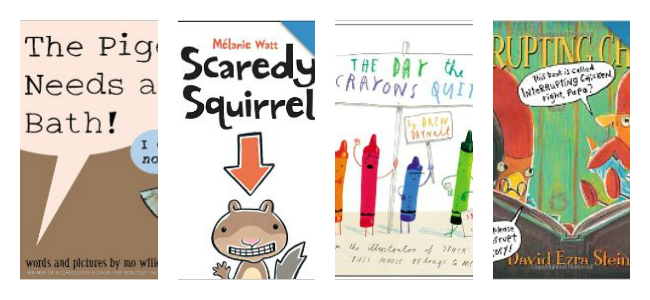 1. The Pigeon Needs a Bath by Mo Willems
Mo Willems is one of my favorite children's book authors/illustrators. He has a gift for humor and creates stories that readers of all ages enjoy. One of his beloved characters is an adorably naughty pigeon that he introduced to the world 11 years ago in Don't Let the Pigeon Drive the Bus. The Pigeon Needs a Bath is the sixth book in this series and is just as enjoyable as the other five. Mo's simple dialogue and expressive illustrations make these stories top on my list. Just make sure you read these books with a lot of feeling. The pigeon deserves it.
2. Scaredy Squirrel by Melanie Watt
Scaredy Squirrel never leaves his nut tree; it's too dangerous in the unknown. He has an emergency kit packed and ready just in case he encounters anything dangerous such as killer bees, germs, poison ivy, or Martians. If all else fails, he will play dead. When an unexpected visitor forces Scaredy out of the safety of his home, he has to face everything he once feared. Author/illustrator Melanie Watt has created a lovable character in Scaredy. You can't help but root for him in this funny tale. Scaredy teaches us that often times what we fear the most ends up not being so scary after all; We just need the courage to jump into the unknown.
3. The Day the Crayons Quit by Drew Daywalt
All Duncan wants to do is color, but instead of crayons in his box, he finds letters from his crayons explaining why they quit. They each have their own reasons for being disgruntled: Red Crayon is tired of working so hard, even on holidays; Purple Crayon is frustrated that Duncan colors outside the lines; Gray crayon is sick of coloring all of the big animals like elephants, whales, and rhinos; And Beige Crayon is sick of being unused. Duncan, in response to these letters of frustration from his crayons, comes up with an incredibly creative way to make all of them happy. Drew Daywalt has teamed up with Illustrator Oliver Jeffers to produce this wonderfully original story told from the perspective of Duncan's disappointed crayons.
4. The Interrupting Chicken by David Ezra Stein
Little Chicken has the best of intentions when she interrupts Papa during bedtime stories. She isn't trying to be rude, she just wants the characters to make better decisions so they don't get in trouble. Take Little Red Riding Hood, for example. In Little Chicken's version of the story, Little Red knows not to talk to strangers, so she avoids the impending doom of the Big Bad Wolf. And in Hansel and Gretel, the children realize it's a witch and turn around and head for home. After several failed attempts at trying to get Little Chicken not to interrupt, Papa decides that she should read him a bedtime story instead. David Ezra Stein won the Caldecott award for his illustrations and his story is equally as delightful.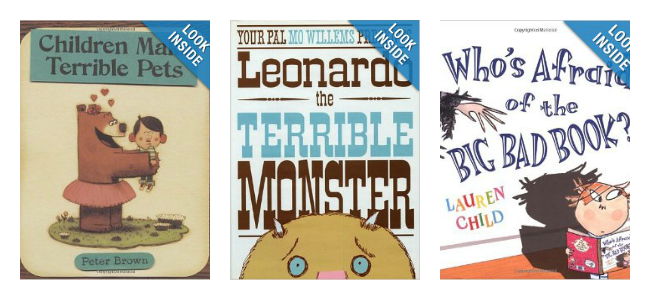 5. Children Make Terrible Pets by Peter Brown
Lucille Beatrice Bear wants a pet! One day, as luck would have it, she stumbles upon a child in the forest. She immediately falls in love with him and names him Squeaker, because of the funny sounds he makes. Lucy is told she can keep Squeaker as a pet, but it is her responsibility to take care of him. Lucy and Squeaker do everything together but it doesn't take long for her to realize that children make terrible pets. Peter Brown's book offers a lovely twist on the idea of owning a pet.
6. Leonardo, The Terrible Monster by Mo Willems
Leonardo is an absolutely terrible monster. He's not big, he doesn't have a lot of teeth, isn't weird, and can't scare anyone. Then one day, he has an idea. He does some research and finds a child he thinks he can "scare the tuna salad out of." What he discovers is that being scary and terrible isn't that great after all. I resisted the urge to make this entire list books by Mo Willems and feel pretty proud of myself for only listing two of them!
7. Who's Afraid of the Big Bad Book by Lauren Child
Herb loves storybooks. He loves them so much, in fact, that he reads them everywhere he goes! Many of his books, as a result, have sticky pages and food bits stuck inside. One night, while trying to fall asleep, Herb takes out a book of fairytales that he hadn't read in a while. Like his other books, this one had been read everywhere, and was severely mistreated. Herb had drawn mustaches on some of the characters, removed the Queen's throne, completely ripped out Prince Charming, and pasted pictures into the book that didn't belong. This becomes a problem when Herb finally falls asleep and wakes up in the middle of this twisted fairytale. The rest of the book is the hilarious consequences that are a result of Herb's doing.  This book is a great way to introduce children to the importance of taking care of their books. It shows what could happen to the stories if they don't.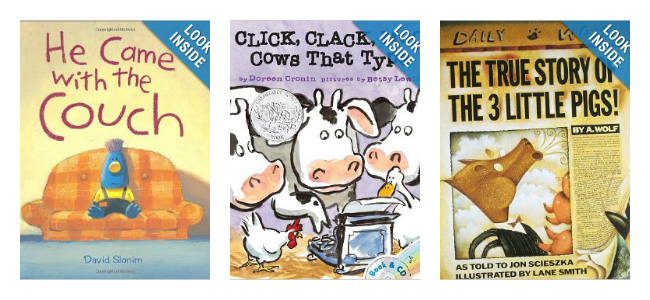 8. He Came with the Couch by David Slonim
This quirky tale starts with a family that needs a new couch. They search everywhere for the perfect one and after several attempts they find it in a rummage yard. The only problem with the couch is that it came with a visitor that is impossible to get rid of. He is a serious couch potato! David Slonim has written and illustrated this endearing and funny story about accepting others, even if we didn't originally invite them in.
9. Click, Clack, Moo: Cows that Type by Doreen Cronin
Farmer Brown is having trouble with the literate cows on his farm. All day long he hears them typing on their typewriter. One day, he finds that the cows have gone on strike and have typed a list of their demands. They want Farmer Brown to give them heated blankets because the barn is cold and will not give him their milk until he does. Is that too much to ask? Doreen Cronin's simple text and Betsey Lewin's Caldecott honor illustrations make for an amusing story.
10. The True Story of the Three Little Pigs by Jon Scieska
Do you really know the story of the three little pigs? According to Alexander T. Wolf, you do not. He is writing to tell you that what you've heard in the past is wrong. He truly isn't a Big Bad Wolf, but a misunderstood one. He feels that he was framed. "The real story is about a sneeze and a cup of sugar." Jon Scieska's book is a great way to teach children that there really are two sides to every story.
Now that I've shared my list, what are your favorite giggle-inducing books?